If you are looking for the ideal Pyrenean ski resorts to go to with the family, these are the magic ones. But you don't have to just take their word, or even ours. These resorts have all received the Family Tourism label, awarded by Catalan Tourist Board.
To achieve this standard, they must meet a series of requirements, such as having slow-speed slopes for the use of children, a kids' club or a ski school.
In La Molina, Vallter 2000 and Vall de Núria everything is now ready for the winter season. All that's missing is your family. In Port Ainé, Espot, Boí Taüll and Masella they await you with open arms.
La Molina: Snow parks, sleds and a snow cruiser
La Molina's ski school makes it easy for children to share their parents' love of snow, with two dedicated areas where the youngest family members can find their snow legs.
For children aged four years and older there is the Snow Park, which has a belt conveyor at the foot of the Pista Llarga slope. The Kid's Park is a space for infants of six months or older, overseen by resort tutors and featuring a play area, cots and loungers.
The resort has two toboggan runs and two tubing slopes: el Bosquet and the Coll de Pal area. In the former you plunge down a slide and in the Coll de Pal you glide down directly on the snow.
And all the family will love a ride on a ripsaw snow cruiser. This huge machine can climb snow-covered slopes and is available Fridays and Saturdays to tour the resort.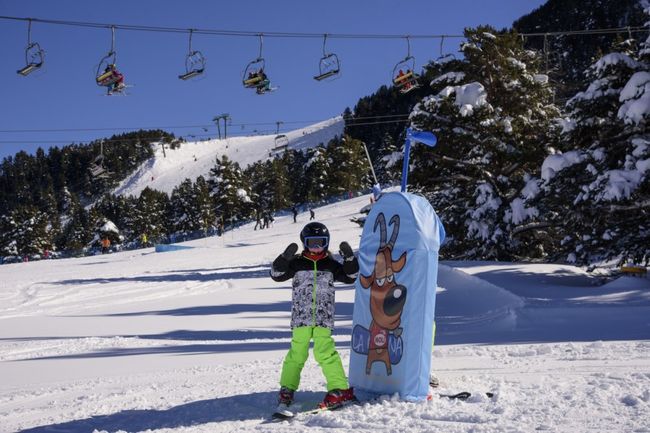 Vallter 2000: Learning through play
This resort in Setcases village is opening a play centre, inside the snow garden of the new L'Esquirol Miniclub. Children can participate in workshops and educational games led by qualified personnel, leaving their parents free to take some time to themselves on the resort's slopes. It operates on weekends from 10 am to 2 pm and is suitable for children between 3 and 8 years of age. So that children who come more than once don't get bored, the club organises themed weekends around animals, princesses and knights…
But it's not just about the smallest family members. In Vallter 2000, teen snowboarders will revel in the 'snow park', where they can challenge themselves on jump lines that combine moguls, rails and boxes.
A more relaxed alternative for the whole family is an outing on snowshoes. Guided and self-guided Itineraries have been created with differing levels of difficulty. Plus, if you have teenagers, there is a nocturnal one to enjoy too.
Vall de Núria: Snow, a cog railway and family fun
Just getting to Vall de Núria is an adventure for families, as it means riding up on the Núria cog railway. This covers 12.5km on a gradient of more than 1,000 metres and offers unique panoramic views of the valley.
The resort itself is committed to being a year-round family facility. For this winter, however, it has renovated the Play Park, the resort's great children's attraction, devising sled and tubing runs, a zip wire and even a kid's climbing wall.
The educational tone of a family getaway to Vall de Núria is set by the Cau de la Marmota, the Marmot's Den. This is the resort's kiddie park, where children aged 4 to 10 can attend nature and environmental, gardening, recycling and costume workshops, archery sessions or excursions to discover the natural beauty of the valley. And if you are staying in one of the hotels or apartments of Vall de Núria, the Marmot's Den is free of charge!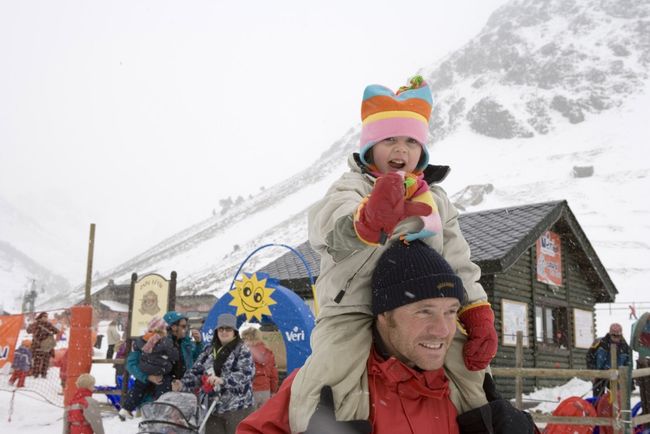 Masella: The fun starts at nightfall!
This Cerdanya resort has a snow garden in which children from 3 to 6 years old learn to ski. If they are younger (from 18 months to 3 years) they can play in the Children's Hut, an indoor facility of the Masella Ski School. Both services operate on weekends and holidays.
Masella's commitment to nocturnal skiing is now well-established and this season the night-time domain opens on Thursdays, Fridays and Saturdays. Your children will love the thrill of gliding down the slopes in the moonlight.
Port Ainé: Learn to ski while making new friends
This resort has a Tree Adventure Park with log ladders, a Burma bridge and zip wires, in a circuit for children aged 7 and up, who are at least 1.20m tall, and accompanied by an adult. The safety measures have been reinforced for this season.
Snow Baptism of Fire is an activities package giving children aged 7 and older a morning's group introduction to skiing, in the resort's beginners' area. Besides learning to ski, it's also a great opportunity to make new friends.
Espot: How about some disc golf?
With this resort in the Pallars region sitting next to the National Park of Aigüestortes i Estany de Sant Maurici, a visit here is filled with the wonders of nature. If you come with children, make the most of the Espot Play Park, which has tubing, a sled run and even disc golf, a sport played with a flying disc and baskets.
And the family fun continues after the skiing is done for the day. The resort is located in the Valls d'Àneu, which itself has the Family Tourism label This means that you will find endless activities to do with children. The certified accommodation also has kids in mind, with an offer of equipment and facilities to make a family stay more pleasant.
Boí Taüll Resort: Combine skiing with culture
The Boí-Taüll Snow Garden, run by the Vall de Boí Ski School, is where children from the age of 3 learn to ski. Indoors there is a nursery for children from 2-6 years old, where children can play safely while their parents go off to ski.
The Vall de Boí is renowned for its Romanesque heritage and soaking up the culture is high on the 'to do' list for families visiting here. From nature itineraries to circuits in the Caldes de Boí Spa to tours of the Romanesque churches, which are a UNESCO World Heritage Site… there are many activities to do with children.

Go to visitpirineus.com to discover all of the great alpine ski opportunities on offer in Catalonia, and to visitpirineus.com if you fancy trying some Nordic, cross-country pursuits.