Skiers don't come to BC to escape, they come to discover the freedom of skiing without limits and return home having learned something new about themselves.
Ski Independence, as its name suggests, is all about finding that independent streak within each and every one of us and expressing it on the most magnificent mountains in North America.
Ski Independence offer a broad range of hand-picked ski holiday options. Everything they do is based around what best suits their clients and they are dedicated to providing the highest possible levels of personal service.
British Columbia has been a key destination for Ski Independence for many years and to paraphrase the late great ski filmmaker Warren Miller, 'If you don't come to BC this winter, you'll just be one year older when you do.'
Take the trip
Powder Highway: The Ultimate Ski Road Trip
14 days, 465 ski trails, 532 miles. Canada's Powder Highway will take you through four of Canada's mountain resorts - Fernie, Panorama, Kicking Horse, and Revelstoke. If these are not already on your ski bucket list, they should be.
The Route:
Fly to Calgary and pick up an SUV – Air Canada have free ski carriage
Drive to Fernie (4h) and stay 5 nights
Drive to Panorama (3.5h) and stay 3 nights
Drive to Kicking horse (2h) and stay 3 nights
Drive to Revelstoke (2h) and stay 3 nights
The resorts:

Trails: 142
Base: 3,450ft
Summit: 7,000ft
Average snowfall: 30ft
Fernie Alpine Resort is known for its legendary powder snow and six separate ski bowls, making it the complete winter playground.
Where to stay: Snow Creek Lodge
Ski-in/ski-out location right on the slopes. At the end of a long day in the wonderful Fernie powder, slip into one of the outdoor hot tubs for a relaxing evening.
Eat at: Yamagoya Sushi
This popular spot is repeatedly voted Fernie's favourite restaurant. Warm and welcoming, with local artwork on the walls and a contemporary, minimalist feel.
Don't miss: Fernie's Famous Ski Bowls
Nothing beats standing on the edge of a massive alpine bowl, peering down at its vastness and untracked powder. With over 2,500 acres of skiable terrain, the only problem you'll have at Fernie is not having enough time to ski it all.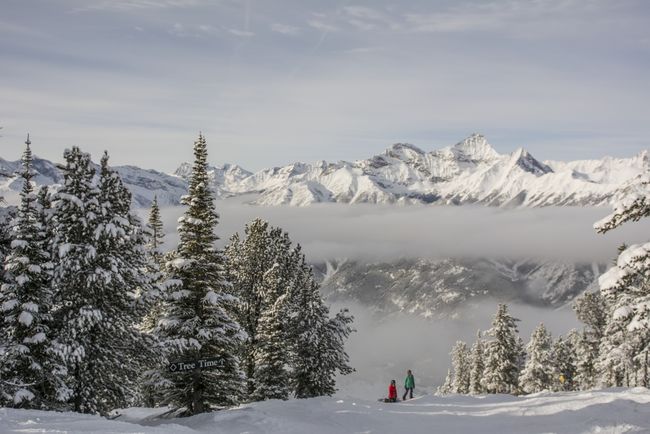 Trails: 129
Base: 3,773ft
Summit: 8,038ft
Average snowfall: 16ft
Panorama is where winter and the wild meets warmth and welcome. It's a mountain resort and an alpine village with great skiing and riding, and a whole host of activities from which winter memories are made.
Where to stay: Upper Village Condos
Panorama's top-rated lodging units are all ski in/ski out, adjacent to the Panorama Springs water park, the village centre, and a very short walk to the kids ski school and childcare facility.
Eat at: Choppers Landing
Relax with a drink by the wood fire or gaze out at the twinkling lights of the village while you dine on a three-course hot-stone menu or multi-course fondue.
Don't miss: Heli Skiing
RK Heliski based in Panorama offers one-day trips that will introduce you to the thrills of heli-skiing. Just be honest about your ability when checking in, otherwise you'll be out your depth – literally!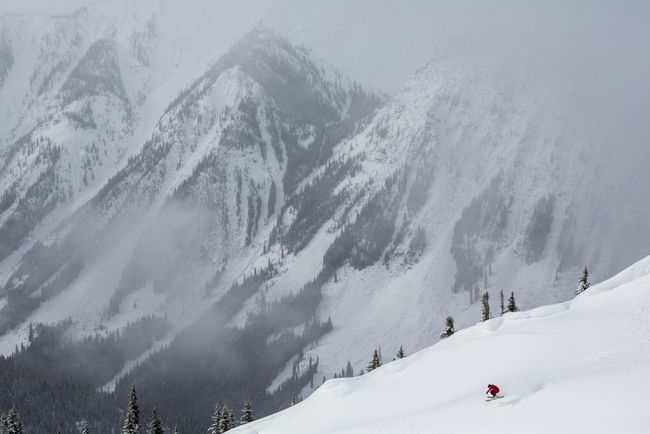 Trails: 120+
Base: 3,900ft
Summit: 8,033ft
Average snowfall: 25ft
With a three-night stop-off, you'll experience the stunning mountain scenery and terrain that Canada's champagne powder capital has to offer. The mountain is easy to explore, and has a wonderfully authentic feel and culture.
Where to stay: Glacier Mountaineer Lodge
Located in the heart of the resort, the Glacier Mountaineer offers king and queen guest bedrooms as well as one-, two- and three-bedroom suites. The central location means you're located at the base of the gondola, and are mere steps from restaurants and cafes.
Eat at: Eagles Eye Restaurant
A quintessential mountain-top restaurant, and the most elevated dining experience in Canada. Rumour has it that on a clear day, you can see into five different national parks! Naturally, it's very popular, so make sure to place a reservation ahead of your visit.
Don't miss: Stairway to Heaven
The Stairway to Heaven chairlift and access to Whitewall on a powder day is a must. It's a literally a staircase up to a beautiful ridge which leads to a powder field with banks and drops that make up Whitewall.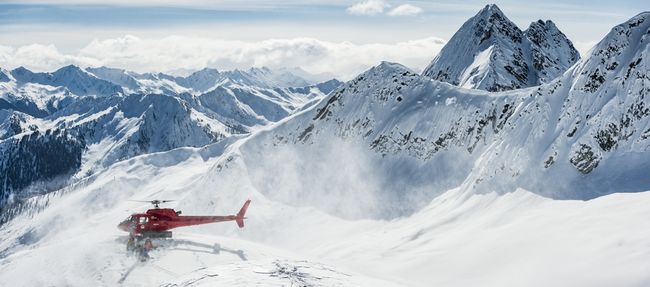 Trails: 75
Base: 1,680ft
Summit: 7,300ft
Average snowfall: 38ft
Revy to its friends, this resort is famous for its exceptional vertical, but also has a great range of beginners and intermediate runs for those looking for something slightly less daunting than a double black diamond.
Where to stay: Sutton Place
The Sutton Place Hotel is a ski-in, slopeside luxury condo-style hotel, located in the village next to the Revelation Gondola. After a day's skiing, relax in the outdoor heated pool, then choose from four on-site dining experiences.
Eat at: The Village Idiot
A Revy locals' favourite. Fresh ingredients are used for homemade soups, sauces and dressings, and their fresh made-to-order pizza will have you asking for the secret recipe.
Don't miss: Take advantage of the Lift Pass
While Revy is one of the only Canadian resorts to have cat, heli and backcountry skiing from one village base, be sure to take advantage of the other activities included with the lift pass. If your legs need a rest from all the vertical, swap the skis for snowshoes or a fat bike.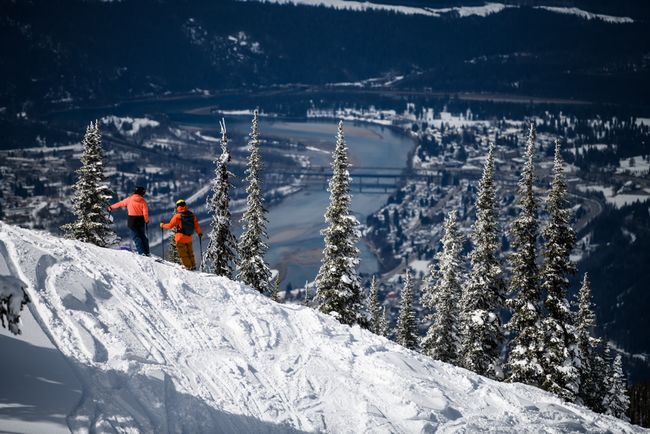 Book the Trip
To book your Powder Highway ski holiday, call Ski Independence for a tailor-made quotation on 0131 243 8097 or visit ski-i.com
Book by 31st August for massive early-booking savings of up to 50% on selected accommodation. Offers of up to 50% off lift tickets and kids ski free are available for selected resorts. Please ask one of Ski Independence's Ski Specialists for details!
Ski the Indy way
Tailor-made ski specialists, Ski Independence, are one of the UK's leading independent ski tour operators. As part of a family owned and run travel firm established over 50 years ago, they pride themselves on the quality and knowledge of their Ski Specialists and their unrivalled standards of service.
Offering resorts across North America, Europe & Japan, Ski Independence have first-hand experience of the best places to ski, the best places to stay and the best travel options.