Photos: Kene Ezeji-Okoye
Recognised modes of transport to reach ski descents include but – as we were discovering firsthand – are not limited to: chairlift, cable-car, funicular, whirly-bird, snowmobile and snowcat. To the list of vehicles can be added one more: canoe.
We were streaking across a millpond-still fjord in a fleet of tiny kayaks, the only sound that of our paddles piercing the surface. Our objective was a couloir on the far bank of Jøkelfjord plunging from a summit 600m or so above us, right to the water's edge. Beyond were higher, glaciated peaks.
The whole majestic tableau was reflected perfectly on the water's mirror-like surface. We stowed our vessels on arrival at the rocks above the tide-mark – not easily negotiated in ski boots – and prepared for the climb ahead. We were in Finnmark, on Norway's northern shores, deep within the Arctic circle, on a rather different kind of ski touring trip.
An amphibious approach to ski touring is not a new concept, particularly in Norway. The Lyngen Alps, Finnmark's better-known south-western neighbour, is awash with liveaboard "sail & ski" boat charters – over 50 operating out of Tromso at last count. But Fred Buttard of Upguides, a Franco-Norwegian guiding outfit, prefers a more immersive approach to ski trips and, when he set up in Norway a decade ago, eschewed the bun-fight of proliferating luxury lodges and boat charters in Lyngen, and instead set about crafting a more authentic approach, on land, in Finnmark.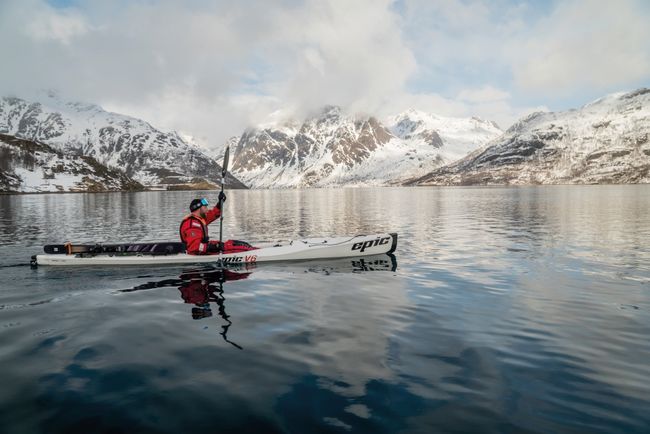 Rather than retreating to a boat after skiing, we would instead live like and mix with the locals, experiencing a little of their way of life, using the canoe as well as the car and ferry to navigate to and from our day's objective. Authenticity and unorthodox modes of transport would - we hoped - add to the experience, but this remained first and foremost a ski trip. We were here in mid-May, by which time the days never end, and so we were intrigued to see what kind of snow conditions we would find.
Our first day left us none the wiser. We teamed up with a jovial local osteopath, and accomplished telemark skier, named Trond, and skinned up a mellow peak above the simple cabin on the edge of Langfjord which would be our home for the week. But clouds shrouded the peaks which, we assumed, surrounded us.
In limited visibility, we descended carefully on gentle slopes through the forest on snow that was mostly firm with the odd pocket of windblown powder. An intriguing warm-up, but bigger objectives - we hoped - lay ahead. At dinner that evening, in a small fjord-side café whose menu included braised whale meat, we pored over the topographical maps of the area, which lined the walls. By the time our dinner had arrived, a hearty reindeer stew, we'd started to cook up a plan.
In the hills of Valhalla
The following day dawned clear, with a dusting of fresh snow frosting the rocky beach on our doorstep. As we wiggled our way along the coast to the next inlet, Oksfjord, excitement levels began to rise. Every corner we rounded revealed another stunning peak, caked in fresh snow.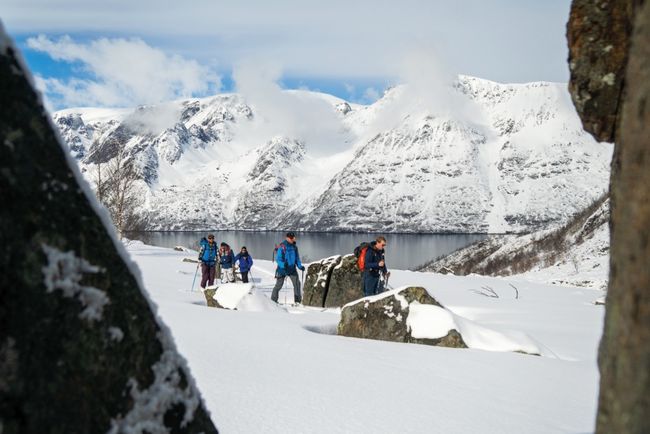 Our eagerness to get to our destination and get skis on was interrupted by a traffic jam, not of cars but of beasts: a herd of reindeer taking their sweet time to cross the road ahead. We parked on the side of the road, applied our skins, and began heading up a valley running perpendicular to the fjord. We made steady progress. It turns out ski touring, as we'd been promised, is a great deal easier at sea level than at altitude. We were surrounded by an amphitheatre of tantalising terrain, with options to suit skiers of every persuasion.
Rich – an instructor from Val d'Isere and the most experienced skier of the group – made a beeline for an impossibly steep and narrow couloir, from which he emerged serenely in a puff of smoke. The rest of us made merry in rather mellower terrain, managing several laps of an undulating face laden with ultra-light powder.
We couldn't believe our luck to find such bounty in the middle of May, weeks after the lifts in the Alps were closed. As would be the case throughout the trip, we seemed to be the only skiers for miles around. Like Vikings, we climbed and pillaged and climbed and pillaged until we could climb and pillage no more.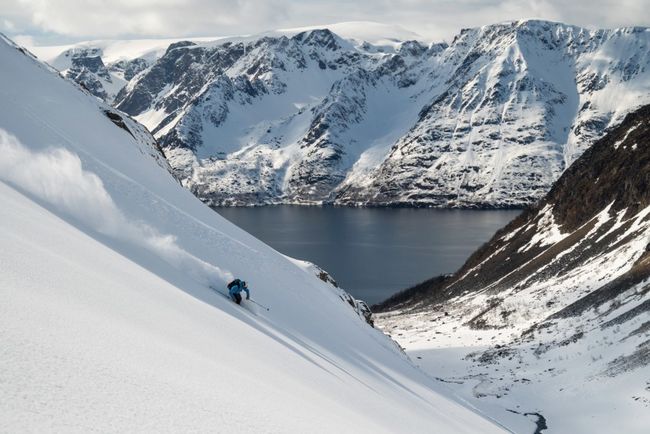 Reindeer on the road (and in our tummies) aside, our other animal encounters were a mixed bag. In our village of Langfjordbotn, huskies outnumbered humans by at least 10:1. There are several dog-sledding outfits based here - yet another unusual mode of transport that skiers in Finnmark can use to access their lines. We were a few weeks too late in the season to benefit from a canine-powered ride to the top, with the sea-level snow too sticky by the time we got there. But the dogs did at least make for extremely cuddly après-ski companions.
After our morning's kayak-ski adventure, we tried our hand at fishing in Jøkelfjord – by all accounts bursting with fish. The walls of the fisherman's cabin on the jetty, plastered with pictures of local heroes proudly showing off monsters more akin to dolphins in size than cod, would seem to support this theory. That we returned empty-handed therefore suggested user incompetence rather than any shortage of fish.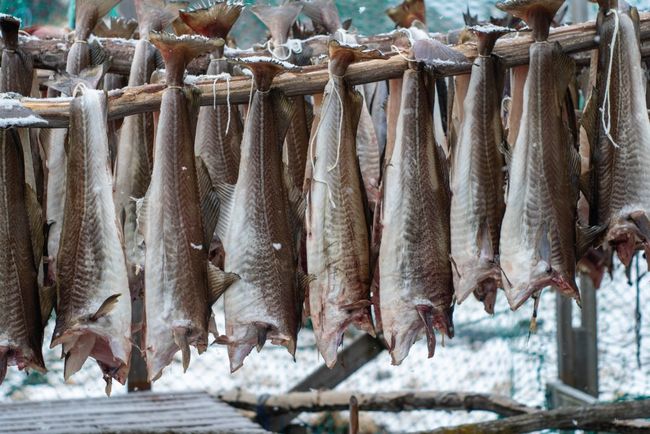 One morning, we joined forces with Bjørn Michaelson co-director along with Fred Buttard, of what might just be the best educational program on the planet. All over Norway, state-subsidised "folk-schools" exist, not for academic or vocational purposes, but instead to bring Norwegians of all socio-economic and geographical backgrounds together to learn life skills, work together on projects and broaden their horizons.
As we chatted on the skin track, Michaelson explained that the school in Alta – Finnmark's principal town – is dedicated to outdoor pursuits. The 6-month course he and Buttard direct and deliver in these very mountains, punctuated by weeks in France and Canada, is designed to give its students an in-depth understanding of backcountry skiing, mountaineering and decision-making in avalanche terrain. We chuckled when one of the group suggested that truancy rates are presumably zero.
Salty ski dogs
The day we spent skiing with Michaelson was a classic. We boarded a small car ferry to reach a particularly far-flung bay which, were it not loaded with fresh snow, wouldn't have looked out of place in Hawaii. It had a brilliant white sand beach, and dramatic peaks encircling the ultramarine waters on three sides. Our 800m climb in knee-deep powder was the most physical of the trip, zigzagging up a vast and gradually steepening northwest face.
We strapped our skis to our backpacks and donned crampons for a final scramble up a 45-degree couloir, before being rewarded with one of the longest sustained powder descents any of us could remember. It was clear that Michaelson had spent more time skiing these remote mountains than anyone else on the planet - yet even he admitted that he's barely scratched the surface.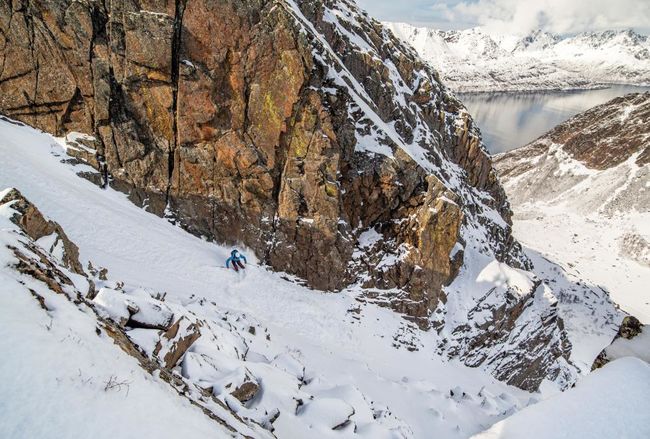 Unlike elsewhere, he explained, first-descents in Finnmark are almost the norm rather than the exception. There's simply so much terrain on offer, and so few skiers – so few people in general – to ski them. We finished the day with a pot of strong coffee, brewed over a small bonfire on the shore.
"Starting and ending our skiing from the water's edge was unforgettable"
If that was a great day, however, the couloir we accessed by kayak was the highlight of the trip. Despite the fact that with every step of the two-hour ascent, the weather deteriorated – to a full blizzard near the top – and the snow in the couloir itself was far from perfect, starting and ending our skiing at the water's edge was an unforgettable experience. The helter-skelter descent down the steep and firm couloir itself, where any fall looked certain to leave the you hurtling downhill and into the brine, was an exhilarating bonus, if not exactly vintage in terms of snow quality.
Clichéd though it may be, my biggest regret was that we were only in Finnmark for four days of skiing. I've made it my business to seek out adventurous ski destinations over the last few years, logging trips to Kyrgyzstan, Georgia and other far-flung ski destinations.
On all of them I've been lucky to have experienced a rich variety of mountain culture alongside great skiing. Finnmark was no exception, but the real difference was my impression that here, it is truly possible to find the very best skiing of your life. We had four days. We could've stayed four weeks - four decades even - and I suspect we'd still have left wanting more.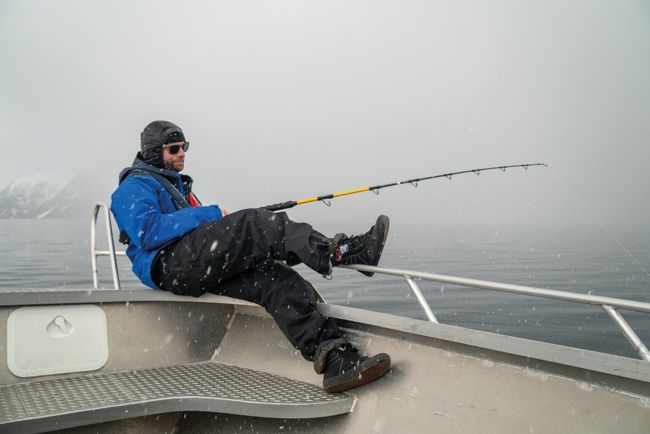 Snow How
Our trip
Matt and Kene's trip was supported by Upguides, who offer six days' skiing with a guide and seven nights' accommodation for £1,800 per person. All guides are UIAGM accredited, and dinners and all transport in Finnmark - including kayaks - are part of the package.
Getting there
Norwegian offers return flights from London Gatwick, Manchester and Edinburgh to Alta, via Oslo, from £218.
Food and drink
While we can't recommend the braised whale meat (yes, we did try it, no, it wasn't good) everything else we ate in Norway was tasty. Reindeer venison is particularly good, whether in stew or in steaks. Like everywhere in Norway, drink is ruinously expensive in Finnmark, so it's worth bringing a duty free bottle of something to fill up your hipflasks.
What to pack
April or May is the optimum time to visit, with endless daylight and lots of snow. Temperatures hover around 3 degrees, so pack as if you're ski-touring in March in the Alps.
For more information about this spectacular location, go to visitnorway.com