Photos: Tristan Kennedy
As an all-out assault on the senses, few things compare to seeing a Russian Mi-8 twin turbine helicopter landing up close. Standing in the front row at a Rage Against The Machine concert, perhaps. Or trying to break through reinforced concrete with a jackhammer. Needless to say, neither of those are activities I'd ever want to attempt with a hangover. Which is why, as I watch the enormous, 24-seater flying bus descend into the snow, and feel the full, stinging force of the icy downdraft hitting my face, I find myself starting to regret some of my decisions the night before.
It's only day two of our trip in Uzbekistan, but the previous evening at dinner, we discovered that we were sharing Beldersay ski resort's main hotel with the annual general meeting of the National Meteorological Society. I say discovered. What actually happened is that midway through our main course - and somewhere near the bottom of their second bottle of vodka - two members of the honourable society approached our table and asked if we'd like to have a drink. Excited by the novelty of our situation, and sleep-deprived after a long flight from London, no-one in our party had the willpower to resist.
Seeing the fresh snow falling outside, and remembering vaguely through the vodka haze that we had booked the 'bird for the following morning, I bailed sooner than some. But not before sitting through a series of lengthy toasts: to unlikely meetings, to international friendship and, of course, to the snow, which our hosts (displaying a confidence that was, I suspect, fuelled more by the contents of their shot-glasses than their actual meteorological expertise) assured us would be excellent for the duration of our stay.
On the more nerdy powderhound forums, it's long been known that the Tien Shan mountains - the range that stretches eastwards from Uzbekistan into Kyrgyzstan, and north into Kazakhstan - have some of the best snow on the planet. The problem has always been access.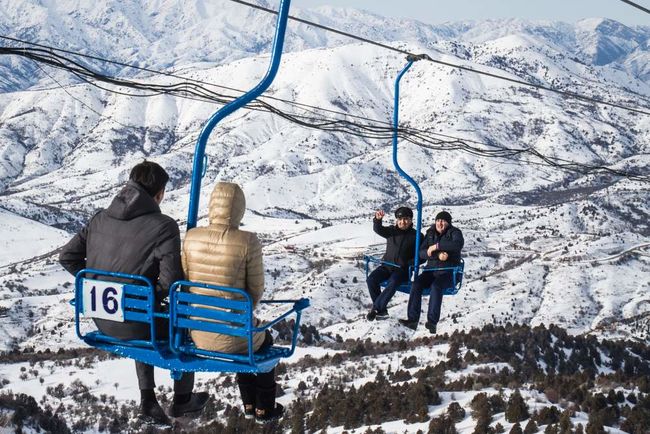 There's a reason why rickety Russian helicopters, like the one we spent our first day in, have become something of a cliché when it comes to stories of skiing in the 'Stans. Soviet-era lifts, a lack of qualified, English-speaking guides and draconian visa regulations have previously put off all but the most determined of visiting skiers.
Certainly, there's nothing about Beldersay, where a single, sketchy chair carries you up over two unpisted runs, to suggest that it could ever attract an international crowd. A visit to neighbouring Chimgan only reinforces this impression - and the idea that health and safety standards in Uzbekistan are perhaps more 'relaxed' than most European skiers would feel comfortable with.
At the bottom of the slope, beginners on mismatched rental skis are forced to slalom between horsemen hustling for tourist dollars, and cowboys offering rides on rusting, 50-year-old skidoos. A Lada, whose owner has over-optimistically tanked it up the slope, wheelspins wildly as it skids its way back down - just a few feet away from where children on inflatable rings are sliding uncontrollably into a giggling heap. There's a certain charm to the market selling knock-off branded ski gear, and an après ski scene that apparently consists of dirt cheap vodka and kebabs cooked over an open fire. But Switzerland, this ain't.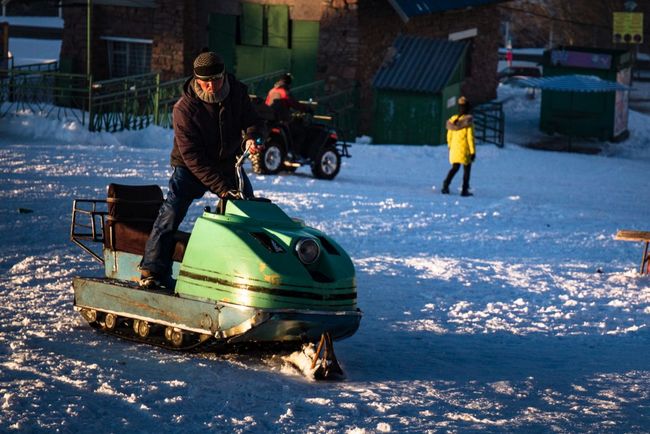 White powder, black magic
All of which makes the brand new, £75 million, ski resort of Amirsoy, just a short drive away from Chimgan, all the more unbelievable. The brainchild of a 44-year-old local oligarch, Ravshan Ubaydullaev, Amirsoy has been built to the highest international safety standards, at world record speed: Austrian-made gondolas, Scandinavian-inspired chalets, and slopes sculpted by German Pistenbullys have seemingly sprung up out of an empty snow-covered hillside like a full-scale version of Winterfell in the opening credits of Game of Thrones.
"One and a half years ago, there was nothing here.

Just apple trees."
Incredibly, it took just 18 months from the first ground breaking to the first lifts opening, according to Thomas Thor-Jensen, the General Operations Manager, who Ubaydullaev poached from Courchevel to run the show. When he and his team first arrived, he says: "There was no road, just a quad bike track. There was no water, and no electricity, nothing. We have pictures of apple trees all over here, just one and a half years ago."
Even without the compressed construction timetable, there's something slightly crazy about building a ski resort here. Despite its proximity to Tashkent, Uzbekistan's capital, with its population of 2.3 million, there's not instantly an obvious market for what Amirsoy is selling. The same lack of facilities and investment that has stopped Europeans flocking to ski here in significant numbers means that Uzbekistan has never really developed a domestic ski scene - a kind of chicken and egg-style cycle that's difficult to crack.
But Ubaydullaev, a swarthy man with a firm handshake, who we meet at the bottom of the lift on our first day in Amirsoy, has a plan, and, crucially, the money to make it happen. "To have a sustainable business, we have to make first of all an internal market," he explains. So Amirsoy has invested heavily in catering to beginners - training ski instructors, buying world class rental equipment, and laying the runs out in such a way that step by step progress is easy. Each department - from lift ops, to ski patrol, to catering - is currently headed by an experienced foreigner, with the idea that they will train up and hand over to local deputies "in a year and a half, or two years time," according to Thor-Jensen.
Heading up the gondola one morning, we meet one of these experts. Augustina Sosa, an Argentinian who spent years working in Andorra, heads up the on-mountain medical team. She's relished the challenge of helping to set up a ski patrol from scratch, but the thing she's most excited about is the snow. "It's crazy, sometimes the temperature is five or six degrees, and it's still super light. I guess maybe because we're so far from the sea? But I've never seen anything like it. It's like black magic."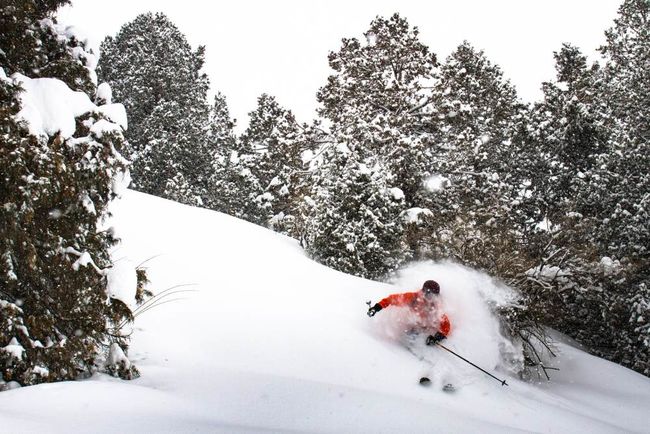 Build it and they will come
She's not wrong. It's been two, sun-baked, days since the last dump when we first drop in at Amirsoy, but the snow between the pistes is still perfectly soft and fluffy. Best of all, because so many of the locals are beginners, we have the off-piste almost entirely to ourselves. Many of those riding the gondola aren't even skiing - they've just come up from Tashkent to take in the view. Immaculately turned out in fur coats and silk hijabs, these pedestrians look well-heeled, but by European standards, Amirsoy is ludicrously cheap. A day pass will set you back 18,500 Uzbek Som, or £16.60 - a fraction of what it would cost in France.
Whether or not this is enough to tempt Europeans away from the Alps in huge numbers remains to be seen. But aside from the global pandemic which cut short its first winter season, the resort couldn't have opened at a better time. Until 2016, Uzbekistan was ruled by a nasty dictator, with a penchant for boiling his political opponents alive.
In the years since his death, however, the country has opened up dramatically. Foreign investment has flowed in, summer tourism is booming, and perhaps most importantly, from a visitor's point of view, the horribly-convoluted process of applying for a visa has been abolished for most nationalities.
We visit Amirsoy just six weeks after the grand opening, and already a handful of international tourists are beginning to trickle in. One afternoon, my friend Felix and I even spend a few hours seeking out pockets of powder with a fellow Londoner. Peter Kovack, originally from Slovakia, explains that he's travelled with a group of friends from all over Europe, one of whom has brought their 15-year-old son. "We just wanted a bit of an adventure," he says. And as we hike out from yet another waist deep line, and strap back into our skis and boards on a perfectly-groomed piste, he has to admit, he's not been disappointed.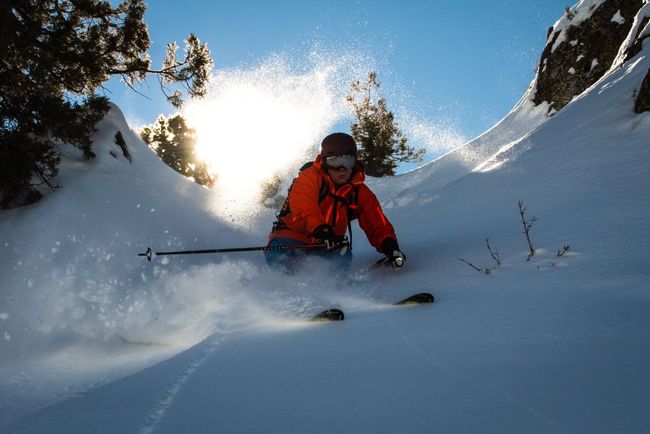 Amirsoy is not without its teething issues, of course. The resort is very much still being built when we visit, with temporary, geodesic domes standing in for the permanent piste-side restaurants that Thor-Jensen and his team will build in future. Despite extensive (and no doubt, expensive) training, the service is not quite what you might expect in Zermatt or Val d'Isere. Perhaps unsurprisingly, the Uzbek dishes we order - which include horsemeat sausage and plenty of plov, or fried rice - are tastier and tend to arrive quicker than the 'western' options on the menu. Up on the hill, Felix and I can only laugh when a liveried member of staff stops us getting on the gondola with him, because - despite the clear "no smoking" sign in English, Russian and Uzbek - he's trying to sneak a cheeky fag.
A whole new approach
Our final day in Amirsoy coincides with the first of the Junior National Ski Championships. It feels like the embodiment of Ubaydullaev's vision, with world-class facilities training future generations of Uzbek skiing champions. It's easy to imagine the country's first World Cup winner emerging from the ranks of these kids, queuing with their skin suits and shin guards to cut their competitive teeth on the course.
It's bluebird, and having tracked out much of the snow between the pistes, Felix and I have decided to skin along the ridge to Maygaskan, a nearby peak. The ski touring potential here is endless, with bowl after bowl just a short shimmy left or right from the gondola. As fun as old Russian helicopters are, this feels like a far more accessible - and sustainable - way to open up the incredible snow of the Tien Shan mountains to international skiers. Roughly halfway to our objective, we pass a sign saying "private property". This valley too, now belongs to Ubaydullaev. In future, there will be a second main lift here, part of an expansion plan that will almost double the size of the resort - and open up further ridges for tour access. For the moment though, it's an empty, pristine, powder field, and we have it all to ourselves.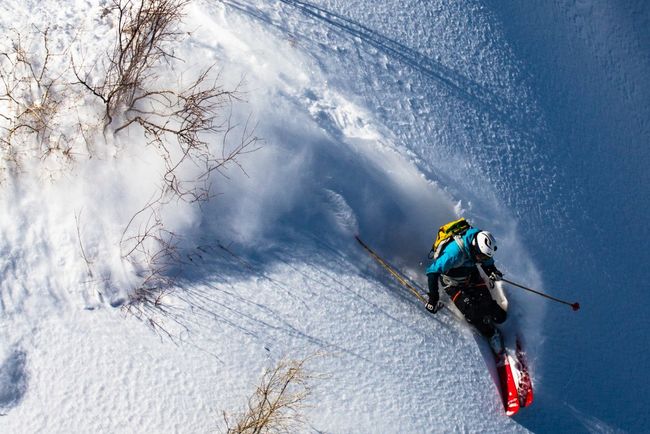 The run down is one for the ages - one of those long, multi-stagers that's so good you can't help high-fiving after each pitch. Not even a wrong turn and a battle with some stubborn bushes near the bottom can wipe the grin from my face. Two days previously, when we were putting our skins on to tour out from a nearby line, we'd met a lone horseman here. Introducing himself as Akmal, he took a long, hard look at our ski touring kit - then he offered us a go on his horse.
"The run is one for the ages. We can't help but high five after each pitch"
Today, however, this Uzbek cowboy's place has been taken by two men wearing Amirsoy uniforms, standing next to a shiny new snowmobile. They currently look a little out of place in this empty, Central Asian wilderness, but they're heading in our direction. "Let's scoot over quickly, and see if we can get them to give us a ride back to the resort," says Felix, grinning.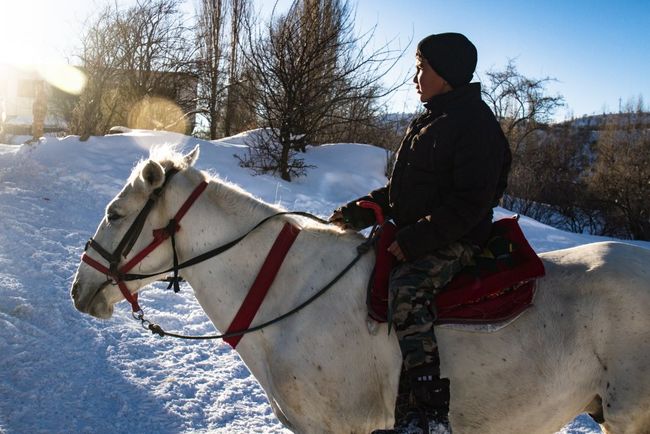 Snow How
Our trip
Tristan's trip was hosted by the Uzbek tourist board, Amirsoy, and Uzbekistan Airways.
Getting there
Pre-pandemic, Air Uzbekistan were operating two direct flights from London Heathrow to Tashkent a week. The schedule is expected to return to normal in 2021.
Where to stay
Le Chalet by Amirsoy is a series of modern, individual chalets sleeping 2, 4, or 8 people, with centralised ammenities, including a spa and banya - an Uzbek sauna.
Where to ski
Spend the bulk of your time at Amirsoy - the pistes are well-groomed, the safety standards are top notch, and the modern lifts offer the best access to the backcountry. But it's also worth visiting Beldersay and Chimgan for a day each. Local guide Kseniya Trebisovskaya, who works alongside her father Grigoriy, can cover all three, and speaks fluent English.
This email address is being protected from spambots. You need JavaScript enabled to view it.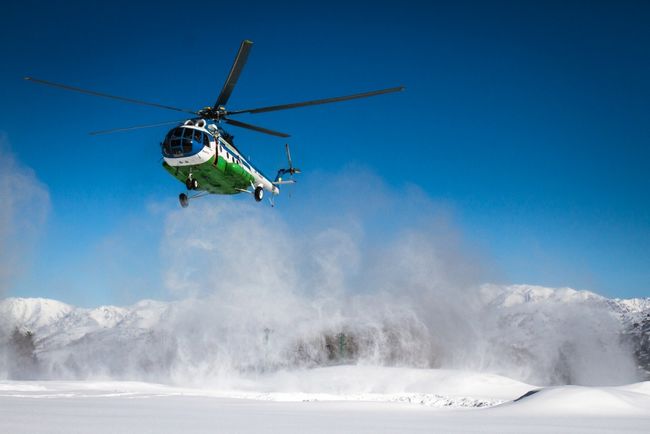 Heli-skiing
Uzbekistan offers some of the cheapest heli-skiing you'll find anywhere. A five-day package from Asia Adventures starts from $4,300 per person.