Adelboden
Charm and piste mileage aren't always found on the same mountain. Adelboden, however, in the Bernese Oberland, hits the elusive something-for-everyone button, which makes it a winner for families with a range of skill levels. Lots of modern lifts and mainly easy-going piste links several mountains – anyone roughly in control of going forwards and occasionally stopping on skis is qualified to explore the area to the full. Great views, mountain restaurants that have nothing to do with cafeterias, and invigorating but never super-scary off-piste complete the on-mountain picture. Down in town it's a proper winter holiday backdrop, with chalets that look like they ought to, a smattering of restaurants and bars, and even a whole hotel, the Alpina, which specialises in hosting families.
Runner-up: Klosters
Maybe the joker in the family pack, but with impeccable credentials – after all, Prince Charles took his family here for years. The skiing, with the whole Klosters-Davos domain at your disposal, is second to none, and the experience of a snowy mountain village presses the Christmassy buttons from which no children (and few adults) are immune.
Winner - Zermatt
Literally and figuratively, it doesn't get much higher than Zermatt. From the top of the Klein Matterhorn, back down to the village, are more vertical metres (around 2,200m) than most people know what to do with, while the lift developments of recent years are nothing to do with replacing an old T-bar or upgrading a double chair to a detachable quad. No, Zermatt's up-to-the-minute lift links are rather more industrial in scale, though all in the best possible taste, efficiently linking areas that since time immemorial had to be skied almost as separate domains. So, 2009 will dawn on a Zermatt whose ski experience finally matches all the other stuff that makes it great – the legendary 38 mountain restaurants, many of which qualify as 'best in the world', tree skiing you could never tire of, five-star hotels that leave the rest of the world trailing, and nightlife that blends table-dancing, sophisticated wine bars and high-end dining in a manner that seldom fails to please, even if it's a pain in the wallet.
Runner-up: Crans Montana
This is the cunning option if you want to marry the good things off-snow with a laid-back, extensive ski experience. Ski the sun-kissed slopes, then slip effortlessly down to Chelsea-on-Alps for spa, cool bar and local-delicacy-free restaurants. Nice.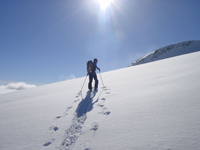 Winner - Morgins
When you say 'budget' and 'Switzerland' in the same sentence, people tend to give you a funny look. True, it's not exactly shoestring – more like shiny buckles – but there's a level of quality that underpins the very mountains you ski on that adds up to solid value. This makes the smaller resorts a very good bet and when, like Morgins, they're linked into the whopping Swiss-French Portes du Soleil region, you're looking at a dead cert. We barely need to discuss the 600km of piste skiing – it's very good and there's lots of it – while the village is unassuming, highly convenient for getting on-slope (it's just not big enough to leave you miles from the lifts) and a charming true-mountain experience in which to holiday. In fact, the only thing that qualifies it as a budget choice is the unassuming prices in resort. Think of it as cost-cutting without compromise.
Runner-up: Flims-Laax
Another non-budget budget place that doesn't sell you short on skiing or anything else. A big snowboard following helps to keep it real, and there's everything from a complete freeride mountain, to miles of rolling, sunny piste to suit emerging intermediates and upwards.
---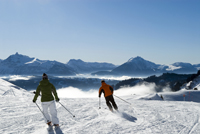 Winner - Val d'Annivers
Want to make a pilgrimage to a freeride shrine? Forget Verbier, try Val d'Anniviers – a cluster of five resorts dotted around one of the Alps' most beautiful valleys, topped by the five 4,000m peaks of the 'Imperial Crown'. The gnarled wooden villages could have you thinking you've time-warped into an era when peasants subsisted on fondue and dried meat, and there were more cows in the barns than skiers on the slopes. Up on the slopes, even a blind man could sense the off-piste potential, though he'd be missing out on the sensational views – particularly the one from above Zinal. All the valley's ski domains – Grimentz, St Luc-Chandolin, Zinal and Vercorin – are relatively under-developed, laying on plenty of in-bounds freeriding without having to hike. But it's the terrain linking the resorts that excels, as little tracked as it is rewarding. There's plenty to rev up the 'yikes!' factor or simply acres of open bowls, friendly, wide couloirs and atmospheric ski-outs past ancient chalets deep in the forest.
Runner-up: Engelberg
If you're feeling brave, Engelberg's the place for you this winter. Season-long epic snow is a given, while the massive glacier tumbling from the peak of Mount Titlis both preserves the powder and provides the interest in the shape of crevasse- and cliff-riddled routes too numerous to count.
Winner - Saas Fee
Given the skiing on offer (impressive) it's hard to imagine Saas Fee coaxing visitors to do anything else, but it does, and they do. The monstrous mountains that almost encircle the village play a significant role, unsurprisingly. If it's a 4,000m peak you want to climb, even in winter, this is not just 'possible' but verges on obligatory. Less lung-searingly, there's a whole mountain dedicated to tobogganing, as well as to eating fondue and drinking local Valais wines. After all that, sliding down the hill on a sledge in the dark, at extreme speeds, is probably easier than attempting to walk home, and it's definitely more fun. The more controlled version has you rocketing along rails around G-force-inducing bends and maybe even a loop-the-loop – at least that's how it felt to me. Also involving gravity in a scary way, the gorge adventure takes you through a frozen world of cliffs and ice-falls without plummeting you ravine-wards, thanks to your climbing harness and the skill of your guide, and there's ice-climbing, for those who can, that
rates with the best in the world.
Runner-up: St Moritz
Not just a super deluxe hangout for playboys, the high lake setting of St Moritz hosts just about everything you didn't know you wanted to – or could – do on snow – kite skiing, polo, even cricket and golf get an airing, while the mass-participation cross-country ski marathon is one of the most extraordinary events, to watch or take part in, of its kind.