There's never a good time for a deadly global pandemic to bring the whole world to a halt, but from a personal point of view, Covid-19 couldn't have picked a worse one. I had decided to go full time as a photographer and filmmaker just a year before, and my last paid job prior to the whole thing kicking off was in Scotland, shooting photos of skis being tested in Glenshee.
Looking back, it was a great few days, with great conditions. But at the time, I was probably more pissed off than anything, because the event had been moved from its original location – Pila in the Aosta Valley – due to this strange, SARS-like disease that was spreading in Italy. No-one knew then how bad things were going to get.
Shortly after wrapping in Scotland I accepted a job in the French Alps – only to find, literally an hour after I arrived, that the government were declaring a Covid lockdown, and anyone who wasn't living in the country would be forced to leave. At least they were kind enough to let the resort have a huge farewell party. Perhaps not the wisest move in hindsight, given what we now know about how the disease spreads.
But it was still the highlight of my 2020, followed immediately afterwards by the lowest point of my 2020, as I was bundled on to one of those hastily-arranged evacuation busses for an extremely hungover 26 hour trip back to the UK – driving straight into the jobless uncertainty of a seemingly interminable lockdown.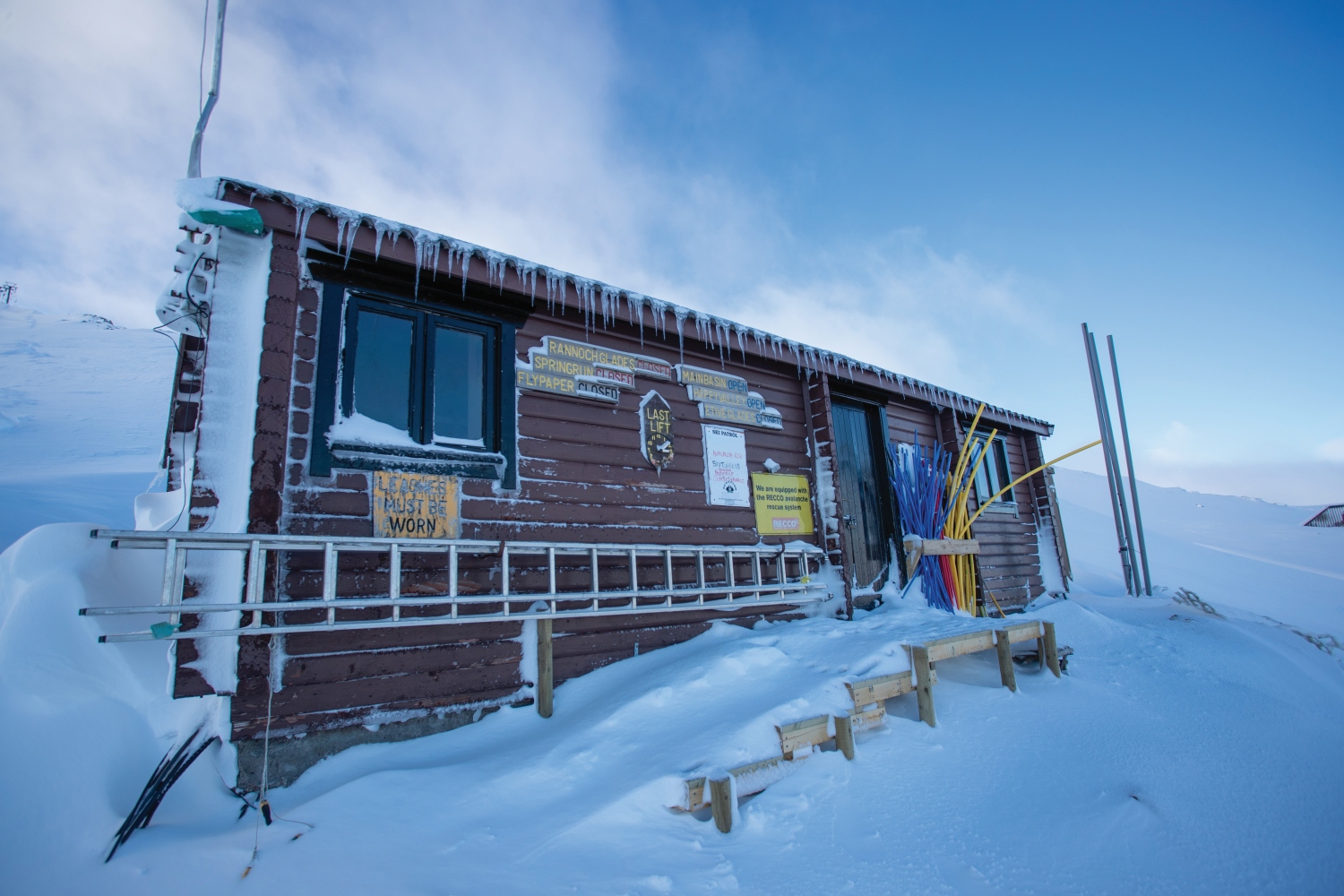 Needless to say, by the time January 2021 rolled around, I was desperate to get going again – somewhere, anywhere, to get some skiing in. Travel outside the UK was out of the question at the time, but you could still move around internally for work, if required. So when the chance came to do some work for this very magazine in the Scottish Highlands, I jumped at it.
We had a small window of opportunity – a huge northern cold front was approaching fast. I called my friend Rob Kingsland, an instructor and guide who lives in the Highlands. Normally, he and his partner Keren Smail would be flat out running the Signal Rock Cottages in Glencoe, but like me, they'd found their diaries strangely empty.
It only took a brief conversation with this power couple of Scottish backcountry skiing, to settle on a plan. We'd go "storm chasing" – staying flexible enough to follow the weather around the Scottish Highlands. That way, hopefully, we'd score the best possible conditions for our shoot.
As someone who lives further south, the idea of powder hunting in the Highlands was something I'd never thought would be possible. After all, there are basically only two ways to do it: you can either live in these mountains all winter, like Rob and Keren, or you can have a work schedule so empty that you're free to visit at a moment's notice. (Needless to say, in a normal year, I wouldn't recommend the second option).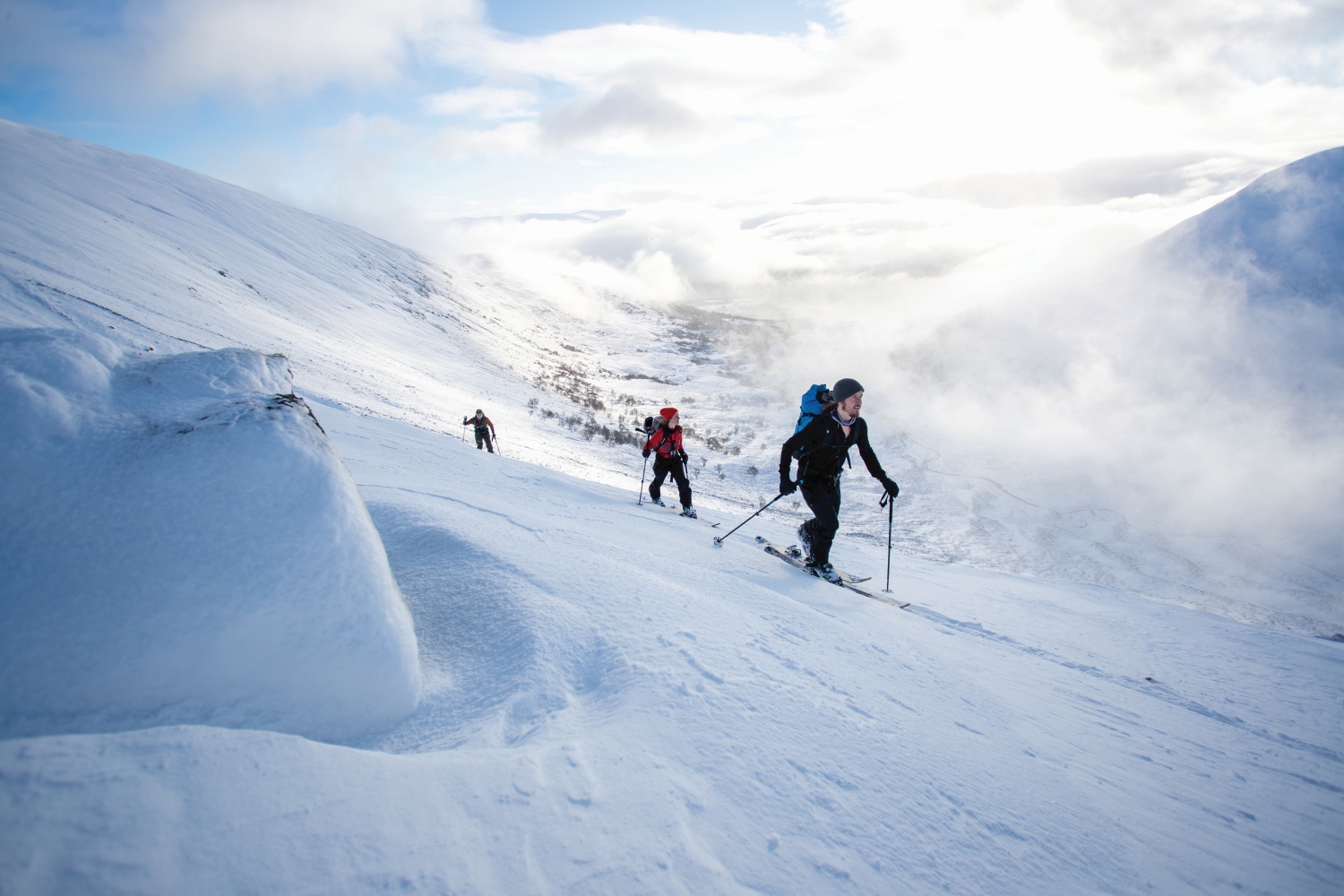 Marg na Craige – 834m AOD
Our pre-trip planning was meticulous – double-checking travel rules, getting our papers in order, and printing out the commissioning letters from our editor – but we stumbled across our first little ski tour of the trip basically by fluke. The snow fields visible from the car window just looked so tempting that we were forced to pull into a small town called Laggan. As the home of the trail centre Wolftrax, Laggan is well known as a place to go mountain biking in summer, but we had no real idea what the slopes would be like on skis.  
"I might have let out a few involuntary whoops as my skis hit soft, fresh powder for the first time in ages"
We put our skins on at the car – another first for me in Scotland – and then set off on the 834m ascent of Marg na Craige. The peak falls just short of being a Munro (914.4m or higher), but sitting on the summit, with untouched powder fields below, and endless rolling features just waiting to be carved up, was enough to get my heart pumping. I believe I might have let out a few involuntary whoops as my skis carved through the soft, fresh powder – for the first time in what felt like a very long time.
It wasn't long before we found a hidden valley, flanked by steep faces and powdery ridges which Rob and Keren were quick to slash, while I snapped a couple of pictures. Further down, we found another series of steeper crags that had collected a huge amount of snow – honestly, as good as anything I've skied in the Alps. I would have been happy to end my trip right there and then, but we'd only just started to explore the powdery bounty the storm had left in its wake.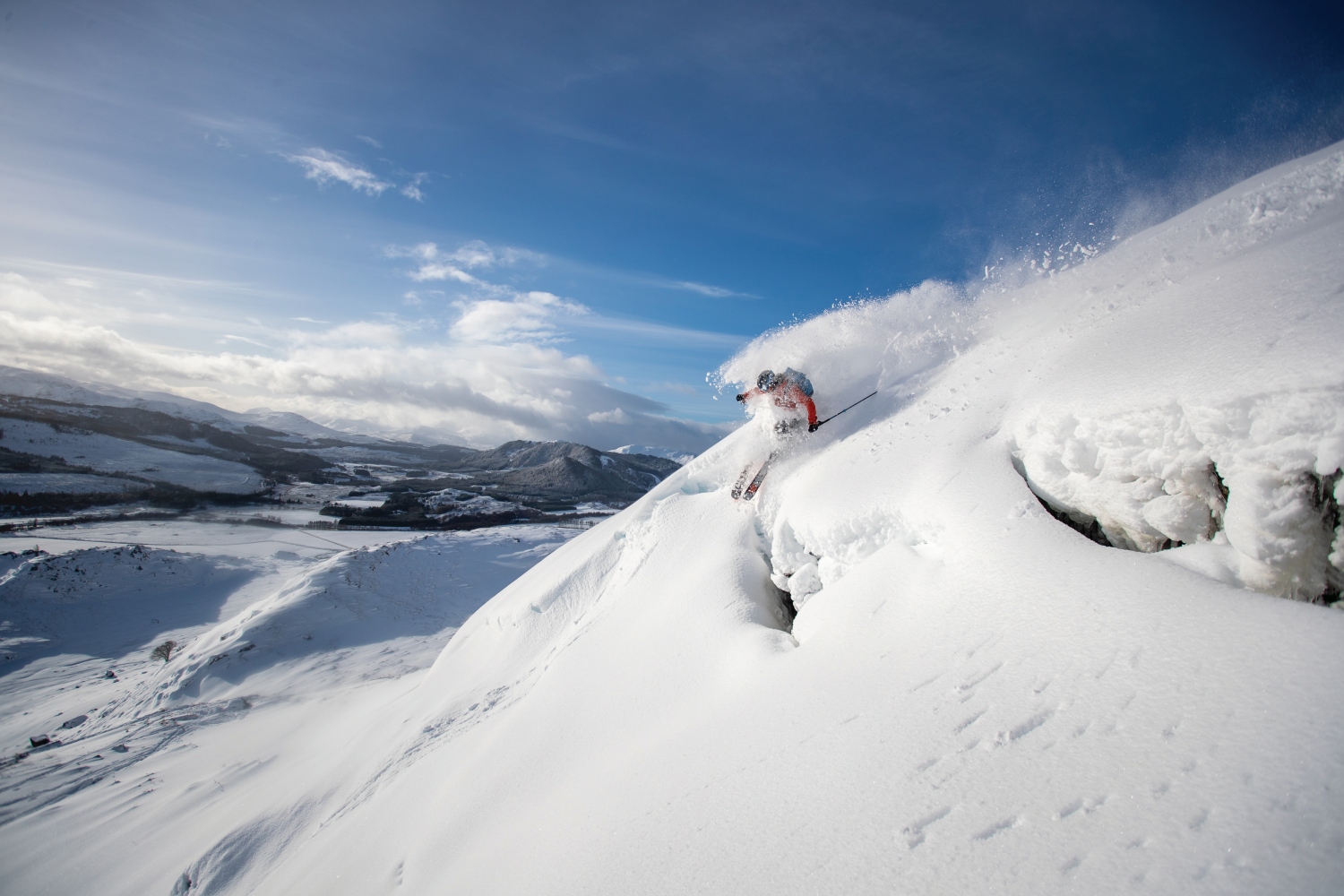 Sron Coire a Chriochairein – 993m
On our second day we were met by Cameron Wood, aka Woody, one of Scotland's best up and coming young freeride skiers. The storm had lead us to the Creag Meagaidh National Nature Reserve, and our planned tour for the day was a long one – winding its way up through heather bushes and birch forest before finishing on the summit of Sron Coire a Chriochairein, at 993m. A proper Munro.
Here, we found that not only had the storm gifted us more epic powder, it had moved off far enough to leave golden light cascading down into the valley, which made for some pretty stunning images [including the cover of Snow Magazine 2022 - ed]. After so long in lockdown, being out in this landscape felt pretty surreal.
Having done a certain amount of shooting on the way up, I decided to keep the camera in my pack for the first couple hundred metres of the ride down and just enjoy some flat out, burly turns on my Nordica Enforcers. Sure, those 200m weren't strictly speaking 'work', but I had no regrets. Shortly afterwards, we came across a huge snow bank, which formed a natural half pipe. This was where Rob, Woody and Keren got to do their jobs, laying down some big turns, then hiking and touring back up again to air out of it, while I snapped pictures.
Woody hucked a couple of ballsy 360 attempts out of the bank before we skied down through snow filled gullies to the valley floor. In parts, it definitely got quite 'interesting' – some of the gullies were so narrow, and full of snow that all you could do was point your skis downhill, and pray. The air filled with our laughter as we narrowly missed a tumble, ploughed headfirst into a snow bank, or came unstuck on an outcrop of heather.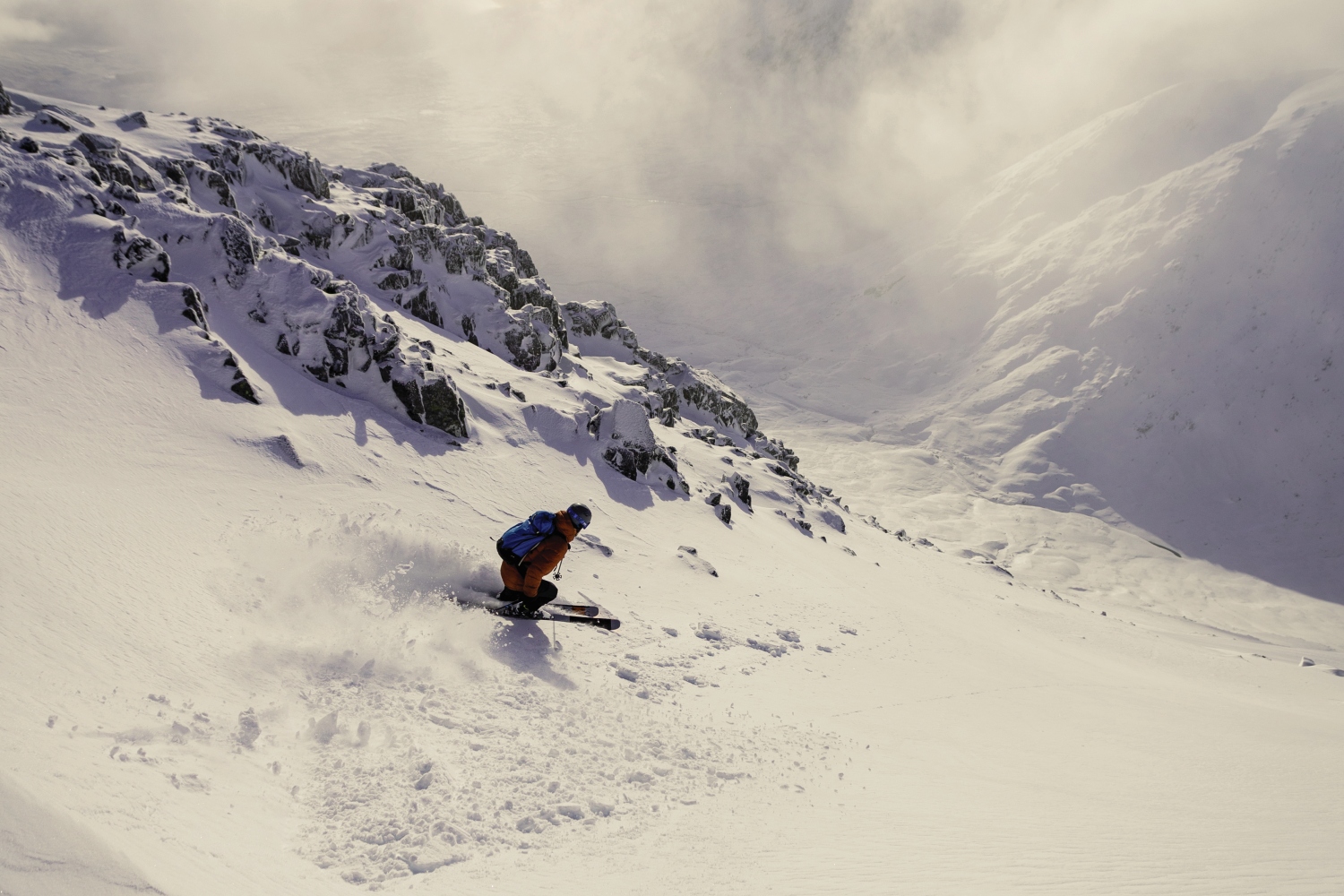 Meall a Bhuridh (Glencoe Mountain Resort)
The plan for the final day was for Rob, Keren and me to meet up at Glencoe Mountain Resort, where just by chance, we bumped into Woody again. I wanted to get some photos of skiing the southern aspect of the resort from a summit called Meall a Bhuridh, which at 1,108m, would be the high point of the trip – or so we hoped.
Ski touring up from the car once again, I noticed the base station and restaurant had been almost completely destroyed by fire. Apparently the blaze had started on Christmas Day 2019, meaning that even before the pandemic shut it down, Glencoe was having a hard time of it. It's such a shame they weren't able to open in 2021, because the snow couldn't have been better.  
It didn't take long scouring the southern aspect before Rob had selected our entry point – a reasonably wide gully, that was steep, but not too steep. There were tighter, gnarlier options, but the snow from our storm was still very fresh, and anything above a certain angle just felt like too much risk. Balancing myself precariously over the edge of the gully's entrance, I snapped a couple of images of our crew making light work of the steep slope.
What I failed to notice through the viewfinder was a very icy patch just above where Rob had stopped. Woody and Keren had apparently both narrowly missed falling on it, but unfortunately my eagerness got the better of me, and I charged right into it, keen to lay down some turns in what looked like fantastic snow.
"My knees hit my chest, spinning me around backwards. I was forced into a series of cartwheels, rag-dolling down the hill" 
My knees hit my chest, spinning me around backwards. I remember trying to turn out off the spin, but with the weight of my pack I was forced into a series of cartwheels, rag-dolling a decent way down the hill before I managed to self arrest, just before a series of rocks. That will teach me to ski too hard after so long off!
Thankfully, nothing was hurt but my pride, and we made our way out of the valley past the River Ba without further incident. Having arrived sooner than expected, and with all the shots we needed in the bag, we decided to finish the day with a quick lap of The Wall. It's an inbounds run, where in any normal season you'd expect to find a couple of inexperienced skiers upside down in a gully known as The Haggis Trap.
The fact that we and our fellow tourers had the whole area to ourselves felt like a blessing, but it also hammered home just what a curse the pandemic has been for ski resorts around the world – and how much places like Glencoe need our custom this winter.
I left feeling incredibly lucky to have been able to ski at all, and grateful to Rob, Keren and Woody for showing me their home. Having seen the Highlands at their best (despite all the odds) I vowed never to take them for granted again. Sure, places like Pila in the Aosta Valley are great, but when it's on, Scotland rivals anything they can offer. As I drove south, I was glad I'd said "aye" to chasing this particular storm.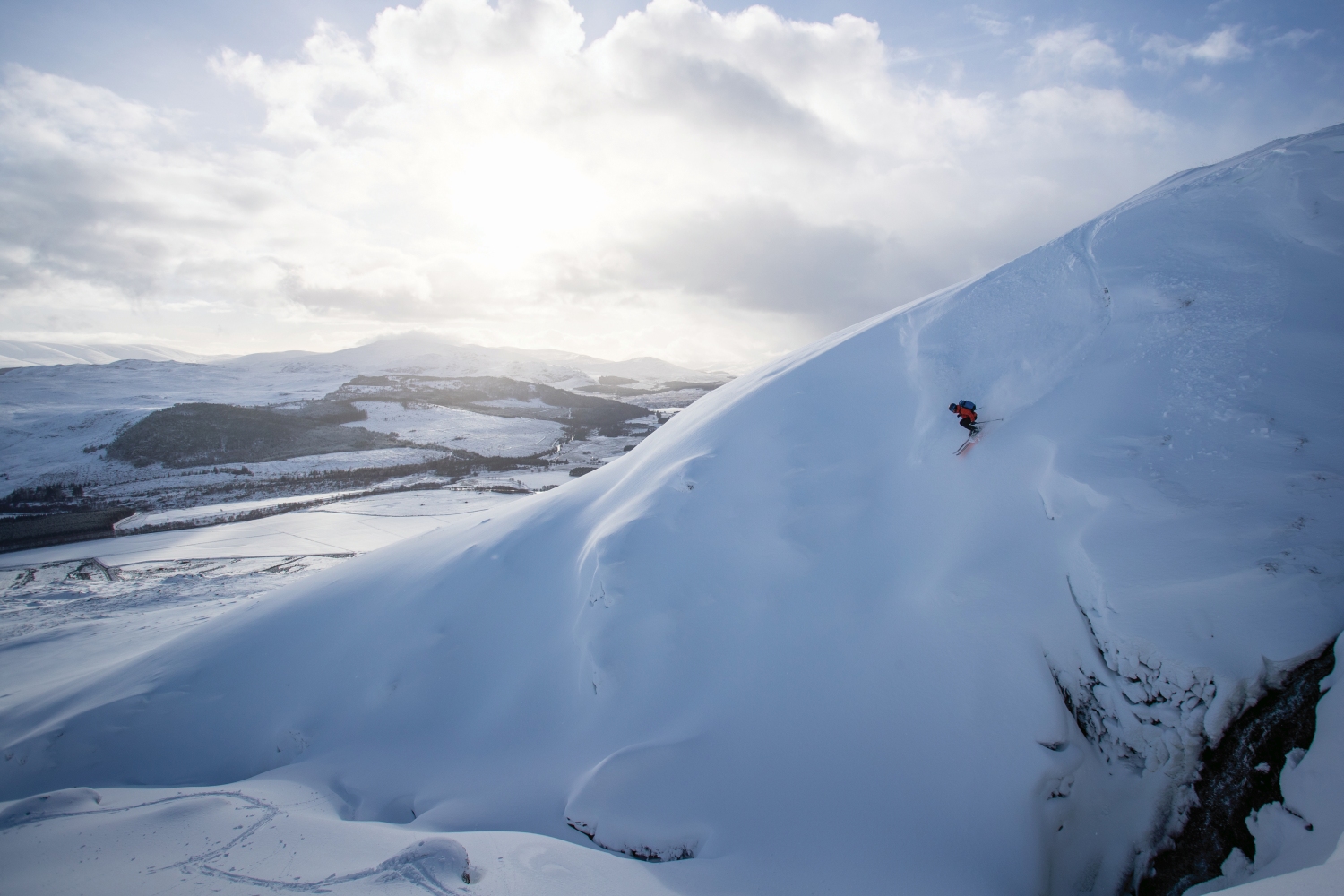 Snowhow
Getting there
Catch a train to Glasgow. Regular trains run from Queen's Street Station onwards to Fort William, costing £30 and taking 3hrs45 minutes. If you're travelling from London, the Caledonian Sleeper runs a brilliantly comfortable and convenient service through the night to Fort William, multiple times a week, from £125 return.
Getting around
Once in Fort William, you'll probably want to rent a car to get to Glencoe Mountain Resort, and up into the Highlands. Alternatively, you can rent in Glasgow and drive from there.
Where to stay
There are brilliant accommodation options scattered throughout the Highlands. We'd highly recommend the Signal Rock Cottage B&B, run by Rob Kingsland and Keren Smeil. If you ask nicely, they might even tell you some secret spots too.