Spring skiing at altitude gives you the best of both worlds - the snow is still good, the air feels warmer and the days are longer. Situated at 2,300m, Val Thorens ski resort is not only the highest village in France's famous 3 Valleys (3 Vallées) ski area, it's also the highest ski resort in Europe. Snow conditions are reliable throughout a long season, running this winter from 20 November 2021 to 8 May 2022, making Val Thorens one of the best spring skiing resorts. 
Some 99% of Val Thorens' high altitude slopes are above 2,000m, occupying a huge cirque crowned with six separate glaciers at the head of the Belleville Valley. It's a stunning location and when the sun is shining, there's nowhere better for a ski holiday!
Val Thorens is a world-class ski resort - with some seriously luxurious places to stay - and is surprisingly big and busy for such a remote location, with no lack of services or facilities, a lively après ski scene, great family-oriented activities, and plenty of terrain to suit skiers and snowboarders of all abilities. It's the perfect spot for an Easter skiing getaway.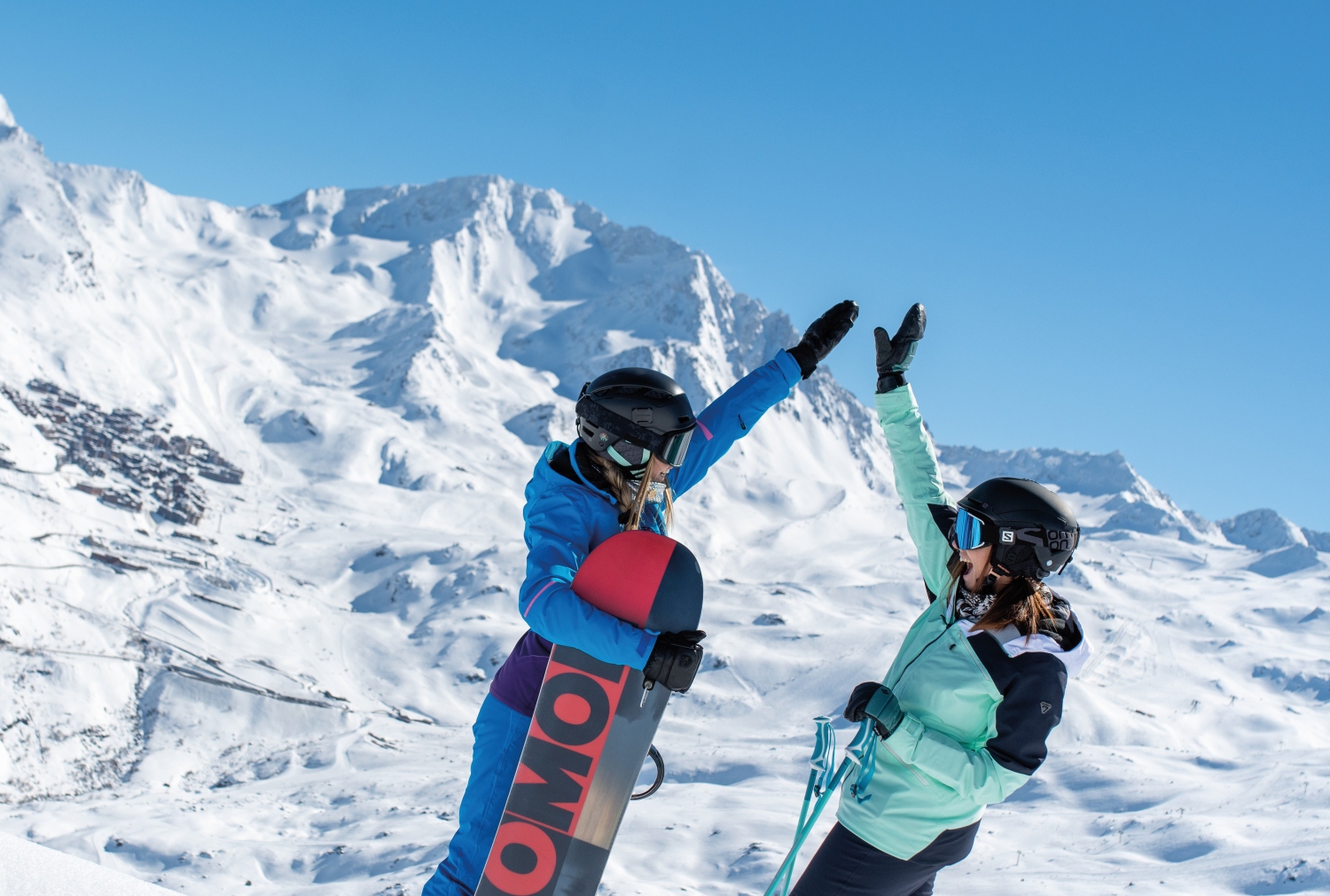 Val Thorens - snow sure skiing
There are 150km of pistes on the local Val Thorens/Orelle domain alone, 31 ski lifts and 88 runs: 11 green, 39 blue, 30 red and 8 black. And if that's not enough, as part of the 3 Vallées ski area - the largest in the world -  you have access to more than 600km of runs and some of the best off-piste in Europe.
For beginners and early intermediates, 50% of the slopes in the 3 Vallées are green and blue runs. It's not all about the downhill mileage either - Val Thorens has a range of fun areas to try out : one Snowpark and one Family park, two toboggan runs, one Fun Ride, one boardercross, one Stade de Ski Cross and one Avalanche Rescue Training Park.
The Easy Rider beginners' area has four magic carpets with free access and four ski lifts accessible with the EasyRider Minipass.
Val Thorens' ski area fans out over seven distinct sectors, including the mostly blue runs of the Col de la Chambre, where you'll also find links towards 3 Vallées neighbours Meribel-Mottaret and Les Menuires. The high Péclet sector directly above Val Thorens offers good long reds, while the narrow Pointe de Thorens sector at the head of the valley provides access to epic off-piste routes but also has a lovely long red-into-blue cruise back towards resort. 
The twinned Rosael and Cime de Caron sectors form the bulk of the area, filled with wide high-altitude blues and reds plus some testing mogulled blacks.
The wonderfully high-altitude situation and vast array of choices when it comes to ski terrain make Val Thorens a resort that has some  of the best spring skiing in Europe.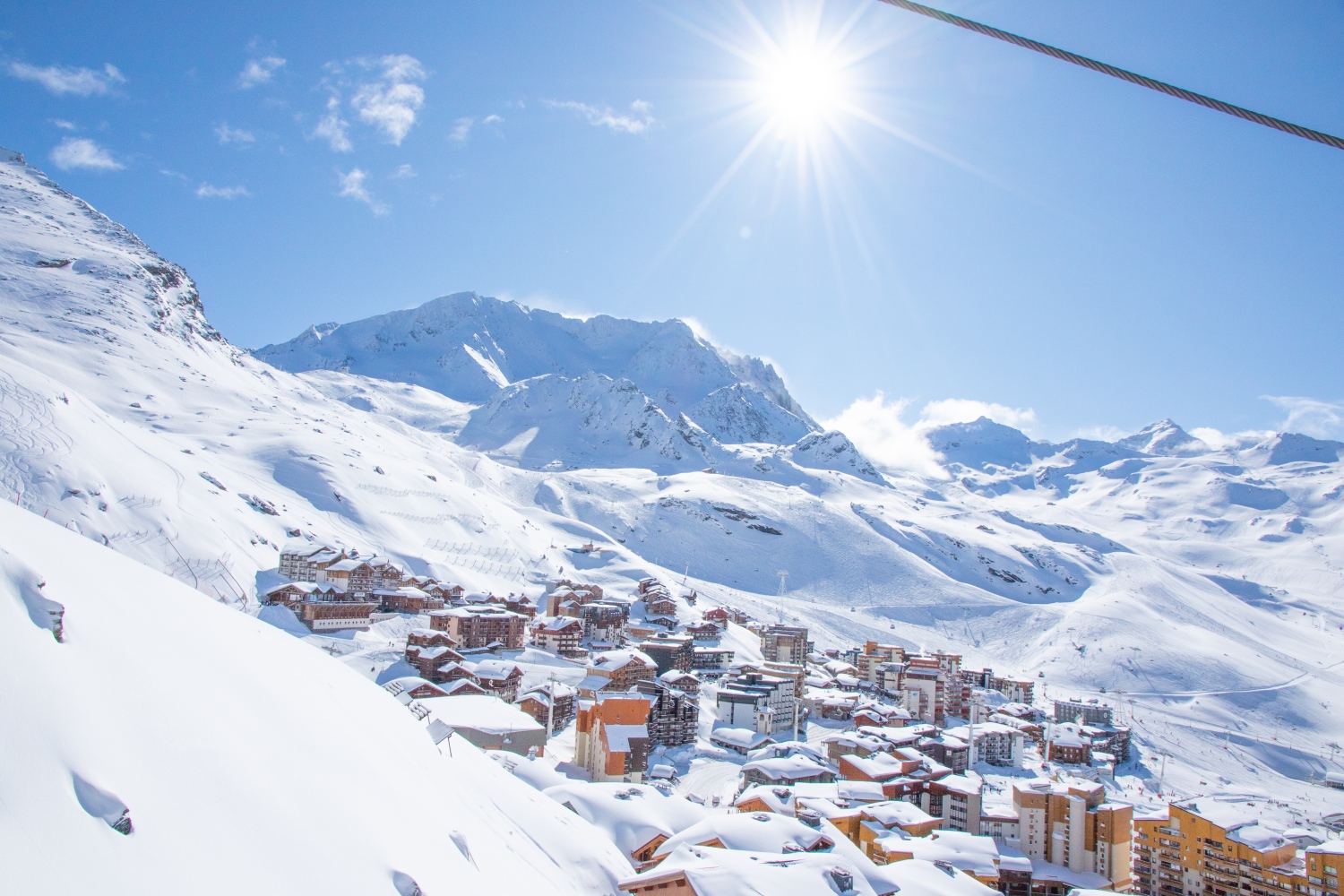 The high life
All the accommodation in the resort is ski in/ski out, making it wonderfully convenient, and the resort benefits from a state-of-the-art lift park which allows a large capacity and no waiting time.
Val Thorens is a big, purpose-built resort village, but a compact one nonetheless. Its wide streets and covered walkways are pedestrian friendly and it has a good selection of shops, supermarkets, cafés, local restaurants, bars and pubs. The Sports Centre, which is currently undergoing renovations and will fully reopen in December 2022, has a spa, swimming pool, a gym and fitness suite, squash courts, multi-sports hall and a children's fun-park area. Plus, new facilities including a conference centre, seminar rooms and roof terrace event space are currently under construction.
Several hotels also have spas that are open to non-residents.
Other leisure options include ten-pin bowling, games arcades, and a cinema. For more active fun there's snowmobiling, ice diving, ziplining, mountain biking on snow, paragliding, an ice driving circuit, and an epic 6km toboggan run from the top of the Péclet gondola.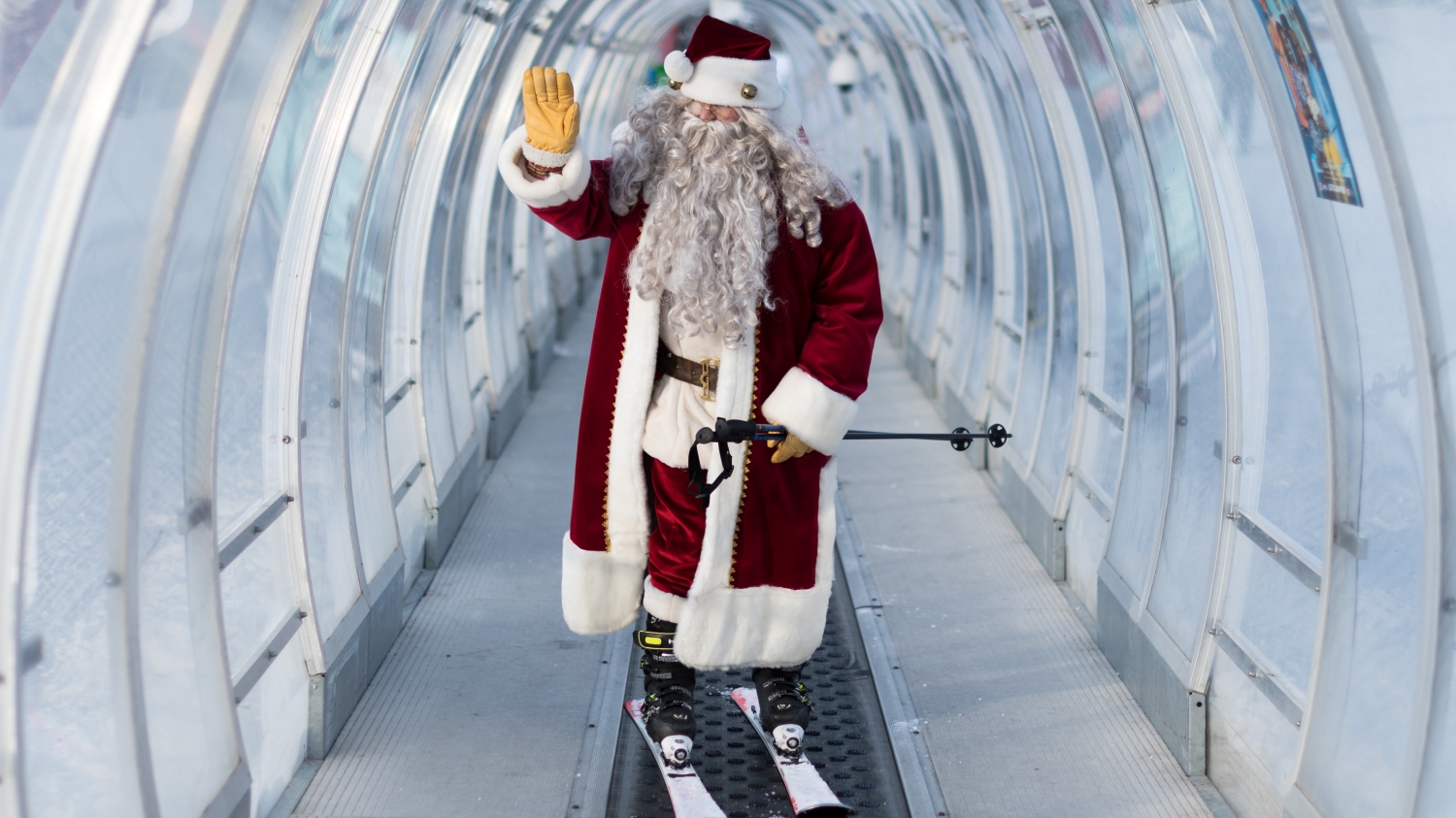 Diary dates
Every season, Val Thorens offers a full programme of sporting events, shows or even exceptional concerts! Here are a few of the events coming up this season:
13-25 February 2022: Astronomy Weeks 
Planetarium, projections and discovery workshops, observations of the sky and stars.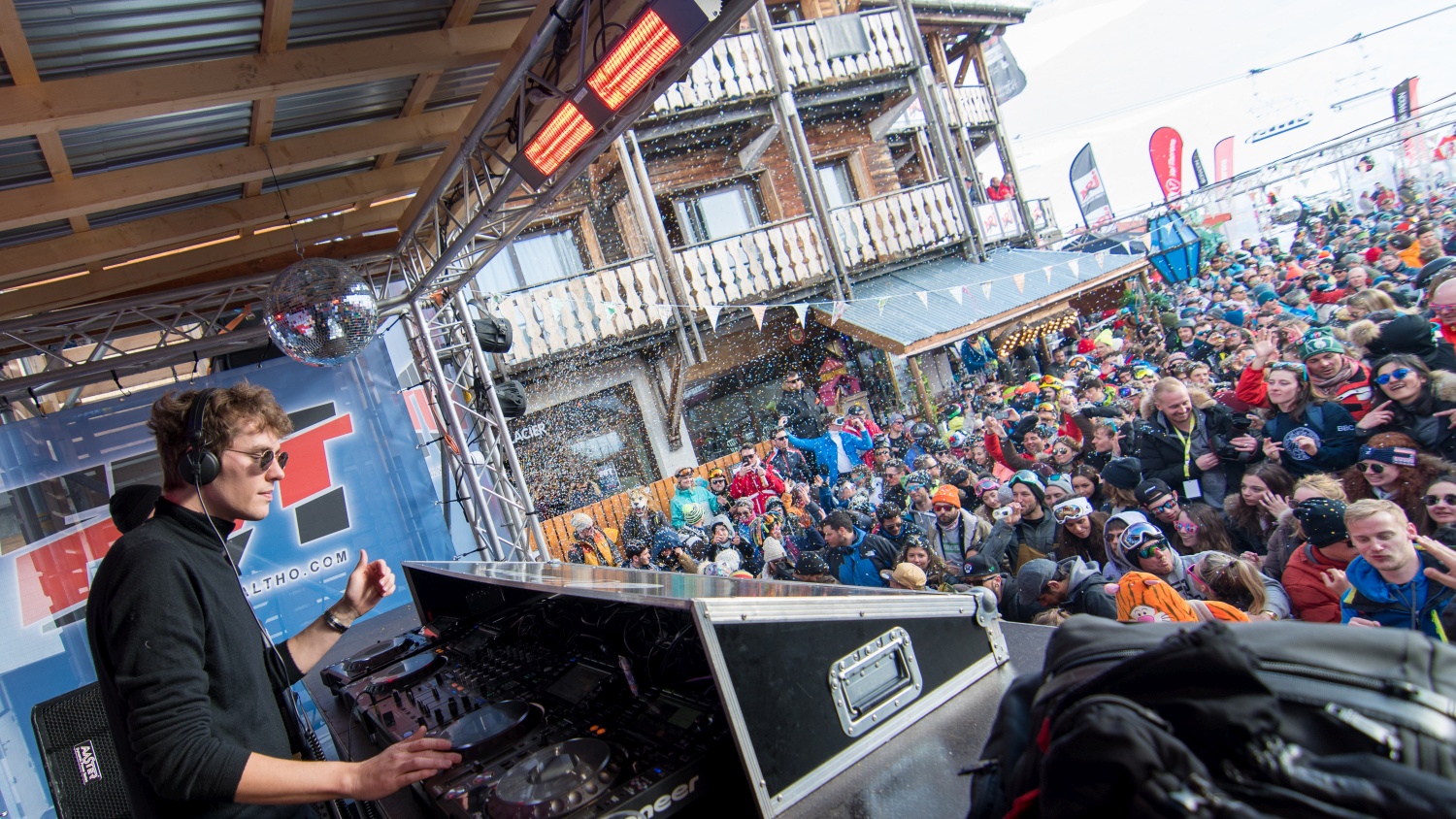 22-24 March 2022 : Festival Tho 
Three days of electro music in the heart of the slopes which has grown into an unmissable event over its 12 years of existence.
16-18 April 2022 : Jazz à Val Thorens
Back for a third time, this festival let's you settle in and unwind with some fantastic jazz music, with 17 concerts between noon and midnight, plus a show specifically for young people, a photo exhibition and more. 
6-8 May2022 : La Grande Dernière 
Make the most of the season's last weekend to enjoy late season skiing on the slopes with entertainment all weekend including events, races and prizes.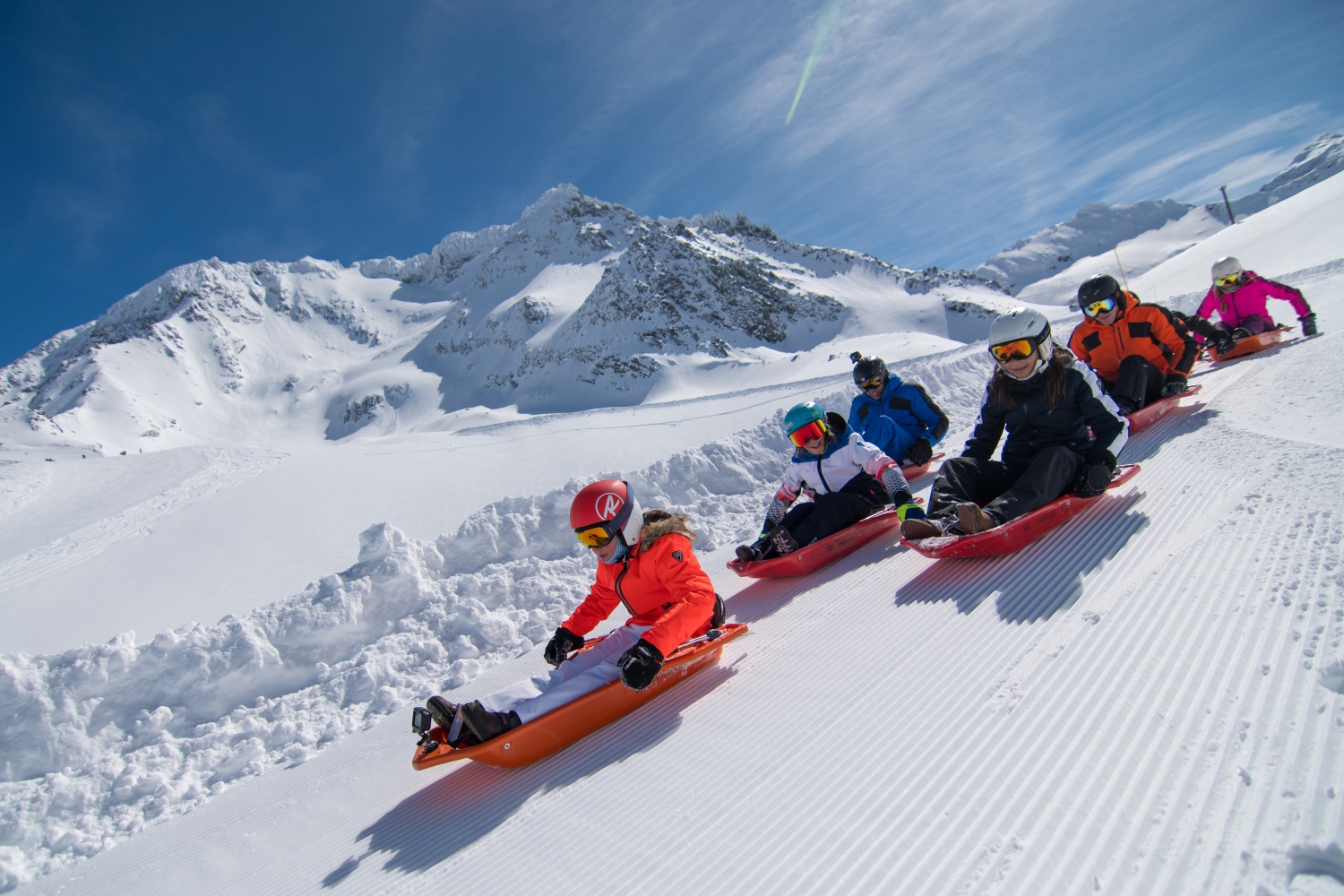 Family skiing at Easter
In 2022 the Easter weekend falls on 15-18 April, which is very late for many lower-lying ski resorts. But at Val Thorens, it's the perfect time for family and beginner skiing because of the school holidays, nicer weather, cheaper prices and quieter slopes.
Six great children's activities in Val Thorens:
Whether it's setting off on a family snowshoe walk, taking part in the torchlit descent, just like the grown ups, or trying out new sports in total safety: children will find plenty of ways to enjoy a wonderful holiday in Val Thorens! Here are six great activities your young ones will enjoy.
Luge area "Téléphérique" and the Piste aux Etoiles
In the heart of the resort, on the Place Caron, a play area has been set up to help the little ones discover the pleasures of sliding. Not far from the toboggan run for the older children (La Piste aux Etoiles), the cable car play area is equipped with two slides.
For older children, the Piste aux Etoiles is 250 metres long and has a 45-metre difference in height, with several sharp turns. And there's no need to walk back up pulling your sled behind you, the 2 free covered carpets (Castor and Pollux) located at the bottom of the run allow an effortless return to the starting point at Place Caron.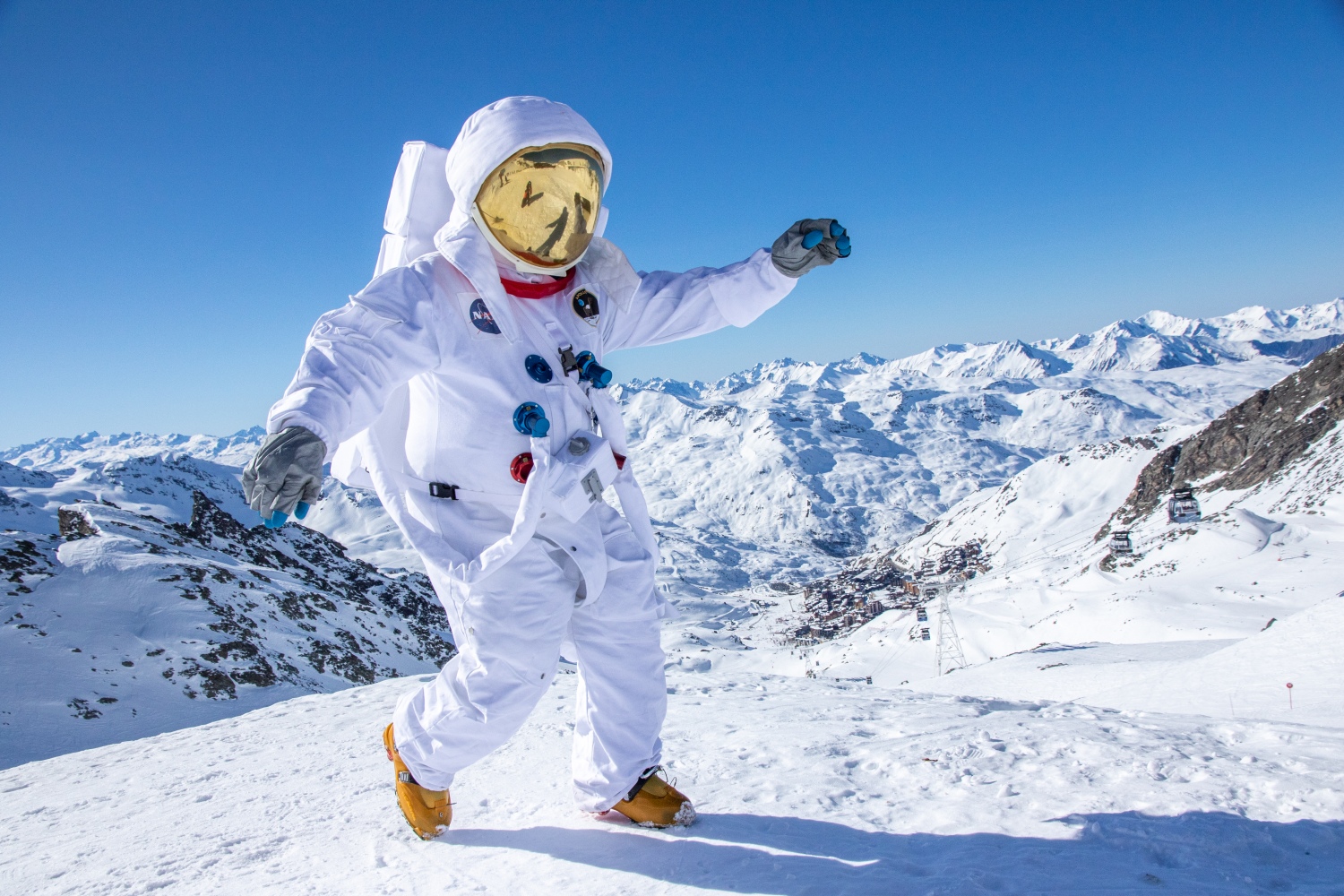 Cosmojet Toboggan Run
Get ready for an incredible experience on a marked-out run in the heart of a magnificent natural valley. After an 8 minutes ascent using the Péclet Funitel, you arrive at the departure point at the foot of the magnificent Péclet glacier, at an altitude of 3,000m. Then it's off for 45 minutes of excitement and sliding entertainment! The course - entirely redesigned to offer a really immersive experience for kids using a space theme - incorporates raised bends and varied slopes, and provides an immersive experience for children aged five years and up.
Laser Game
Suitable for children from 6 years old. Opening this season in the atmospheric location of an underground parking garage, two teams armed with laser guns will go head to head in an apocalyptic setting. Since the planet has become unhospitable and 97% of life on Earth is lost, the goal is simple: shoot the other team as many times as possible, eliminate them and guarantee your spot in one of the last refuges on earth: the Val Tho Base Camp!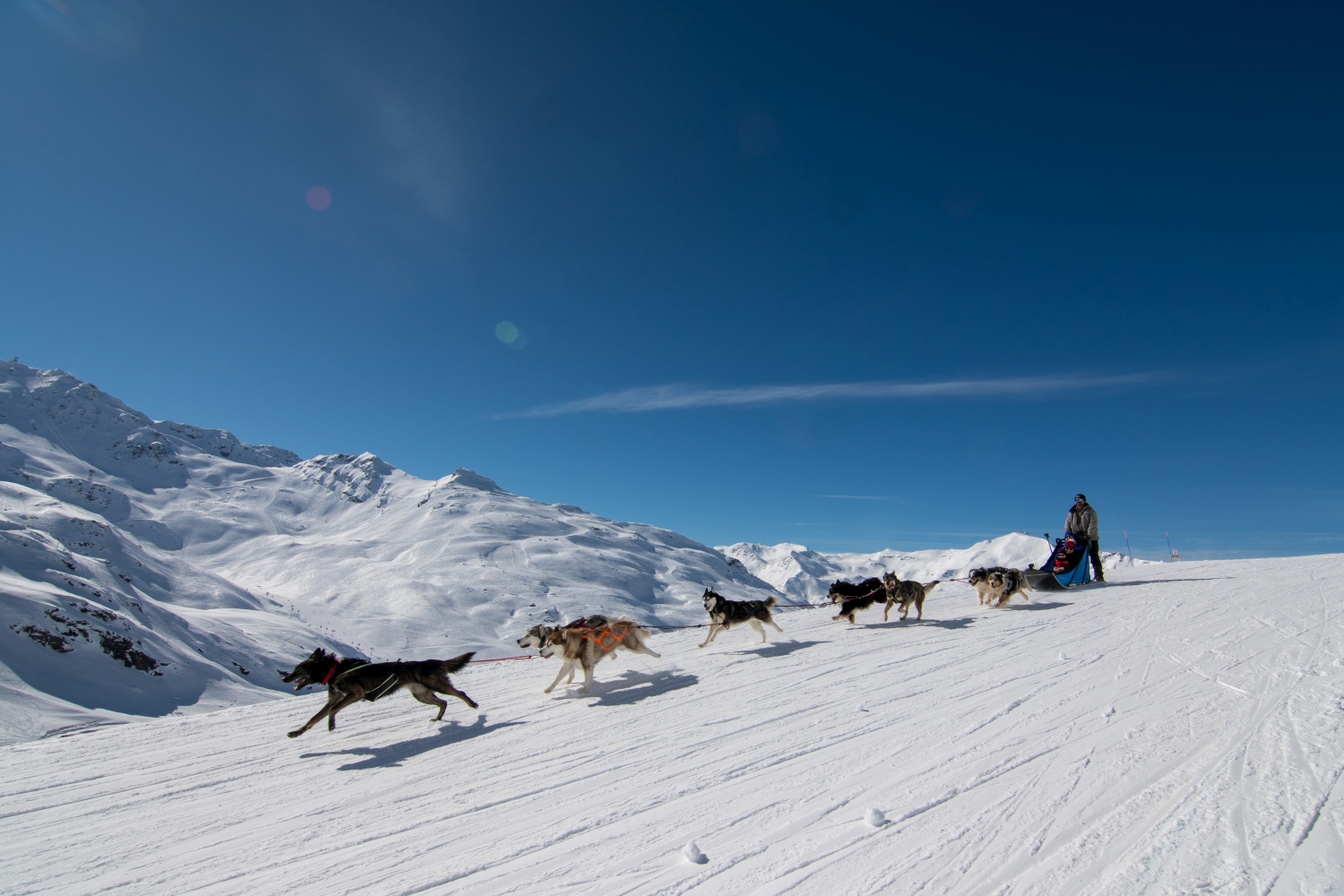 Dog sledding
Do you like nature, sliding, adventure and contact with animals? Come and enjoy an extraordinary moment with our musher and his dogs for a sleigh ride on the Chemin des Montagnettes. You even get to stroke the dogs! Available from 2 years and up.
The first ice skating rink in the resort
Val Thorens opened its first-ever ice skating rink last winter, but this will be the first winter many visitors will have had the chance to enjoy this family-friendly activity. The staff at La Patinoire welcome skaters of all ages in Place Péclet to discover the joy of skating on the 400m2 ice ring made from completely natural ice.  La Patinoire also has a small chalet – a cosy spot to enjoy pancakes and hot chocolate with family or friends.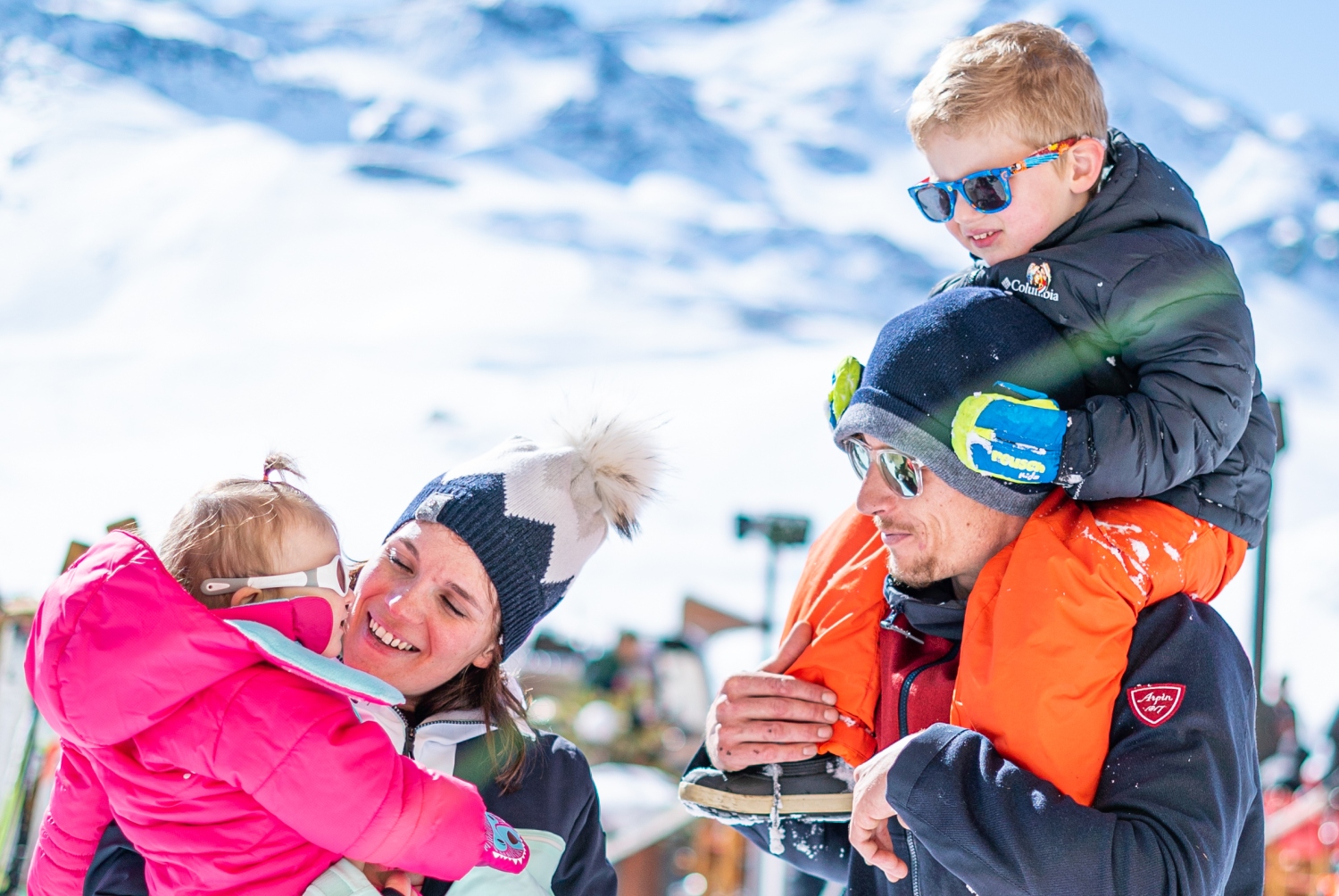 Treasure Hunt "Mission Val Thorens"
A fun activity for families, pick up your treasure Hunt booklet at the Tourist Office on Place Caron. Head to the places numbered on the map, try to solve the puzzles and fill in your notebook. Once you've completed the puzzle, return to the Tourist Office with your notebook to collect your gift!
How to get to Val Thorens
Val Thorens is around two hours' drive from four major airports - Lyon, Geneva, Chambery and Grenoble, with regular transfers to the resort. If you prefer to travel by train, the nearest station is Moutiers, from where bus shuttles take you up to the resort.