In these gloomy, credit-crunched days, my kind of doctor would definitely prescribe a course of downhill action to get over it/make it worse, and if you can't quite stretch to Aspen or Whistler this year but still crave a transatlantic fix, the modest slopes of New England have an exoticism and a pedigree all of their own. Here, the tradition of skiing is as deep as a snowdrift. New England may have lost 900 ski resorts to 'progress' over the years, from Pennsylvania to Maine, but more than 130 survive and thrive. Many are just small hills, such as Nashoba Valley, just minutes from Boston, where as soon as it's cold enough all 17 trails get blasted with man-made snow, and 48 hours later the lifts swing into action.
Most UK visitors fly into Boston, less than seven hours by air. In a region where none of the resorts will challenge an Alp-fed regular skier for more than a couple of days, a rental car's a must (sorry planet) and roads north lead to the 'Green Mountain State' of Vermont and the 'Freedom or Die State' of New Hampshire. (I wonder why all US states need titles. I'd propose replacing New Hampshire's with the less heroic but nowadays more relevant 'No Sales Tax State' as here, the price you see is the price you pay, unlike the rest of the US. Except Montana, shopping fans, and you'll want to know that the factory outlet shopping in both New Hampshire and Vermont is superb).
Nearly all of both states' resorts are an easy two- to three-hour drive from Boston, and as the resorts are fairly close to each other, a road trip stopping off in a few is a cinch. The resorts themselves are on the whole modern and efficient, while many of the nearby villages are achingly New England cute – you know, white clapboard houses, steepled churches, Salem witches.
Among the purdiest is Stowe in Vermont. Home to the Trapp Family Lodge, still run by the descendants of those Von Trapps, and, down in Waterbury, the Ben and Jerry's ice cream factory, the immaculate village lies a few miles from Stowe Mountain Resort, which has recently spent millions upgrading its facilities. Visitors seeking the cosseted, full-service American family experience flock to Smuggler's Notch on the other side of the mountain, a kind of Disney-on-Snow experience with pretty much ski-to-the-door accommodation, and integrated ski and activity programmes for littl'uns. Vermont's big hitter, meanwhile, is Killington, this year celebrating its 50th birthday, which includes the next-door resort of Pico on its lift tickets.
Another neat route into Killington is the daily Amtrak service from Penn Station in New York City, which stops in Rutland, about 20 minutes drive away. The driving here is gorgeous, too, through picturesque winter landscapes of pretty hamlets, Dutch barns and snowbound farmland. Halfway between Killington and Stowe, Sugarbush is another mountain on the up (sorry), in mid-upgrade of its already impressive facilities, and, uniquely among the resorts of the east, offering cat-skiing.
There's a distinctively freewheeling, uncommercial feel to riding slopes in this part of the world. Some years before I carved my first turns in Vermont, I'd read a novel (name long forgotten) which was based there, and was left with an image of hippy-ish, 60s skiers hanging out in a log cabin in the woods in the winter gloaming. It stayed with me and when I finally came to ski there, I found this nostalgic vibe still existed alongside the modernity of the inevitable real estate-based resort development.
Continued...
---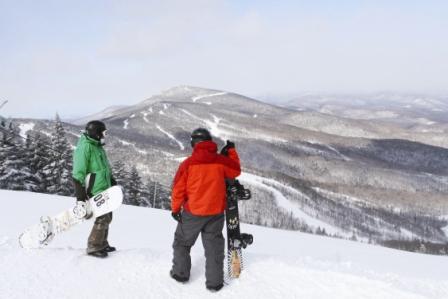 I spent an especially memorable day on New Hampshire's Cannon Mountain. No sun that day, just fresh snow, a vertical drop of more than 700m, and barely a soul in sight. Step out of the cable car, bundled up against the cold and away, arrowing through powder snow, playing in the trees, resting as the burn in the legs wins. This was skiing plain and simple, no 'on-mountain' anything, no posers, no shopping experiences, just an immaculate mountain with thrilling terrain in the middle of Franconia Notch State Park.
While Killington has been drawing British skiers to Vermont since the mid-80s, New Hampshire is catching up, now welcoming more than 15,000 Brits each winter and more often than not bringing them back for more. A big attraction is that five of the resorts – Loon, Waterville, Cannon, Cranmore and Wildcat mountains – are skiable on one lift ticket (from as little as $43 per day). And wherever you stay – the favourite bases for Brits are Lincoln and North Conway, about two hours' drive from Boston Airport – you are no more than an hour away from all the resorts covered, which line up in a neat row stretching from the eastern border with Vermont to the western border with Maine.
North Conway edges it perhaps, as the après choices are more extensive, and the shopping is phenomenal. Away from the centres of Lincoln and North Conway are some very characteristic properties, like the elegant mansion house the Woodstock Inn (near Lincoln) complete with its own brew pub. Also in the Lincoln area, Woodwards Resort has always been popular with Brits, and the steaks are legendary.
Away from the slopes, the vein of New England cuteness runs through New Hampshire, and off-slope activities such as snow-shoeing, ice climbing and sleigh rides offer some exciting alternative views of its landscapes. And if the region's much vaunted but actually infrequent bitter cold bites down, the remedy is at your fingertips. I defy anyone to come up
with a more comforting breakfast than a New England stack
of pancakes, with plenty of bacon of course, and slathered in the luscious local maple syrup.
Lost and Found
Lovers of the off-the-beaten-track ski experience are spoiled for choice in New England, which is still peppered with tiny, one-lift, mom'n'pop stations untroubled by international visitors. Here are three of the most fun.
Suicide Six Woodstock, Vermont
The ultimate locals' hill, Suicide Six had the first tow lift in the US back in 1934, and was run privately by a residents' ski club for decades. Today it has just two chairlifts. Lift tickets from $35 per day.
Mad River Glen Waitsfield, Vermont
Mad River Glen is perhaps America's most unique ski area. Famous for its legendary expert terrain, beautiful and varied novice and intermediate trails, and the nation's last surviving single chairlift! Another old-school touch – no boarders allowed, sorry duuuuuudes. Lift tickets from $35 per day.
Bretton Woods Bretton Woods, New Hampshire
New Hampshire's biggest ski mountain is owned by the rather stiffly grand Mt Washington Hotel nearby, which is a bit like a tarted up version of the hotel in
The Shining. King George V stayed there once – bet he didn't pay to ski. Lift tickets from $59 per day.
Snotes
vermont and new hampshire, usa
skivermont.com
usaskiholiday.com
Getting there: routes from the UK to both Boston and New York are served by United Airlines (united.com), British Airways (ba.com), American Airlines (americanairlines.co.uk), and Virgin Atlantic (virgin-atlantic.com). Amtrak (amtrak.com) runs the rail service from New York to Rutland.
Tour Operators
High-end: Ski Independence (ski-i.com)
Mid-range: Crystal Ski (crystalsski.co.uk)
Budget: Virgin Holidays (virginholidays.co.uk)