It's understood within the climbing community, that when you climb a large mountain with a guide it's your responsibility to look after yourself. It's down to you to know your limits and to climb within them; it's the guide's job to route find and make tactical decisions, to have the final say on whether to push for the top, or to withdraw to climb another day. It should be no different when skiing or snowboarding off piste. Don't think that just because you've hired a guide, everything is going to be OK - it's dangerous in the mountains, and ultimately it's down to you to keep safe.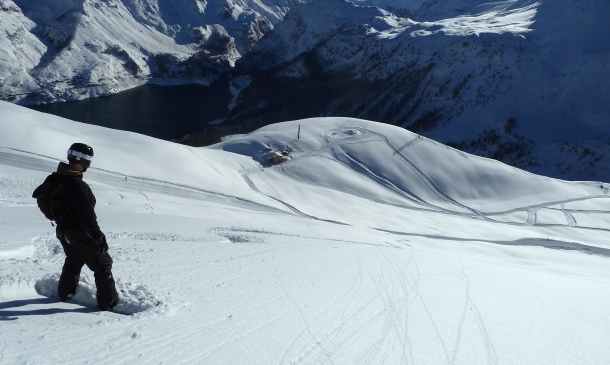 I have great empathy for mountain guides as, being it's a very difficult job especially in the winter. They have to keep a balance between keeping the client happy and excited, while ensuring the whole group, including themselves, will finish the day in one piece. Let's face it - losing a client is bad for business. A professional mountain guide is highly qualified, and will have passed numerous qualifications and assessments by either their own country's governing body, or European or global ones. It's your responsibility to make sure the guide you intend to use has these qualifications. This should be done by confirming at time of booking - make sure you use a well recommended guide (from a reliable source), or hire one from a high profile, and resort visible, ski school/guide office. Don't hire someone you don't know, who was recommended to you in the pub by the barman.

Another problem with guides is that having passed qualifications doesn't necessarily make them a good guide. It sometimes feels to me that whenever I take to the road in my car I meet bad drivers, and they must have passed the driving test too. So here are a few points to look out for when travelling with a guide:


1.Pre-departure
Your guide should always check that everyone has the correct kit before leaving the start point, and that everyone knows how to use it. Avalanche transceivers should be checked before getting on the first lift, as if there's a problem later, how are you going to find a replacement? If you're on a hut-to-hut trip, transceivers should be checked every morning and then again regularly throughout the day. If you're not happy with the abilities of the group you're with, or don't have faith in their ability to locate and dig you out in an emergency, don't travel with them.


2.Group management
When travelling off piste, group management is key, both when ascending and descending. The guide should always know where his group is and be able to monitor and help them. If your guide just hikes or skins off and expects you to keep up and follow him, tell him it's not acceptable and report him if he doesn't listen. There are times when passing through dangerous areas, such as under a cornice or across an avalanche prone slope, when a group should spread out - but the guide should always be in a position to monitor every member of the group.


3.

Group abilities
You should always ski or board to the ability of the weakest group member. If you're travelling with friends then you will know who this is and be able to ensure they are comfortable, while still being pushed a little so as to improve. A good guide will soon assess each group member and ensure any additional monitoring and encouragement takes place. If joining a group on your own, ask as many questions pre departure as you can with regards to abilities, proposed routes and timings, but remember travel in the mountains is always a fluid thing, with objectives and timings always likely to change.


4.

When descending
When dropping into a face, a guide should always descend first, having pointed out a safe spot for regrouping. Before they drop in, your guide will have assessed the slope, possibly ski cutting across the slope first to see if it looks like sliding. They will avoid any possible avalanche trigger points, and should instruct you to follow them, skiing one at a time close to their tracks. Although perhaps tempting, you should never deviate far from the route the guide has taken as you may not be aware of the hazards they have avoided – unless of course you've discussed it first. You should also never ski ahead of the guide, unless in a safe area where the guide is planning to guide from the back, enabling him to help anyone who falls. When regrouping, always join the group from above, so as to avoid any collisions and not set off any slides below the guide. You should always ski one at a time, regrouping often, so if an avalanche does happen, it affects the fewest members of the group possible.


5.

Objectives
Never let an objective get the better of your judgment. The best tool when travelling in the mountains is your brain, so use it. Don't push on in bad weather, when cold or exhausted, or if the snow is telling you not to, just because you are close to the target of the day. It's always better to retreat and be in a position to fight another day, than to take unnecessary risks and get hurt. If in a group, don't feel pressurised to take on more than you can, just because others want to. It's better for some of the group to be disappointed, than for all to be in a rescue situation because you've taken on too much. Skiing is all about confidence, and if you're scared stiff you won't be able to ski to the best of your abilities, so do push yourself but not beyond your limits.

To sum it up, if you feel it's unsafe, then it probably is - and if you're not happy with a guide, then they're probably doing a bad job. It's ultimately your responsibility to keep safe, so if you do want to ski or snowboard off piste, don't just take a guide, take a safety course and glean as much knowledge as possible to keep yourself safe.