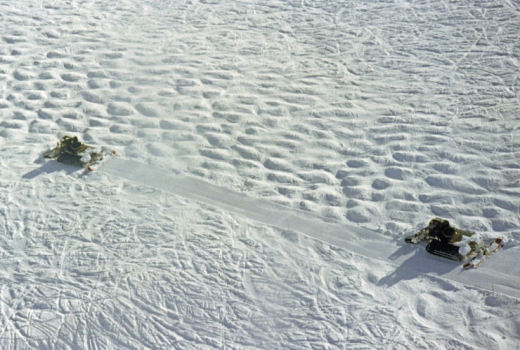 Powder days are a joy when the snow is fresh, but a day or so later endless turns have shoved the lovely soft stuff into countless mounds the size of small hills. Not so bad on a wide piste, but liable to turn that end of the day blue run back to your resort into a lumpy minefield. All too often many of us end up slithering from bump to bump, stopping atop a hillock and slithering again, while envying the nimble experts who slalom down with metronomic panache.
I've never cracked moguls, so a trip to Val d'Isere, France, with ski holiday specialist Powder White offered the perfect solution – a couple of exclusive lessons designed to tackle this and other 'next level' needs, to help middle-of-the-road skiers find a way off the skiing plateau that keeps many on the straight and wide, and away from more challenging runs.
Powder White's specialist Skills Sessions were set up a couple of years ago with British ski and snowboard school New Generation to help snow lovers whose prowess had flatlined due to lack of slope time, as well as draw back lapsed skiers who had lost their mojo due to a lack of confidence. The three-hour sessions for up to eight guests cover everything from mastering moguls to off-piste, ice and even the snowpark. You may not be transformed into an instant powder hound, but even old dogs will learn enough new tricks to take you to the next level.
Our chalet group of six were of mongrel abilities, from eight weeks' slope time upwards. We spent a couple of days cruising round the groomed slopes of Val d'Isere and Tignes, before we met Blair, our New Generation instructor. Mindful of those lumpy resort runs, when he asked us what skill we'd like to focus on, the answer was unanimously, if less than vociferously, bumps – with a side order of off-piste.
Blair put us through a series of drills starting with short turns on a regular piste. The idea was to tighten our turns by encouraging our legs to work in much closer harmony. Tricky when you're used to long carving turns. We then moved onto the ridgeline that marks the edge of a run where the piste-basher has pushed up a slight crest of snow. We were shown how to work up a rhythm dipping either side of this ridgeline. We didn't all get it right first or even second time, but, technique established, it would be up to us to put in the practice later.
Finally, we made it on to a mogul field and as we tried to sashay through the bumps, Blair's earlier exercises allowed us to approach with less caution than before. I can't say I tamed the beasts in one session, as my runs were still a bit hit-and-miss, but I did get a better idea of how to tackle them. Practice…
Just time for a sample of the off-piste session…Blair took us to a secret stash of untracked powder where he showed us how to make the kind of floaty turns that had us gliding (briefly) through the soft stuff. Next time…
Skills Sessions cost from €175 for up to eight people (which works out at just under €22 per person for a full class), and are available through Powder White in selected resorts, including Courchevel, Verbier,
Meribel
and Val d'Isere. You can sign up for one or more when you book a Powder White holiday. For details, go to
www.powderwhite.com
or call 020 8877 8888.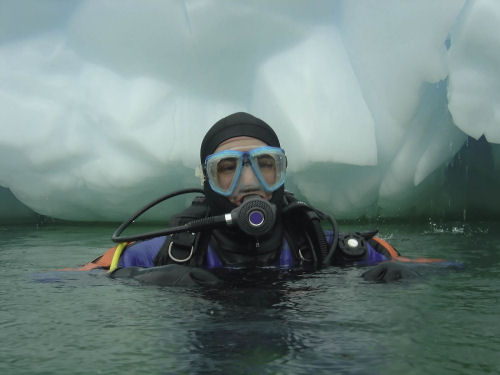 I am the walrus...


You know those holes in the ice that the Inuit fish through…Snow's man found himself suited and booted and ready to dive right in


I feel like a walrus. I'm dressed from head to toe in fat rubber that leaves just my eyes, nose and mouth showing. I emerge from the cosy changing hut and waddle towards frozen Lac de Tignes for my first ever ice dive.
Ice diving was never actually on my 'to do' list of life experiences, so I'm not quite sure how I come to be standing beside a frozen lake, about to explore what lies beneath the two foot-thick ice.
First, wearing just a thermal layer and ski socks, I was inserted into a huge, bulky drysuit for my journey into the unknown. Then, sitting beside the black hole in the ice, I'm asked to spit in my face mask while an oxygen tank is strapped to my back and bright yellow flippers are attached to my feet. We again run through the hand signals we will need under water, where no one can hear you scream, including the reassuring 'finger on chin' which means 'my mask is filling up with water'.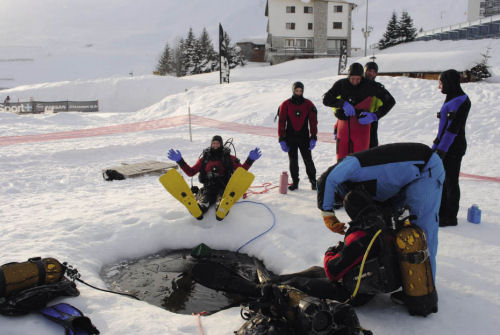 When the instructors from adventure specialists Evolution 2 are satisfied that all is ready, I am told to roll over onto my stomach and slide into the water. I then assume the position to expel air – right arm by my side and the left bent like a teapot. Now, remembering to breathe through my mouth, I slip under the surface and try to find my nose with rubbery fingers to pinch to relieve air pressure. Then I feel the tug of the instructor below me who will move me about, guiding me along the ropes that mark the way.
Anyone wanting to preserve the mystery and not learn what magical wonders lie in the waters of a frozen lake, should regard this sentence as a spoiler alert and look away now.
So what do you see? Well, you see the underside of the ice and you see your own breath rise up to that ice, turning to black bubbles which scuttle along it like a swarm of beetles, heading for the hole where you came in. Fascinating, yes, but, bar the odd chunk of ice and another blowhole, that's pretty much it in 10-15 minutes of drifting around, after which I tap my finger on my chin and we head for the exit. There's just nothing to see down there, nothing, apart from the sight of your own breathing. It's murky, seemingly deserted, modestly claustrophobic, and you start to feel the cold about now, so 15 minutes is enough.
Breaking the surface, I am unceremoniously hauled back onto the ice and lie there feeling even more like a beached walrus, as I am gradually stripped of fins, tank and mask, before waddling back to the hut to be eased out of my drysuit like toothpaste.
Worth it? I suppose so, just to say you've done it. Would I do it again? Probably not, but don't let that put you off. Sometimes you just have to do these things. On the way to the dive I'd texted my partner back in the UK to tell her what I was about to do. 'Don't do it,' she said, 'you might die,' then adding: 'But you will go anyway because you are curious.'
If you are curious too, you can arrange ice diving in Tignes through outdoor specialists Evolution 2 from €80 per person. No prior experience necessary. All equipment provided. See
www.evolution2.com
Snow How


VAL D'ISERE
GETTING THERE
Nearest airports Geneva (2½ hrs), Chambery (2 hrs). easyJet flies to Geneva from many UK airports. Prices one way start from £28.99 (prices are subject to change).
www.easyJet.com
Nearest RAIL STATION Bourg St Maurice (1 hr)
WHERE TO STAY
Snow travelled to Val d'Isere with UK ski specialists Powder White and stayed at the Chalet Appaloosa. A seven-night stay here costs £649 per person on a fully catered basis including unlimited house red, white and rosé plus a dinner wine allocation (based on 12 sharing) in January 2013. Private return transfers with Powder White from Geneva to Val d'Isere cost from €130 per person. Powder White offers an in-chalet ski-fitting service in conjunction with Snowberry (
www.snowberry-valdisere.com
). Ski and boot hire costs from €129.25 for six days.
Powder White has 46 chalets, 25 hand-picked 2-5* hotels and more than 300 apartment types in 18 snow-sure resorts across the French, Swiss and Austrian Alps. See
www.powderwhite.com
020 8877 8888.
IN RESORT
Espace Killy piste area 300km
Number of lifts 179
Percentage of runs beginners 60%; intermediate 30%; advanced 10%
Highest point of ski area 3,456m
Vertical drop 2,050m
Snowparks 2
A six-day lift pass for Val d'Isere costs €218
MUST DO'S Ski Val d'Isere's legendary 1992 Olympic downhill run, La Face from Bellevarde right into town; grab a cheesy beer at Dick's T-Bar, the original alpine nightclub; get a classy mountain meal at La Fruitière at the top of the La Daille gondola
TOP TIPS Unless you're a banker, shop before you come. Everything is fiendishly expensive… And try to travel midweek, as the road to Val is long and winding and a horrible crawl on Saturday (transfer day)
BEST FOR The linguistically challenged. Val is packed full of Brits and caters for pretty much everyone – except those looking for peace, quiet and an authentic French atmosphere.
USEFUL CONTACTS Tourist office
www.valdisere.com