In the beginning all was well. You learnt to snowplough, then to ski parallel, then worked up the colours till you were at home on most reds. But then came the plateau. You'd like to 'ski' the trickier reds and blacks, and not just 'get down'.
You'd love to ski off-piste, but as soon as you venture into powder you fall over. Ditto moguls. Ski through the trees like the cool dudes? You'd probably collide with the fi rst trunk. Your once-a-year ski holiday just doesn't help you make progress.

It's time to take it to the next level, but how do you get there? There are many companies offering boot camps and technique courses designed to improve your skiing and help you become an instructor. Deciding which one is right for you is matter of research – and the size of your wallet?

A good ski clinic, often focussing on one aspect of technique, will offer daily tuition, usually in small groups, with video feedback, and then encourage you to use your free time to practice, practice and practice.

If it's just a matter of a small push, you could get some more targeted tuition on holiday. Fraser Ewart-White, co-founder of ski holiday company Powder White, says his fi rm experimented last winter with offering three-hour skills sessions – run with a local ski school – focussing on a specifi c skill, such as moguls or off-piste. At 175 euros for a group of eight, that worked out at as little as 22 euros each.

'These are not like a traditional ski lesson,' says Fraser. 'They attract people who don't really want to go back to ski school. By concentrating on a particular aspect, such as moguls, the sessions enable them to take their skiing up a notch. It's a good, cheap and easy way to do it.'
Powder White is now rolling out the skills sessions to customers in four of its resorts – Courchevel,
Meribel
, Val Thorens and Verbier.
www.powderwhite.com

If you want something more intensive, Basecamp run a range of courses designed to either improve your own skiing or gain instructor qualifi cations.
Performance courses run from 4 weeks up to 11, and are based in top resorts, including Whistler and Val d'Isere. Director Linley Lewis says: 'You get tuition for three hours a day, four days a week, but will spend a lot of time practicing on your own.'

For wannabe instructors, the fi rm offers the British Association of Snowsports Intructors (BASI) level 1 and 2, and the equivalent Canadian Ski Instructors Alliance (CSIA) and Canadian Association of Snowsports Instructors (CASI) qualifi cations, which pretty much assure graduates of a job at the other end, in most European countries or Canada.

A tip for would-be instructors, says Linley, is to do your research. 'There are a lot of companies offering training programmes – and a range of quality. You should check out the resort where they are based – is there good snow? What's the accommodation like? Who's doing the instructing? Do they have a lot of experience? Some fi rms will use their previous crop of instructors to train the new intake. And talk to the people who run the company – and try to fi nd past customers to talk to as well.'

Of course, you could do worse than take an instructor course from the British Association of Snowsports Instructors itself. As the sport's UK governing body, BASI offers high-quality coaching from some of the best British instructors around and an assurance of work after the course. You can even do your Level 1 at UK snowdomes. Wouter Kuit, owner/manager of The Ski Instructor Academy based in Austrian village of Kaprun, is adamant that anyone wishing to improve their skiing should sign up for a clinic. 'One problem stopping many people getting better is their own ego – they think they know it all.
Ours is a highly technical sport and without accurate input a skier will never reach his or her potential. Ski apps or tuition videos are no substitute for a trained eye.' His academy has the snow-sure Kitzsteinhorn glacier for its instructor courses and skills clinics – covering areas such as moguls, steeps and off-piste – starting at around £740.

A new 2 in 1 instructor course is aimed at skiers wanting to get their Level 1 & 2 qualifi cation in one season. You'll do Level 1 of your Austrian qualifi cation before the season starts, work the winter in an Austrian ski school and take your Level 2 exams at the end of the season.

Wouter set up his own academy in 2006 after observing that many new instructors in ski schools lacked what he called the right training and so were perpetuating 'bad teaching'. His team now trains about 40-50 new instructors a year, from gap year students, through career breakers to retirees in their 60s. 'We operate in small groups of up to seven, which allows us to guarantee you individual attention. Kaprun may not be an exotic location but our courses are a cost-effective way of gaining a qualifi cation that is widely recognised. We have a good reputation and schools in Austria are keen to take on our participants'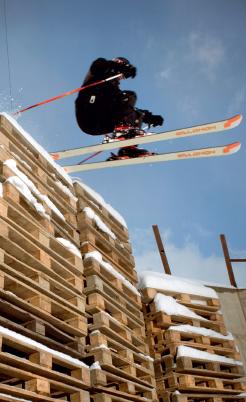 At the lowest end of the price scale, Sunshine World offers what it believes are the cheapest all-inclusive ski and snowboard instructor packages in the world!

Courses start from as little as £800 for 4 weeks, up to a full-season, 20-week course from just £3,500. The reason they can do it so cheaply, says managing director Al Garcia, is that their main training base is in Poland's ski capital Zakopane. 'Because Poland doesn't have the big-name syndrome driving prices up we are able to offer incredibly cheap training without sacrifi cing quality and fun! In Poland the prices are still half and often a third of those from the "Big 4": France, Austria, Switzerland and Italy.

'The recession has actually helped us as people search for more value in times of economic hardship. This season our early bookings are at an all-time high. We also have a high rate of past trainees who come back as qualifi ed pros to work with us and/or train towards even higher qualifi cations.'

The courses work towards the BASI, CSIA, CASI and also NZSIA (New Zealand Snowsport Instructors Alliance). Garcia is proud of his graduates. 'In the past year a large number have gained employment with reputable ski and snowboard schools in Australia, New Zealand, Austria, Switzerland, Canada, Slovakia and, of course, Poland.

Whether your goal is self-improvement or instructor training, Vicky Norman, of the Ski Club of Great Britain recommends signing up for a race clinic, with a ski school like Magic in Motion. She says 'If you can race then you can ski. That's why so much emphasis is put on the Eurotest in France. To be fast in the gates you have to learn how to truly carve and hold an edge – many people will feel this for the fi rst time when they learn to race. There are a number of intensive race training courses out there that will really improve your skiing in a very short period of time. So race – until it becomes second nature.
Everything after that will become easier. It can be full-on but it's worth it.'


So you want to be a ski instructor?

You can't just do it, you need qualifications, and here's how the system works. Each country has its own basic levels, and most either give preference to or only recognise their own, until you reach International Ski Instructor Association (ISIA) level, usually the Level 3 grade in each country's own system.

Austria: Schneesportlehrer

Level 1: can teach beginner to lower intermediate adults and children
Level 2: divided into 3 parts – Landes 1/Alpine course/ Landes 2. After completing these you are ISIA qualified.
Level 3: one of the highest qualifications in the world

Switzerland: Swiss Snowsport instructor(SSI)

You have 4 levels:
Basic education: only allowed to teach children
Level 1: can teach beginner to lower intermediate adults and kids
Level 2: can teach more experienced skiers and snowboarders
Level 3: ISIA qualified

France: moniteur de ski

One level: to join you have to do an entrance examination - the Eurotest. It's very hard to get in and your standard of skiing has to be very high. You should have race experience and be an awesome skier; otherwise you have no chance of passing these exams or even being allowed to take them. Only once you are a ski instructor can you become a snowboard instructor.

Italy: Maestri di sci:

Similar to France, but at a lower level. Consists of three stages of exams, with year internships at ski school in between each stage.

America: PSIA

Level 1: can teach the basics to adults and children
Level 2: can teach more experienced people
Level 3: ISIA qualified Canada: CSIA
Level 1: can teach the basics to adults and children
Level 2: can teach more experienced people
Level 3: same as above, but with more insight
Level 4: ISIA qualified

UK: BASI

Level 1: can teach in snowdomes or on dry-ski slopes
Level 2: valid for major resorts around Europe. Can teach up and including parallel on marked pistes only
Level 3: ISIA qualified. Can teach up to parallel skiing and beyond. This includes techniques and tactics for bumps, steeper terrain, higher speeds and variable conditions within marked pistes and off piste on marked routes.
Level 4: elite status. Qualified to the level required for mutual recognition in France, Austria and Italy.

But even once you have some qualifications, where you can use them is another matter...

France: you have no chance of a job in a French ski school, unless you have the French qualification. You can work in foreign ski schools in France – but mostly they will only accept ISIA-qualified instructors.

Italy: Similar to France, but the standard is a bit lower.

Switzerland: You can only work in a Swiss ski school if you have a Swiss qualification or the ISIA license. And it helps if you speak one of their languages. Getting a work permit can be long-winded, so apply early.

Austria: Mostly they only recognise their own qualifications, but if you have a foreign qualification and it's not the ISIA, they usually insist on an equivalence test, which includes German, methodical progression of the Austrian system and safety.

US/Canada: they recognise a lot of the ISIA countries equally. However, you need a VISA, something which has become increasingly hard to get.

New Zealand/Australia: recognises almost every qualification. However jobs are more scarce and the season is short. Visa and work permits also required.

Fancy a course or a clinic? Here are some options
BASI
• 10-week GAP Ski Course, Courchevel, Meribel, Val d'Isere Run by New Generation ski school (Courchevel and Meribel) and The International Centre of Excellence (Val d'Isere)
Includes: Courchevel/Meribel – full board chalet accommodation, season lift pass, airport transfers
Val d'Isere – apartment accommodation, dinner in local restaurant five nights a week, season lift pass, airport transfers.
Price: £7,595

SKI INSTRUCTOR ACADEMY
• 2 in 1 Ski Instructor Course, Kaprun, Austria
5 November-13 December and 27 April-22 May
Includes: Guaranteed job in an Austrian ski school over the season, half board for the entire period, lift pass for the entire period, 5 x 5 hour practical lesson per week from highest qualified trainers, video analysis, theory lessons and exam preparation, ski instructor exams level 1&2.
Price: €6,400 (approx £5,600)

• One-week Mogul camp, Kaprun Includes: half-board accommodation, lift pass, 30 hours of coaching, video analysis, equipment advice.
Price: €850 (approx £740)

BASECAMP
• 11-week Performance Course, Val D'Isere: Includes: accommodation, breakfast/ dinner (weekdays), airport transfers, full season lift pass, 120 hours of coaching, video coaching, freestyle coaching, avalanche awareness.
Price £6,295 (4-week course: £2,995)

• 11-week All Mountain Gap and Career Break Course, Val d'Isere: Includes: Accommodation, breakfast/ dinner (weekdays), airport transfers, full season lift pass, 124 hours of coaching, BASI Level 1, first aid, avalanche awareness, freestyle coaching, race training, video coaching, backcountry with guides.
Price: £6,995

SUNSHINE WORLD
• 10-Week All-Inclusive Ski or Snowboard Instructor Course, Zakopane, Poland
Includes: flight from UK-Krakow, airport transfers, 9 weeks shared accommodation, 9 weeks lift passes valid 5 days a week, new skis/board, boots and bindings, coach transport to Andorra, 7 nights accommodation there, 6-day lift pass, CSIA Level 1 course and exam in Andorra, transfer to Barcelona Airport, flight to UK.
Price: £3,095

MAGIC IN MOTION
4-week Test Technique Training course, Tignes
Includes: 5 days training a week, fitness training and ski tuning sessions in afternoon, Full board accommodation, lift pass.
Price: €2,500 (approx £2,178)