We've picked ten European resorts which we believe offer families with younger children the kind of holiday that's likely to inspire them to make a life-long winter date with the slope.

Saas-Fee, Switzerland
Nearest airport:
Sion
Transfer time:
1hr 45mins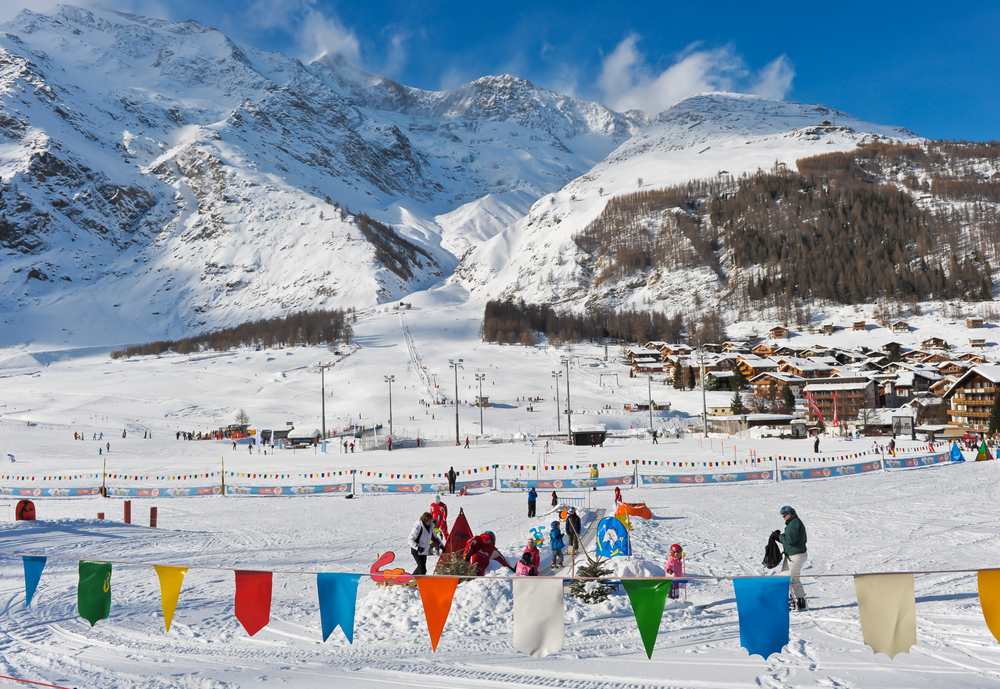 Family values:
Switzerland is pricey, but does include some of Europe's finest ski resorts. The charming, family-friendly, traffic-free resort of Saas-Fee has an excellent network of runs to cater for all ages and abilities. Perfect for children with the nursery slopes – and a beginners' snowpark – located in the village, and kindergarten available for children from 18 months old. Children up to nine years also receive a free lift pass. A beginner's pass covers all the short village lifts.
Non-ski entertainment includes a fun park, ice skating, tobogganing and a climbing wall. It's also a 'Families Welcome' resort – Switzerland's version of France's 'Famille Plus'. Saas-Fee's dramatic setting, amid high peaks and a glacier, means that even first-time skiers can enjoy the feelgood factor of being up in the mountains. A wonderful ride is up a couple of gondolas and an underground funicular to the revolving restaurant on the top of Allalin.
Who goes there?
Among the nearly 30 operators are big names such as Crystal, Neilson, and Esprit while specialist firm Family Ski Company also has a chalet hotel here. Most holidaymakers will fly to Geneva or Zurich, which will increase transfer times.
Morzine, France
Nearest airport:
Geneva
Transfer time:
1hr 30mins
Family values:
One of the Famille Plus flagship resorts, Morzine has well and truly nailed its colours to the family-friendly mast, relying on families for 75% of its visitors. Famille Plus is the premier marque of French resorts, and guarantees family guests the warmest of welcomes.
Morzine's excellent facilities include a nursery, Piou-Piou ski club, a games area, carousel, story-reading hour, sledging, ice rink, entertainment such as theatre, circus tricks and puppet shows, and many more family-based activities. On piste there are sheltered gentle slopes and play areas, and while Morzine village itself is often plagued by rain and lack of snow, it is part of the huge Portes de Soleil area, so more mile-hungry skiers won't lack for plenty of terrain to cover.
Who goes there?
More than 50 tour operators, including Crystal, Inghams, Peak Retreats, Powder White and Ski Solutions.
Seefeld, Austria
Nearest airport:
Innsbruck
Transfer time:
30mins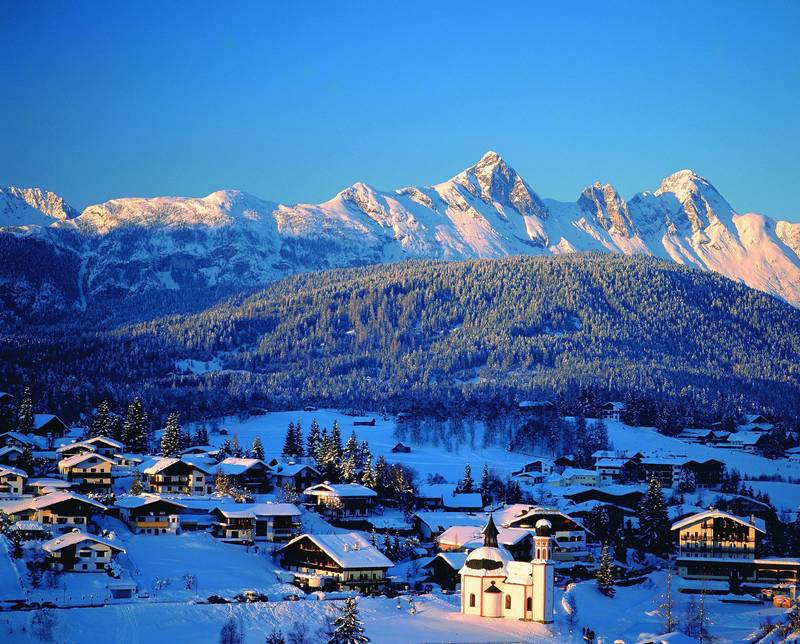 Family values:
Seefeld is an ideal resort for families looking to learn to ski, with its gentle nursery slopes, good snow record and excellent ski schools. There is a pre-bookable kindergarten for children from 2-8-years-old.
What brings Seefeld into this list, however, is the variety of its non-skiing activities. The lively village offers a wide choice of activities to keep children – and their parents – entertained off the slopes, including an Olympic sports centre with indoor and outdoor pool and children's pool, ice skating rink, indoor golf, horse-drawn sleigh rides, bowling, indoor tennis and husky sledding.
Who goes there?
Inghams are among the many British tour operators who feature Seefeld, and offer their own child-friendly arrangement.
Montgenevre, France
Nearest airport:
Turin, Italy
Transfer time:
1hr 30mins
Family values:
Just two kilometres from the Italian border, Montgenèvre sits on a small pass at one end of the vast Milky Way ski network. As it's a bit of a trek to cross regularly into Italy, parents wanting a bit of 'me' time while their young children are in ski school or crèche are best off staying local. Montgenèvre's good snow record means that staying local will usually be a pleasurable experience.
Traffic used to be a problem here, but since the resort banished through traffic it has become much more family-friendly. Montgenèvre's jewel in the crown is its nursery slopes – a superb area, fenced off to keep speeding skiers at bay, and with its own free magic carpet and draglift – a real bonus for complete beginners.
There are plenty of long, easy greens down to the village to progress to, and good, confidence-building blues for uneasy intermediates.
Who goes there?
Crystal, Neilson, Erna Low and Peak Retreats are among the better known names operating here, with the newer Hameau de l'Obelisque development among the more attractive in-resort locations
Cervinia, Italy
Nearest airport:
Turin
Transfer time:
2 hrs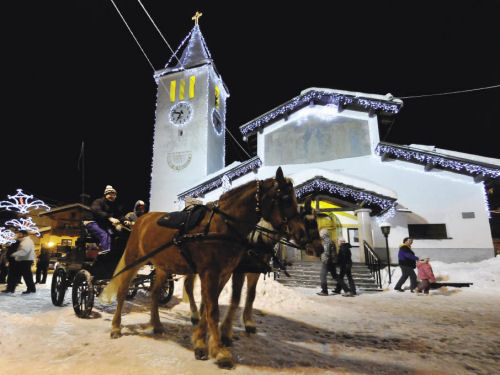 Family values:
Cervinia is one of the highest resorts in the Alps with access to 350km of slopes and is a popular choice for family ski holidays. With easily accessible beginners' slopes and a wide range of blue and red slopes, this is the perfect resort for those families who've progressed beyond the nursery slopes and are looking to stretch their legs together on some of the best gentle cruising runs in the Alps.
Off- slope activities are a bit limited, but there's an ice rink and you can go hiking, tubing, snowbiking, snowshoeing and hit the pools. There is pre-bookable Ski Kindergarten for 2-12 year-olds and a kindergarten and babysitting available at Plan Maison. Easily-bored intermediates and experts will probably want to explore the link to Zermatt's more challenging terrain.
Who goes there?
Crystal, Inghams and Club Med are the big names, but there is a smattering of other reliable operators too.
Nearest airport:
Chambery
Transfer time:
1hr 30min
Family values: Meribel is one of those resorts that divides skiers. Many hate it for its Britishness (it was founded by a Brit, back in 1938) whereas for others, that home-from-home feel is exactly what brings them back year after year.
Almost exclusively chalet-style building has given it an attractive look, and it's undoubtedly well placed for intermediates and above wishing to make the most of the vast Three Valleys ski area, as it occupies the central valley.
There is a pre-bookable kindergarten for 3-5 year-olds and Meribel has a choice of excellent English-speaking ski schools, if you want to avoid any chance of encountering a foreign language (plenty of the seasonal workers are Brits, too).
There are also lots of activities to keep the kids entertained including dog sledding, ice skating, go-karting, bowling, cinema and a sports centre. If you want a 'safe' place for your first ski holiday, with the reassurances of a strong Brit streak, this is as good as it gets.
Worth noting for eco-conscious skiers or nervous flyers that Meribel is just 11 miles from Moutiers railway station which has excellent rail links from London, via Paris.
Who goes there?
Who doesn't?! More than 60 UK operators offer packages to Meribel, including the big names such as Mark Warner, Club Med, Crystal, Esprit, Inghams, Neilson and Skiworld, but also many more up-market bespoke firms, such as Powder White and Scott Dunn.
La Rosiere, France
Nearest airport:
Geneva
Transfer time:
2hr 45mins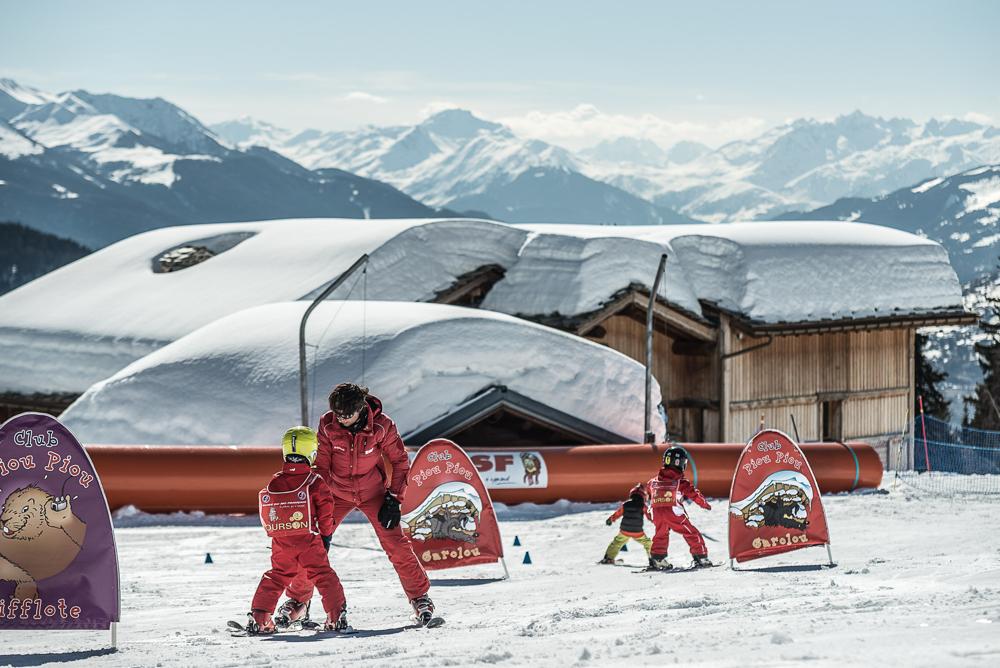 Family values:
A small, friendly resort with buckets of Alpine charm amidst its traditional chalet-style architecture. Family-oriented in that it's quieter and less frenetic than many bigger resorts, and perfect for beginners wishing to pootle around without fear and for families helping young children gain confidence.
The main reason for this is that all the intermediates and experts will take the very long button lift over to La Rosiere's linked Italian neighbour La Thuile, which has all the best advanced terrain. It's not big on 'other activities' – a bit of snowshoeing, tenpin bowling and ice-skating at the satellite village of Les Eucherts – but it caters well for younger children, especially.
A family lift pass is a big plus for those with teenage children. Rail travel is a worthwhile option: Bourg St Maurice is just half an hour away.
Who goes there?
Biggest UK operators are family specialist Esprit, which has its own childcare facilities, and Crystal, which offers its own private nanny service.
Wengen, Switzerland
Nearest airport:
Bern
Transfer time:
2hrs
Family values:
Although it has a perfectly good nursery slope in the heart of its virtually traffic-free centre, and has long been a magnet for Brits, that's not why Snow recommends this charming resort for families. What makes it stand out is that it's one of the few ski resorts that is brilliant for non-skiers too, which makes it a great choice for a 'generations' family holiday.
The scenery – it's in the middle of the Jungfrau area – is stunning, it's easy for skiers and non-skiers to meet for lunch, there are lovely walks and you can try ice- skating, tobogganing and curling. Access is by a cog railway from Lauterbrunnen, and everyone will love the train ride up to the top of the Jungfrau.
Most of the skiing is on the slopes above neighbouring Grindelwald, and you can also get to equally picturesque Mürren. As it's Switzerland it's bound to be pricey, but inclusive holidays ease that.
Who goes there?
Club Med, Inghams, Neilson and Crystal make it a reliable choice for families wanting the security of a big-name UK tour operator.
La Plagne, France
Nearest airport:
Chambery
Transfer time:
1hr 45mins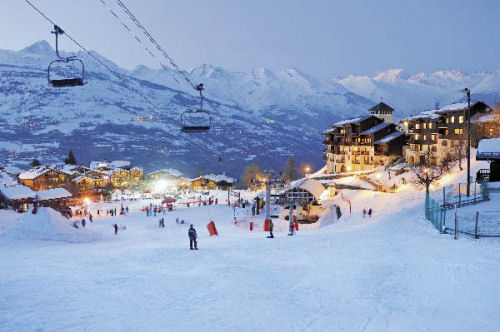 Family values:
Not so much one resort, but a collection of 11 separate ski villages, each a mini-resort in itself. La Plagne offers a wide variety of great skiing, most at high altitude, from charming tree-lined runs to skiing above the clouds on the Bellecote glacier.
There are 425km of piste, shared between La Plagne and Les Arcs, linked by the Vanoise Express cable car. It has good beginner slopes in Centre, 1800, Aime and Bellcote, with 18 free lifts across the area, endless miles of blue and reds to progress onto and great children's facilities from nursery to the Piou-Piou ski club.
Non-skiing activites are among the best and most varied in the Alps, and include an open-air, floodlit ice rink and outdoor heated pool in Bellecôte, paragliding, dog sleds, skidoos, tobogganing, zipline, an Olympic bobsleigh, spa, health and fitness centres in Belle Plagne & Plagne Centre.
Who goes there?
Around 50 operators, with Crystal, Esprit, Mark Warner, Club Med and Inghams among the top names.
Åre, Sweden
Nearest airport:
Trondheim, Norway
Transfer time:
2hrs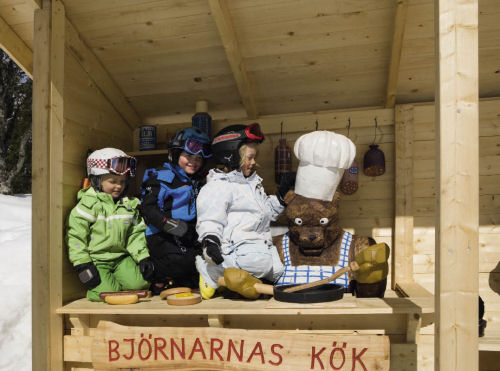 Family values:
Sure, there are many other Alpine resorts that are 'good for families', and if you can afford the flights to North America, both the US and Canada (British Columbia especially) have wonderful children's facilities. But for UK families wanting to start out somewhere slightly different, or for jaded alpinists, Åre is a good alternative.
Superb food, and few language problems as every Swede seems to speak perfect English. It has many great family-friendly activities and a dedicated family area in Bjornen, with self-catering accommodation and gentle nursery slopes. Kids under seven get free lift passes if wearing helmets.
Who goes there?
Currently Neilson is the only UK tour operator offering packages to Åre. If you are willing to be adventurous, try Simply Sweden or the inbound operator Skistar, who fly you into Ostersund airport just one hour from Åre.