Sweat drips down my face, stinging my eyes, as I pull on my sunken poles and fight to take another step in the deep snow, onwards and upwards. I try to forget the pain in my legs and my heavy breathing, and think instead in terms of the descent, "ten more steps adds another turn, twenty more steps and I'll reach that tree" – little targets set repeatedly in my mind, all adding to the day's goal of reaching the top of a pristine powder field.
Boarding the mystical mountains of Japan has always been a dream of mine, and after many hours of both research and endless YouTube shorts of powder-stacked mountains, I'm finally here.
Wanting to get away from the main resorts and tourist groups, I had decided to focus on the lesser-known Myoko Akakura Snow Area, in the Niigata prefecture, and with the highlight ski touring in the powder playground of tiny Japanese resort village Seki Onsen.
Right now, that resort's houses and two solitary chairlifts – one an ancient single-seater, powered by a noisy diesel generator – are far below me and I realise that this is everything I had hoped for.
Last minute jitters
The night before a back-country tour I always wonder if it's a good idea; I question the snow pack and myself. Why is it that I need to leave the safe confines of resort skiing? The same thoughts nag me again at breakfast, even more so when I'm checking my avalanche safety kit and the battery level of my avalanche transceiver.
But these dark thoughts have left me as soon as I start my hike from the top chair, leaving fear and the pistes far behind, heading deep into a crisp white forest of birch trees. The trees' branches are all still covered in last night's snow, sparkling diamond-like in the faint sun, which is just visible as it tries to fight its way through the low lying clouds sitting on the mountain.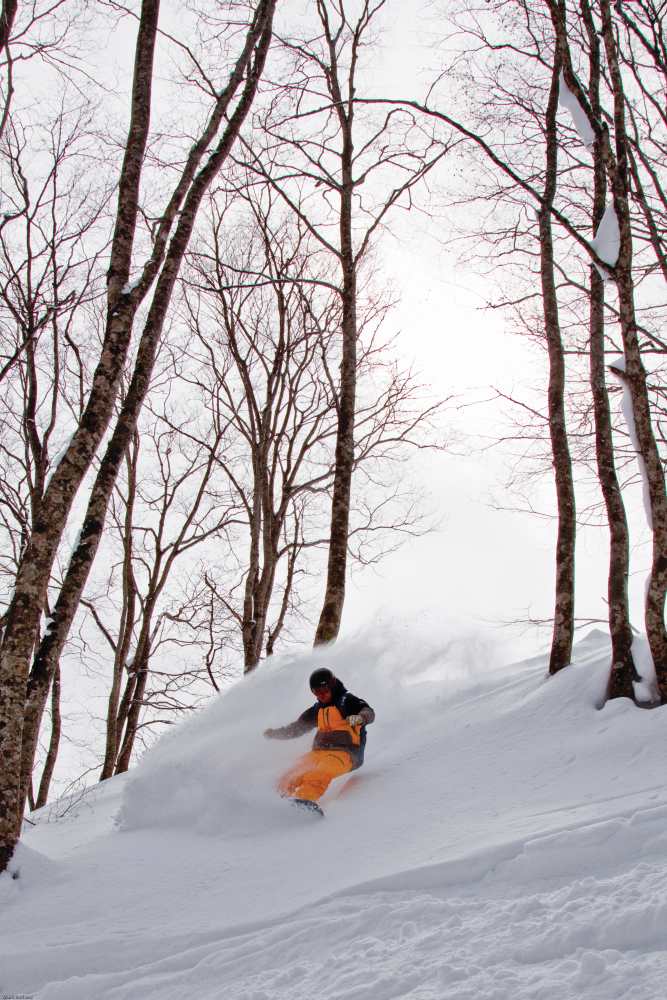 My guide, Udon, who has a comical little red flag on a bamboo pole sticking out of his backpack, sets an easy pace; he's on touring skis, as is my photographer friend Mark, whilst I take up the rear of our small group on snowshoes, snowboard strapped on my back.
As we fall into a steady pace, I force myself to concentrate on the present, the here and now, and the safe placement of my snowshoes as we traverse a very steep slope, which drops away so sharply that I can't see what lies far below.
Back into the forest, and away from any immediate danger, our guide points upwards towards our target, and I realise that I'm in a place where all cultural and ethnic backgrounds become as one; where the common purpose we share becomes a bonding goal which easily breaks down any communicational divide – as we all simply nod, a smiling acknowledgment of understanding, imagining the joy of our decent from such a place.
After making a few tentative stamps on a very unstable looking cornice we'd have to walk along, the proposed goal of trying to traverse a knife edge ridge to the peak's summit becomes a mere aspiration, ended with a shake of the guide's head.
I busy myself with taking off my snowshoes, reflecting on how the best piece of safety kit you can use is your brain – agreeing without question that the mountain top is simply out of reach today – when to my surprise, I am passed an insulated lunch box of omelette and chips, accompanied by a flask of green tea. It's by far the wildest omelette I've ever eaten!
Our appetites sated, all three of us tear it down the first steep section, barely touching the snow as we almost free-fall down the mountainside. With one big turn, Udon disappears into the snow, only his little rippling flag remained in sight; finally I understand what the flag is for! I am also instantly reminded as to why I'm constantly drawn from safety of the pistes, as all that fear and worry is replaced by sheer euphoria….
Dream maker
While the base station and village of Seki Onsen are tiny, the mountain and its snowfall are anything but. One million square feet of terrain is accessed by the two lifts. The token pistes see beginners, again mostly snowboarders, falling face first into piles of soft puffy snow. What's more, the snow never seems to stop replenishing itself, especially in February, during which alone three metres often falls.
Pistes aside, it's the almost endless tree lines off the sides of the runs that make Seki Onsen such a special place. They're never that long, but what they lack in length, they make up with pitch, well-spaced trees and a guaranteed face shot of powder on every turn.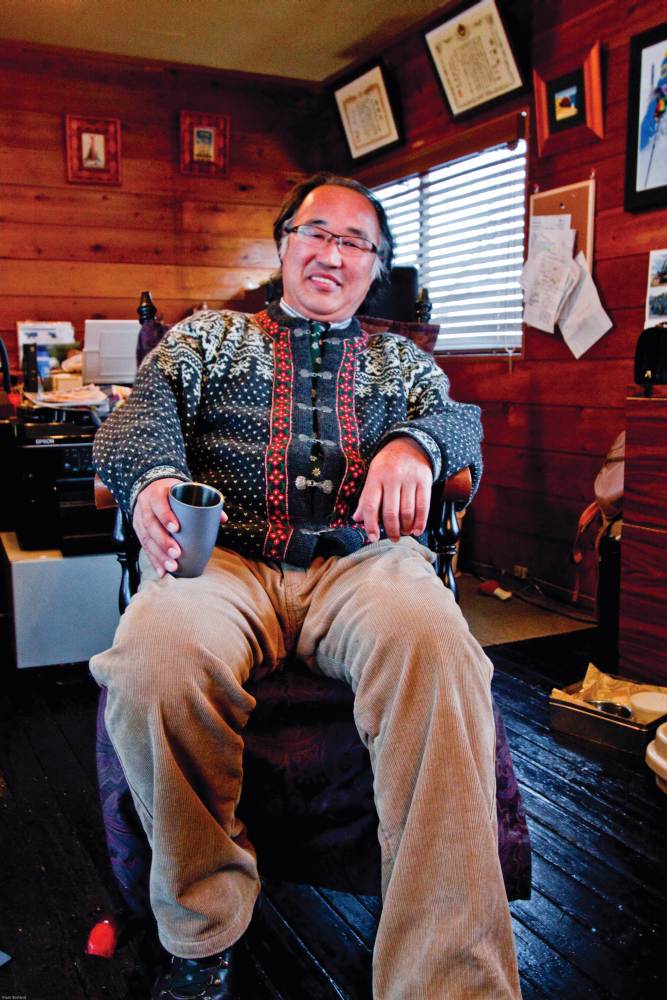 Its uniqueness probably owes a lot to the man who owns it – a certain Mr Daisuke – a Japanese Austriophile, and one of the strangest characters I have ever met.
Dressed as a Tyrolean gentleman, complete with a feather in his hat, he greets me from his rocking chair in a ramshackle office filled with historic skiing paraphernalia. This is where he sits, slowly rocking as he watches his domain through a monocular, occasionally leaping to his feet to rush outside and berate someone for being just a little bit too irresponsible.
"I've given up telling people where they can and can't go. No one listened anyway," he laughs. "Instead, I just stick that to my door." He waves a hand towards a piece of A4 paper taped to the door, on which is typed the price list for the various types of rescue.
Whatever the cost of rescue, his almost 100-year-old resort itself is a bargain to use, with just 5,000yen (£29) in Seki Onsen getting you a return bus from Akura Onsen, a day's lift ticket, as well as lunch cooked by the owner's wife, in the on-mountain restaurant.
'Only' three metres of powder
Next up on my Japanese powder odyssey is the resort of Akakura Onsen, just 14 km from Seki Onsen…
"There's no snow this year," said Bill, as I sink up to my knees in the stuff before donning my snowshoes. "We've only had three metres – normally by mid February we've had at least four or five."
Bill Ross, who runs Dancing Snow is our small off-piste group's local backcountry guide. I say local – he is actually American, but has been in Akukura Onsen for 20 years, having married a local.
After three hours of steady climb, we stop on a ridge for lunch, where sulphurous whiffs from a smoking vent drift up from below – a stark reminder that we are skiing on an active volcano.
After lunch, our ride down is spectacular. It is neither particularly steep nor challenging, but a delight to weave between well-spaced deciduous trees on light, untouched snow, relaxed in the knowledge that the snow pack is stable on such a shallow slope. If there is any danger it's of enjoying the scenery too much and crashing into a tree.
That evening I eat at a communal table in a small traditional basement restaurant run by an old couple, who – judging by the cluttered eclectic décor – are slight hoarders. I'm not entirely sure what I eat either, as I sit with a young group from Nagano, who slurp their way through dinner with a complete lack of inhibition.
In fact, it seemed the loudest slurps come from the two young women within the group. The frenzied eating is only broken by peals of laughter, at the jokes one of them makes in broken English about my round eyes and big nose. Now while my nose is far from big, it's true that it is certainly the largest at that table.
The next few days are spent riding within the resorts of Akakura Tenko and Akakura Kanko, which make up the rest of the Myoko Akakura Snow Area. While physically attached, you actually need separate lift passes to ski both, as Myoko Kanko resort is managed by an imposing on-slope five star hotel, which architecturally would look more at home on a mountainside in New England, USA.
Both resorts, as with most Japanese ski resorts, have a rigid system with regards to skiing off piste, with 'Keep Out' or 'Don't Ski Here' signs littering the slopes, warnings of fines.
In short, you can't go anywhere between the pistes or under the chair lifts. But unlike in the US, they are happy for you to leave the resort boundary, although they make it clear it's at your own risk.
To this end, there's an abundance of lift-accessed hike-to-powder terrain, especially from the top of Akakura Kenko. But please be aware that care is needed out of bounds, as there are many large hazards and often considerable avalanche risk.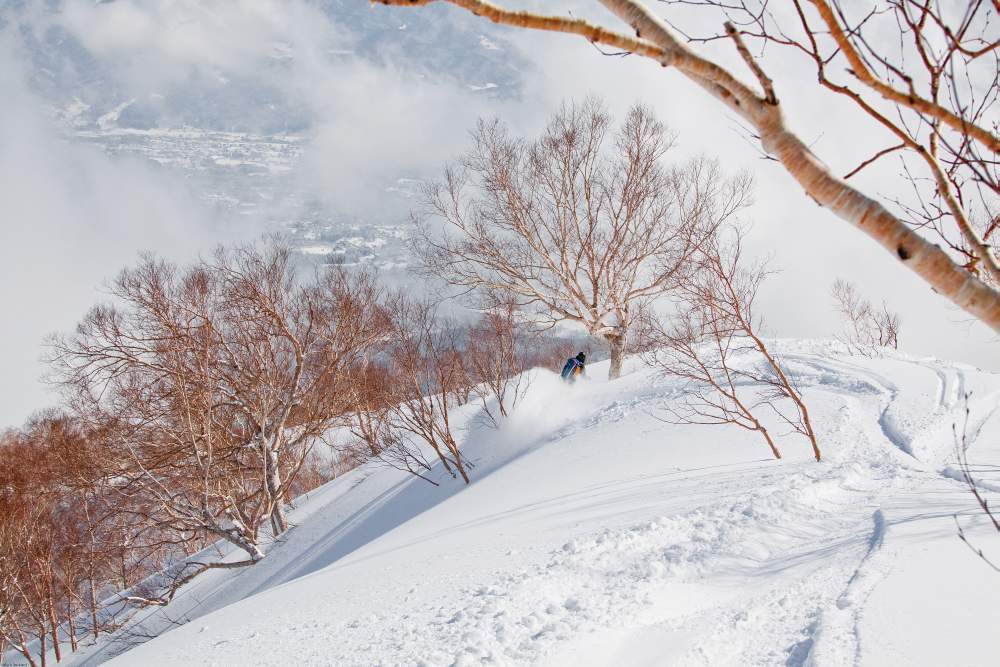 The area's pistes are a real contrast to the excitement of the out of bounds skiing, being mostly suited to families, beginners and intermediates. And while many in Europe are sounding the death knell for snowboarding, the youth of Japan in their hundreds are tumbling around on boards, outnumbering skiers by five to one, all seemingly laughing at themselves as they career around the pistes.
Apart from, of course, the inimitable thrill of slicing through metres of fresh powder down a live volcano, it's the lightness of spirit of the people I've met that stays with me long after my trip. It's a refreshing – if somewhat surprising – Japanese trait, that the young at least, don't take themselves too seriously.
After the two exhausting but exhilarating final powder days in Seki Onsen, my time in Japan sadly comes to a close – just in time for the snow gods to work on getting the resorts back up to their six metre average, seemingly overnight.
During the inevitable but patiently endured delays, I can't help but reflect on the people I've met and the experiences I've had; this hasn't just been an incredible ski holiday, it has been a cultural adventure every bit as good as I had hoped.