Caroline and I met five years ago on a Dutch avalanche course and quickly realised we had the same dream: skiing powder, preferably every day. So we put our serious corporate careers on hold and started redefining our lives by becoming 'ski journalists' – a self-created title. Caroline is the photographer, and I (Juulski), am the rider and writer. With our pink business cards (sometimes referred to as 'the pink discount card' by friends), hundreds of emails and many sleepless nights we came up with a way to ski full time during winter. However we also had to do a lot of convincing and explaining on the home front in order to balance our city life with this constant urge to ski. It took a few years, but now people know what to expect: if it's winter in the northern hemisphere, you will find us in the mountains.
The question we are asked the most is: "Where is your favourite place to ski?" The honest answer is that it's all about being in the right place at the right time. That said, although snow conditions vary, our extensive research has helped us put together what we think is the perfect winter, starting, of course, in the land of the rising sun…
Japanuary: an all-you-can-ski powder buffet
Big, white, fluffy snowflakes dance through the pitch-black sky and huge light towers illuminate the deserted runs of Niseko. It is 8 p.m. and while most skiers are enjoying yet another Asahi beer, I am on a totally different kind of high. The eerie, elongated shadows of the birch trees appear to bring the forest to life. 1,287 lights, making the visibility even better than in daylight, illuminate the runs and the surrounding woods. In this magical, three-dimensional dream world I fly through the feather-light powder, disappearing behind a huge powder cloud after each turn.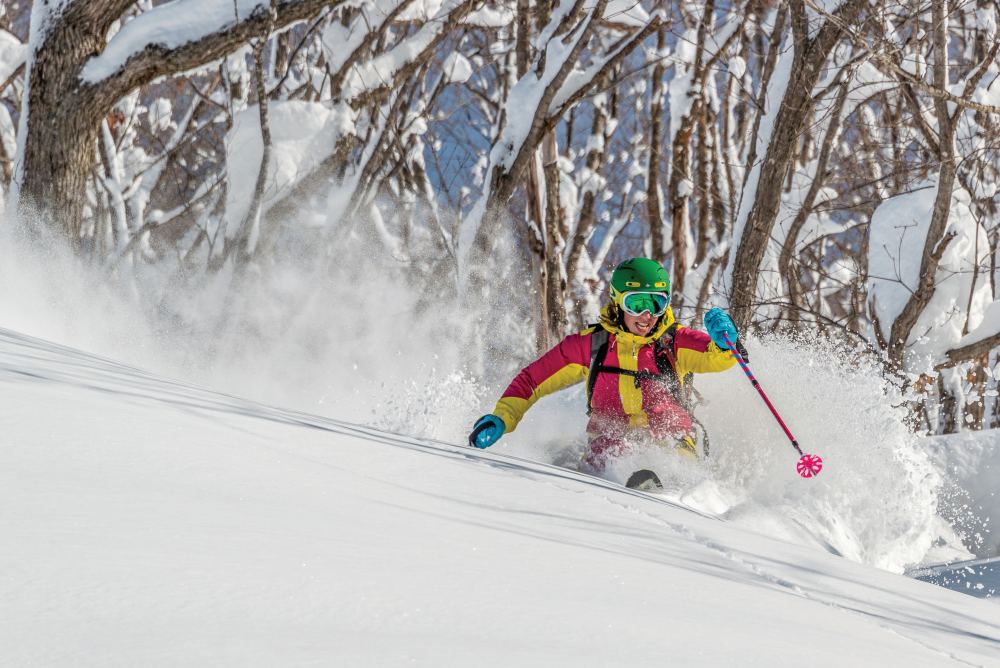 Why would you save the best for last, when in Japan the chances of powder are the biggest by far? With an average of six days of snowfall a week and 15 metres in a season lasting just 3.5 months, Japan is no game of roulette, it's a guaranteed jackpot and you can ski 12 hours per day!
Caroline and I can't resist these numbers and each winter we cure our vitamin P deficiency by following this rigorous powder diet. This all-you-can-ski buffet is accompanied by some of the best food in the world. Every day we whet our appetite with bowls of the most delicious, steaming hot udon noodles, fresh fish, green tea ice cream and sushi. Every meal is a true feast and looks as good as it tastes.
No matter what your budget is, you will eat well as the Japanese hospitality is truly unique. It is embodied by the Japanese word 'omotenashi' meaning 'hospitality from the heart' or 'the spirit of selfless hospitality'. During our trips we observed this unrivalled warm welcome and extreme eye for detail in various ways.
Don't be surprised when you go to the toilet for example. You will need to wear special brightly coloured slippers, the seat will be heated and music will automatically play once you sit on the toilet. Yes for us Westerners, Japan is a country of idiosyncrasies including vending machines that dispense beer, accessible to anyone and located in every imaginable location.
Contrary to many people's beliefs, Japan is not expensive, especially not with the favourable current exchange rate. To give you an idea; a day pass will cost you between £15-£25 and a bowl of steamy ramen with tempura on the slopes will only cost you around £5. Make sure to carry enough cash as ATMs are hard to come by in Japan. But don't worry; Japan is also one of the safest countries in the world.
After a long day carving powder on the mountain there is no better way to relax than lying in an onsen, a natural hot spring filled with thermal water heated far underground. It is a Japanese custom to thoroughly wash yourself before entering the onsen and the Japanese also believe that onsens have healing powers because of the minerals they contain. Either way the whole experience is undeniably both physically and mentally cleansing and relaxing. If you still have some energy left after all this, you can also end the day on a high note with that other favourite Japanese pastime karaoke!
East, west, Nelson best! (February – March)
Dedicated ski bums of all ages make me realise that skiing is more than just a sport here in Nelson; it is a way of life. I feel privileged to be out there with such fervent and fanatical skiers and to be able to share my passion. Out of all of the places I have skied around the world, I have never felt so proud to be a skier as I do here!
During an inspiring journey to Nelson, Canada we discovered that skiing isn't just a sport here. Take the '20 cm rule,' which applies to many ski towns, including Nelson. According to the rule, if it has snowed more than 20 centimetres the shops don't open until noon. What a difference from the Netherlands, where most people associate skiing with just a week-long winter holiday!
In Nelson, skiing is raison d'être and passionate, well-educated ski bums carry-out odd jobs such as tree planting, mining or growing pot in order to be able to ski full-time. Work is even referred to as "the four letter word I'd rather not use." This laid-back mentality sums up the easy-going attitude that is the norm in Nelson.
Dotted with Victorian gingerbread cottages, the Canadian town in the Kootenays is home to dozens of artists, musicians, yogis and of course seriously strong skiers. Some of their hairstyles give new meaning to local colour.
Like its residents, nightlife in Nelson is unconventional and surprising. Be sure not to drink too much during bingo night at Mike's Pub: if you mistakenly call out "bingo," you'll have to report to the stage and recite an excerpt from an erotic novel to the rest of the pub!
For us, it is extraordinary to be surrounded by skiers but unsurprisingly, we immediately feel at home in this powder paradise. The small resort located a 20-minute drive from Nelson is Whitewater (WH2O), an authentic ski hill where mass tourism is nowhere to be found.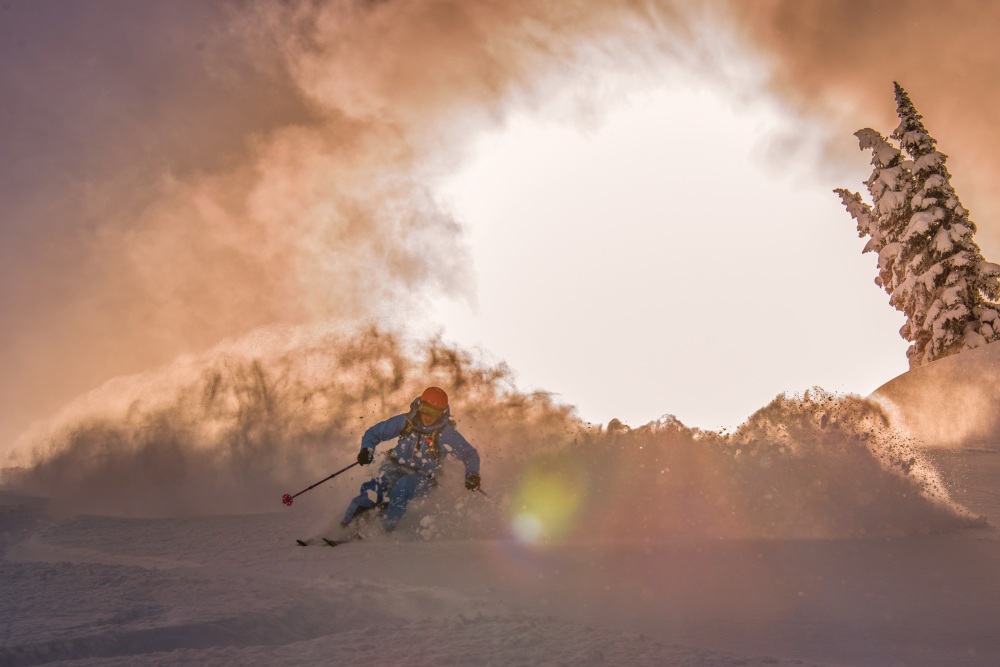 WH2O is in fact the exact opposite of a crowded European resort, which is refreshing in an age when typically, everything has to be bigger and better: here less is simply so much more. Whitewater's three old-fashioned, rickety second-hand chairlifts take you up to extremely steep and challenging tree runs.
Ski touring is also immensely popular and sports-loving locals proudly take us to their favourite spots just outside the ski boundaries. We put on our skins for a short tour almost every day, and weeks after a dump we are still laying down our own tracks in fresh snow.
The only restaurant on the mountain is a simple and cosy day lodge made from timber, where young and old mingle and everyone seems to know each other. We stand out in our colourful gear and are quickly known as "the Dutch Girls."
Every day we enjoy their healthy, delicious and affordable food. During lunch, I always have to ask our new ski friends what brought them to Nelson. An oft-heard response is: "I came here for a few days and just never left." I certainly don't blame them; the deep powder, pure stoke and authentic atmosphere make WH2O a truly special place.
Senja island, Norway: skiing with reindeer (and an Alaskan dog…) (April – May)
Blue skies, screeching seagulls and salty sea air; for a fleeting moment I wonder if I'm in the Mediterranean. But then I jump off the quay into the deep blue water and reality hits me, followed immediately by shock. It might have been brash to jump off a snowy quay into an ice-cold fjord, so I quickly put on some clothes and am handed a typical Norwegian specialty; a shot of Aquavit – a double distilled potato 40% liqueur. Skål!"
Most European skiers have put their skis away by April, but we are far from done yet. We head north to Senja in Norway to prolong our season, where seemingly an infinite number of pointy, white mountains rise up from the azure blue fjords just begging to be explored.
This island was recommended to us by two Norwegian skiers we met over a bowl of steaming noodles in Japan. It is still largely undiscovered by tourists as most skiers go to better-known destinations like the Lyngen Alps or the Lofoten islands.
Our home on Senja is the Senja Lodge, a cosy old fisherman's cottage perched right next to the fjord with stunning views of the surrounding mountains. This comfortable, self-catering lodge is perfect for a group wanting to ski amazing terrain at an affordable price.
Our welcoming guide Bent owns the lodge and he suggests we go for a short drive before dinner. He takes us to a harbour with a huge fish factory, where we buy two kilos of cod and 500 grams of prawns for just £9, freshly caught from the fjord only hours ago! Fishing is Senja's main industry, with cod, herring, prawns and farmed salmon on the menu and it makes for a true fresh feast.
The next morning Bent is stoked to take us skiing on one of the 180 peaks on the island. According to him there are only two or three other skiers in the valley, but he hasn't seen them all season!
With no lifts, you need to earn your turns and during our first ski tour we are joined by Bent's best pal. He keeps wagging his tail, while sprinting past our fit guide. Yeti, a playful Alaskan Malamute covers at least twice the distance while Caroline and I take our time, absorbing our beautiful surroundings.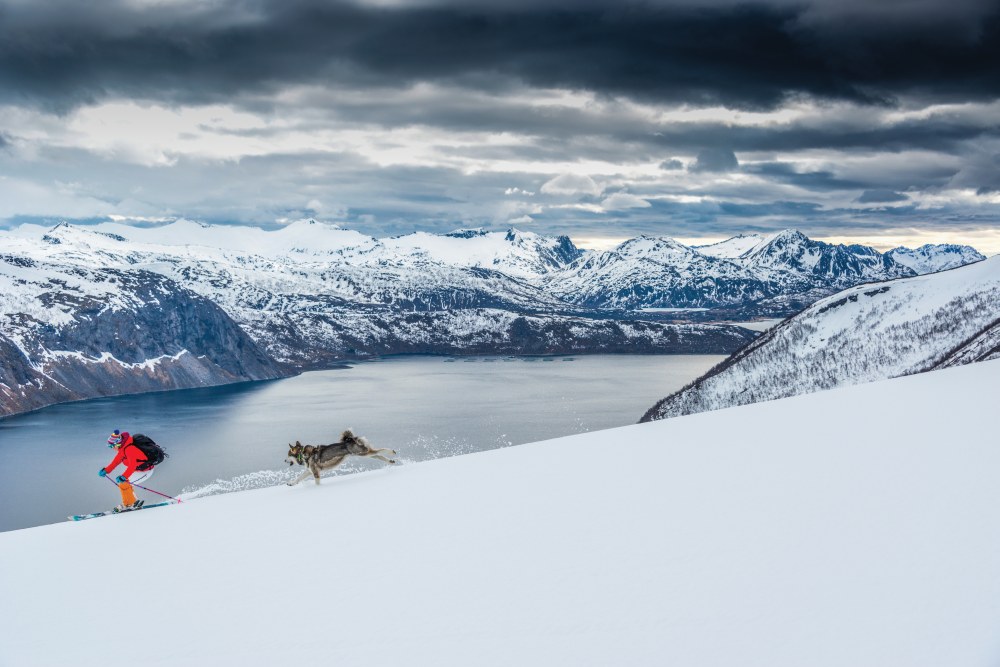 We see white beaches, rocky cliffs with perfect ski couloirs, bright green moss on the bottom of the azure blue fjord dotted with fishing boats. We are so close to the sea that seagulls fly alongside us and we smell the delicious salty tang of seawater in the air.
Arriving at the summit a few hours later, our breathlessness is rewarded with an awe-inspiring view of three separate fjords and the open sea. The sheer beauty of the landscape gives us goosebumps.
Like us, Yeti prefers the descent, and happily dashes back and forth between us as we point our skis towards the fjord and cruise down. It is hard to tell who's having more fun: Yeti or us! Stopping for breath, in the distance a herd of reindeer appears and they seem just as surprised as us. What a surreal experience to ski powder on an Arctic island among wild reindeer.
Spitsbergen Arctic adventure (May –June)
My heart's pounding and suddenly I'm wide-awake. Terrified and freezing cold, I sit up straight in my thick down sleeping bag. I'm sure the sound that woke me was a growl! Polar bears are a real and present danger on the island of Spitsbergen. In fact, at around 3,000 there are more polar bears than human inhabitants, and rifles are compulsory if you leave town. My heartbeat slows. The infra-red alarm, also known as our 'polar bear alarm', didn't go off and Jarle the husky, who's guarding our tent, hasn't stirred. Phew, false polar bear alarm!
We've joined a group of international adventurers on a ski expedition on Norway's Spitsbergen island, deep in the Arctic circle, and although we don't have any winter camping experience whatsoever, we are in the safe hands of our experienced guide, Tobias Luthe – who is also a Sustainability Science professor at the University of Chur, Switzerland and has organised this expedition.
Only on Spitsbergen would your expedition start with a shooting lesson and meeting your polar bear guard dog.
As soon as we complete our preparations, we set of on a tiny zodiac boat. Perched just above the freezing water, we fly across the icy fjord and are dropped off, 40 kilometres northeast of the capital, Longyearbyen, with just a couple of 'pulka' sledges carrying all our gear: two tents, food, three rifles and very little extra clothing.
The moment we set foot on land, we hear heavy breathing coming from the water, and turn to see small sprays of water shooting upwards. It's a group of passing white whales – now that's what I call a welcome!
Eager to explore, we put up our tent and go for our first ski tour. With a rifle on my backpack, we head out into the glorious sunshine. Although it's almost 9:30 PM, time has little relevance. This far north, just 1,338 kilometres from the North Pole, in early May the daylight lasts for 24 hours.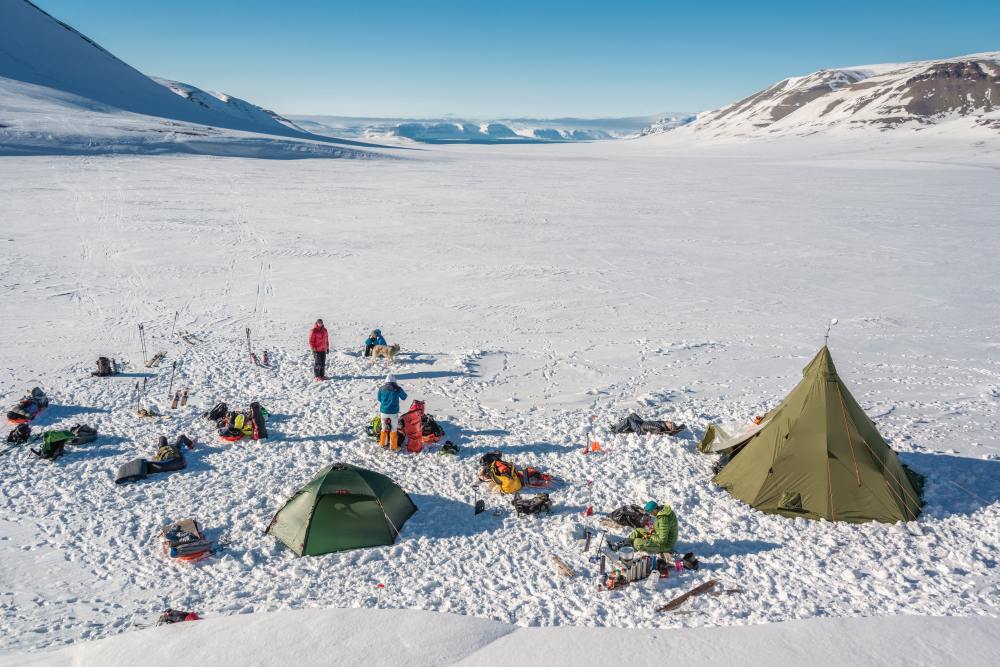 We admire the vast, treeless landscape, dominated by dozens of sharp peaks rising from the surrounding fjords in stark contrast with the clear blue sky. Step by step, we work our way up in complete silence. By the time we reach the summit at 935 metres it's close to midnight.
Far away in the distance, we can just about make out a tiny triangle on the ice: our tent. The sun, due north, shimmers a golden beam of light onto the fjord. Tobias puts away his skins and says with a big smile: "You don't need to be afraid that your line will be tracked. The only tracks to worry about are those of a polar bear." Skiing powder through this breath-taking landscape, in the middle of the night with the sun still warming my face, is an experience I will never forget!
All images courtesy of Caroline Vant Hoff Photography carolinevanthoffphotography.viewbook.com/