It's maybe not the ideal characteristic for the publisher of a ski magazine but days like this are worth every second I spend clinging to the bar on ski lifts with my eyes closed. But snowboarding is all about conquering the next challenge, and that's my answer to the latest bout. Turning to my left and dropping in, I'm soon up with my mates and ready for the next one.
My e-mail had gone out on Tuesday. 'Have you seen the snow reports? I'm off to Tignes on Thursday night, who fancies it?' I didn't hold out much hope with the response; work and family would normally get in the way. Evidently, however, they had indeed seen the reports, enthusing over some of the best early season dumps in years. Five confirmations in ten minutes! I hadn't expected that, and it dawned on me that I'd lumbered myself with organising a fairly large group trip for five fairly large, disorganised blokes.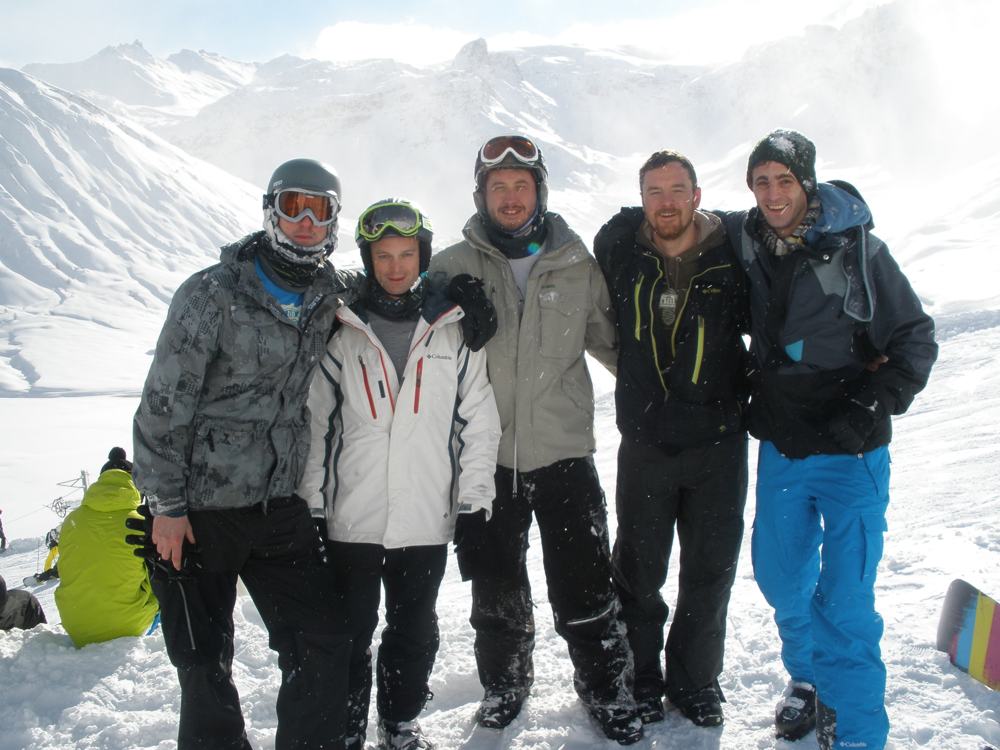 With accommodation swiftly sorted through Ski Collection, and a day's guiding arranged through the tourist board, I fooled myself into thinking the hard part was done. Airlines weren't even flying to Chambery, Tignes' closest airport yet, but going with Swiss to Geneva was a good option. They do an excellent 8.35 evening return flight, meaning you get a good amount of slope time on the last day of a weekend trip. Job done.
Transfers however, were a complete nightmare. Non-existent, in fact. This early in the season they just don't operate. We were told one man with a van would consider coming out of hibernation for the hefty sum of £1,000 return! We politely declined. Hertz stepped in and provided a hire van big enough for all our gear and we were sorted.
As we crawled higher up the mountain to the resort, the roadside drift got bigger and the trees whiter, but it wasn't until we saw our balcony at the Le Nevada apartment that we truly realised just how much snow there had been. It had been snowing non-stop for days and it was still coming down in buckets.
Our first day consisted of some of the worst visibility I've ever experienced. The type where you aren't sure which way is down and you feel you have to fall to your knees to check your speed, only to find you weren't moving in the first place. An amusing few hours, but not the conditions to really explore in. We retired to the bar for another happy hour or three...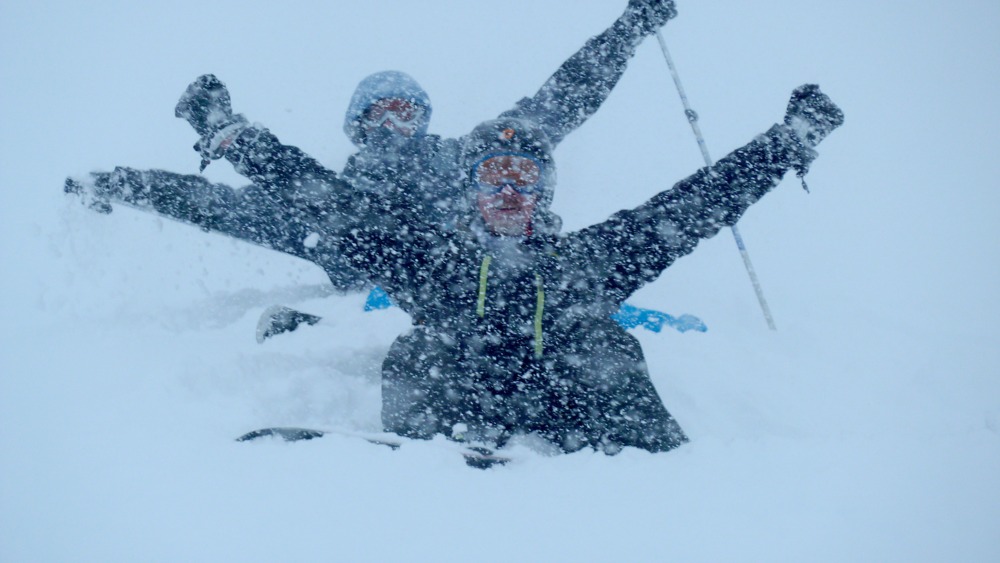 They say no two days in the mountains are the same. I'll buy that. The next day we wake to glorious sunshine and excitedly race off to meet our guide, Patrice, at the stroke of 9. After a short briefing on how to use our avalanche transceivers he takes us up for a gentle first run to assess our levels. We're a mixed group. Two are competent but have never 'pushed it' off-piste, two know what's coming and are itching to get on and find fresh tracks before the masses beat us to it. Except there aren't any masses. One of the joys of going this early in the season is that hardly anyone else has.
Only half the lifts are open. The Grande Motte Glacier is closed due to an avalanche risk rating of 5 – the highest! – and great swathes of the resort remain inaccessible…at least to those without the local knowledge of a guide who was skiing Tignes before they built the resort!
It's Patrice's first bluebird day of the season too, and greeted by the snowy utopia we see before us, he's nearly as excited as we are. Tignes is in the Espace Killy region of the Tarentaise. Actually a collection of five satellite resorts, it sprawls out to give access to over 250km of piste and some of the best riding in France. If you add into the mix easy linked access to Brit favourite Val d'Isere, it's a superb all-rounder with something for everyone.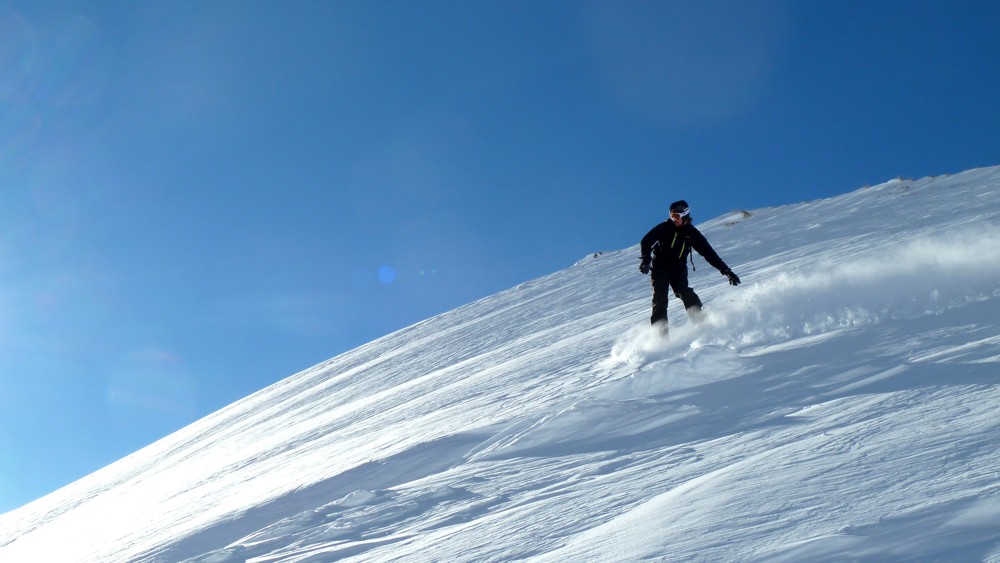 Patrice obviously has his favourite Tignes spots. Almost to himself he dreamily points out all the areas he wants to hit and the order he'd like to do them in. We're not going to complain, and for the next few hours it's deep stuff all the way, gliding through open powder fields and tree runs, whooping with glee and shaking our heads, staring with disbelief at what lies before us.

Before each run Patrice moves ahead to check the safest route through, but despite his best efforts we set off two mini-avalanches as we go. A warning shot that this much snow has its perils, and a reminder that skiing with a fully qualified local guide is certainly worthwhile.

After spending the morning excitedly moving from one glorious run to the next, we stop for a quick lunch, before heading over to Val d'Isere for more of arguably the best conditions any of us have ever experienced. Even into the afternoon, the powder remained un-tracked and wonderfully light and fluffy. None of our runs were particularly extreme and that's one of the benefits of visiting a resort as big as Tignes, and a linked area as big as

the Espace Killy.

There is something for everyone here and lots of it is genuinely accessible to most levels. The two less-experienced members of our group were taken aback at their first real 'bluebird' experience. One of them, Alex, who'd spent a lot of yesterday frustrated and digging himself out of drifts, was heard through the trees shouting 'I get it now' followed by 'woooohooooo'.

By 4pm we were ready to call it a day, but Patrice was having none of it so we headed off for one more leg burning descent through knee deep powder all the way to the resort. Sipping a well-earned beer, and reflecting on a memorable day, the conversation turned to what Patrice might do with his evening off…'Maybe hike up and do some more runs. I have a friend who will light the way with a piste basher'. Nutter.

Standing stock still, buried in half a metre of snow and trying to talk my mind out of the vertigo I've just been gripped with, I look around and rationalise where I am.  To my left is a steep, but not sheer, untouched glistening face leading to a closed part of the Espace Killy. Ahead is 'The Needle', a well-known landmark above Tignes. Everywhere I look is fresh, deep snow and blue skies. It's the 8th of December and this is the stuff dreams are made of. It's just a shame I can't move.