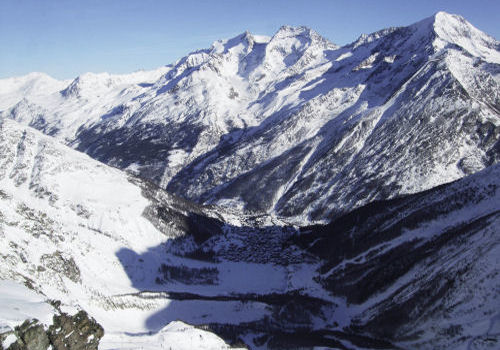 As far as awesome views go, it doesn't get much better than this. With my back to Italy I'm standing at 3,500m in bright Swiss sunshine surrounded by some mighty impressive alpine glaciers and a dozen or so 4,000m peaks. Nestled 2,000m below me, the charming village of Saas-Fee glistens at the end of the Saas Valley. I can see why they call this 'the Pearl of the Alps'.
Choosing a destination for a weekend, it's easy to plump for the quick and easy: the short flight to Geneva and the minibus dash to the nearest resorts. But some places are worth making a little more effort for, and the charming village of Saas-Fee with its traditional wooden buildings, car-free streets and friendly ambience is definitely one of them.
On the face of it, it was a slog to get here. Eight hours from home to piste, via plane to Zurich, then train to Saas-Fee, sounds a lot, especially for a weekend. But it was for a long weekend…and the journey was smooth, especially the train ride from Zurich through the snowy Swiss countryside. A big improvement on sitting in a queue of traffic all heading along the same single file mountain roads. In the end I was poised at the top of my first run a little after midday on a late January Friday.
One of the great things about travelling in Switzerland is the joined-up nature of the Swiss railway system. No matter where you fly to (Zurich, Geneva, Bern or Basel) you are on average three hours away from your chosen resort. There really is no need to hire a car or take a crowded bus when the trains are frequent, spacious, comfortable, superbly connected and scrupulously punctual.
The Saas-Fee ski area comprises 145km of pistes across three areas. The main one is Saas-Fee with 100km of pistes. A short hop to the end of the valley is Saas-Almagell and just below Saas-Fee is Saas-Grund and Saas-Balen. These villages make up the Saas Valley area and offer a further 45km of piste. Although Saas-Almagell, Saas-Grund and Saas-Balen are not directly connected to Saas-Fee by lifts, a local post bus provides free transport every 30 minutes.
The 'Saas pass' will cover you for the whole area. However, a Saas-Fee-only pass should be plenty to keep you entertained for a long weekend and will save you a few Swiss Francs in the process. You can always save Grund, Almagell and Balen for a longer stay or add them for a day should you want to spread your wings a little further.
Saas-Fee has a good variety of terrain which will satisfy all levels of skier – with an abundance of snowsure north-facing slopes, many of which are above 2,500m. It's possible to cruise all the way down to the village from 3,000m avoiding red and black runs completely. The more competent will find plenty of reds and five short but steep blacks to challenge them.
There is off-piste skiing in Saas-Fee and it's well worth it for the stunning views (there are three 4,000m-plus routes), but always hire a guide – Saas-Fee means 'glacier town' for good reason. Going it alone would put you in serious danger of falling down a deep crevasse. Even that bit of 'just off the side of the piste skiing'… Another big plus here is the lack of crowds on the slopes. At times it felt as if I had the whole jumbo-sized Toblerone to myself.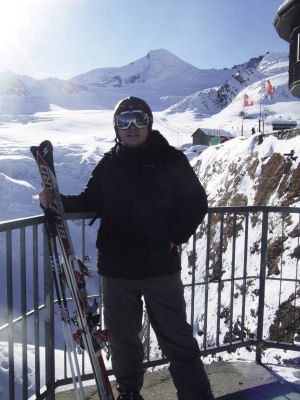 Eager to explore I headed up to the Allalin area using the Alpin Express gondola followed by the Metro Alpin (the world's highest funicular). From here it is easy to head down either side of the mountain and descend back to the village. Early intermediates might prefer to take the Spielboden gondola up to the Langfluh area, where you'll find a great cruising blue run complete with fantastic glacial decoration. For good skiers, the Plattjen ski area off to the left of the nursery area is worth a visit. Incidentally, if you should find yourself on the Felskinn cable car, here's a little-known fact: it's famous as the one used in Wham's Last Christmas video, shot in 1984.
You can eat well on the mountain. And if you prize scenic above all else, the newly-named Threes!xty at the top of Mittelallalin proudly boasts that it is the world's highest revolving restaurant. At 3,500m, the views are breathtaking – with a different outlook for each course!
Saas-Fee is well set up for beginners with the nursery and kinder area located next to the village and without the need for lifts to get you to your first lessons. The main lifts are also positioned here making it ideal for parents to check up on their children at the end of each descent.
Saas-Fee piles on the charm. There are no cars allowed save a few electric taxis, and every building must be built using wood to traditional designs. There is an ample choice of restaurants, and a couple of great outdoor après bars. The atmosphere is relaxed and fun and the glühwein was so good I had to try it again…and again…and again. Not everything in Saas-Fee is within easy reach – the village is 2km long – however, luckily, my hotel was!
Saas-Fee also offers a good mix of accommodation. Much of it is hotel based and ranges from luxury to budget. Feeling flush, I stayed at the one 5-star hotel (the amazing Ferinart). It was money well spent: seven-course evening meals, evening entertainment, talks, free electric taxi to main piste, a lovely wellness area complete with pool. The drinks were a bit pricey though: £6 for a cup of tea, but it is Switzerland.
You can undoubtedly find superb weekend spots that are quicker to get to than Saas-Fee. But I'm glad I went that extra mile to get that extra altitude – even just for the weekend.

Snow Where

Where to: Saas-Fee, Switzerland

Where from: London Heathrow to Zurich via Swiss Air (from £120).

How long in the air: 1 hour 40 mins

How long a transfer: 3 hours 10 minutes (£99 2nd Class or £152 1st Class Return on Swiss Transfer Ticket).

Where we stayed: 5-star Hotel Ferienart Resort and Spa (£473 for 3 nights half board). Hotel Ferienart offers Ski Fun Special for 3 nights at £327.

With who: Booked independently

How much: Total £840, inc lift pass.