'If the slopes are packed we'll go off the Donkey's Knob...' is not a phrase you're likely to fi nd in any offi cial guidebook to the lovely old Savoyard French Alpine town of Châtel.
It's what happens when your host has had his own place here for seven years: local nicknames start creeping into the conversation. For those who want to look it up on a piste map, the area in question is a lovely off-piste bowl off the top of Cornebois, the peak that rises above the Châtel satellite of Pré-la-Joux.

And my host is right: despite the Christmas/ New Year crowds, the bowl is relatively untracked, and offers some more challenging terrain than the two reds that also peel off this side of the Cornebois chair.

Châtel is that rare fi nd, a resort that's small enough to offer an authentic French atmosphere, while being part of a much bigger picture – in this case one of the biggest, for it's a gateway to the Portes du Soleil, a border-hugging ski domain that includes the more touristy French resorts of Avoriaz, Morzine and Les Gets and a few smaller Swiss ones, such as Torgon, Champoussin and Les Crosets.

Despite its frontier-town location and links to the Portes du Soleil, Châtel has managed to maintain most of its development in chalet-style buildings in keeping with the natural ambience of the resort. At the same time it has a strong community feel: the farming tradition remains strong with fresh produce on sale direct from local outlets.

The village offers a high number of relatively inexpensive small family hotels and chalets rather than having the usual high concentration of apartments characteristic of many French resorts. Most of the chalets have beautifully-carved balconies (known as palines), giving each chalet its own identity and style.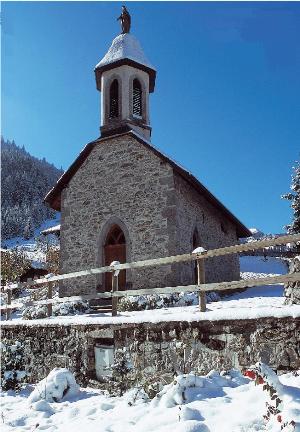 And while many of the major French areas have become dominated by one international group or another - often the British - Châtel retains a very French feel. That said Châtel is livelier than most French-dominated resorts with several dozen bars and night spots open to 4am. One perennially popular spot is l'Avalanche, in the village centre on the road to Linga. Up the mountain - and in town – there are ample restaurants serving tasty regional dishes such as tartifl ette. Our group often ended up refuelling cheaply at the Perdrix Blanche self-service at the foot of Pre-la-Joux, but for a real heartwarming lunchtime treat try the poêlé at Chez Denis in Plaine Dranse. You'll likely get a glass of génépi to warm the rest of you, too.

Châtel's skiing links two vast sectors of the Portes du Soleil circuit, with the Linga gondola at one end of town heading off towards Avoriaz, and at the other the Super Châtel gondola going towards Torgon. In addition, there are individual and unlinked drag lifts dotted around the valley fl oor, serving very easy or easy runs and used for beginners. The main beginner area is, however, at the top of the gondola above Super Châtel where a snowy open bowl contains a further dozen or so short drags radiating out in all directions.

It's a wonderfully picturesque spot, with thickly forested slopes above the valley fl oor giving way to open snowfi elds and then the rocky pinnacles above and beyond.

Intermediates will enjoy Châtel's skiing and the vast range of opportunities in the Portes du Soleil beyond. For more advanced skiers the Linga sector is
the place to go initially where you'll fi nd challenging runs beneath the gondola. If you prefer to ski a vast area, the Portes du Soleil has 650km of pistes, a sprinkling of snowparks for all the young dudes and abundant bowls and tree lines for off-piste powder junkies, meaning you can come here for years on end and never be bored.

Learning…the British way

'NOBODY KNOWS what a good ski lesson is until they've had one,' offers Helen Trayfoot, doing a nice line in downhill philosophy. Helen, one of three British instructors with the British Alpine Ski and Snowboard School (BASS) in Châtel – which also has fi ve French ski schools – is highlighting the differences between the British and French ways of teaching and concludes that it's all about culture.

'We British can be very hard on ourselves and need encouragement, whereas the French way is very command-orientated – show, tell, do – in which the strongest survive. It's not a criticism; that's the way their education system works and so all the French are used to that, that's the way they've been brought up.

'But the Brits aren't used to that system, and something gets lost in translation: people get upset, the kids cry and adults fi nd themselves left at the back ofthe group. So at BASS we work in a very positive, client-centred way, so they go away feeling empowered to ski the mountain.' She stresses her respect for 'the French guys,' saying: 'all the top French guys are very skilled. And we do work a little with the ESF [the Ecole du Ski Français] – we will pass lessons on to them if we don't have room.'

BASS operates with small class sizes – a maximum of six for adults and eight for children, and all its instructors have achieved the highest grade – level 4 – of French skiing instruction. They have to – otherwise they wouldn't be allowed to work in France. 'The ski police do check – and you can be arrested and fi ned or imprisoned,' says Helen.

'There will never be enough British instructors, she adds, 'it is very hard to get to the top level and very expensive, you have to be committed 200 per cent, generally have youth on your side, and be prepared to take the knocks. Those of us who do manage to make it all the way are a highly skilled elite bunch and once people have experienced our work they dont want to go back to anyone else!'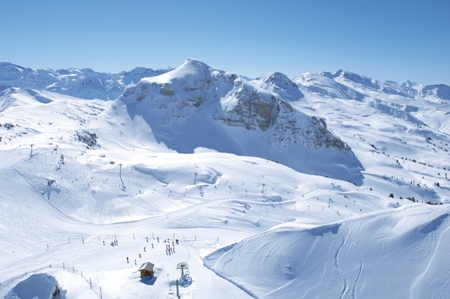 To see for myself I joined one of her six-strong groups for intermediates and wondered how she could pick up on the individual faults and needs of each skier. But as she worked the group she watched closely and with each of us found something eminently tweakable, and made sure we worked on that as we worked our way around the mountain. And unless you are fl uent in French or your French instructor is fl uent in colloquial English, there's nothing like linguistic familiarity to make sure you really do understand the nuances of what you are being taught.

Helen, now in her early 40s, got her level 4 at the age of 26, having gone on her fi rst instructors' course as a 16-year-old, and worked at a dry ski slope in Hillingdon during her A levels. Gap year included a stint in Andorra, where she got her BASI level 2, and since then she has worked around the world, including Italy, New Zealand, Germany and Switzerland, plus fi ve winters in America, before settling down in a little village 20 minutes drive down from Châtel. 'Châtel is a gem.It's unspoilt, friendly and open and has the best snow.'

You'd think being a ski instructor is one of the most glamorous jobs in the world, and Helen wouldn't disagree, though says it does have its downside. 'You have to love teaching as much as you love skiing as the bread and butter work is with children or nervous adults who just want to get down a slope safely. And you will be out in rain or a blizzard when everyone else is sensibly inside, or teaching beginners on a perfect day when all your friends are ripping up the powder.'

Snow how
CHATEL , FRANCE
GETTING THERE
This should be the easy bit. At a straightforward 75-minute transfer from Geneva (90-minute flight from Gatwick), Châtel is one of the most accessible Alpine resorts by air. In theory. In practice, a bit of inclement weather can turn a simple journey into an impossible one. We were booked to fly out before Christmas from Gatwick via easyJet. Then the snow came, turning Gatwick into a plane park. We were forced to rebook for the Monday and then spent that day too hanging round the airport in vain. We abandoned two wings in favour of four wheels, deciding to drive via the Eurotunnel on the Tuesday. Alas, the snow and ice had wreaked havoc here too and we hung around for another day before finally arriving in France on Tuesday evening. The simple bit was the eight-and-a-half-hour drive down the autoroutes and mountain roads to Châtel – plus stopover – and we finally reached our destination a mere four and half days after setting off...
Driving is a reasonable option if there are at least two of you to share the driving. We paid £135 for a return ticket on the shuttle, plus £175 in petrol and tolls each way, making just over £485 for the round trip. For three adults that's around £130 each. Flights to Geneva are generally cheaper of course, starting at around £20 but you can pay a lot more. For the return transfers add another £55 each. Of course, if you drive there are a few things you'll need, such as a warning triangle, fluorescent vests for each passenger and a spare bulb kit. Also advisable: snow chains. You might never use them – surprisingly, we didn't, but if we hadn't had them...

NEED TO SNOW
Chatel has 49 pistes, totalling 83km. 5 black, 16 red, 17 blue, 11 green, plus a snowpark and two boarder cross zones. Some 200 snow cannons aid Mother Nature., while the Abondance valley also includes 40km of nordic ski trails and a biathlon shooting range.

7-day ski pass Châtel
Adult: €181
Youth (16-19): €163; Child: €136
7-day ski pass Portes du Soleil
Adult: €243
Youth: €219; Child: €182

Among the special deals is a €28.90 Liberty pass, a flexible Châtel ski pass that allows you to ski for any five consecutive hours in a day.

The Châtel ski area opens 10 December 2011 (weather permitting!)

NEW FOR 2012
The Rochassons chairlift in the Plaine Dranse sector has had a makeover, with a new six-seater detachable chairlift – capable of carrying 3,000 skiers an hour – replacing the old two-seater chairlift, as the main link to Avoriaz and the Portes du Soleil.