Lindsay Vonn shares her top training tips for skiing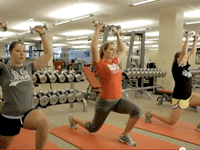 If you're planning on hitting the slopes this winter but worried about your fitness, Olympic gold medal winner Lindsay Vonn has five simple exercises for you to help prepare your body.
We'll certainly be taking her advice – at the weekend Vonn nailed her 50th World Cup victory in on the challenging Kandahar course in Garmisch-Partenkirchen, and as now won as many races as the Italian legend Alberta Tomba.
Written by:

Jim Walker
Check out the video for some tips that could send you on your way to victory on the slopes.
Few skiers hit the 50 wins mark. There are only two other women (Annemarie Moser-Proell of Austria (62) and Vreni Schneider of Switzerland (55)) and three men (Tomba (50), Ingemar Stenmark of Sweden (86) and Hermann Maier of Austria (54)).