What do you get if you throw ten years of planning, 908 days of construction and 470 million Swiss francs at a ski resort? The answer, at least in the Jungfrau ski region of the Swiss Alps, is a very swish setup indeed. This winter season the Grindelwald Terminal train station, which opened in 2019, has a new crowning glory - the 26-seater Eiger Express cable car is now open to shuttle skiers up to the slopes of the Eiger Glacier in 15 minutes.
The new Grindelwald Terminal is a cavernous concrete structure that houses a railway and two new ski lifts, all of which run like (Swiss) clockwork, with trains shuttling in from Interlaken in 35 minutes. The Eiger Express, deemed the 'most modern tricable gondola in the world', is the newest addition, but this isn't your average lift station, either – the Terminal itself hosts a Lindt chocolate shop, a watch shop and a Chinese noodle restaurant as well as an Intersport ski hire shop, a supermarket and even an in-house Covid testing centre.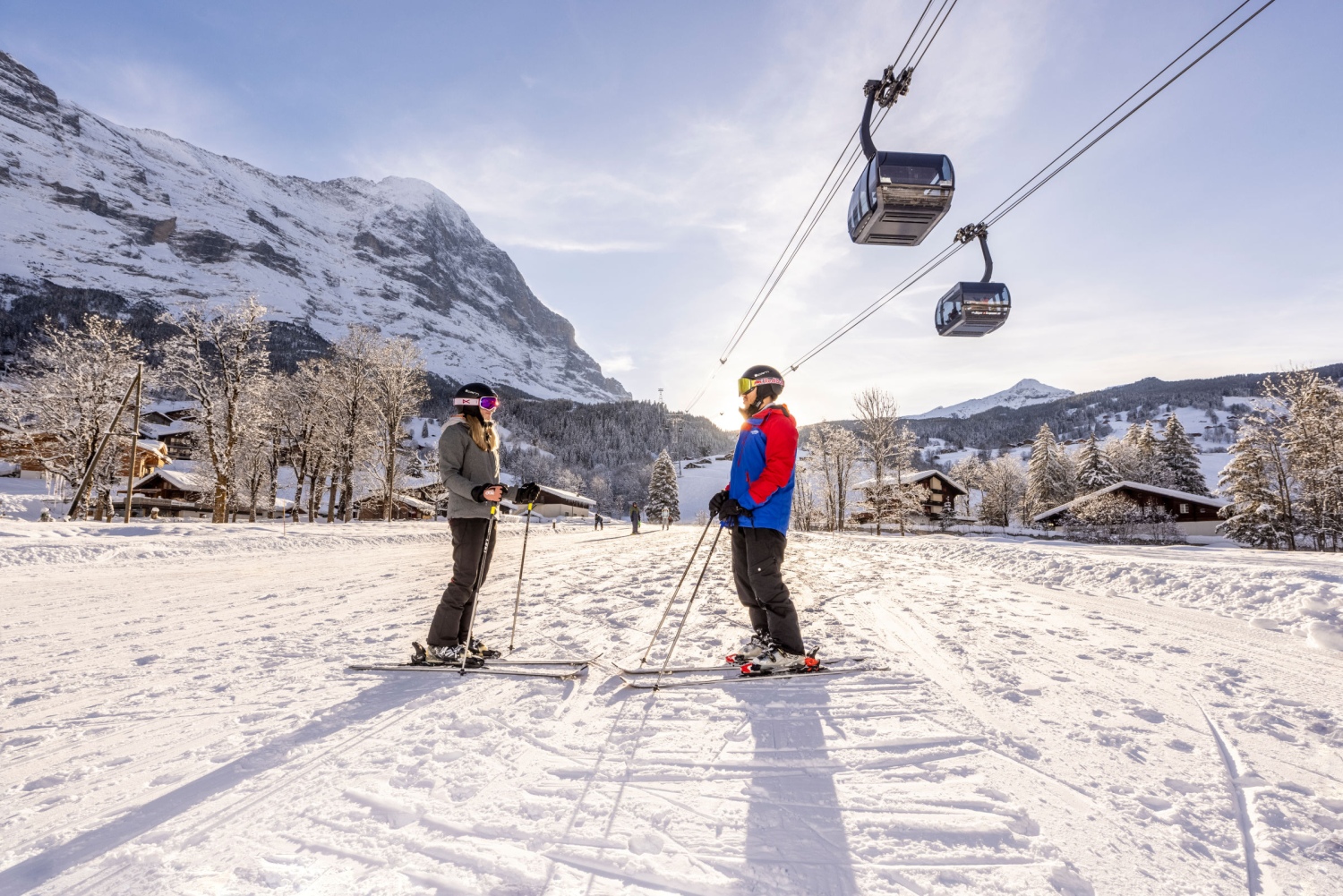 Good news for keeping our winters safe, too – the Terminal and lift system are carbon neutral, and three electric transformers don't just keep the lifts trundling up and down – they also help to power the whole town of Grindelwald.
Early in 2022 Snow Magazine visits the Jungfrau to catch a ride on the Eiger Express. The slopes are peppered with skiers, and while the snow conditions aren't brilliant, the bright sunshine and the panoramic view of the north face of the Eiger certainly are.
The seated cable car also makes reaching the Jungfraujoch, Europe's highest train station at 3,454 metres, faster and easier for the sightseers and non-skiers (up to 5,000 of them a day in peak season) who flock to the 'Top of Europe', as it's nicknamed, by lift and then by cogwheel mountain railway station.
Covid has been a stumbling block for the building project – even the launch party on the 5th December 2021 had to go ahead with only 50 attendees – but finally, both the slopes and the lifts are open for business.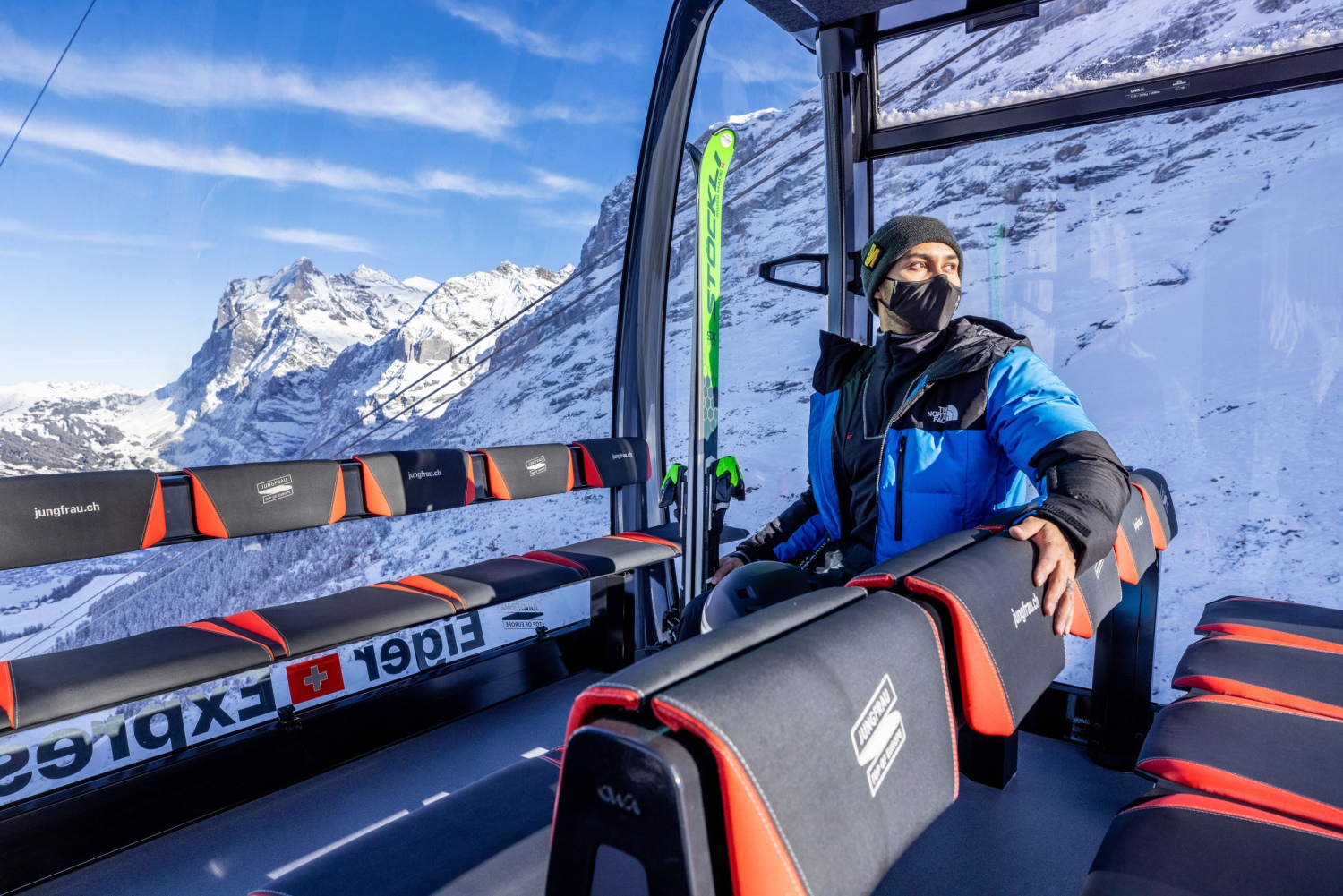 Daniel Zihlmann is Managing Director at Gondelbahn Grindelwald-Männlichen AG, and has been involved with the project for the past decade. What was the main focus of the design of the Terminal and Eiger Express? "In a word, convenience," says Zihlmann. "The focus was on providing public transport links, and on making getting to Grindelwald and then onto the slopes or up to the Jungfraujoch as easy as possible."
Veteran local ski guide Niklas Gammeter is also pleased. He looks out at the snow-clad mountains from the Grindelwald-Mannlichen cable car, the other lift operating from Grindelwald Terminal, and explains "This new investment is exactly what the region needed, and the opening of the Eiger Express is good timing for this ski season.
Last winter, skiing was so limited in Switzerland – the slopes were sometimes closed, bars and restaurants were closed. But today, there are skiers of all different nationalities back on the pistes."