Starbucks aficionados won't need to even take their skis or boards off – instead, orders can be placed and picked up at the hatches on the slopes then enjoyed on the chairlift to the top of the mountain. Normal coffee shop seats and service are also available inside.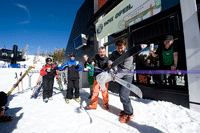 Chief barista at the branch said the novelty of the branch is a source of pride. "Bragging rights, for sure" are a major appeal of working in Squaw's Starbucks.
"We worked closely with the design team at Starbucks to create a one-of-a-kind experience that we know our guests will truly enjoy," said Andy Wirth, Squaw Valley's president and CEO. "Nowhere else in the world can skiers and riders enjoy a delicious Starbucks coffee without missing a beat on the slopes."
While the Starbucks at Squaw Valley may be the first ski-in, ski-out branch and you'd think it'd be the company's highest too, that claim actually belongs to the branch found on Main Street in Breckenridge, Colorado, at 9,600 feet (2,926m).