Oz en Oisans is a traditional refuge right the heart of one of France's largest, and most modern, ski areas. A small cluster of pretty, wooden-clad chalets, just a short drive from the neighbouring ski resort of Vaujany, it combines a small village vibe with an enormous - and we mean, enormous - ski area. The Domaine des Grandes Rousses, that both resorts connect into, is probably best-known to most Brits as the ski area around Alpe d'Huez, boasting more than 80 lifts and 250km of pistes.
This unique combination of quiet village with huge accessible ski area makes Oz en Oisans a great place for a family ski holiday, or a group trip where there are skiers of all ages and ability levels who might want to splinter off in the day, and join forces back at the chalet each evening.
If you're looking for party central, ride the transfer bus a few stops further and base yourself in Alpe d'Huez proper. But if you're looking for a cheeky, cheaper, backdoor into one of the world's great ski areas, Oz en Oisans is well worth a look.
Oz en Oisans - Ski Map & Pistes:
There's a small beginner area in Oz en Oisans itself, serviced by its own drag lift. But anyone above the level of complete beginner will be start each day by getting on one of the two lifts that link you up into the main Domaine des Grandes Rousses.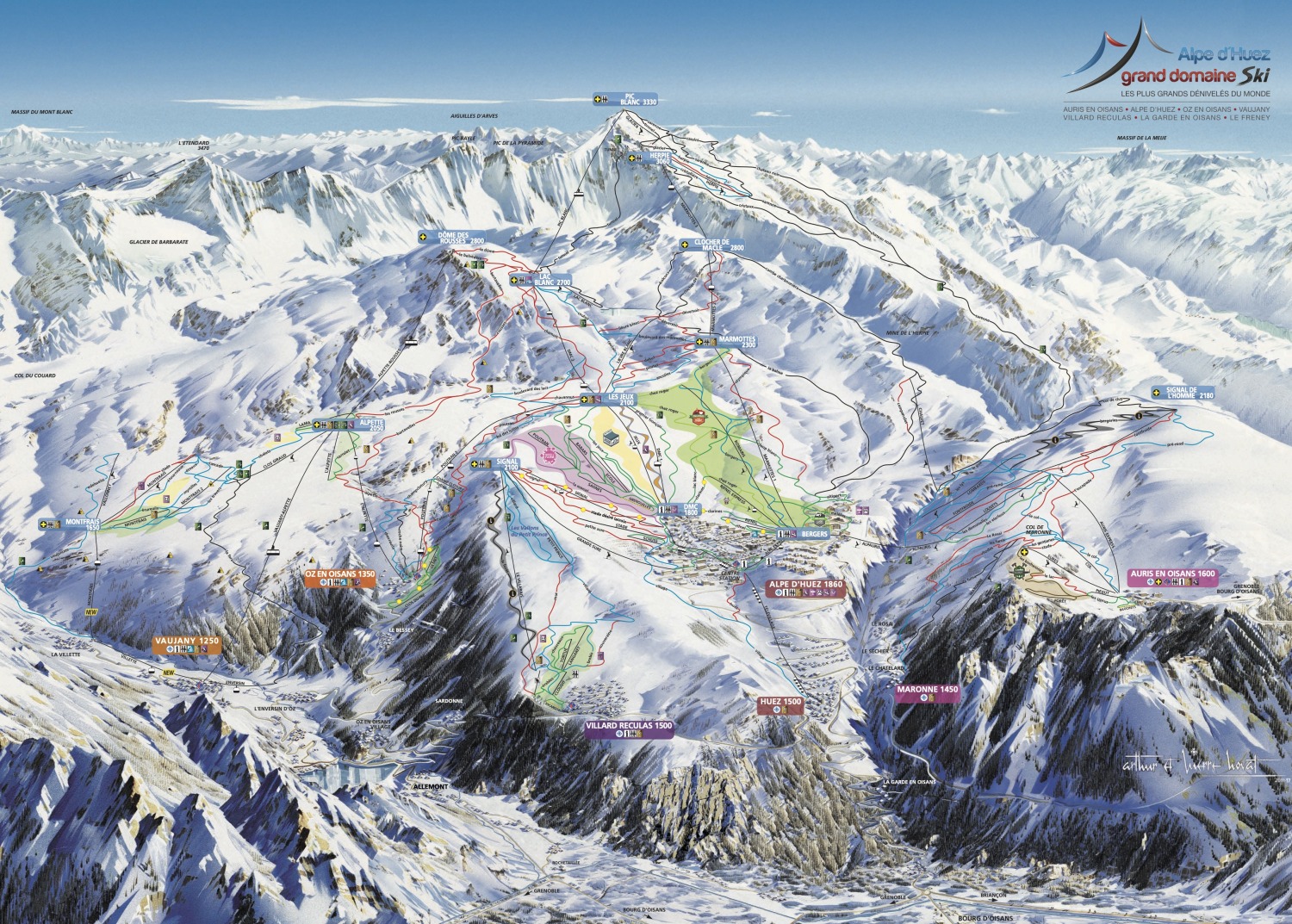 Jump on Poutran I & II gondolas at the eastern end of the village and you'll be whisked up into the main Alpe d'Huez area - where mellow blues and motorway-wide run down the sides of a famously sun-kissed bowl to the main village. Alternatively, you can catch the Alpette lift up to the peak of the same name, above Vaujany. From here, a large cable car whisks you rapidly up to the Dome des Petites Rousses where there are fewer, more challenging runs, chiefly reds and blacks, and some great off-piste. Or you can carry on further right up to the Pic Blanc at 3,300m, from where the are some epic descents.
This area is huge, and wildly varied - from tree runs, to high alpine couloirs, from gently winding greens to step, gnarly blacks, so there's more than enough to keep skiers of all ability levels occupied. As always, when you base yourself in one of the outlying villages in a massive ski area, it's worth making a note of the times that lifts close, as you don't want to end up stuck over in Auris, on the far side of the mountain. But Alpe d'Huez' modern, well-connected lift system, and clear signposting makes this unlikely.
Beginners should also be aware that the options for home-runs down into Oz en Oisans are also fairly limited - there are blue and red options down from Poutran, but if you're coming down from the Alpette / Vaujany side, you'll have to negotiate a section of piste marked as a black. Or, of course, you could always download on the gondola - but that's generally frowned upon.
Oz en Oisans - Off-Piste, Backcountry & Ski Touring:
If you're into off-piste or touring, make sure you buy a liftpass that lets you access the whole ski area, not just the beginner-friendly Oz en Oisans / Vaujany area pass. Then, at the first sign of decent, jump straight on the lift up to the Pic Blanc and start your day with a scream down the Sarenne, the epicly long descent down the glacier off the back.
It's marked as a black (the longest in Europe) but if you get to it before others do on a powder day, or venture just slightly off to the side, it will give you one of the best lift-access runs anywhere in France. Once that's tracked out (and it will be, fairly quickly) there are further amazing lift-access lines to be had off the Dome des Petites Rousses. If you've got skins and a guide, you can head up to the top of the Signal de l'Homme lift above Auris, drop down the other side, and start picking off lines on the next ridge over.
From here, you can also see La Grave, the nearby freeride Mecca now owned by the same company as Alpe d'Huez. There's an option to take a day over there on some Alpe d'Huez liftpasses, and guides based in the village run group excursions if the snow's good. But really, that's for completists only - there's more than enough epic, accessible terrain in Alpe d'Huez to keep you occupied for weeks.
Oz en Oisans - Restaurants, Bars & The Town:
Consisting of ten hamlets scattered along the winding switchbacks from the old village at 800m up to 1350m, where the lifts up to the main ski area start, Oz en Oisans is pretty, if slightly spread out. As you'd expect from this kind of satellite settlement, it's pretty quiet at night. But there are a collection of restaurants at the base of the lifts which will pour you a cold après pint and serve you decent versions of the classic Alpine dishes. Try Le Ferme d'Oz which has a nice sun terrace, or Le Poutran.
For anything more serious in terms of nightlife, you're better off heading up the mountain to Alpe d'Huez - unless it's the one week a year when the winter edition of Tomorrowland, the world's biggest Techno and EDM festival, takes over the entire resort. On off-shoot of the enormous Belgian event which attracts 400,000 people each summer, the winter edition attracts 20,000 ravers from all over the world, many of whom don't even bother skiing. Think Snowbombing on acid, with an added Belgian twist. If you're looking for that quiet family getaway in Oz en Oisans, we'd recommend avoiding this week.
Oz en Oisans - Ski Hire:
Skiset and Sport 2000 both offer ski hire in Oz en Oisans but there are also a couple of independent ski hire options - 2G Sports and Le Cabane a Skis if you fancy booking your Oz en Oisans ski rental from somewhere different.
Oz en Oisans - Ski School:
For ski school in Oz en Oisans, the ESF is the obvious choice, with over 30 instructors. But if you're not a fan, or want to support an independent business, SkiaOz and Active Ski School offer alternatives.
// HIGHLIGHTS //
Airport
Grenoble (1hr 12m)
Geneva (2hr 15m)
Train station
Grenoble (53 mins)
beginner
intermediate
expert