Overview
La Tzoumaz is a compact, family-oriented resort in Switzerland's 4 Vallees area, linked to Verbier by gondola and pistes, and two hours from Geneva. It has 55kms of mostly intermediate north-facing slopes, that tend to hold the snow for longer than its more illustrious neighbour. Links to the slopes are via two cable cars, four chair lifts, two ski lifts and one baby lift. There's also a new funpark for the 2015/16 season. The resort is definitely more suited to families and couples who aren't in need of Verbier-style nightlife. Nevertheless, it makes a brilliant gateway to Verbier, but is also nice to ski in the early afternoon when Verbier tends to get crowded.
Ski area
The sheltered slopes up to Savoleyres offer great skiing on a snowy day on a mix of reds and blues, and an easy trail takes you from here to the heart of the Verbier ski area. That, in a nutshell, is the big draw of La Tzoumaz - it has excellent access to Switzerland's biggest ski area, the 410km of the 4 Vallees including the big-mountain skiing off Mont Fort at 3,330m. and the neighbouring ski areas of Nendaz, Veysonnaz and Thyons. One lovely home run worth a mention is the itinerary from Attelas at 2,727m down through the Vallon d'Arbi into La Tzoumaz. One word of warning: don't get stranded in Verbier (the last lift over is about 4pm) as the taxi ride back is expensive.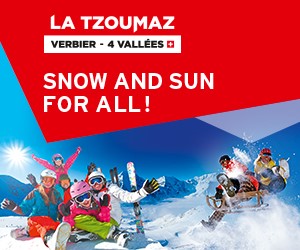 Off the slopes and apres ski
La Tzoumaz is quiet compared to lively Verbier - but for families that's likely to be a huge plus point, as is the 10km toboggan run which drops 834m into the village. La Tzoumaz also has 3 snowshoe paths totalling 13.5km, and which range from an easy walk to a more energetic hike. There is also an ice rink and a good indoor swimming pool, accommodation is mostly self-catering but there is a handful of hotels, and a small but decent selection of restaurants and bars. A free ski bus makes getting round easy and the resort has its own creche/kids club for children aged between 2 and 6 years.
// HIGHLIGHTS //
beginner
intermediate
expert
// RECOMMENDED //
Bars and clubs
Bar des Etablons
The Bamboo Bar
Restaurants
Restaurant de Savoleyres
Creperie Savoleyres
Croix de Coeur
Chez Simon
Auberge de la Tzoumaz
Le Pistard
Le Central
Les Fougeres
Les Trappeurs
// USEFUL LINKS //
Tourism and Ski Area