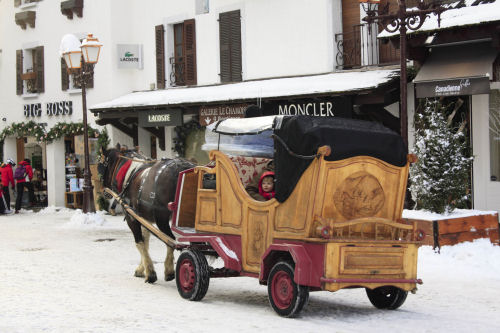 Ever have trouble choosing a resort for your ski holiday? The Alps has hundreds, and that doesn't make deciding easy. Different resorts offer different attractions – and I've often wished greedily that several could be included in one holiday.
A road trip is one answer, of course, but many resorts are linked by railway lines, and looking at a rail map made me wonder whether the train could offer a solution to this paradox of choice. Creating a kind of 'Winterrail' ski safari across the Alps, we could try several resorts, spanning three countries, in one two-week holiday.
A crazy idea? Probably. An adventure? Definitely!
I persuaded three ski friends to come with me, on the premise that the journeys would be part of the holiday. I'm just hoping I don't end up tied to the track for having overstated the ease of moving from one resort to the next.
Day 1: London to Megève
Armed with skis, snowboards, bags and a Thomas Cook rail map of Europe we board the 07:31 Eurostar at London St Pancras. Two hours later we're slipping into the Gare du Nord, in Paris. A change of station by taxi and by 1pm we are tearing through the French countryside at 200mph in a comfortable TGV train, playing cards around a table.
Dusk is descending as we arrive at Sallanches station, a 15-minute drive from our first destination, the stylish resort of Megève. 'This is a great time to arrive,' says guide and chalet owner, John Kinnear, as he stows our bags for the short transfer. We soon see why.
As the lights come on, Megève is the most beautiful winter village you could imagine, with a cobbled central square defined on each side by stately stone buildings. A huge Christmas tree twinkles in the centre, horse-drawn carts canter round the village and there's a cute babbling brook. There are stands selling hot chocolate and vin chaud, keeping faces sipping and beaming. In the 1930s this resort was the place to ski and be seen. These days it's lost that crown but retained its style and buzz.
The resort shares 400km of piste with another gem, St Gervais. Although neither is particularly famous among British skiers, there is a loyal and growing fan base that loves to ski here. The next morning, within minutes of cruising the powder-laden, tree-lined slopes, I've joined their ranks. There are plenty of opportunities to ski powder between the slopes without venturing into more extreme terrain, and it doesn't get tracked out.
Day 4: Megève to Champéry
After three days on blissfully quiet pistes, it is time to leave for Champéry, on the Swiss side of the vast 650km Portes du Soleil ski area. Our four-hour rail journey begins with a stunning ride up and over the mountains from St Gervais toward the Swiss town of Martigny, every corner revealing expansive views over the valleys below. We pit stop at Vallorcine where the rustic station cafe serves a huge €12 'Skier's lunch' – crispy sauté potatoes, steak and salad.
There are two further changes of train, at Martigny and Aigle; this proves simple, as we discover that in Switzerland (and later in Austria) platforms are connected by ramps and lifts, so with wheeled luggage it is easy.
You could spend weeks exploring the Portes du Soleil, but we've allowed ourselves two days. Our local ski guide from Champéry Ecole de Ski, Vincent, gets us up to speed quickly, sweeping through the trees around the Grand Paradis run and then up onto Chavanette to head into Avoriaz.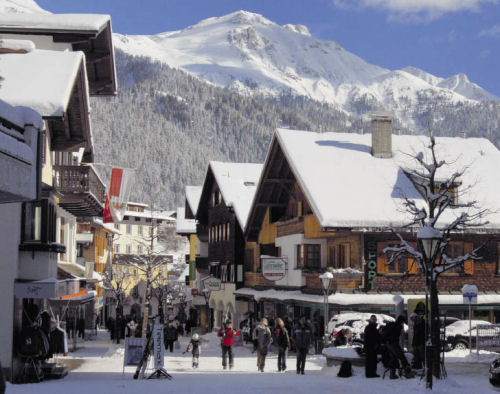 Day 5: Champéry to Schruns
We keep moving. Our next leg is an epic all-dayer – from the very west of Switzerland to the eastern border and into Vorarlberg in Austria. Connect 4, chess, cards and films on the laptop keep us entertained. At lunchtime we board a train from Lausanne, and sit ourselves in the Bistro – an onboard restaurant carriage with table cloths, and wine glasses – quite a treat against the scenic moving backdrop. This is how to enjoy the journey.
On the slopes of Schruns the next morning we are treated to an amazing experience – the Hochjoch Totale. Once a week, a group of 100 skiers is allowed onto the mountain at 7am, to carve a 1,700-metre run from the top of Kreuzjochsattel to Schruns. In the crisp cold, we witness the moonlight melt into a violet-orange sunrise over the magnificent mountain range. At the end of the run, there's a huge breakfast at the Kapall restaurant, and then a whole day of skiing ahead.
Day 7: Schruns to St Anton
From Schruns, we travel 90 minutes into the Arlberg valley. Snow-covered mountains on either side make it feel like we are in a giant half pipe. Our destination: St Anton, one of Austria's most exciting and famous resorts. We dump our bags, skip breakfast and head for the Galzigbahn cablecar, powered by gigantic wheels inside a gleaming Perspex case. A series of fantastic interlinked runs brings us to lunch at the homely Hospiz Alm restaurant in the tiny neighbouring hamlet of St Christoph.
Après-ski was born in St Anton, and at 3.30pm this becomes self evident. The home runs back to town pass wonderful wooden huts with terraces full of swaying skiers. Arguably the most famous and fun is the Moosewirt, a heady mix of beer, Jagermeisters, banter and dancing on tables. It's the start of a long night.
Day 9: St Anton to Zell am See
It's five hours' train ride east to our final destination, Zell am See, in Salzburgerland. Packing with a hangover is tough and a pair of snowboard boots gets forgotten. On the train we slump into the seats and watch the changing scenery, like a silent film, through the big glass windows of our carriage.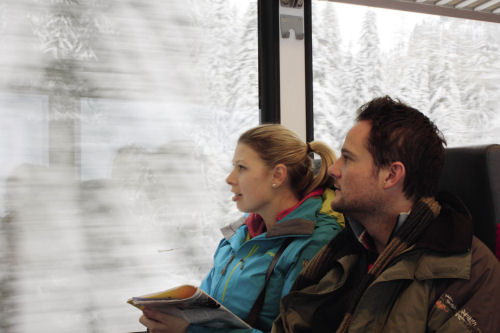 Approaching the pretty village of Zell, in the afternoon, the train runs along the vast Lake See, with ducks and boats and people fishing. The next morning, we view the same lake from 3,029 metres at the top of the Kitzsteinhorn glacier, before hurtling down corduroy slopes that spit sparks of snow under our skis. With Zell as our base, we take a day to hop on one more train for the 45-minute journey to Mittersil, a small neighbouring resort. It's actually part of the 170km Kitzbuhel ski area, but because it's at one far-flung end, the slopes stay wonderfully quiet. From the rail station at Hollersbach, two gleaming red gondolas carry you 1,000 metres higher to the 1,894m Resterhone summit. The choice: carve the pistes or weave though the powder in the trees. We spend our final day weaving through powder fields. Had the train not come here, we might never have discovered this hidden gem.
Leaving ski resorts is always tough and on this Winterrail trip we've had to wave goodbye to several. Stepping onto the train for the overnight journey back to London, I look back down the track to where – surely – more ski slopes await to be discovered.
Winterrail – would we do it all again?

Yes. Combining several resorts in one trip with scenic journeys in between was a treat. But I think the maximum number of resorts would be three – because moving from resort to resort takes energy. The journeys themselves were easy – trains ran on time, always had ample seating, with friendly fellow passengers. The connections were straightforward to work out, and the shorter journeys meant little time missed on the slopes, with breakfast or dinner on the train.

This kind of safari suits good skiers who love exploring, and probably wouldn't suit anyone who needs a week's ski lessons in one place. Surprisingly, the hardest part was simply the packing and unpacking and checking in and checking out. But when we'd arrive at the top of a whole new mountain to explore, it felt worth it.




Snow How


Megeve, France
Megève is one of the prettiest villages in the Alps, the kind of place it's hard to tear yourself away from. The 400km Evasion Mont Blanc ski area is extensive, hosting an endless choice of wooded runs, each with a great mountain restaurant tucked off to the side or waiting at the end. Although the piste altitude is not particularly high, a grass base means that the resort doesn't need huge snow depths. Basically, the moment it snows here, you'll be in your element.
The resort is home to some fabulous restaurants, such as Le Radaz, a cute, timber hut at the top of Cotes 2000. On Mont d'Arbois Le Ravière does epic three-course meals.
GETTING THERE
Nearest station Sallanches (12km). Depart London 07:31, change Paris and Bellegarde, arrive Sallanches 16:48.
WHERE TO STAY
Daniel stayed at Chalet Sylvana with Stanford Skiing, a tour operator that specialises in Megève. Half-board accommodation at Chalet Sylvana costs from £70 per person per night.
www.stanfordskiing.co.uk
; 01603 477471
SKI AREA
pistes 400km
number of lifts 84
pistes 34 green runs/53 blue runs/63 red runs/23 black runs
Highest point Mont Joly, 2,353m
vertical drop 1,200 metres
snowpark yes
adult lift pass for a week €176
SNOW RECOMMENDS
The pizzas at Deli-corner near the main square; the red Fontaine and Scion runs off the top of Alpette, the stunning views from the top of the Mont Joly chair.
BEST FOR beginners, intermediates, romantics and families.
USEFUL CONTACTS
www.megeve.com
St Gervais, France
Linked with neighbouring Megève, St Gervais has a long history as a health retreat because of the healing, sulphuric hot water that runs though this attractive village. As such, you get the feeling of being steeped in history here – in a resort that clearly loves its slopes as much for the views as for the thrills. The ambience is chilled, the village home to bon vivants who adore their food and wine. The 400km Evasion Mont Blanc ski area offers huge variety, and if you love enjoying the slopes at a more relaxed pace, this is a wonderful place for a family holiday.
GETTING THERE
Nearest station St Gervais le Fayet (10 minutes from the main village)
SKI AREA See Megève.
SNOW RECOMMENDS Les Thermes de St Gervais les Bains – historic sulphuric healing spa waters; Sous les Freddy's, a fantastic rustic hut; freeriding in the 'Magic Garden' between the Lanchettes and Radaz lifts on Côte 2000.
BEST FOR beginners, intermediates, spa lovers, and families.
USEFUL CONTACTS
www.saintgervais.com
;
www.thermes-saint-gervais.com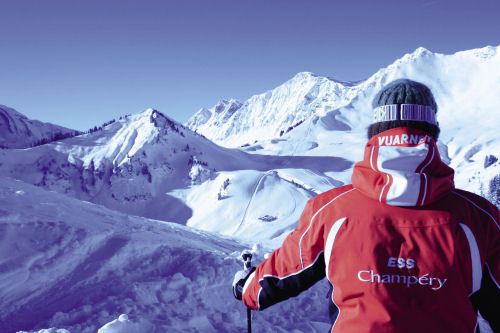 Champery, Switzerland
On the Swiss side of the huge 650km Portes de Soleil ski area, Champéry is a sweet village with plenty of charm and wooden chalets. The slopes are connected by gondola from the village, and the first port of call is the Planachaux area, from where you can drop into Les Crosets or continue on toward Chavanette and down reds or blues into Avoriaz.
Chavanette itself is also famously known as the 'Swiss Wall' separating France and Switzerland with a huge, steep mogul field that even advanced skiers find a challenge, and looking down on it from the chairlift above is an entertaining exercise in itself. From that point there are multiple options for exploring the Portes du Soleil. You can even head across to Morzine and Les Gets. Of course, you have to give yourself time to get back – or face a long, expensive taxi ride!
GETTING THERE
Nearest station Champéry (located in the village)
WHERE TO STAY
Daniel stayed at l'Hôtel Suisse, with bed and breakfast from 270 CHF per person per night. 0041-244790707;
www.hotel-champery.ch
SKI AREA
pistes 650km
number of lifts 193
pistes 153 beginner runs/127 intermediate runs/28 expert runs
Highest point Les Haut Forts, 2,446m
vertical drop 1,466m
snowpark yes
adult lift pass for a week €225
SNOW RECOMMENDS Hot wine evenings outside Le Nord restaurant every Friday; The Grand Paridis area, both on and off piste; the lovely train ride approaching Champéry from Aigle.
BEST FOR intermediates and families.
USEFUL CONTACTS
www.champery.ch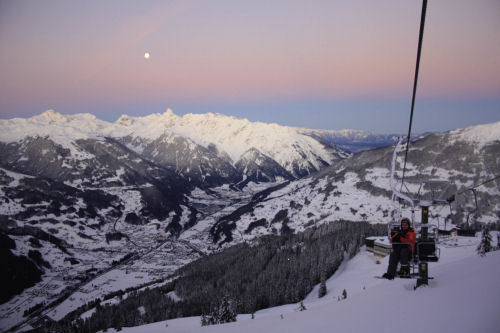 Schruns, Austria
Schruns is a fabulous, unpretentious family ski resort and it's surprising that the ski area, the Silvretta Montafon, which has 246km of stunning ski terrain linked by some very smooth gondolas, is little known to the British. The ski area is breathtaking, and plenty of red, blue and black runs are accessed from a modern lift system that deposits skiers atop peaks that lead off with various options, usually through terrain that weaves in and out of pine woods. Some of the best are at Schwartzekopfte and Madrisella, or over the other side at Grasjoch.
GETTING THERE
Nearest station Schruns (located in the village)
WHERE TO STAY
Daniel stayed at Hotel Zimba; half board from €90 per person per night; 0043 5556 72 630;
www.hotel-zimba.at
IN RESORT
pistes 246km
number of lifts 38
pistes 126km blue runs/64km red runs/56km black runs;
Hightest point Kreuzjovh, 2353m;
vertical drop 1,740 metres;
snowpark yes
adult lift pass for a week €176
SNOW RECOMMENDS the red runs around Madrisella; stunning views from the Valisera gondola; tobogganing evening with expert tips, at Golmerbahn.
BEST FOR beginners, intermediates, romantics and families.
USEFUL CONTACTS
www.montafon.at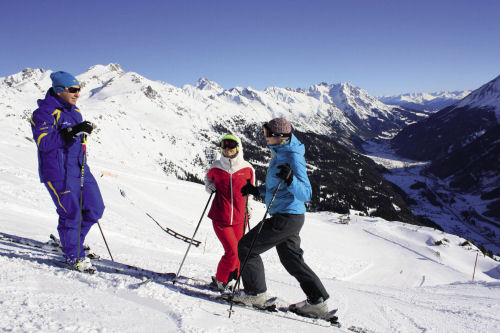 St Anton, Austria
A sense of fun and adventure courses through the veins of St Anton. This amazing ski area is a Mecca for powder-loving boarders and mileage-hungry intermediates who love to roam the 280km of linked slopes that comprise the Arlberg ski region.
Pop down to the cosy Hospiz Alm at St Christoph and you'll find that to visit the wine cellar there – and the toilets – you lie on your back on a wooden chute and slide down! It's these kind of touches that make it such a memorable resort.
GETTING THERE
Nearest station St Anton (located in the village).
WHERE TO STAY
Daniel stayed at Hotel Albona
(+43 664 353 4430;
www.albona.at
). Doubles from €79 per person per night
IN RESORT
pistes 280km of pistes;
number of lifts
pistes 34 blue runs, 70 red runs, 34 black runs
Hightest point 2,811m
vertical drop 1,507m
snowpark yes
adult lift pass for a week €208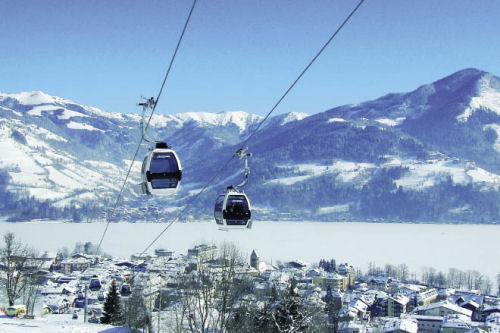 Zell am See – Kaprun, Austria
The twinned resorts of Zell am See and Kaprun, deep in Salzburgerland, represent a fantastic piece of Austria's rich tapestry of ski resorts. From the new viewing deck and restaurant at the 3,029m Kitzsteinhorn glacier, all the way down to Zell's gorgeous lakeside village, the landscape and the quality of slopes, is impressive.
There are wonderful wooded runs leading down from Maiskogel into Kaprun, while from the Schmittenhohe at Zell there is the 4km black run, the Trassabfahrt.
At night, if you are staying in Kaprun, a trip to the Tauern spa is well worth it. Zell village is beautiful as the lights come on, and its pedestrian town centre is home to a welcoming assortment of bars, cafes and restaurants.
GETTING THERE
Nearest station: Zell am See (located in the village).
WHERE TO STAY
Daniel stayed at Active Leitner hotel in Kaprun (+43 6547 8782;
www.active-kaprun.at
). Doubles from €99 per person per night, half board.
SKI AREA
pistes 138km
number of lifts
pistes 21 blue runs, 23 red runs, 13 black runs
Hightest point Kitzsteinhorn, 3,029m
vertical drop 2,272m
snowpark yes
adult lift pass for a week €197
SNOW RECOMMENDS A trip to the huge Tauern spa, with indoor and outdoor pools and waterfalls; watching skiers and snowboarders jumping at the Kitzsteinhorn snowpark; drinks at the Crazy Daisy – one of many great bars in Zell am See;
BEST FOR families, groups, romantics.
USEFUL CONTACTS
www.zellamsee-kaprun.com
;
www.salzburgerland.com
,
www.mittersill.info
Trains

For information about travelling to ski resorts by train, visit www.snowcarbon.co.uk

Interrail passes from £225 available from Rail Europe and Eurostar tickets from £50 return (if booked with an Interrail pass). For bookings visit www.raileurope.co.uk or call 0844 848 4070.

Personal callers are welcome at the Rail Europe Travel Centre, 193 Piccadilly, London W1J 9EU.

A useful website for looking up point-to-point train times in Europe is www.rail.ch


CREDIT: All photos by Daniel Elkan