El Niño is an unforgiving mistress; at times she'll deliver more snow than it's humanly possible to move, yet at others she'll tear up your powder ploughing dreams, slap you in the face with frozen rain and leave you standing in a pool of water up to your waist. Right now, I'm definitely having one of the 'slap you in the face' moments!
Surprisingly though, on the slopes I'm not wet, and I'm actually having a great day ripping it down the rolling tree-lined pistes of Stowe Mountain Resort. Admittedly visibility would be improved if the freezing rain would stop forming ice on my goggles, yet it's this same freezing rain that, rather than making me wet, is actually forming a layer of thick ice on anything it touches – including me. I'm literally cracking up every time I move.
By midday, the build-up of ice and strong winds closes the main gondola and that's when I make an ill-advised decision. Instead of heading straight back down to my hotel before my outer layer of frozen rain melts, I grab an on-mountain coffee and start to defrost. Half an hour later, defrosted but soaked through I curse my stupidity and make a very damp dash back down to base.
There's no escaping it, 2015/16 is turning out to be a rough winter for the ski industry in Vermont. After record snow falls in 2014/15, this season El Niño is taking no prisoners. Yet I'm not too put out, I've been on enough ski trips to realise you have to simply deal with what you're given.
What's more, finding the steepest and deepest lines was never the be-all-and-end-all of this trip. After many adventurous trips to the North American west, I've always wanted to explore the East, with its reputation for endless tree runs, New England whitewashed wooden houses and genteel sophistication.
At the heart of the East's ski scene is Vermont's Route 100 – a narrow single lane old trading route, and a designated scenic highway, where roadside advertising billboards were outlawed in the 90s. It runs along the eastern edge of the aptly named Green Mountains, and is a mere 138 miles long – a tiny distance by US standards.
Curling through picture perfect New England villages of pristinely presented white painted wood slat houses, boutique inns and village stores, 100 mainly follows the course of the Mad and White river valleys. 100 also just happens to take in, or passes close to, most of Vermont's top ski resorts, in the same way that the Powder Highway does in British Colombia, and Interstate 70 does in Colorado. Yet in comparison to the Powder Highway and I-70, which can both feel like their area's main lorry chugging arteries, 100 is a quiet winding path, and a real joy to drive.
First stop Stowe
Vermont is a small, yet unique state, alternative and bohemian in nature. It's as liberal as the USA gets too; no 'Trump for President' posters here. It feels like the East's answer to California, although I'm feeling far removed from the Californian sunshine as I drive past huge chunks of flat river ice, sitting like slabs of transparent slate on the river banks – a sign of the recent high rain fall which has lifted, broken and moved the river's frozen top. It's a reminder and concrete example of nature's true strength. But even the cold and ice can't stop me from pulling into that most famous Vermont institution, the Ben and Jerry's ice cream factory, just outside Stowe, for a little Rocky Road.
After a breakfast in the Stowe Mountain Lodge of super healthy green smoothie, and a not so healthy stack of pancakes soaked in Vermont's own fantastic honey-esque maple syrup, I head outside to be greeted by the traditional North American high standard of service.
"Hi Sir, let me take your board for you. How ya doing this morning?"
"Great thanks," I reply to the gondola assistant, as he loads my snowboard for me, while I climb in with an instructor and his small group.
I sit quietly in the gondola listening to the instructor explain, in wonderfully precise English, his philosophy of movement while skiing. How, without continual movement, you're simply skidding without control, and how the same principal of reaction and change relates to running and other sports. Somewhat deeper and more helpful than "Follow me and bend zee knees"!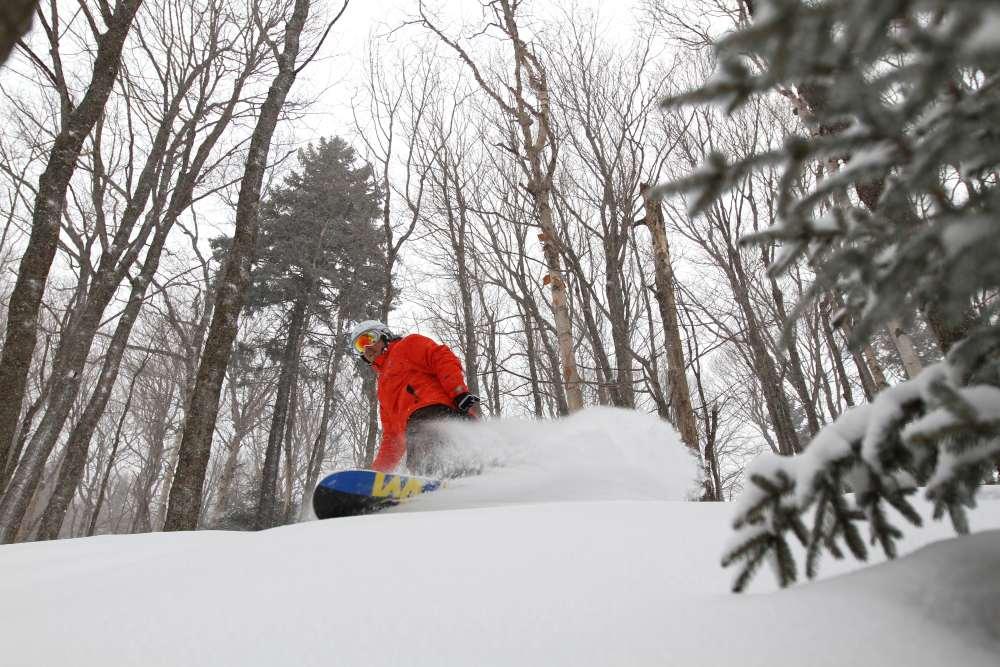 After a few hours of ripping it around the tree-lined slopes and with the bad weather forcing me off the slopes, I decide to take a swim in the hotel's heated outdoor pool. Having forgotten my trunks I borrow the hotel's Mercedes, free of charge, and head downtown – now there's a residence perk I've never been offered in Europe! Trunks bought, I am soon back and enjoying a swim with the beautiful backdrop of low lying cotton-wool clouds deposited like odd shaped marshmallows on the green tree-flanked mountains. Views like this must inspire Ben and Jerry with their more bizarre flavour combinations: Brussels Sprout and Marshmallow anyone?
On the backside of Stowe, although there's no actual skiable link, is Smugglers Notch ski resort. It's a real family favourite, with miles of wonderfully gentle child friendly pistes. The Notch, as its known locally, takes its name from a notch in the mountainside through which goods were smuggled from Canada during the embargo on British trade after the Boston Tea Party, and where alcohol was hidden by gangsters during the prohibitions of the 1920's: A history which is honoured with trail names such as RumRunners and Bootlegger.
Sugar Bush and syrup
My next turn off 100 is Sugarbush, which takes its name from a clump of Maple trees. Opened on Christmas day in 1958, it's long history is kept in place by new owner Win Smith, Jr. Win's a New Yorker and after 28 years at Merrill Lynch, he took over the resort in 2001.
"I'm trying to develop the resort in a steady and sustainable way," he explains over a large Barr Hill Gin – made in Vermont from juniper berry and raw northern honey. "We had the new base lodge built to look like a Vermont grain barn. And we're keeping really strong links with the locals, by running mountain skills training courses for both adults and kids."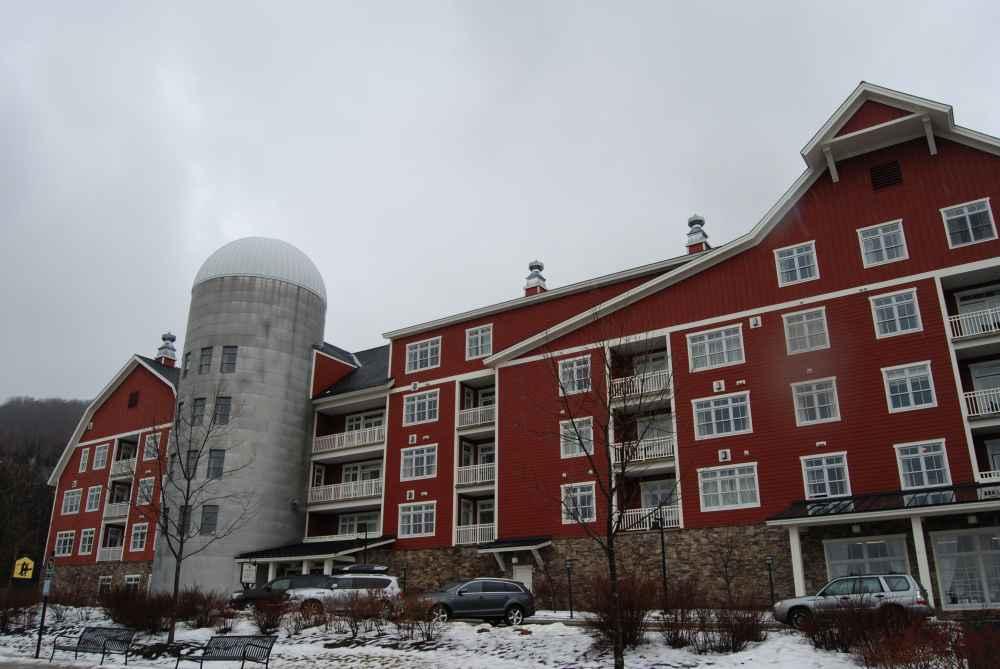 "To drive to Sugarbush from any urban centre you have to pass many other ski resorts, so it's a specific choice to come here from, say, New York or Boston. So we aim to give people a real sense of Vermont, with locally sourced food and beverages, plus we've some of the most challenging terrain Vermont has to offer."
Declining Win's offer of another gin before lunch, I hit the slopes. Sugarbush is made up of two separate mountains, linked by an express quad. Over a third of the pistes are either black or double black diamonds, with Stein's Run being the pick of the bunch. It's a challenging intermediate resort with good tree skiing, and I really enjoy my day circling the double blacks off the fast lifts.
Looking for a spot of authentic New England hospitality I choose to spend the night outside of resort, an easy option along 100, in the nearby quintessential Vermont village of Warren. As I drive there, I pass numerous red-check shirted farmers hammering taps into their maple trees.
The unseasonably high temperatures have made the sap run early and the farmers, not wanting to miss out on this year's supply, are busying themselves among the trees.
It takes forty litres of sap to make one litre of syrup – a chore I think that's well worth it, as I pour an exuberant amount of the golden nectar over a large stack of perfectly cooked French toast at the Pitcher Inn the following morning.
The Pitcher Inn is a secret Vermont treasure in more ways than one. It caters for celebrities and New York highflyers seeking anonymity, but the real surprise comes from what's behind the very normal plain white room doors – here awaits some of the quirkiest hotel rooms I've ever seen!
There's a 'Trout' room with fishing paraphernalia, and even a 'Mountain' room bedecked with the original piste signs and a ticket office from Sugarbush. But the strangest of all, is an Egyptian room with a huge stylised bed and a sofa copied from the one in Elizabeth Taylor's 1963 Cleopatra film. The rooms and fantastic restaurant at the Pitcher Inn are pure theatre – don't think Vegas though, think Hollywood chic.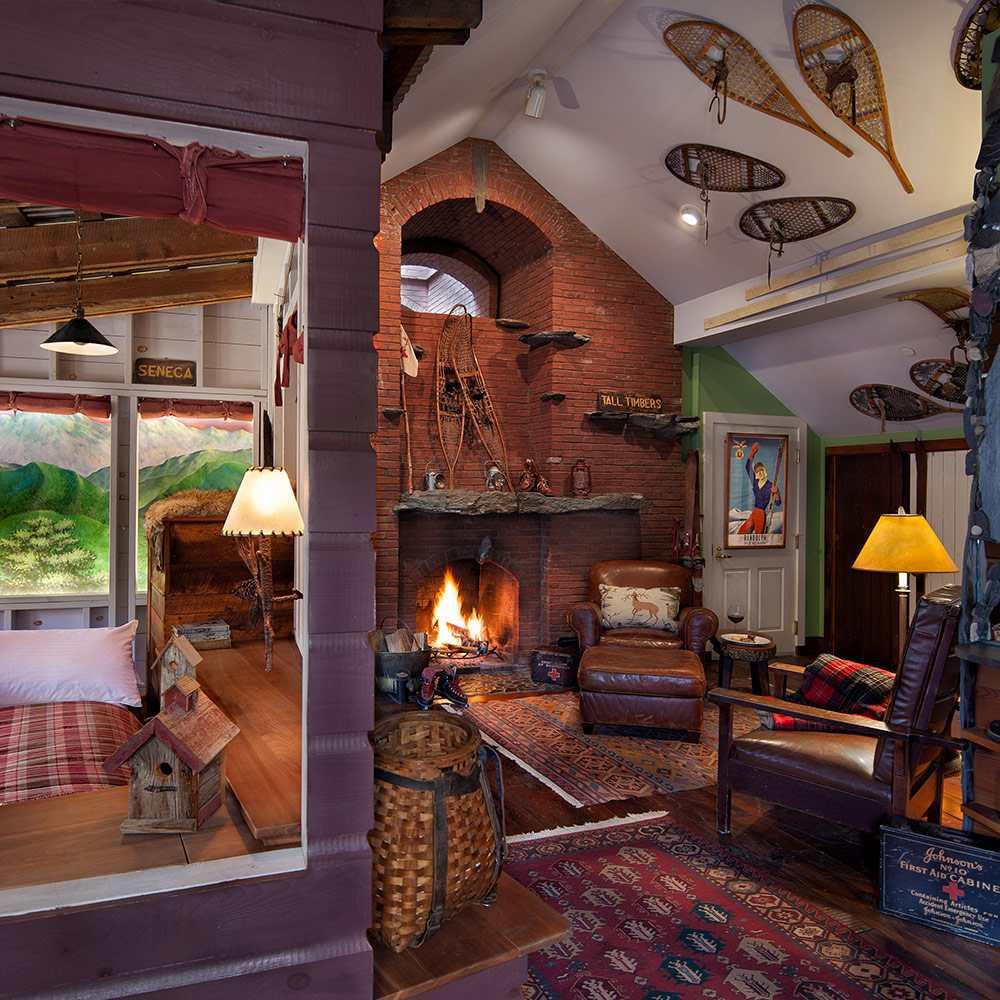 Opposite the Inn is the must-see time capsule of the Warren Village Store, as equally stacked with local produce as locals supping coffee…
The Beast
My last port of call along Route 100's string of resorts is Killington, aka 'the Beast of the East'. Being almost 2,000 skiable acres, you can see why. I pull up into its large, and mostly full, car park on a bright, clear, but freezing, morning. Quickly changing into my boots, I'm soon riding a lift with a family of weekend visitors from Boston, high above numerous snow cannons taking full advantage of the cold day. Killington has invested heavily in a new generation of environmentally friendly cannons, subsidised by the 'Efficiency Vermont' programme. We ride through an enveloping fog-like cloud of freezing man-made snow, which fills the air and chills my exposed face, with the kids laughing at my funny accent. Eventually we emerge to a stunning view of nothing but forest. We may be close to New York and Boston, but these forests are wild and, I'm told, home to bears and moose.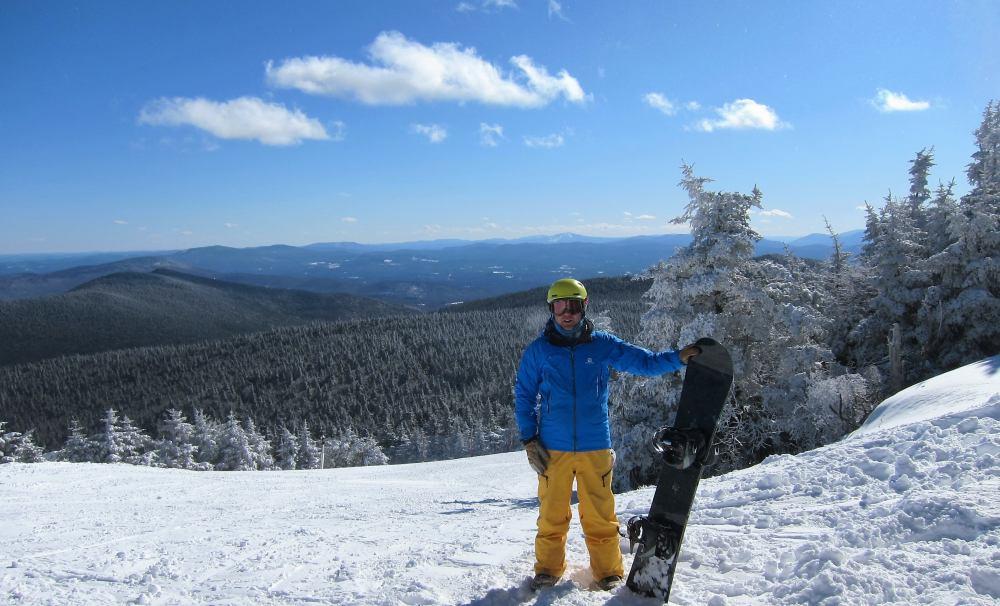 I'm not a great fan of fake snow, although needs must in a bad snow year, so I'm soon cruising the hard-packed pistes from peak to creek, following a series of interlinked trails which run from the Summit Lodge to the creekside Skyship gondola. After such a long run my legs are burning, and I'm happy to take on the shorter but more challenging double black diamonds of the front face.
Killington, probably the best choice in Vermont if you like to clock up the miles, differs from the area's smaller quirky resorts and has a bit of a corporate feel. It does offer excellent skiing, but at the cost perhaps of losing a bit of Vermont's unique charm.
Jay Peak and the Northeast Kingdom
Last but not least on my road trip, I drive further north, beyond the end of Route 100, to the Northeast Kingdom – a gritty, authentic area of northern Vermont. Gone are the spotless white painted houses and second homes of the southern villages, replaced by agricultural ramshackle working farms and homesteads. Put it this way: there are more tractors on the roads here than Audi 4x4's, and there's definitely no New York glitz.
Entering the Jay Peak resort base lodge I hear as much French spoken as English, as Jay is under two hours drive from the Canadian city Montreal. I'm enthralled by the authentic vibe of the place and buoyed by all the smiling faces. There's fresh snow in the air and – more importantly – on the ground.
Jay Peak has developed incredibly fast over the last few years, taking full advantage of the controversial EB-5 scheme; an initiative that gives green card work and residency authorization to foreigners who invest $500,000 in businesses that have created 10 jobs or more. Controversy at Jay isn't a surprise to many. The resort often sails close to the wind both with its ethos and advertising campaigns – examples of which include a poster of a granny knitting a skull and crossbones beanie, or the 'Raising Jay' ads that were later retracted, where a baby called Jay was kept in a freezer with the strap line of 'Raising him the Jay way'.
1,500 visitors a day was the norm here before all the new EB-5 funded accommodation and massive indoor water park was built. Today it looks closer to 5,000 judging by the crowded car park. Even so, the actual slopes aren't too busy.
A few runs into my day and I realise that I like Jay. In fact, I like Jay a lot! The pistes are long and challenging, being well spread out over 385 acres, and the runs vary from tight winding trails, to speedy wide-open slopes. I try out Timbuktu and Valhalla, two advanced tree glades that force me to duck under branches and give them my full, undivided attention.

Even with its large size, Jay manages to keep a local vibe, and while it is obviously full of holiday makers, and not just locals, there's an authentic and relaxed feel to the place. That said, after a few après ski cocktails in the Bushwheels Bar, and with all the fresh snow that's still falling, it would be hard not to feel relaxed!
Eastern promise…
I'd always wanted to explore the East, to see how it compared to some of my own epic adventures in the Rockies out west. I knew the terrain would be very different given there isn't really any high alpine skiing in the east. With much lower mountains, all of Vermont's trails are cut out of the forests and as such it can't compare for advanced skiing, but it does easily equal the West for on-piste intermediate and family skiing. The standard of service is fantastic, as it is all across America, but the flight times, jet lag and transfers are all much easier on the body.
Where Vermont does excel, and even surpasses the West, is with its very unique produce and style. There are wonderful stylised boutique hotels, where you'll drink local beers and sample fine food. Even the cheese, yes the cheese, can match those of Europe, easily bettering the awful flat orange processed squares that they pass off as cheese out West. As for the Vermont Maple Syrup – well sorry Canada, but to me, it's simply the best!
So if you're an intermediate skier looking for great service with family friendly slopes and restaurants then Vermont's perfect for you; that is, as long as El Niño doesn't have her nails out again….