Proudly presented in association with Slovenia Tourism
It's way cheaper than the 'main Alps'
Everything in Slovenia's Julian Alps is better value, from your lift pass to your après-ski beer (from £1.50 a pint) and meals out. A four-day pass covering three different resorts costs from less than £90, while you can tuck into a hearty bowl of homemade stew for less than £3. Getting there is cheaper too, with flights from £20 and hotel rooms from as little as £50 a night. Car hire is affordable (around £55 a week), making it easy to explore the many smaller resorts, as well as the main centres.
There's skiing for everyone
Slovenia is especially great for beginners. Its main resorts – Bled, Bohinj and Kranjska Gora – have plenty of uncrowded, queue-free wide open runs but there's some terrific freeride terrain for experts too, plus the thrilling World Cup downhill run. Freestyle fans will love the snow-parks and families will adore the opportunities for dog-sled rides and snowshoeing. Oh, and there's also the world's highest ski jump – Planica.
Authentic charm
Bled is like something out of a fairytale. It's dominated by its beautiful lake – the most photographed site in Slovenia. If it's cold enough, you can even walk right across the frozen water to its famous island and church. Bohinj is a collection of small villages nestled around the lake, ideal for those who prefer peace and quiet, while Slovenia's biggest resort, Kranjska Gora, is home to some vibrant après as well as relaxing inns and restaurants.
Short transfers
Slovenia excels in instant access! A two-hour flight from Luton – less than the coach transfer time from airport to resort in some alpine resorts – can be followed by a 10-15min transfer. Perfect for anyone wanting to get on the slopes before lunch!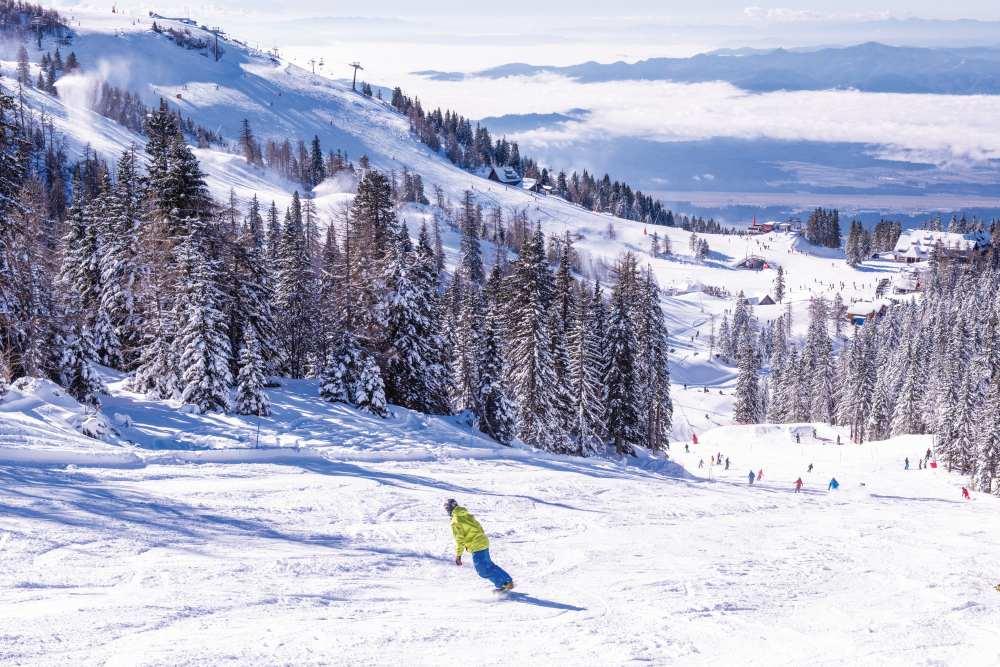 Stunning scenery
Most of the skiing in Slovenia is in the wild Triglav National Park, and although the mountains here are lower than traditional alpine resorts, the forest-clad slopes and beautiful Lake Bohinj offer a spectacular alternative to busy bustling Alpine resorts, with many a pretty tree-lined run.
4 top ski resorts in Slovenia
Krvavec
The nearest to the airport at a mere 8km. Its base of soft alpine meadows means that it doesn't need as much snow to offer superb skiing.
Vogel (Bohinj)
Beautiful forested runs in this pretty resort overlooking Lake Bohinj, and plenty of off-piste to satisfy powder-hounds.
Mariborsko Pohorje (Maribor)
Excellent reesort located in the Pohorje mountains in the north-east of Slovenia, with the longest night skiing trail.
Kranjska Gora
The biggest and most traditionally alpine in size and feel. The challenging Podkoren trail is the venue for World Cup downhill races
Includes: Flights and Half Board accommodation + A Slovenia ski pass allowing you to ski any resort!