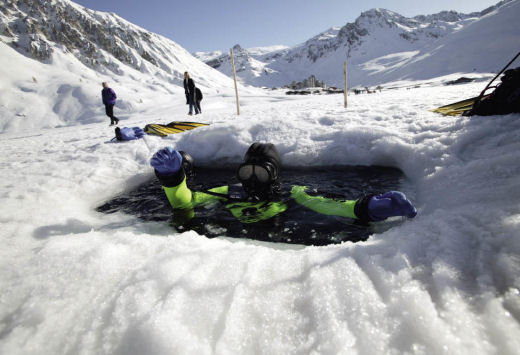 1 Breaking the ice
Tignes, France
At night, at an altitude of 2,100 metres, you can take the plunge into the natural lake at Tignes, to experience night-time ice diving. You'll be under the supervision of Alban Michon, renowned expert in deep-sea, ice and cave diving, who runs the Tignes ice diving school – a key training centre for diving teams going on polar expeditions. From underwater you'll be able to see the stars shining through the ice. You won't be cold, but you will be amazed.
When: Every Wednesday and Friday from 6pm
Costs: €95 per person.
Contact: Tel 0033 689 151 834:
www.tignesplongee.com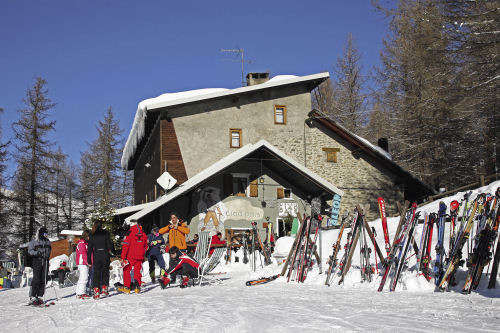 2 Sleep on the slopes
Sauze d'Oulx, Italy
Ciao Pais is a charming little mountain refuge nestled in the alpine forest above Sauze d'Oulx. Skiers whizzing past on the slopes often stop for a mulled wine or a sumptuous lunch of typical mountain fare such as polenta with game stew. But most don't even realise that you can actually sleep here – for one night or a whole week, which means wonderful Italian dinners, drinks around the log fire and first tracks the next morning, as you embark on another epic day in the 400km Via Lattea ski area. Dinner only can also be arranged, with transport up the slopes from the village in a specially adapted Snow Cat.
When: Weekly stays or one or more nights
Cost: €50 per person per night
Contact: +39 0122 850280;
www.ciaopais.it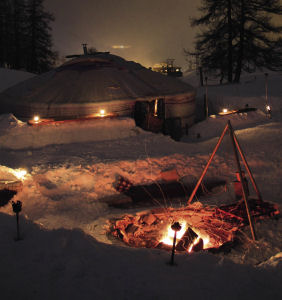 3 Wilderness Camp
Chamonix
, France
Taking the cable car up to Grand Montet you descend on a 'paret', which is an ancient wooden sled, 2.9km down the Pierrick run and through snowy woodland which will eventually bring you to the 'Wilderness Camp', a candlelit Mongolian yurt with a roaring fire. It's an idyllic setting for a traditional Savoyard tartiflette meal.
When: Wednesday evenings
Costs: €59 per person
Contact: Evolution 2:
www.evolution2.com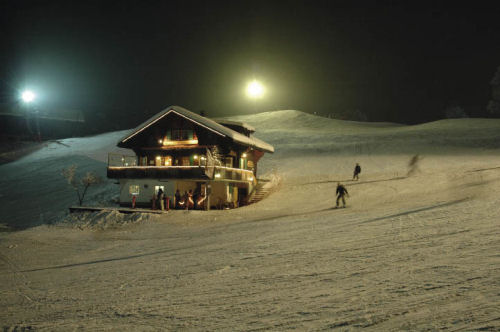 4 Children's moonlight skitime
Grindelwald, Switzerland
Five minutes from the centre of the charming resort of Grindelwald, in Jungfrau region in the heart of the Swiss Alps, children aged 5-12 can enjoy free night-skiing sessions. It takes place in the special children's area of the Grindelwald Skischool, under floodlights and moonlight, and makes a great evening experience for families. Glühwein for the parents and hot chocolate for the children (or parents!) is served at the bar just a few steps away. Ski instructors show the kids how to turn and give some lessons in freestyle skiing. On Fridays, there is a special slalom set up for those who want to compete like real ski champions.
When: Every Tuesday and Friday from 7pm to 10pm
Costs: included in the regular ski pass
Contact: Tel 0041 33 854 12 40:
www.jungfrauregion.ch
and
www.grindelwaldsports.ch/en/bodminight.html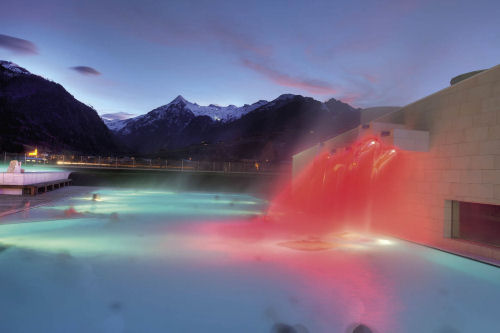 5 Cross country to the spa
Zell am See
/ Kaprun, Austria
The neighbouring villages of Zell am See and Kaprun both offer cross-country skiers the chance to slip through this wonderful landscape in the evenings, by floodlighting parts of this 40km cross-country network. The 'high trail' loop around the lake Plettsaukopf at the Schmitten gives wonderful views over the whole region. Part of the lit track runs right past the huge, recently built Tauern Spa, which means at the end of the cross country session you could be soaking in the indoor or outdoor heated pools – and it will feel well deserved.
When: Every evening
Costs: €17 per person for Spa Water World Ticket
Contact:
www.zellamsee-kaprun.com
;
www.tauernspakaprun.com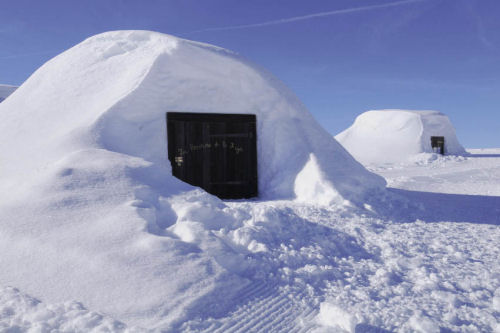 6 An icy welcome
Les Arcs and La Plagne, Paradiski, France
Imagine donning your skis and brandishing a lit torch to get to your dinner date: if you're eating out at the new Igloo Village in Les Arcs that's precisely what you may have to do. Situated close to Arc 1950 these interconnected igloos cater for bigger parties – so totter on down with a bunch of friends – and you can get there with snowshoes or by toboggan too. Alternatively take a 15-minute stroll by lantern-light from Plagne Villages to Village Igloo where there's a group of igloos that offer dinner or even an overnight stay. Animal furs will keep you warm as will the traditional Savoie dishes that you'll be served – all illuminated by candle light. Remember to dress up warm, last time I went one of my party wore a mini skirt – well you never know who you'll meet along the way I suppose.
When: Any evening
Costs: From €45 per person for dinner; €80 overnight per person
Contact: Les Arcs:
www.cameleon-organisations.com
; La Plagne:
www.blacksheep-igloo.com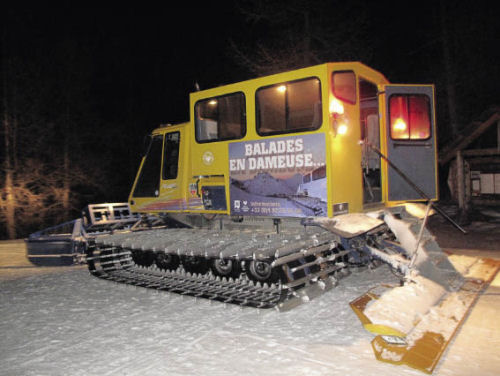 7 Ride in the starlight
Serre Chevalier, France
A specially adapted piste-basher will whisk you from Villeneuve up the peak of Serre Chevalier to the observatory point at 2,430 metres, from where you can view the sunset over the surrounding mountains. The two-hour ride will explore the mountain as the light dims, and then drop you at a mountain restaurant for a hearty dinner.
When: Tuesdays and Thursdays
Costs: €50 per person
Contact: 0033 4 92 25 55 00 or Serre Chevalier Vallée sales points.

8 Toboggan in the moonlight
Soll, Austria
Soll, part of the vast SkiWelt Wilder Kaiser Brixental, is one of the best resorts for toboggan fun. And it isn't just by day, because the resort opens the cable car up in the evening to the midstation where you start either at the Stöcklalm or Hochsöll. From there it is a 3.8 kilometre floodlit, or moonlit ride down through a forested run, with twists and turns, to Soll. At the bottom, the evening isn't over though: you can celebrate your sledging exploits with après-ski action at the Moonlightbar and the Salvenkeller, or head back up the slopes for night skiing.
When: Wednesday-Saturdays 6.30-9.30pm
Costs: €21, including a night-ski pass
Contact: WilderKaiser Tourist Office:
www.wilderkaiser.info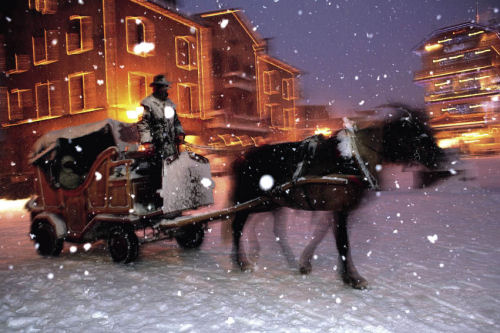 9 Horse-drawn carriage tours
Megeve, France
In the beautiful mountain village of Megève, it often feels like Christmas lasts a whole season. Horse-drawn carriages will whisk you around the resort, trotting over the cobblestones of this bustling 18th century village. You can even ask to be dropped off at a restaurant of your choice, such as the now famous three star Michelin Flocons de Sel, where the chef, Emmanuel Renaut, specialises in transforming the local products into art.
When: Everyday until 10pm
Cost: €30 for 30 minutes, depending on the route
Contact: You can book in advance by calling +33 (0)6 62 36 28 31 or +33 (0)4 50 21 30 47 or just turn up at the village square and book in person.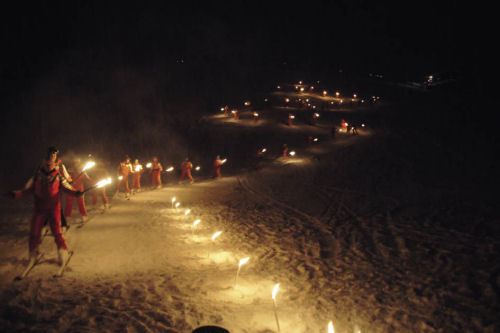 10 Ski Show Extraordinaire
Alpbach, Austria
In the family-friendly Tirolean resort of Alpbach, ski instructors from the ski schools put on an incredible ski show every Wednesday evening. The performance includes fast-action synchronised skiing, as the instructors weave in and out of each other at close quarters, wearing fluorescent colours. There are stunts and jumps, and even a propeller-powered skier who skis uphill! Hot glühwein is served as you witness this magical event, which only adds to the experience.
When: Every Wednesday on the nursery slopes in the village
Cost: Free
Contact: Alpbach Tourism,
www.alpbachtal.at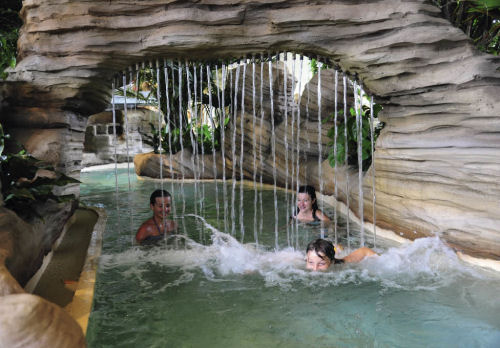 11 Tropical waters
Avoriaz, France
If you've spent the day carving the pistes in the 650km Portes du Soleil, you can spend an evening on the mountain in a newly built 'tropical paradise' – the Aquariaz centre. This huge spa complex has water at a constant 30ºC, with 1,570 tropical plants in a backdrop that will make you wonder whether you really are up a mountain. There are plenty of swings, see-saws and water jets that children will love and a Slidewinder – a 10 metre-high halfpipe for thrillseekers to keep the adrenalin flowing. You can then wind down with the outdoor bubble-jet Jacuzzis and massage seating, with views over the valley.
When: Every evening
Costs: €10 per adult, €3-€8 children
Contact: Avoriaz Tourist Office,
www.avoriaz.com
12 Fond of Fondue
Le Grand Bornand, France
Love fondue? The delightful resort of Le Grand Bornand is the place to indulge yourself, as the Ecole du Ski Francais organises fondue-cooking sessions by snowshoe on the mountain at night. Everyone helps prepare the meal, whether it be by carrying the ingredients, chopping ingredients, or cooking the fondue on a genuine wood stove. The meal is followed by singing and storytelling before heading back down to the village. Having learnt how to make it, traditional Savoyard style, you'll return down the mountain feeling fulfilled – and a lot fuller.
When: Available all season on request
Cost: €50 per person.
Contact: Ecole du Ski Français -
www.esf-grand-bo.com