Where am I? The Swiss resort of Verbier. It's always been known as a party destination and I've been coming here for years, but recently the vibe has definitely changed. You can still have your vin chaud in timber-clad chalet-style restaurants, but you can also sip cocktails in sophisticated, low-lit bars listening to a DJ spinning tunes. Serious skiers come here, but serious socialite party-goers do, too.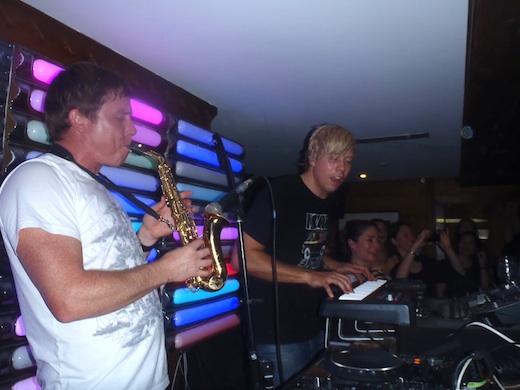 An influx of development over the past few seasons has had a major bearing on the changing atmosphere — not least the investment from singer James Blunt, motorbike racer Karl Fogarty, rugby player Lawrence Dellaglio and British entrepreneur Rob Sawyer. The group has opened two of Verbier's coolest destinations this season — mountain restaurant La Vache at the top of the "James Blunt" chairlift at Attelas, and the fusion "tapas" restaurant Pot Luck. The fresh, world-class food bears testament to Rob Sawyer's training as a chef at London's Savoy and it's all surprisingly reasonably priced for Verbier (although we're still talking around £17 for a burger).
They also remodelled the ever-popular Farinet, a bar smack in the centre of town, increasing the leather sofa seating area and making room for a small dance floor and a more clubby atmosphere as the night wears on. London and Ibiza DJs such as Brandon Block and Seb Fontaine guest regularly and, on the Saturday night I spent there, Goldfish.
"Last night we played to 10,000 people in Amsterdam," said one of the duo, Dominic Peters. "Tonight it must have been around 150 but we definitely had more fun."
There are many places to party in the Alps, but Verbier has ramped it up a notch: it oozes cool and people ski seriously here, too. It's not just a spot for the royals; the night I was there, Donna Air's ex, entrepreneur Sam Goldstone was there with a bunch of mates, Rory Bremner sat sipping champagne in the corner with an ultra-glamorous friend and a former England rugby player and royal princess made up the group. Jamie Statham, Claudia Scheiffer and Jamie Oliver are regulars, and Bono was here at new year. People do come here just to party.
Though it has been open for a couple of years, après-ski favourite Le Rouge, is another hot spot, where a DJ and occasional saxophone player have been resident for post-skiing partying, and where fur-clad, champagne wielding Parisians mingle with skiers fresh off the slopes.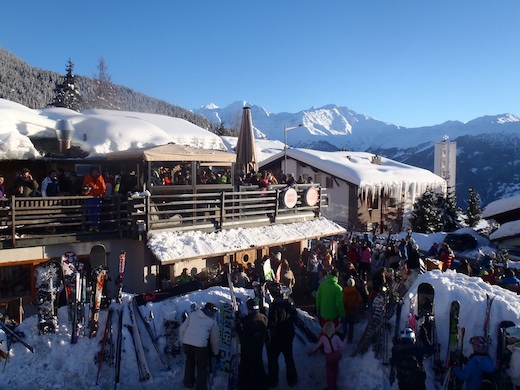 But it's not all about bars and music. A swathe of new hotels, luxury chalets and restaurants are adding to the constant evolution of a resort that could quite feasibly sit back on its laurels.
"There are so many creative people here," says Marcus Bratter, owner of the chic new four-star hotel Cordée des Alpes at the bottom of town towards the sports centre. The hotel and its restaurant, featuring a Josper charcoal oven from Spain and former Michelin-starred chef, Marco Brassi, has been virtually fully booked since its opening on 22 December. Marcus also owns Nevaï, a four-star design hotel, and Verbier's old faithful, the Farm Club, which has hosted the likes of Groove Armada since he took over.
A major new development is well underway near Medran, which will feature Verbier's first five-star hotel, a W, along with a clutch of new shops. WVerbier will also have a bar, and DJ, moving the resort even further from its former reputation of Fulham-on-Snow.
A new sushi restaurant, Nomad, sits in the centre of town, opened this season by another Verbier entrepreneur, Jeancharles "JC" Luisier. Fresh, sustainably sourced fish are delivered every two days to meet the exacting standards of 28-year-old sushi chef Thomas Blackshaw, who JC poached from Ibiza's Blue Marlin. "I found him on Facebook!" says JC, a born-and-bred local who plays on Verbier's ice hockey team. "I knew I had to have quality sushi - the people who come to Verbier are used to eating sushi from places like Nobu in London, Milan and Paris. I had to do it properly."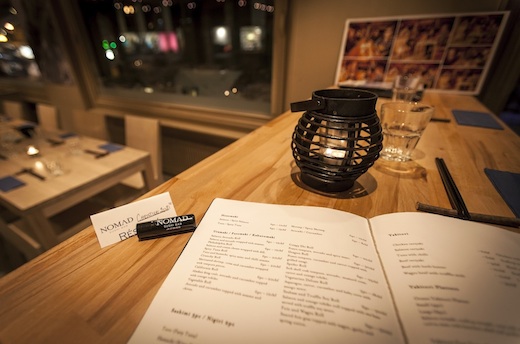 South African chef Nick Wilkinson in nearby Pot Luck is equally exacting. The restaurant was meant to be a "pop up" for this season, but such has been its popularity (it recently hosted a royal party of 20 for Prince Andrew's birthday) that it looks set to stay, meaning displaced nightclub the Casbhar will remain in its new home a few doors behind — the former Tara.

Pot Luck co-owner Rob tells me he and his investors have plans for two new restaurants next year, a ten-pin bowling alley with a cocktail bar and a casino. "No one sits still in Verbier," he says, and after a hectic weekend, I'm inclined to agree.

It's Sunday afternoon, mid-February. A throng of around 50 beautiful people has gathered, dressed in bright Peak Performance, Patagonia, Hagloffs and Arcteryx ski kit, helmets and gloves, on the cold but sun-soaked terrace of a funky new mountain restaurant. They are dancing to a mash-up mix of a track from the Jungle Book played by Goldfish, a live DJ band from South Africa, who normally play at Ibiza's Pacha and Blue Marlin clubs.