Glowing a trippy tangerine in the snowcat's flashing orange light, snowflakes the size of communion wafers swirl at the steamy windows of our cabin, and ten passengers giggle nervously as we lurch up the mountain into darkness. The ride from Anayet base station is an exercise in slightly hysterical disorientation, and there's a collective unclenching when, in the distance, a comforting pool of light reveals the Cabaña de la Glera. We unbuckle, and stomp into the isolated log cabin, leaving the snowcat to stand guard outside, its headlamps firing brilliant cones of light into the distance. Inside the former shepherds' shelter, we take our seats around the single long table beneath antique wooden skis and snowshoes and garlands of garlic bulbs next to a blazing open fire, while Pedro, our host for the evening, talks us through the hefty rustic menu of brushcetta, bone-warming vegetable and sausage soup and steaks cooked on the fire. As a signature Formigal experience, a private evening meal at this popular, if tiny, lunch spot is one of many manifestations of an £85 million makeover which in the last five years has sought to transform the resort from pocket-sized Pyrenean playground to credible international ski destination. It is all to play for, as this is the time when many mid-level wintersportsters are seeking out smaller, gentler resorts with prices to match.
Formigal has been historically popular with Brits seeking to swerve the big-bucks, major resort culture. However, it lost some ground a few years back to its near-neighbour Baqueira-Beret when that resort's profile was boosted by visits from both Spain's royal family and our unappointed one – Dave and Vicky Beckham. Formigal's celebrity credentials may be less compelling – 'Geri Helliwell's mum came from Huesca, the town you flew into,' offers the resort's publicist, Catherine, with a game grin. But Formigal, 6km from the French border via the dramatic Portalet pass, has bust a gut to polish up its offer, on and off piste, and with impressive results.
The masterstroke is without doubt the remixed and remodelled ski area, with 137km of runs – Spain's largest. Unrolling across four small valleys, the revised red- and black-dominated network squeezes out every last drop of snowy goodness from slopes which, mainly north-facing, hold their snow admirably. The areas between the broad, main cruises have now been branded 'freeride' zones. This has brought edge and pace to the mix with some heart-poundingly steep sections and, given their modest size, has given Formigal a new USP as a great destination for groups or families of mixed abilities (although the drag lift-allergic might want to think twice). Tacking across the resort's four manageable valleys, all of which feature at least one leisurely way down, everyone can get stuck into a little of what they fancy, with an easy rendezvous point never more than 30 minutes away. More than anything, this makes it a boon to those ready to take their first steps into challenging terrain without risking hours of hiking, should the going get hairy. Combined with Formigal's uninflated prices and committed unFrenchness, it's a bit like a scaled-down version of Andorra – only more functional, and with less reason to exclaim, 'Why are those lifts closed?' and 'Don't you have anything other than egg and chips?' And while its vertical drop is borderline dwarfish at 750m, runs such as the red 3.3km competition slope Descenso bring a TARDIS-like dimension to Formigal's compact slope system. Ditto the Binzanar, accessed by another Formigal signature experience, the towing every 20 minutes of 40 skiers and boarders behind a snowcat across the top of the Portalet zone, the furthest of the valleys. It's vaguely entertaining – once, anyway – and allows you to skip a valley on the way back to base. But what makes it a must-do is the views of the towering tawny crags, too steep to hold snow, of Anayet peak.
Formigal's reformation is in tangible effect elsewhere on the mountain too, with 17 restaurants, crèches, expanded English-speaking tuition, a lift system that makes queues a rarity, and super-regular shuttle buses for the five-minute journey from the town to the main Sextas base station. And for those hungry for every on snow minute, the local culture of relaxed, lingering lunching means there is a couple of hours of deserted slopes in the middle of the day. Get bored of that, and there's a skidoo circuit, dog-sledding, cross-country skiing and heli-skiing to try too.
Continued...
---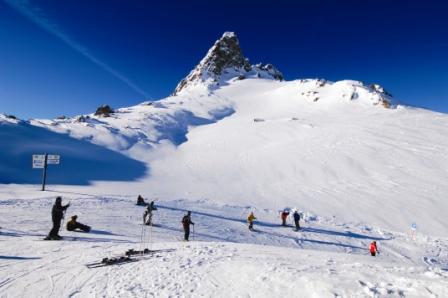 Downtown, Formigal's heady new aspirations have so far met with mixed success. The new breed of hotels promise much, and often over-deliver on details such as spa facilities and swishily designed bar and restaurant areas (those who prefer a little skiing with their spa action to the other way around might want to check out the picturesque, historic hot-springs resort Panticosa,
13km southeast, whose modest 34km of runs are supplemented with the magnificent, ultramodern Tiberius Thermal Spa). But it's up to you whether you find the idiosyncracies of the laid-back Latin service culture charming anomalies or inconveniences intolerable to a frequent skier – for example the widespread claims of 'WiFi everywhere' are best described as hopeful, hooks for hanging damp ski gear are often eschewed in favour of Ikea-esque room decor, and feeding kids dinner before 8pm is a challenge worthy of Anneka. In any case, the accommodation prospects have expanded from two- and three-star hotels and functional apartment blocks to embrace some handsome, frills-rich establishments – signs are good that Formigal is serious about coming of age as a full-service ski town. And while the designer cool of the bar at the Abba Formigal Hotel, and the spectacular view of the mountains from the the Aragon Hills Hotel and Spa's smart little pool are cute add-ons, the unpolished and unpricey ethos of Formigal's bars, restaurants and locals' bakery and coffee shop still keep a note of Aragonese authenticity the norm.
Back at our Cabaña supper spot, we're dipping strawberries into a chocolate fondue as Pedro heads for the door carrying the leftover steak scraps. 'For the wolves', he says. 'A couple have been seen around here, and we like to help out. There are brown bears here too.' Moments later, a frenzied scratching outside makes all of us look up. The door flies open to reveal the flashing fangs and distinctly matted fur of … Pedro's amusingly rubbish wolf outfit. 'Rrrraaarrghh', he offers, probably not for the first time this week. As Asterix the Gaul (probably) once exclaimed, these Pyreneans are truly crazy.
Rupert Mellor travelled to Formigal with Crystal Ski (0871 231 2256, crystalski.co.uk) whose half-board week-long deals start at £469 per person staying in the three-star Hotel Nieve Sol, including flights from Gatwick and transfers. Prices for the four-star IBB Aragon Hills are from £609 per person with flights, transfers and half-board. Free lift passes and ski hire for one child under 12 are available if one adult pre-books .
Snotes:
FORMIGAL, SPAIN: www.aramon.co.uk
Getting there: Thomsonfly (www.thomson.co.uk) operates a weekly Gatwick-Huesca route which makes for an easy 90-minute road transfer to the resort. Ryanair (www.ryanair.com) flies from Stansted to Zaragoza and Pau across the French border, both within a 3-hour drive. EasyJet (www.easyjet.com) and KLM (www.klm.com) are
among airlines which fly from the UK to Barcelona, which involves a 4-hour transfer
Tour operators:
Mid-range: Thomson (0871 971
0578, www.thomsonski.co.uk), Crystal (0871 231 2256, www.crystalski.co.uk), Neilson (www.neilson.co.uk)
Season dates: 5 Dec – 11Apr – dates will be extended if conditions permit
Vertical drop: 2,250-1,500m
Terrain: 137km
Snowmaking: 400 cannons cover 26km of pistes
Lift passes: 6-day pass in high season €172 adult, €138 child. 6-day pass in low season €141 adult and €110 child
Mountain munchies: 17 eateries in all – the Gemsbock in the Sarrios zone and the pricey but nicey Cabaña de la Glera are highlights
Guiding and tuition: based in the Sextas base station, the Escuela Española de Esqui (www.escuelaesquiformigal.com) has the tuition monopoly – generally in pretty good English.
Snowpark?: A second snowpark was added last season. There's also a small boardercross course and night skiing, and the resort is very proud of its 'baches' (moguls) run.
'OW YOU SAY…?
Yes/no: Si/no
Thank you: Gracias
Would you mind pulling your trousers up at the back?: Por favor, te importa subir los pantalones por detrás?
Highlight: a real variety of terrain packed into a compact, easily manageable area
Bummer: No ski-in, ski-out accommodation
New this season: apres-ski bar at the Sextas main base station with live music and DJs