This sleepy corner of the Italian Alps might be several galaxies from the fiercely glamorous Prada and Gucci silhouettes which make the Dolomites' Cortina d'Ampezzo the Milan of the mountains, yet gracious living remains a defining principle of the Claviere experience. Unfussily presented, its traditional food is divine, its service relaxed, warm and impeccably mannered, and looking-good piste-cruising is universally favoured over look-at-me, reckless freestyle tomfoolery. Off-piste fans will find plenty of fun off the sides of the Milky Way's groomers. And the Italians' largely merited rep for swerving freeride thrills in favour of chic carving, lingering lunching and sunbathing, means that fresh snow has a long shelf life. New and ill-defined rules on off-piste antics make it advisable to seek clarification in resort.
Claviere, Italy's oldest ski resort, has in many ways been eclipsed by its neighbours in recent decades. Either purpose-built for high holidaymaker turnover – in the case of Sestriere, to a design by Fiat's founder Giovanni Agnelli – or closer to the local hub Turin, the busier Italian resorts servicing the Milky Way's 400km of pistes all have more terrain, slicker lift systems, more sophisticated nightlife, and features polished to perfection for the 2006 Winter Olympics. The pretty, tree-lined slopes of Sauze d'Oulx, traditionally a magnet for boozy, Brit clubbers, hosted the games' freeskiing events, Sansicario maintains the state-of-the-art Olympic bobsleigh run in which tourists can buy one breathless minute. Then there's Sestriere, a monument to 1970s modernist luxury which has two Olympic downhill runs, of which the men's course, dropping down from the Monte Motta peak, is without doubt the don. The Olympics' fairy dust, however, ran out before Claviere. Barely linked to its shiny neighbour resorts by a fairly gruelling, one hour-minimum connection involving a cable car, an antediluvian two-person chairlift and, depending on your direction of travel, a tedious track-like blue.
Claviere has an MO which hasn't changed since – well, since Wake Me Up Before You Go-go was number one, at least. Essentially a one-street village, Claviere comprises a modest 33km of mainly red and blue slopes dotted with simple, queueless on-mountain lunch spots, and downtown a handful of small hotels and apartment blocks, nine restaurants, five bars and a nightclub. Aggressive development is on no one's mind, and for the local weekenders, occasional coachload of hormonal Italian teens on school trips and those international guests who return here year after year, it's just the way they like it. Here, the emphasis is on leisurely, uncrowded and firmly family-oriented enjoyment of the modest but varied network of well-groomed, shapely runs which drop down from some short-but-speedy above-the-treeline reds and blacks to wide, rolling back-to-base cruisers (with more than a few flat sections, boarders might wish to note), on the forested lower slopes. Great value comes with everything – from accommodation to lift passes to snow conditions, which are generally the best in the Milky Way, and nowhere more than in the food.
Continued...
---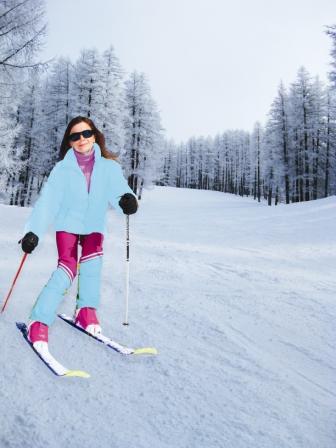 Unpretentious, delicious cooking in the mountain restaurants comes wrapped in low-key, unhurried atmosphere – the luscious monster buffet of antpasti, salads, meats, hot pasta dishes, and freshly made desserts at the cute, scruffy cabin at the mid-station of the Sagnalonga lift is for my money the Milky Way's standout lunch deal. By night, the few eateries, which
serve classic Italian food at eminently sensible prices, and relaxed bars, cater amply to Claviere's visitors. The signature, and very reasonable, dining cucina experience is a raclette banquet halfway up the hill at the smart Chalet Mon Soleil, followed, if you like, by a torchlight descent. (May you have better luck than we did – all five torches failed to light, and 15 of us ended up crashing into each other as we attempted a snail's pace descent by the headlights of our back-up Ski-doo.) Downtown, the bar at 'l Gran Bouc even approaches raucous, catering with low-key charm to the demands of karaoke-crazy schoolkids, couples who've invested in a babysitter, young British hotel staff and local seniors, all of whom muck in when it's time to rock the room to the regular covers band or the house grooves spun with aplomb by the sixtysomething owner Emilio.
Above all, Claviere offers a great opportunity to take your pick on a day-by-day basis from gentle, unhassled local cruising, a day's mission to one of the area's more daredevil challenges, or simply covering some proper mileage on a long loop. The lift-pass permutations are legion, and flexible, so take a few minutes having all the options and add-ons explained by your rep, and
you can cram three types of ski trip into one without wasting a Euro on access you don't need. Plus, there's the 65km area of Montgenèvre, France's one Milky Way resort, just a border-crossing chairlift away. Blessed with glorious views, Montgenèvre's pistes generally look better than they ride, and inflated prices at the slopeside restaurants can make Claviere based
visitors long for La Repubblica. But, with a network of easy intermediate motorways and some nice off-piste, tree-skiing detours, this French connection is still well worth a day trip. Its high-altitude link back to Claviere, a swooping black down from the Rocher de l'Aigle peak, is another Milky Way must-do. Shunned by many because of the frequent high winds at the very top
(though also accessible further down via a red run), the run hits you with a stunning 360-degree panorama. From there, it's a long, loping cruise back to the resort's one mellow après bar, where the Bombardino, a rich regional warmer mixing whisky, advocaat, espresso and cream, is said to be the finest in Piedmont.Perhaps that clunky connection to the Milky Way's more sophisticated destinations is, after all, Claviere's saving grace.
Snotes:
CLAVIERE, ITALY: www.claviere.it, www.vialattea.it/en/claviere
Getting there: Thomson Ski (www.thomsonski.co.uk), British Airways (www.ba.com). Thomas Cook Airlines (www.thomascook.com) and Ryanair (www.ryanair.com) fly from several UK cities into Turin, 90 minutes from Claviere by road.
Tour operators:
Mid-range: Crystal (www.crystalski.co.uk)
Budget: First Choice (www.firstchoiceski.co.uk)
Season dates: 19 Dec – 11 Apr
Vertical drop: 2,450 – 1,760m
Terrain: 33km
Snowmaking: 245 cannons
Lift passes: For Claviere and Montgenèvre, €26 for one day, €135 for six. For the whole of the Italian Milky Way, €38 for one day, €200 for six
Mountain munchies: seven smallscale restaurants serve tasty traditional Italian fare
Tuition and guiding: Scuola Italiana Sci Claviere (+39 122 87 88 18 or email This email address is being protected from spambots. You need JavaScript enabled to view it.)
Snowpark?: Claviere has a tiny snowpark, those at Sauze d'Oulx, Sestriere and Sansicario are better
Facilities: Claviere has a sports centre, a pool and an ice rink and a handful of shops
Eating/drinking: Among the town's restaurants at 'l Gran Bouc is packed most nights, always a good sign, while Kilt slings the best pizzas in town. The coffee and pastries are great at the
Lugara bakery, while the 'l Gran Bouc's bar is the only place to go for a big(ish) night out
'OW YOU SAY…?
Hi!: Ciao!
Please/thank you: Prego/grazie
Do you have these ski poles in mink?: Per favore aureste delle racchette da sci in visone?
Highlight: sparsely peopled slopes and a peaceful in-resort vibe
Bummer: there's no reliable cashpoint in the village, so come prepared, or nip into Montgenèvre for your readies
New this season: New lifts and runs should improve the tricky intersection at the Sestriere's and Sansicario's ski areas