There can be few skiers who haven't heard of France's Three Valleys, but there are probably quite a few who don't know there also an Italian version of the giant domaine. It has great skiing, beautiful scenery, it's not overly-expensive and whilst it's nowhere near as big as Les Trois Vallées, Monterosa Ski in northern Italy's Aosta Valley region is still a real gem.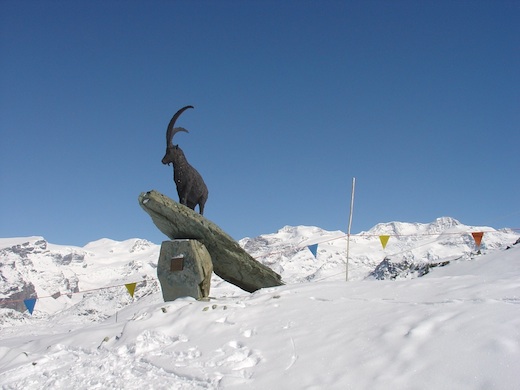 What's more, it makes for an ideal first stop on a road trip along the Aosta Valley; take the short flight to Turin, rent a vehicle, head north and in only 90-minutes you can be rolling into Champoluc, one of the three appealing alpine villages that make up Monterosa Ski. The other two are Alagna and Gressoney which are tucked away in their respective valleys. All three are linked by ski lifts and offer a good selection of piste skiing along with some of the best off-piste in Europe – which may make you decide to stay here rather than drive on.

But with Cervinia just an hour's drive away, it's worth getting back on the road. Here you can enjoy a day skiing in the shadow of the magnificent Matterhorn (known hereabouts as Monte Cervino), where the altitude almost guarantees great snow conditions. Cervinia is one of Italy's iconic ski resorts with especially good, long intermediate runs, spectacular scenery and the chance (one of two on this trip) to ski across an international border, in this case to Zermatt in Switzerland, which is linked by cable car. If you really feel like spoiling yourself stay in the ultra-luxurious St. Hubertus Resort (sainthubertusresort.it) for a genuine taste of 'la dolce vita'.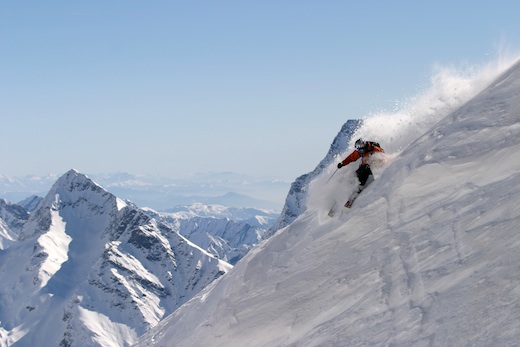 To continue the journey drive north for 90 minutes to Pila (the great thing about this road trip is that each new resort is never more than two hour's drive from the last, so you don't waste valuable skiing time at the wheel). Here, book into the hip and friendly Hotel La Chance (hotellachancepila.it) and enjoy a day of quiet slopes, great side-country and some fine mountain dining.

Indeed, a speciality of the Aosta Valley is the excellent regional food and wine – it's well worth taking every chance to check out regional specialities such as 'tagliere misto di salumi valdastani', a selection of dried beef, venison, pork, ham, blood sausage, black bread and – especially mouth-watering – honey chestnuts, or 'zuppa valpellinetze', a delicious soup consisting of cabbage, local Fontina cheese and bread.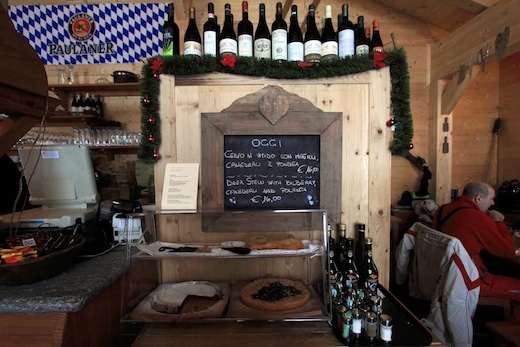 The local wines are also surprisingly good, such as 'L'Atouéyo Torrette Superieur', a red wine from the nearby Aymavilles Valley. 'Mountain' reds are not always noted for their body and taste, but this has both – and it only costs around €7 a bottle in the local supermarkets if you're looking for a souvenir of your ski trip.
Pila rarely gets busy outside weekends and late February when the local schools are out, so whether you want relaxing blues or challenging off-piste it's usually available without the crowds, and piste or off-piste, it's all easily accessible.

Next stop is La Thuile, another hour's blast up the autostrada. Here comes the second international ski experience of the week as you head up and over to La Rosiere on the French side of the Alps. This isn't just a fun way to spend a day on skis, it can also be quite practical because it's invariably the case that if the snow isn't great in one of these two linked resorts, it almost certainly will be in the other.

And La Thuile also has some nice tree skiing on its lower slopes if the weather is bad, so it's a rare day that you can't put in some decent turns here. If you like a thrill or two during your day's skiing slide over to Black Number 3, a super steep little number lower down the mountain that's also sheltered from the weather and that has a slope angle of around 35 degrees in places, which surely makes it one of the steepest groomed runs in the Aosta Valley.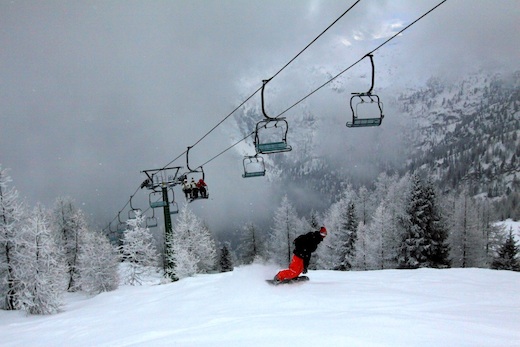 And so to the last stop of our trip, Courmayeur – the second iconic Italian ski resort in a week. Tucked beneath the mighty ramparts of Mont Blanc (known hereabouts as Monte Bianco) you'll find that the skiing above Courmayeur covers the whole gamut from easy cruisers to thrilling off-piste adventures amongst glaciers. Few other ski resorts in the world can offer scenery to match and when you add generally quiet pistes, great mountain restaurants and a charming old village it's not a bad way to end a road trip along the Aosta Valley.
SNOW HOW
Getting there: nearest airport is Turin with several daily flights from the UK; or you could do this trip in reverse by driving and using the Mont Blanc Tunnel to start your journey in Courmayeur.

Lift passes: A lift pass for the whole Aosta Valley costs €204 for five days (skivallee.it); it allows you to ski all the resorts of the Aosta Valley (plus La Rosiere in France) – that's 800km of pistes served by 200 lifts in over a dozen resorts.

More info:
aosta-valley.co.uk
cervinia.it
courmayeur.it
monterosa-ski.com
pilaski.co.uk
lathuile.it