But we're in Italy. And they do things a little differently here.
Our exact location: Alta Badia in the
Sud Tirol region
. Geographically, it sits on the North East corner of the Sella Ronda, much as Essex sits in relation to the M25 (though there any analogy absolutely ends!).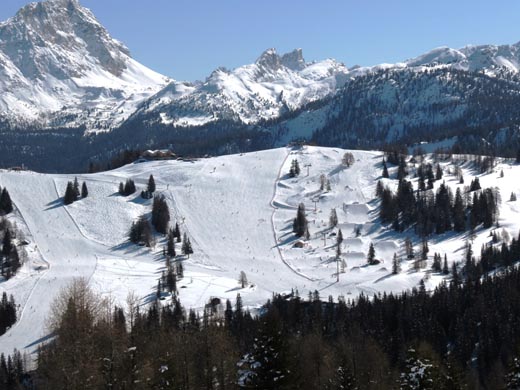 As a ski region it's pretty relaxed – a mix of gentle blues and reds with just a couple of juicy steep runs back into town. But you can potter about all day and your leg muscles will still love you in the late afternoon.
As a place to eat, however, Alta Badia towers above its Sud Tirol neighbours, boasting three Michelin starred chefs within a 20km radius. And that makes it the perfect place to host this season's hottest gourmet initiative: Slope Food.
The idea is inspired. Take the street food concept up onto the mountain and feed the skiers' taste buds. Gourmet snacks showcasing typical South Tyrol produce have been created by a mix of its Michelin-starred chefs, highly regarded locals, up-and-coming international chefs and British celebrity chef John Burton-Race. Their finger food recipes are served up at 12 of Alta Badia's 40 mountain huts, each accompanied by a fabulous South Tyrol wine, carefully matched by top sommeliers. Each snack costs between six and 10 euros, with the wine 3-4 euros extra, meaning you can ski from hut to hut, and graze on incredible gourmet food without the breaking the bank – unless you choose to visit all 12, of course.
We're here the day after we've skied the Sella Ronda, and so today we're in no hurry. It's sunny and warm, perfect for sitting outside, peeling off the jacket, cranking up the seratonin and savouring the best local food and wine.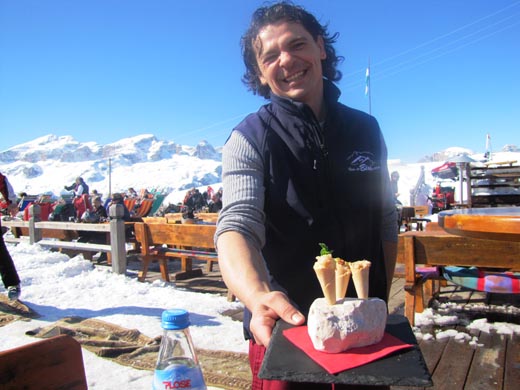 After the hurly burly of the Sella, there's an immediate lowering of the stress level as you come off the bubble from La Villa. The mood is palpably more relaxed, more playful, more chilled out. We cruise a few blues before making for our first Utia (hut), Utia de Bioch, where the Slope Food has been created by Norbert Niederkofler, two-Michelin-star chef at St Hubertus in San Cassiano. This whole thing was his idea and his snack is a delight – three small cones, one containing tartare of char fish with cream of potatoes and lemon, one with a cheese foam and one with crispy South Tyrolean speck and horseradish, served in a rock! We wash the cones down with a delicious, crisp Gewurztraminer and watch the world ski by...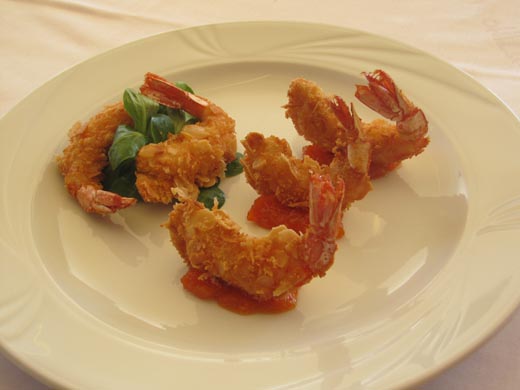 A few more scenic runs, with views across to the Sella massif and south to the Marmolada glacier and it's time for lunch. At Utia Club Moritzino, we opt for some of the house fish specialities, including spaghetti with lobster and a seafood risotto. A nice Riesling goes well here. By the time we emerge, the DJ has got the après party started and skiing seems so yesterday!

But there is time to end the day with a real run – the World Cup downhill back into La Villa, a glorious descent through the trees – fast and flowing.

PS: If you're in the Dolomites on 17 March, Alta Badia is hosting an end-of-season wine safari. It'd be rude not to go... Details on the website

www.altabadia.org

For most skiers skinning up the mountain to that out-of-the-way powder stash, or haring round a resort to clock up record ski miles, slopeside food is little more than fuel. Perhaps a sandwich cobbled together from the cold meats and cheeses of the morning's breakfast buffet, or a plate of chips tossed in a plastic sachet of ketchup.