after
you've gone up the mountain.
This particular early March ski day begins under spotless blue skies in San Cristina in the Val Gardena area of the Dolomites in Italy's
South Tyrol region
. We meet our host, 52-year-old expat Brit ski leader Tim Hudson, in a quiet car park 100m away from where most of the town's skiers are shuffling in the queue for the busy Saslong bubble – heading towards the famous Sella Ronda.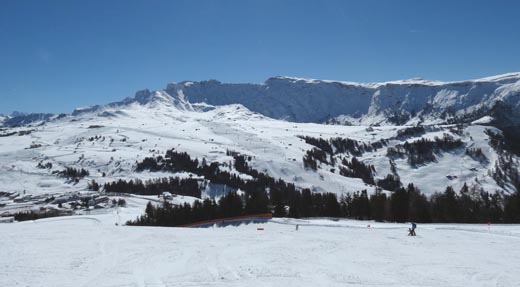 Instead of joining them, we've taken up Tim's offer to show us his home patch, Alpe di Siusi, Europe's highest skiable plateau. We start with what must be the area's oldest lift, a rickety two-man chair up to Monte Pana. You almost have to walk while sitting in this chair at the outset - a bit like Fred Flintstone in his stone-age car. But eventually you lift off and are slowly borne aloft to this quiet ski school base above San Cristina.
From here we could take a lift up to the back door of the Sella Ronda, via Mont de Seura, but instead we head for our first surprise – a 'secret' off-road bus. It's a proper, full-length orange single-decker with giant snow chains and runs along a narrow, snow-covered logging track through a forest. After about five minutes the driver chats on a radio to his opposite number on the bus coming the other way and one or the other pauses briefly at an impeccably-placed passing spot to let the other go by!
Costing just 3 euros, it's a route well-known to locals, but virtually ignored by everyone else, and the 10-minute drive through the trees - complete with hairpin bends and encounters with two horse riders, a couple of snowshoe-walkers and a dog - brings us out at Saltria, on the east side of the Alpe di Siusi. From here we take a comfortable, modern four-man chair up to Siusi's highest point, the Punta D'Oro, at 2,210m.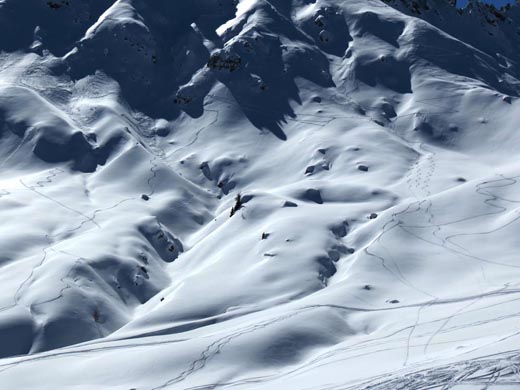 And here is our second surprise – the stunning panoramic view across this beautiful plateau, ringed by mountain peaks. It's like someone has spooned whipped cream across the landscape; so much of the snow stretching out below us is pristine, even a week after the last significant fall. Anywhere else, this would've been completely tracked out by now, but the Italians don't really do off-piste (it's actually illegal here!), so, almost unnervingly, the snow remains in untouched, glossy mounds. Surrealistic pillows.
Alpe di Siusi offers about 60km of slopes including 18 blues, 40 reds and just two blacks; the longest piste is around 4km and there's a speed trap off the Punta D'Oro for those so inclined. We aren't – it just doesn't seem right to rush here. And indeed, although the plateau is mostly criss-crossed by reds

, they are very light reds – Bardolinos rather than Barolos! There's little here to worry any competent skier.
We spend the rest of the day exploring the plateau, sharing the slopes with snowshoers, tobogganers and a couple of horse-drawn sleighs that seem to pop up out of nowhere. We stop for coffee at the jaw-droppingly beautiful, five-star designer spa hotel Alpina Dolomites
, which opened in 2010 and occupies an incredible spot on the western edge of Alpe di Siusi, where the bubble from Siusi village arrives on the plateau.
Lunch is a plate of spinach and pesto media luna for us and an all-day breakfast of ham and eggs for Tim at
Tuene Hut

- a small restaurant invisible from any downhill piste. Irene, the proprietor, spends the whole winter living and working here. The hut has been in her family for generations and only recently have they opened it as a restaurant, converting it from a summer mountain hut with no mod cons, into a humble but revered slopeside lunchspot.
We have to put on the after-burners to make our final surprise of the day: Zallinger, a gem that lies largely undiscovered, even by Alpe di Siusi skiers, at the extreme eastern edge of the plateau. To reach it, you take the Florian chair up from Saltria to Williamshutte. Here, instead of skiing back down to Saltria, you go round the back of the hut, ski down a track...and come upon a scene that is quite the most idyllic I've seen in any winter landscape.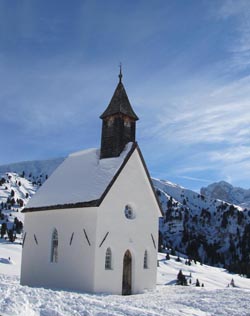 Its quiet, plump slopes are dotted with trees that look as if each one has been carefully placed there, by hand, to create the perfect snowy tableau. Topping off the scene is an impossibly cute, tiny, white, steepled chapel.

Another short ski and we look in at the Tirler eco-hotel

- a four-star eco-friendly masterpiece, where everything from the plaster on the walls to the bedding is allergy-free.

These are not the kind of places you stumble upon by chance and perfectly illustrate the wisdom of tapping into local knowledge. Tim Hudson has spent the last six winters skiing the Dolomites clocking up more than 5,000km, and his company, Inspired Italy, offers bespoke holidays here, including a five-day, 200km Ski Safari*, skiing hut-to-hut on a Dolomiti circuit, stretching from Ortisei in the West to Cortina d'Ampezzo in the East, that makes the Sella Ronda look like a roundabout.

If you fancy a warm-up for the Sella, or a warm-down to ease over-worked leg muscles the day after, Alpe di Siusi will remind you that there's more to life in the mountains than chasing your tail...

*Feel like one last epic hurrah this season? Tim Hudson has three places left on Inspired Italy's final ski safari of the winter from 24 March. Details at

www.inspireditaly.com/ski-in-italy/ski-safari/

 

Many a ski day begins with a bus ride, but few bus trips take place