Despite the fact that I'm sitting in a café overlooking Lake Como, sipping a beer in the warm sunshine, all I have to do is close my eyes to feel the rhythm of carving down the white pistes of Livigno, where I was only a few hours ago.
Opening my eyes, I see the lake again, where five days before I was celebrating my birthday in a pair of shorts with a long cycle ride and al fresco dining in a pretty, cobbled square in Colico. In between we spent four days in high-altitude Livigno, enjoying the last embers of the ski season at one of very few resorts still worth visiting this far into spring. This has truly been a ski holiday with a difference.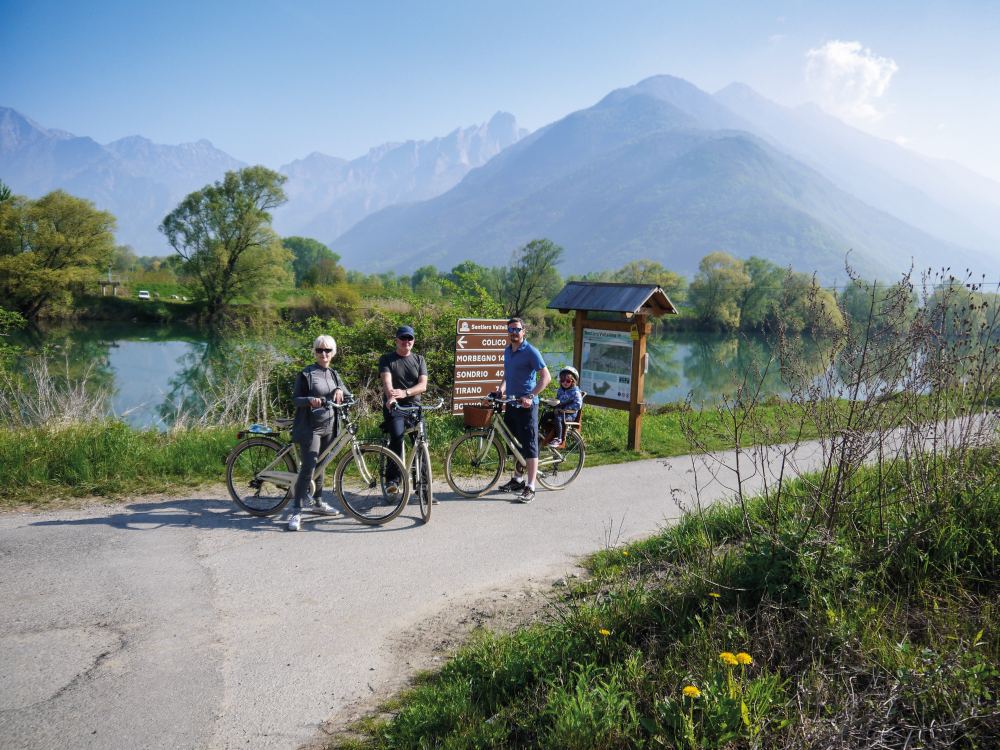 The motivation for planning such an 'unusual' ski trip is common enough. My wife is a reluctant skier, my daughter, at 3, is still just too young to really get going with lessons, and we have the grandparents and a teenager in tow too. We're about as mixed a group as you can get and, as usual, yours truly was tasked with arranging the annual 'ski trip' to please all.
In recent years the problem was solved by visiting low-level resorts with access to high-altitude skiing late in the season. This usually made for sunshine and warmth at resort level, but enough snow for the genuine skiers to get a decent fix. This time I took it further and broke up the 4.5 hour journey from Milan to Livigno with two days each end in Lake Como, and it's been a revelation.
Sunny side down
Arriving at Milan airport it was a huge relief we didn't have to attempt the full 4.5 hours to resort. Our three-year-old Libby had already done two hours to the airport and a three-hour flight, so being strapped in again for the 1.5-hour drive to our lakeside base was going to be tough enough as it was.
But it was worth it. Reaching our excellent base the Seven Park Hotel in Colico, on the shores of Lake Como, we were greeted with afternoon sun, panoramic lake views and dozens of windsurfers on the water. A walk along the lakeside took us to a quiet, pretty square where we enjoyed a lazy early dinner and sampled some local wine, all the while studying the distant mountain tops still capped by a little snow; there was life in the season yet.
Rise and shine
A day later we were winding our way round tight hairpins at an altitude of 1,500m and I was getting genuinely concerned. The drive from Lake Como had been spectacular, passing through steep vineyards and past quaint churches with spring in full bloom, onto Bormio and the hordes of cyclists enjoying the world-renowned Stelvio National Park.
But we were now at skiing altitude and the temperature was reading 20+ degrees, with green meadows as far as the eye could see. Each turn without sight of snow became more and more concerning, topped by the sat nav taking us into a valley and proclaiming that we had arrived at our destination.
Our hearts dropped, what on earth was this place? Dreary buildings scattered through a valley with no snow or lifts in sight. But ahead, two skiers sat enjoying a glass of wine in full gear. Their laughter was audible as they explained that, much to our relief, this was most definitely not Livigno. Following their directions at the next peak the glistening snow-covered slopes of the resort came into view to cheers from the whole car.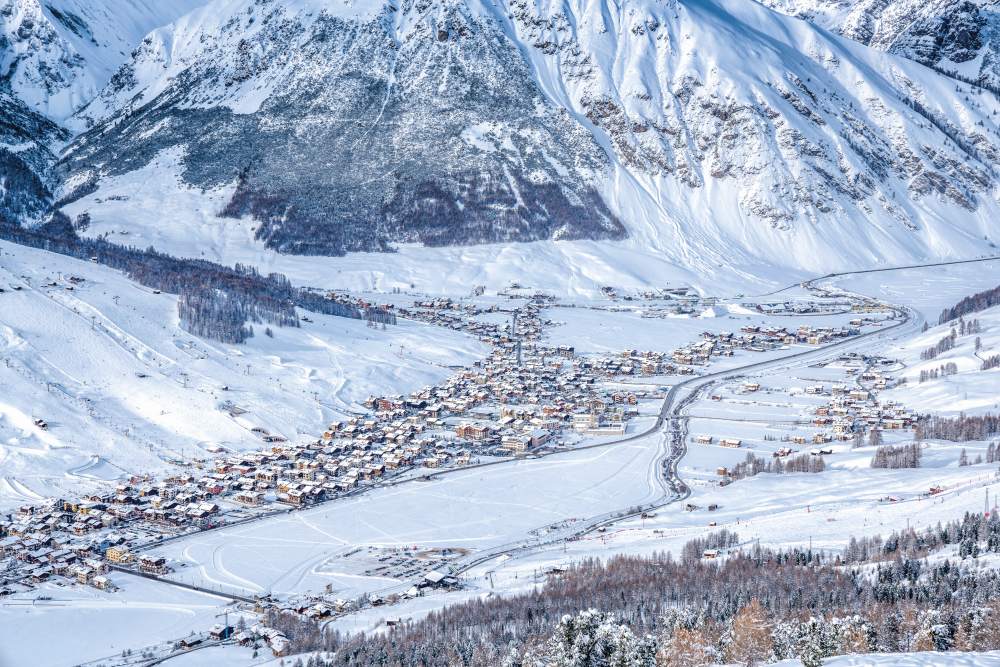 Livigno is not your average resort. Firstly, its base is one of the highest in Europe at over 1,800m. Secondly the 'resort' is more of a sprawling collection of villages spread along 9km of the valley floor with lifts and pistes on both sides. Thirdly, and somewhat bizarrely, it is exempt from VAT, having first been given tax advantages in the sixteenth Century due to access and historical poverty. Descending into the town, there was little evidence of any poverty, with modern lift systems and ski resort bustle everywhere.
Walking into town for some dinner we were all a little surprised. We'd heard of Livigno's reputation for duty-free bargain hunters and, if I'm honest, I had a pre-conceived idea of a somewhat tacky destination. And yet we found a good range of restaurants and bars and a genuine town feel with generally tasteful, traditional low-rise buildings. A barman told us that Livigno had its moments during peak season, but also that the whole town is ski-in-ski-out for most of the winter months. It must be a real winter wonderland for a January visit.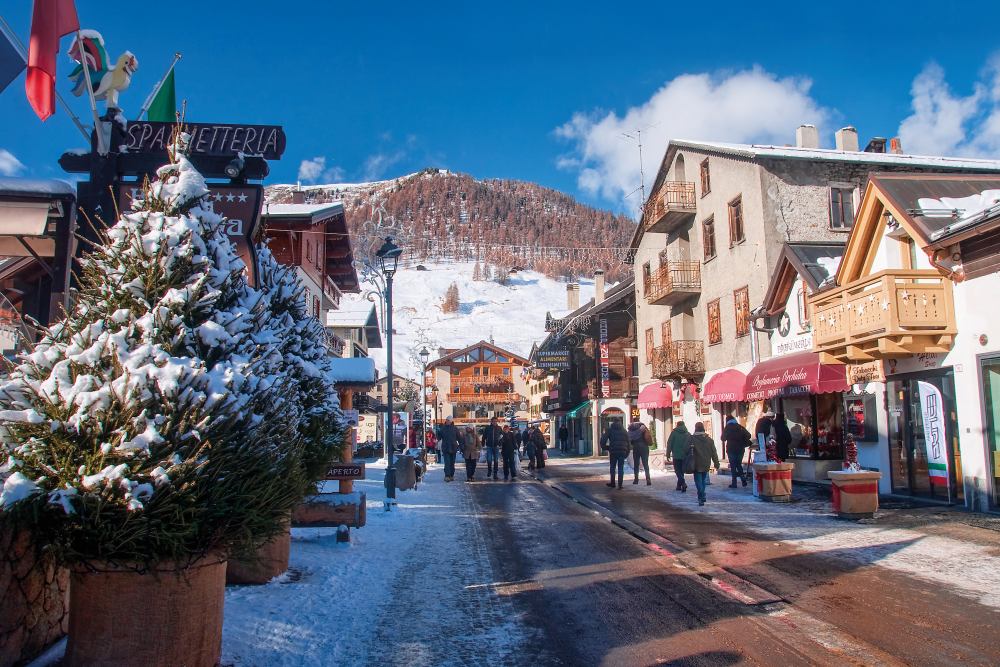 We choose to eat at the Dosdè restaurant, lured in by the sight of a child's cooker and toys for Libby to play with. A few minutes in the waitresses had all played with her, handed over crayons and children's menus, plus excellent beer and free canapés for the adults. We had stumbled into a real family restaurant gem with superb quality food (try the lasagne garganelli) and a relaxed atmosphere. It was a good start.
The skiing
I had opted to hire a guide on day one to give me a full tour and scope out where best to take the varying levels of skiers in our group. I was struck throughout the day by how easy it was to stay at a high altitude, mostly above 2,500m, to make the most of the best snow.
The impressively modern lift system linked up seamlessly, allowing us to make our way across the valley with decent length runs. There is a total of 115 km of piste in Livigno but it felt like much more due to the spread and variety of areas.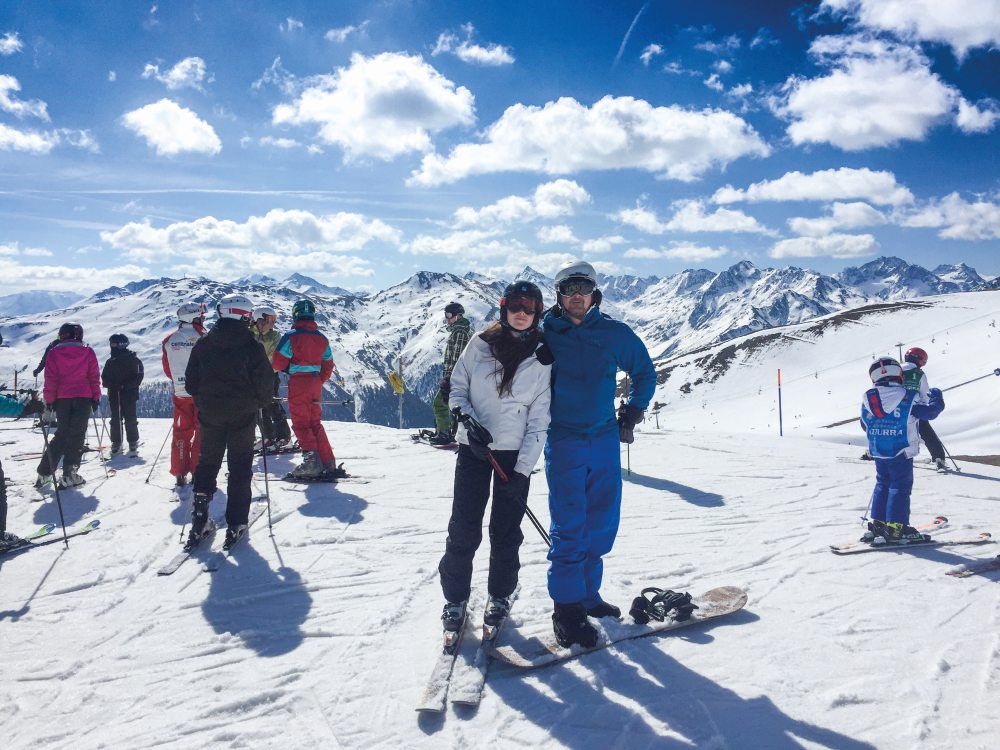 There was nothing too demanding and the pistes at times did feel a little 'samey' albeit fantastically well groomed. The blacks in the Mottolino area and the long run beneath the Mottolino gondola stood out as must-do's. Intermediates would be in their element here with plenty of excellent wide cruising pistes.
For me, I was staring at the now melted off-piste areas pining for some peak season powder. But as always, I had to remind myself that Easter family trips aren't all about me and my love of the steep and deep.
Instead, over the following days our mixed ability group enjoyed the freedom to roam without any surprises in store. Off-piste skiing was in fact banned here completely until the 2012/13 season but now there is even excellent value heli-skiing.
Child's play
After a few gentle runs in Morzine the year before, the time had come for Libby's first real lesson, with her teacher, Bruno, bounding over to whisk her away. We watched as he gamely shouted "Make skis like pizza!" over and again to his terrified pupil.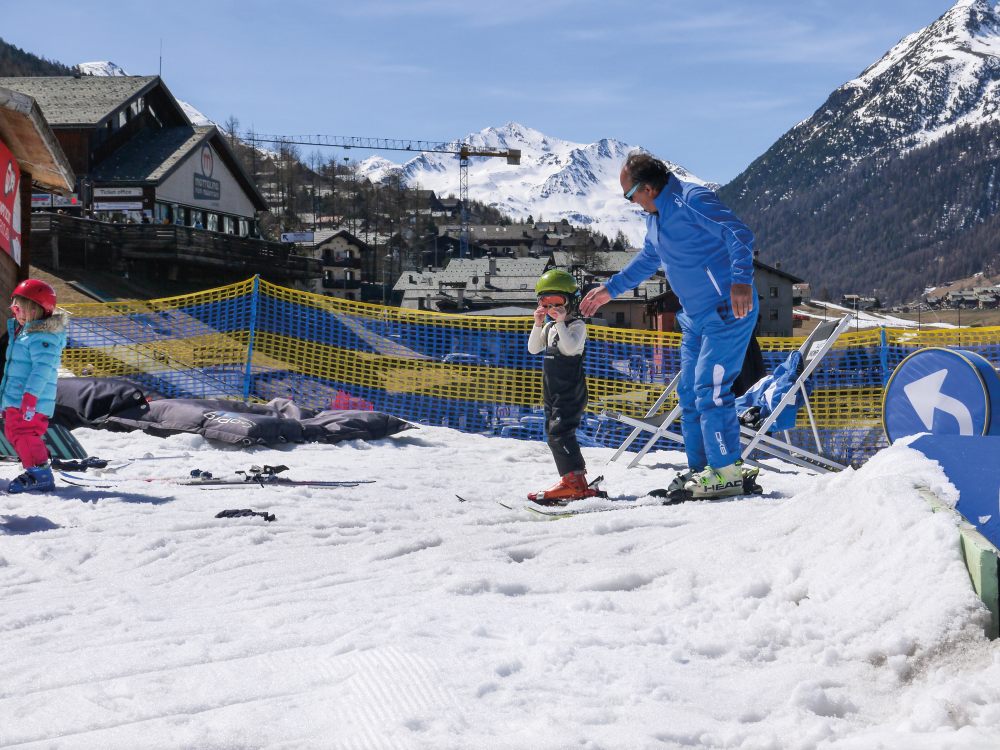 Holding tightly to Bruno's skis (despite his best efforts to shake her off) she persisted bravely up and down a few times but soon he gave a shake of the head and said she was too young. Having watched I'd have to agree that three was pushing it.
After that we decide on an afternoon at Aquagrande, a fantastic leisure centre split into zones dedicated to fitness, fun and wellness. The kids fun pool had slides of all sizes, water guns, a mini-pool for toddlers and café, all with soft non-slip flooring so Libby could play by herself as well as with us.
Walking into the wellness area was like entering a different world; birdsong, huge glass ceilings, plunge pools, relaxation rooms and a multitude of treatments and classes… We spent six hours enjoying the various zones and all three generations loved it.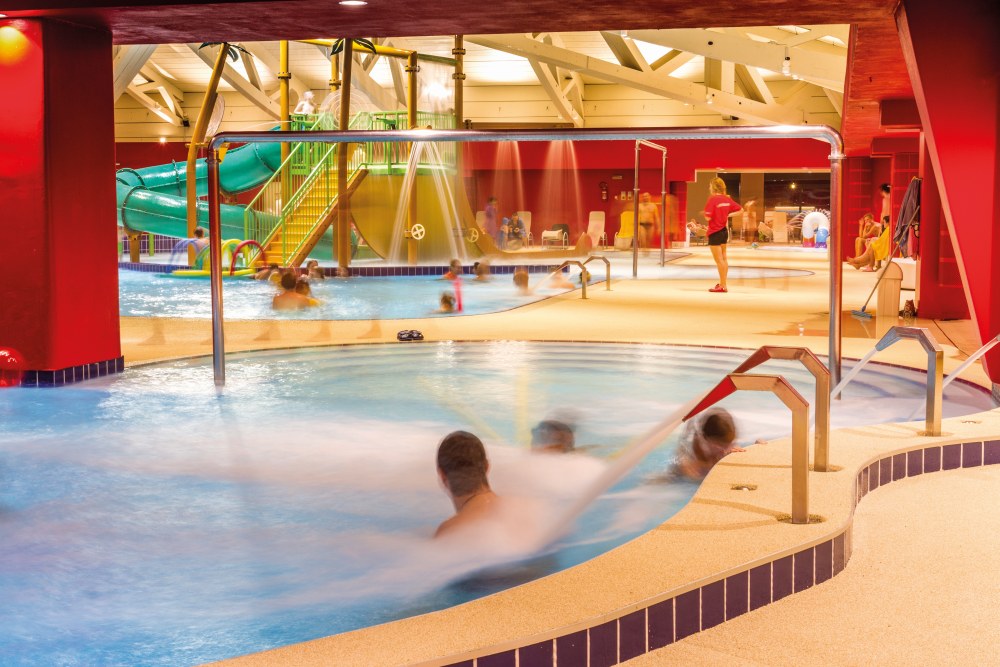 On our final day we woke to clear blue skies again, with the lower pistes now more cycle-able than skiable. Regardless, we packed by 8am, and left the beginners in a café near the gondola to get as many last runs as possible. Sitting on the lift in the sun, my thoughts turned to the week overall, which would end in Lake Como again later that day, before flying home in the morning.
Livigno had surprised us; we'd spent lovely evenings in friendly restaurants enjoying high-quality food at excellent prices. The snow had been good enough for us to get our fix, and all ages from three to late fifties had enjoyed themselves.
Lake Como had provided a lovely twist on the holiday and one we would not only repeat but also recommend to friends. Amazingly a glance at the weather forecast showed 50cm of snow falling early the next week in Livigno. Maybe next time we would come even later!
Our trip...
Accommodation, transfers and extras

Ski-livigno.com arrange apartments, hotels, airport transfers and ski extras at the keenest prices. They have some amazing deals through the season such as; 7 nights apartment including 6 days ski pass from €198 per person! See website for details.
Flights
Easyjet to Milan from £90 per person return or fly to Innsbruck for a shorter transfer with Ba.com from around £80 return.
Car Hire
It is best to hire a car in Livigno if you have the kids in tow. We used Europcar. From £145 for a week including snowchains.
3 Family firendly places to eat...
Dosdè, Via Ostaria
A fantastic and friendly bar/restaurant perfect for quiet après drinks and nibbles or an evening meal. The pasta is delicious and there are toys and areas for kids to play in. Highly recommended!
Pizzeria Bait dal Ghet, Via Plan
Excellent pizzas and steaks, very traditional and family owned with a nice laid-back atmosphere. A favourite with the locals.
Ristorante Tagliede, Via Ostaria
Really friendly restaurant serving big portions of good quality local dishes. The home-made ice cream certainly went down well!
3 Places to stay...
Chalets Living
Chalets Living offer good quality apartments five minutes' walk from the Cassana gondola with full cooking facilities. Two-bed apartments sleeping up to six cost from £800 per week at Easter. An excellent choice on a budget and close to town too!
Hotel Sporting
The 4* Hotel Sporting provides superb family rooms with fun, lofted living areas, a multimedia play-room, video games and cartoons on demand. The hotel also has a fantastic spa (adults only) and a heated indoor pool for all the family. From £2,495 for a family of four at Easter.
Bucaneve Hotel
This cosy 3* hotel is five minutes' walk from the Mottolino ski area and close to the town centre. It is aimed squarely at families with play rooms, kid's menus, babysitting services, pushchairs for hire, sleds and bobsleighs to play with and a swimming pool, plus a well-equipped spa for the adults. From £1,919 half board at Easter for a family of four.
Lake Como...
Seven Parks Hotel, Colico is a modern hotel on the shores of the lake with spectacular views, good sized rooms and an extremely good restaurant serving high quality food and wine. There are two pools, a very well appointed wellness area with sauna, steam room, whirpool baths and a gym. Rooms from £80 per night.
Hotel Brittania Excelsior is a former 19th centure inn with breathtaking views over the lake and the island of Bellagio. The rooms are good standard and there are four restaurants ranging from basic buffet to gourmet cuisine to choose from, as well as an infinity pool overlooking the lake. Rooms from £120 per night.