The word authenticity gets tossed around a lot in the ski world – but at its well-intentioned heart lies a search for a real winter experience far removed from large faceless resorts where everything is packaged and programmed to smooth out all the creases and wrinkles.
Val d'Arly is authentic – a vibrant area made up of several fairytale-pretty hamlets and resort-villages – Notre-Dame-de-Bellecombe, Crest-Voland, Flumet and La Giettaz – sitting clustered between the wide and varied ski areas of Espace Diamant and Les Portes Du Mont-Blanc, which offer nearly 300km of slopes between them.
In Val d'Arly you can discover mountain culture and soak up beautiful natural landscapes while enjoying a wide range of winter activities – on and off the slopes – from skiing and boarding through to ski-bob, ski joëring and fat biking. Indeed, the joys of winter sports have always been integral to Val d'Arly's identity: in times gone by, local children would slide to school by 'paret', a traditional Savoie sledge.
Villages steeped in tradition
Traditional chalets, proud steeples and mountain lodges: the resort-villages of Val d'Arly combine authentic traditions with home-grown hospitality. Here's what to expect: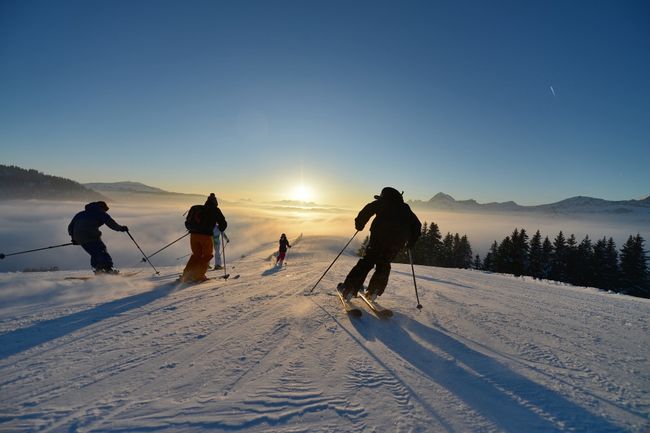 Crest-Voland / Cohennoz
The human scale of this village resort, with its range of accommodation at the bottom of the ski slopes, is sure to delight you. Its gentle and peaceful ambience stems from the welcoming locals and the tranquillity of its landscapes. Soak up the warm, peaceful atmosphere of a sunny balcony in an authentic mountain village.
Located at between 1,200m and 1,300m, the resort, with its wide array of traditional eateries, is built along the snow front, providing easy access to Espace Diamant's 192km of ski slopes.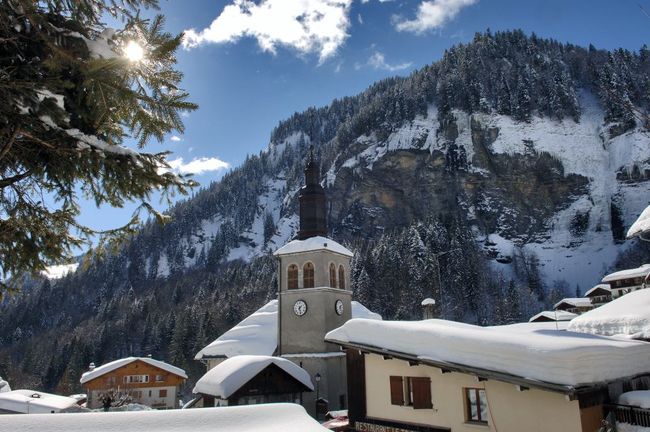 La Giettaz en Aravis
A secret location where mountain atmosphere combines with peacefulness. On the road from the Col des Aravis, this timeless resort-village, more commonly known as La Giett, is the first place drivers reach when accessing Val d'Arly from Annecy.
Connected to Portes du Mont-Blanc's 100km of ski-slopes, this is a high-altitude village with strong Scandinavian character. The Tête du Torraz at its peak, offers visitors stunning 360° views of the mountain ranges of Beaufortain, Aravis and Mont-Blanc..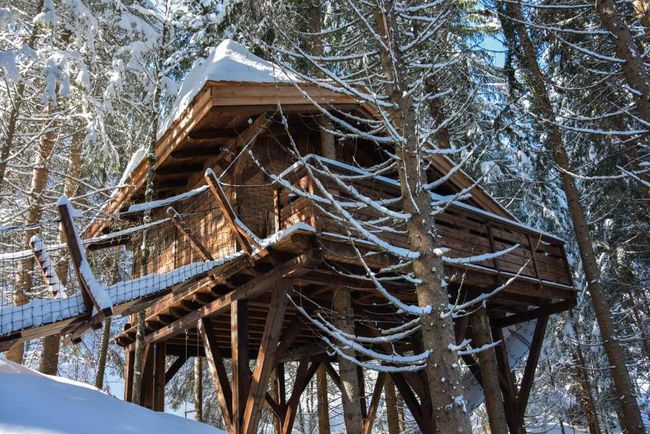 Flumet / St Nicolas la Chapelle With Flumet
Val d'Arly's central village, and St Nicolas la Chapelle, the resort-village, connects directly to the Espace Diamant and stands at the crossroads of two key destinations: Albertville and Chamonix, via Megève. A deep-rooted tradition of pastoral farming makes this a thriving hub for Reblochon and Beaufort production.
And if you're looking for an unusual place to stay, here, at Cabanes Entre Terre et Ciel you can stay in one of three unique luxury, wooden tree-houses in the forest.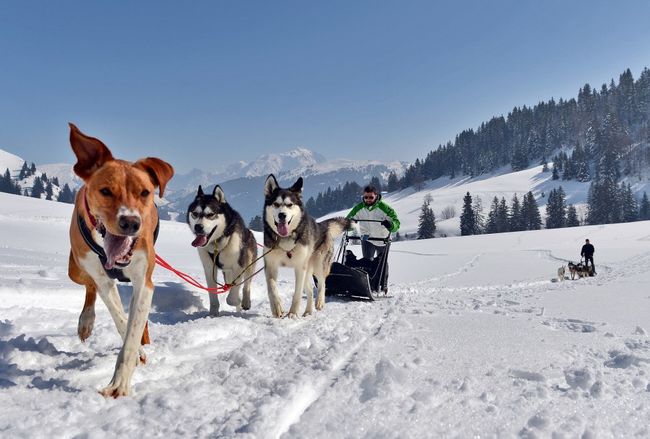 Notre Dame de Bellecombe
The village, resolutely rural with its wooden chalets, snowy steeples and traditional farms, is like something out of a childhood memory, along with frothy hot chocolate and snowball fights. It is one of the gateways to the splendid Espace Diamant ski area and is famous for sled-dog activities.
Whichever you choose, you will find a warm welcome in the valley…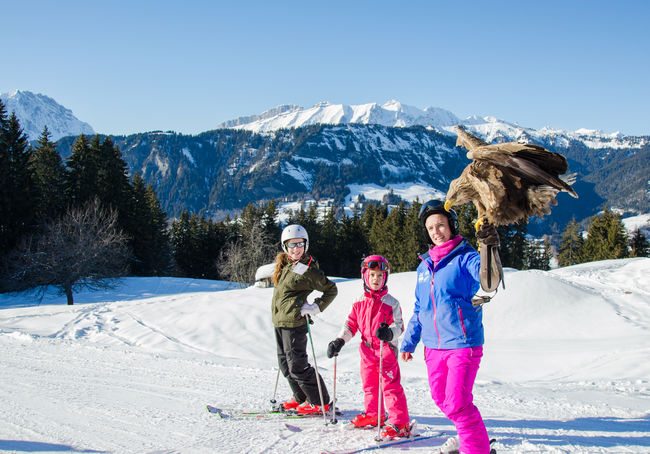 Take the trip
The Animals and the Snow
29 February - 7 March 2020
A fun-packed week for visitors of all ages, combining skiing, horse-drawn ski-joëring and a once-in-a-lifetime chance to ski with an eagle and master falconer (booking required), during the Eagles on Skis Festival. The offer includes furnished accommodation at La Giettaz en Aravis, ski-passes (6 days) for two adults and two children, and all the activities described above.
Price: From 1,272 Euros
Reservation: This email address is being protected from spambots. You need JavaScript enabled to view it. / +33 (0)4 79 31 06 82
For more infomration about the beautiful villages of Val d'Arly and to book your trip, go to valdarly-montblanc.com