Although I originally came out with my parents, when they moved here to teach in schools, it's a great place for a base anyway. The scenery is beautiful and there are so many different resorts that are accessible in the Engadine Valley area, all with different slopes, including great piste and off-piste skiing –there's something for everyone really.
Despite the reputation, it's not just for pop stars and royalty, although of course you see a few, especially if you hang around in the 5 star hotels. But there are plenty of options in the area with lots of smaller towns that all link up, with cosy cheaper hotels – nothing like the glitz you might expect from St Moritz. Buses run up and down the valley for skiers too, so it's easy to stay away from the expensive places.
We always think of St Moritz as the town itself, but the Engadine Valley is a collection of different satellite villages and towns. The centre of St Moritz town is a real mixture of modern and old – a bit of a mish mash if I'm honest. Not that I go in them, but hotels such as the Badrutt's Palace and Kulm are unique and interesting buildings, and they do add character to the place. The setting is beautiful too, with the town right next to a huge lake – so who cares what the buildings are like when you have a view like that!?
You actually get a real mix of people in St Moritz. Lots if Italians, especially at the weekends because we are so close to the border. This immediately gives the resort an Italian feel. And then these days you get Russians, mostly in January over their New Year. Increasingly there are visitors from the Middle East and Brazil – but the majority of occupants are the Swiss. There are still plenty of British skiers though, as there's a real history of Brits visiting St Moritz going back 150 years. Above all, everyone is really friendly, especially the locals – that is one thing I'd really like to point out because everyone is welcome in St Moritz.
Outside the seasons St Moritz town closes down a bit during the spring and autumn, especially the big hotels that shut down for a month or two, but there are still people around. There's some great mountain biking and hiking available and still things to do in the valley with the lakes – sailing and kite surfing are really popular here.
On the slopes
The mountains here are truly amazing and you have two big ski areas above St Moritz – Corvatsch, which is excellent for advanced and expert skiers with plenty of off-piste options, and Corviglia, a more gentle, south-facing area with lots of reds. Corviglia also has the world championship downhill run on it, so it's serious if you want it to be.
Best first run of the day: Head up Corviglia into the sunshine and hit the slopes while the tourists are still in bed or having a coffee. There are long red cruising runs here, perfect for snowboarding and making those fast, long, carving turns.
Best last run of the day: There's a black run from Corvatsch that ends up near the Kempinski Hotel in town. It's a long run and can be tough, but a real challenge to finish off a good day's snowboarding with.
Best powder day run: Head up Corvatsch Mountain where there's an amazing snow park, world-class jumps, a big halfpipe and good off-piste. Plenty of mountain guides are available in town and there's a great ski school called Ski Cool that has instructors for all levels (skicool.ch).
Busy days: There are some smaller areas in the valley which don't get crowded at peak times, and make good ski touring possibilities. Diavolezza is one them, there are 5 lifts and it goes up to almost 3,000m. The slopes are nice, but it's better suited for more advanced skiers or boarders as it's mainly reds, blacks and good off-piste.
Eating out
Eating out is quite expensive in St Moritz but that's mainly because it's in Switzerland, not really because it's more expensive than other Swiss resorts. If you're trying to save money, just make sure you stay away from the big flashy hotels and the glitzy night-clubs in the centre of town when you're hungry and you'll be fine.
Best coffee stop: The Hauser Hotel is really nice – they have a great café right in the town centre with the most amazing patisserie (pastries are the food of athletes!). Or try out the Nira Alpina bakery where you'll find awesome coffee and fantastic cakes and tarts too.
Best breakfast: There's many possibilities, but one of my favourite ones is on top of the Corvatsch mountain. Their their restaurant is at 3,303m above the sea level – which makes for spectacular views and good food that's well worth waking up hungry for.
Best lunch: There is a great place called Chadafo that you'll find on the Corviglia mountain in the Marguns area. They have a large variety of food and drinks and the pizzas are always excellent there. And, of course, if your pockets are deep and well lined, there is a Mathis restaurant – the most luxurious restaurant on the slopes – truffle pizza and champagne for lunch anyone? You're right – I don't get to go there either…
Best dinner: Treat yourself to the Murtaröl restaurant down the valley, which must be one of the best seafood places in the Alps. They do great steaks too, as well as a fish fondue with fresh seafood from their own tanks.
Off the slopes
There's not as much of a traditional après ski scene here as there is in Austria but there are some nice bars in town with a good atmosphere.
Best clubs and bars: I don't tend to do the late night clubs, but there are some nice bars such as Stubli, Cascade bar, Posthaus Lounge and some cosy hotels bars as well.
Best live music: For my money, the best bet would be the Roo Bar at the Hauser Hotel, which you'll find off the main central square in St Moritz town.
Best dance and DJ nights: Again Stubli at the Scweitzerhof Hotel in the town centre is the most popular – especially for the seasonnaires and younger crowd. For a more sophisticated audience there is always the Piano Bar in the hotel! Okay, I'm joking…
Night skiing: If you're not into partying, drinking and dancing (everyone needs a night off, right?) there's always night skiing. It's on a Thursday night and keeps on going all the way through to 2am! At least one mountain restaurant stays open too, so there's somewhere to call in if you do fancy a beer or a hot drink…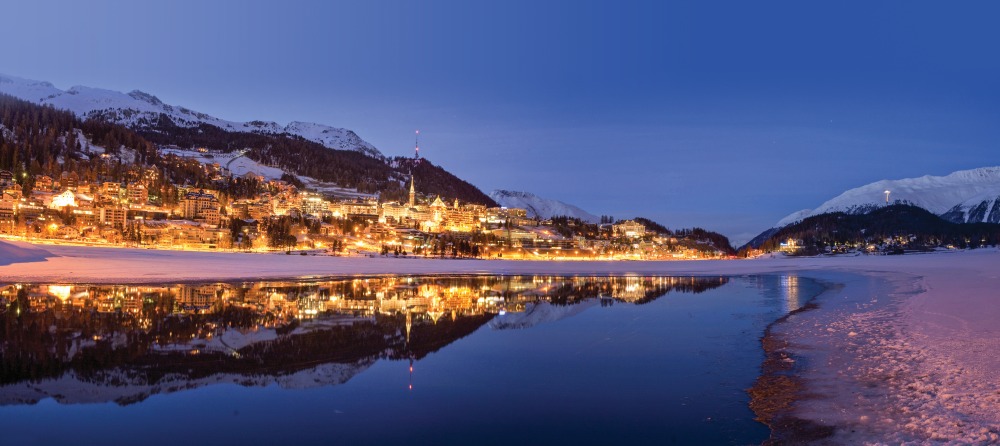 Culture and Couture: There's the Segantini Museum with the works of the famous local artist, the St Moritz Gallery in the town centre, and the famous Nietzsche museum in Sils, one of the villages in the valley. If you want to go further afield, the Italian lakes aren't that far away and Milan itself is only a couple of hours' drive. Some people take a helicopter to Milan for the day to shop, but that just seems ridiculous.
Where to stay
There's every class of hotel here, from the top hotels in the country – such as Badrutt's, The Kulm, The Carlton and Kempinski – to good 4 star options – such as the Nira Alpina – and some good 3 star hotels, especially in the valley. There's even an amazing youth hostel here.
Getting around
It's Switzerland so the transport is good – there's a train through the valley that's free with lift a pass, buses are great and again free with a pass. It's easy to drive around too because the valley is pretty flat and you can't get lost.
A brand ambassador for Mitsubishi, Jamie is planning to add to his snowboard World Records by being towed behind one of the cars across St Moritz's lake on his board. To catch up with Jamie's latest stunts, see jamiebarrow.com