I'd read a lot of the hype about Revelstoke and had found it rather off-putting. A great PR campaign meant that 'the only ski resort to offer lift-served, snowcat and heli-skiing,' as well as 'the biggest lift-served vertical drop in North America by its second season', was being covered in every ski publication, everywhere. It was the same kind of blanket coverage that the ET movie had received, and I still haven't got round to seeing that. So I decided to let the dust settle. All the 'first-adopters' were out there with their shiny new skis and iPhones for opening day on Revelstoke's first winter, 2007-8. I arrived 15 months later, last Easter, by which time that 'biggest vertical in North America,' all 1,713m of it (which puts it inside the world top 50) was fully open to enjoy.
By the end of its second season, Revelstoke had gone from being a purveyor of impressive statistics to somewhere people have tried and liked – a lot! The recently published poll of the US's Skiing magazine's 1.2 million readership had Revelstoke rocket into the 'best resort' chart at Number 5 (remember there are 800 or so ski areas in North America), behind the usual candidates (Whistler Blackcomb, Jackson Hole, Vail and Snowbird). Which, when you consider Revelstoke is only two years old and that only a tiny percentage of Skiing's readership could have visited the resort compared with the big names, points to how many have been impressed.
But the first thing you will notice about the resort is that it's a long way from anywhere. Bad news if you're in a hurry, and something to consider if you've just arrived in Calgary (413km away) or Vancouver (6,231km away) on a transatlantic flight; an overnight stop en route may well be in order. But good news if you like unspoilt resort towns.
In all the excitement about Revelstoke's ski area I'd completely missed the fact that it had been built above a long-standing town full of quirky architecture and great atmospheric bars, shops and restaurants, even an excellent swimming pool complex. Revelstoke is full of friendly locals who live there year-round. This is like Crested Butte, Steamboat or Telluride in Colorado – probably because they're also distant from a major hub. It is also like Aspen or Park City used to be, before their proximity to easy air access led to what some might consider 'over development'.
The City of Revelstoke (population 7,500) was established in the 1880s when the trans-Canadian railway, responsible for so many of the country's most famous resorts, came through. Originally a mining settlement, tourism took off in the 1960s when the trans-Canadian road followed the rail access. But, although Revelstoke Mountain Resort may only be entering its third season this winter, skiing has been practised here for the best part of a century. Ski jumping is the discipline for which the town is particularly famous, with the first contest held here in 1915. The Canadian record was broken a year later in the resort, and the world title won by local
man Nels Nelsen in 1925, after whom the ski jump is now named.
Continued...
---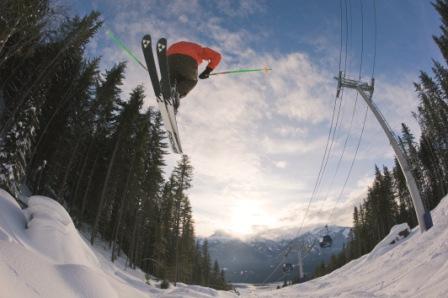 In the modern era Revelstoke was well known as a snowcat and heliski destination before the lifts were built, thanks to an average annual snowfall of 12-18 metres, which meant nearly 10,000 powder hounds already made an annual pilgrimage to this back-country shrine. So, with the pleasant surprise that is the town/city of Revelstoke behind me, I drove the few miles up to the foot of the modern ski area, parked my car, walked the few feet to rentals and, now kitted out with the latest excellent quality gear, made it the final few feet onto the newly extended high-speed, eight-passenger Revelation Gondola. This whisked me 1,081 vertical metres or about two thirds of the way up this huge ski area.
'This place is well designed,' was my first thought. A few minutes later... 'It really is big', was my second. I decided to start with some warm-up runs on the fast, long cruisers and realised that I was actually a little lost and needed to check my trail map – something of a rarity at most North American resorts, where you can often see the base area from most points on the mountain. Just under half of Revelstoke's terrain is graded advanced: there are five alpine bowls; 13 gladed areas; the biggest lift-served vertical in North America; and the options of cat skiing or heli-skiing each morning. Add to all this a fast and efficient lift network, where the few lifts are so remarkably well placed that they provide access to vast areas of the mountain, where an older-generation resort might have needed a dozen lifts to reach the same amount of terrain, and Revelstoke's attractions for the advanced skier are rather self explanatory. And then, of course, there's the ridiculous excess of powder snow falling annually, for everyone to enjoy.
The bowl skiing in particular did not disappoint and a short hike in from the top of The Stoke high-speed quad lift (new last season), one of two at the resort, led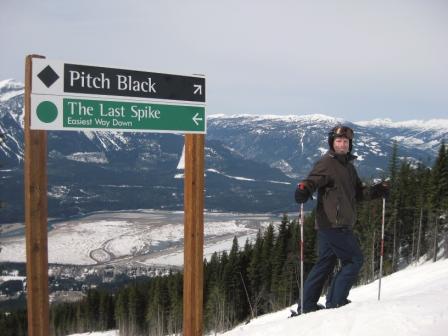 to wonderful descents on runs like Powder Assault, Disciple, and the correctly named 'Drop In.' But this was just one of Revelstoke's myriad attractions for serious skiers and, ski-nerd that I am, I was keen to complete the less intimidating 15.2km-long Last Spike run so that I could claim bragging rights to having skied North America's longest run with its biggest vertical. 'Ski-nerd that I am, I was keen to complete the 15.2km-long Last Spike run so that I could claim bragging rights to having skied North America's longest run'. I also wanted to compare it to the Vallée Blanche at Chamonix – Europe's (and indeed world's) biggest lift-served vertical descent, which coincidentally I'd skied a few weeks earlier on the other side of the Atlantic.
The verdict? Revelstoke's descent is a tad shorter and the scenery is a little less dramatic, but the snow was better and the view down across the valley awe-inspiring enough. Die-hard extreme skiers would probably disagree, but I'd ski Revelstoke again before the Vallée Blanche. It would be wrong to give the impression that Revelstoke is purerly for experts only. Around 40 per cent of the resort's terrain is well suited for intermediates and this includes tree skiing. Even some of Revelstoke's famed snowcat and heliskiing options can be tailored to experienced, but non-expert-level skiers.
As Revelstoke strives to be the complete resort, beginners are not forgotten either. The Li'l Bit magic carpet serves a dedicated beginner zone, staggeringdistance from the extensive mid-mountain base lodge. Once the basics have been mastered, the entire mountain does have easy trails to enjoy from top to bottom, with many designated snow skiing zones so you can ride the gondolas up for wonderful long runs back down right from your first week on the slopes.The ski school offers a variety of group and private lesson options. In the former category the Discovery programme includes a beginner-area lift pass, equipment rentals, and a two-hour lesson. Once you have completed the lesson, you can upgrade your lift ticket for the day to an all-mountain ticket. A follow-up Discovery 2 package for those who have already taken the original Discovery package is now also available.
Where to stay in Revelstoke is a tricky question now that the first ski-in, ski-out accommodation, the Nelsen Lodge Hotel, has opened at the mountain base. On the one hand there's the undeniable convenience of staying slopeside, on the other the town has lots of great lodging options and it's nice to be a few steps from the bars and restaurants of downtown.
I'd opted for the Inn on the River (innontheriverbc.com) which has affordable one and two-bedroom suites and a great hot tub overlooking the mighty Columbia River. A shuttle service between town and resort, plus plenty of good value taxis, means choosing one location over the other isn't really as big a deal as it could be. Wherever you choose to stay you're likely to be impressed by Revelstoke's successful leap from niche powder haven to world-class resort. It's not the first new resort in North America in the past decade – Moonlight Basin and Tamarack to the south both promised great things when they opened a few years ago at the height of the real-estate boom but both are now struggling. Kicking Horse, the next major resort to the east of Revelstoke, is still going strong but seems to have stalled a little on its early promise, finding it hard to broaden its appeal beyond the advanced skier market for which it caters so well. But Revelstoke's pre-existing genuine resort town, its world-class mountain and 21st century slope design give it an edge over the other 'newbies' and a feeling that this will be one of the big ski resort success stories of the coming decades.
Snow notes
REVELSTOKE, CANADA: www.revelstokemountainresort.com
Getting there: Nearest airports are Kelowna (transfer 2 hours) and Calgary transfer 4 hours). British Airways flies to Calgary from about £530 return. Air Canada flies
to Kelowna with a transfer in Canada from about £600 return.
Ski packs: Ski Safari organises a variety of trips to Revelstoke. For details call 01273 224060, or go to www.skisafari.com
Season dates: November – April
Vertical drop: 2,225m – 512m
Terrain: 3,031 acres
Runs: 52
Longest run: The Last Spike, 15.2km
Gladed terrain: 13 acres
Bowls: Five – two in lift area, three accessed by cat ski
Cat Skiing: Full day package including training, guides, unlimited ascents, breakfast and lunch from £228. Email This email address is being protected from spambots. You need JavaScript enabled to view it.
Heli Skiing: There are a wide variety of packages and deals. A three-day package, which includes four nights accommodation and 9,000 vertical metres of ascents, prices start from £1,500 per person. Contact Selkirk Tangiers at www.selkirk-tangiers.com
Highlights: Excellent snow and facilities. Not just for extreme heli-skiers
Bummer: No direct flights to Kelowna and the transfer is a bit of a hike from Calgary