With the crotch of his pants down to his knees, in a GIANT hoodie almost as long and a black floppy hat to match his hair, a lad who can't be older than nine picks his way up a steep slope – in skate shoes, not snowboard boots. The grom places each step carefully as he follows the perimeter fence of the immense slopestyle course of the Vans Triple Crown boarding competition, staring up at huge 13-metre tabletop jumps that his heroes like Chas Guldemond, Andreas Wiig and Heikki Sorsa are about to spin off, way above his head.

One day that could be him, but for now his big, blue doe-eyes are forlorn, as his right arm rests in a sling. 'Dude! What have you done?' asks a fellow mini-shredder in classic Californian drawl, fresh from a full day of riding. 'I seperated my shoulder,' replies the grom, obviously fed up. I feel his pain – I'm in a matching sling with the same injury. Ironic, then, that the day I'd made most progress to date in one of the world's most forward-thinking freestyle resorts had been cut short by a lack of park etiquette.
With Heavenly's sprawling terrain and Squaw Valley's famous steeps for near neighbours, Northstar-at-Tahoe may not be the biggest, but it now boasts one of the most fun bunches of slopes out there for boarders and skiers who like their downhilling playful. There's a focus here on imaginative added features rather than hyping up its natural steeps and powder – of which there is also a decent share. The six terrain parks make up a large chunk of Northstar, from the beginner Burton Progression Parks to the humongous rails, kickers and jumps on the pro-standard Moonshine (star of many snowboard films). There's also one of the most perfect and addictive superpipes I've been lucky enough to shred and five adventure parks packed with whoops, bumps and rollers.
Throughout the winter the talented Northstar park team constantly evolve the mix of features laid out – so each week the parks change. These are often the busiest parts of the mountain, crammed with rail kids in skinny pants, XXXL-wearing gangster wannabes and just-plain-nuts punters. But forget the hordes of fashion-obsessed scenesters – the creativity and quality of Northstar's parks sell themselves.
The Stash, created by snowboard überbrand Burton and now exported to a second site in Avoriaz, France, is a perfect example. The first of its kind, it's an un-pisted, hand-shaped slope dotted with features made from natural mountain materials, such as tree jibs, log rails and dirt-based kickers. There's also a hut built to commemorate the life of snowboard legend Craig Kelly. A bad weather hideaway containing Kelly's own equipment, it does a brisk business nowadays as the scene of spliff-loviing locals' on-hill highs.
But the fun's not all man-made. The 07/08 season saw an embarrassment of the white stuff – combined with Northstar's tree-lined slopes and open forest runs, perfect for a powder lover like moi. On a snow day most people go to the large, red run-dominated area The Backside. But that's not where you'll find the in-the-know locals. After the obligatory pre-pow Starbucks on the gondola, follow them up the Tahoe Zephyr Express then take a left down Drifter, or keep on a little further to the Lookout Link drag. You'll cut through magical, fairytale forests, and arrive at the newest – and steepest – part of the resort, Lookout Mountain, still being developed to open up extra advanced terrain.
Continued...
---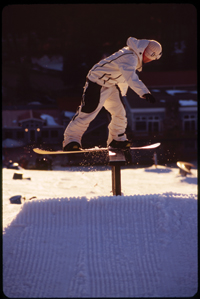 Away from the crowds, this secret stash, although not large, is protected by evergreen forests so it retains fat metres of powder. With subtle drops, thinned-out trees, clear signposting and all draining down to one chairlift, this was my nirvana last season. Many giggles, memories and friendships came out of those powder days – then continued with a beer at the on-hill Day Lodge, happy hour at the Overlook bar, a Big Wave Burrito or incredible sushi platters at Mikuni.
It may sound cheesy, but America's friendly charm meant chairlift chats which began with a simple 'hey' ended on anything from snowboard trends to politics. They could be with an old timer on retirement, students from one of the nearby colleges, kids on a Saturday snowboard school session, Norwegian pros, British-born instructors or ski tech seasonaires.
From the Vista Express I would watch open-mouthed as a beginner tried his first rail, only to have a more experienced rider jump on at the same time, resulting, inevitably, in a pile-up. While the quieter parks like the Straits, The Stash, Sidewinder and Pipeline are safe, keep your eyes out on Pinball and Moonshine – if you stack, move fast. Or, like me, risk having an impatient Neanderthal land on you because he didn't check his landing, and destroying your shoulder. But has it put me off going back? No way. We all need some tough love sometimes.
Snotes
Getting there: Fly to Reno (the nearest airport) via Los Angeles or San Francisco with United (united.com), BA (ba.com) or Virgin Atlantic (virgin-atlantic.com), then make the 40-minute transfer with North Tahoe Express (northlaketahoeexpress.com). For a longer but cheaper route, fly to San Francisco – same airlines as above, plus bmi (flybmi.com) then take the historic Zephyr train through stunning mountainscapes to Truckee (5 hrs).
Season dates: mid-Nov to mid-April
Vertical drop: 2624-1929m
Terrain: 2,904 acres
Snowmaking: 50%+ of skiable terrain.
Lift passes: Double Whammy Pass (dual mountain season pass) From £218
Mountain munchies: food and drink are available at mid-mountain (Chilly Peppers Cantina and at the Day Lodge) and the summit (Summit Deck & Grille, K-Bob's)
Snowpark?: er, just a bit. Northstar has won awards for its 6 terrain parks plus has more freestyle features dotted across the whole mountain. Also slopes with features (named fun parks) plus five adventure parks just for kids. There's also a 420-foot superpipe and a halfpipe
Downtown: the Village at Northstar features a clutch of quality fast-food outlets, and the excellent deli Earthly Delights as well as a few bars. Truckee, 9km away, has fine dining restaurants, locals' bars and a cute downtown shopping district, while Reno has plenty of nightlife. Lake Tahoe is 9km away
Highlight: the ubiquitous terrain parks and features, and a fun, family atmosphere
Bummer: Limited backcountry
Find out more at www.northstarattahoe.com