Hey! name's Roger, good to meet you. I first got on skis aged 11, at Welch Village, close to my hometown of St Paul in Minnesota. I loved it – all 200m vertical drop of it! You'd spend about three times longer on lifts than on snow, but it was all I knew, I was happy! Nowadays, telemark skiing is my thing. It's kind of like surfing. You can get down really low, trail your hand in the powder. And when my alpine skier friends call me a 'trendymarker', I just tell them to get off their easy sticks.

I moved to Denver four years ago, and while I checked out a lot of the Colorado resorts, I had a buddy in Vail and soon I was visiting every weekend. In the summer we did a lot of hiking, camping, and floating down river in inner tubes with coolers of beer. Winters, I skied. And skied and skied. That's the thing about Vail. There's over 5,000 acres of it. In the end, it was cheaper to move here and save the cash I was spending on gas.

One of my favourite things to do is get a barbecue going at Belle's Camp above Blue Sky Basin. There are some barbecue pits up there that are free to use, so you can fill your rucksack with meat, salads and wine from City Market or Safeway in West Vail and meet a bunch of friends up here. Only thing is, don't crowd me when I'm cooking – where barbecues are concerned, I like to be the dude who does. Of the other eating options on the mountain, my favourite is Two Oak Lodge. The wraps are awesome, and they have loads of outside seating. On a sunny day the views over China Bowl are incredible.

They say if you get a decent snowstorm before hallowe'en, it's going to be a really great snow year. Last year there was enough for people to start hiking up the mountains for their first carves of the season on 20 October, and it was an epic year. This year I was skiing on the 28th, so it's looking good!
---

Look at a map and you could think the base village is too spread out. But Vail has the biggest free transportation system in the USA – shuttle buses linking East Vail, Lionshead and Vail Village, so it's a piece of cake to get around. For guests, this also means you don't have to stay in a fancy central hotel to get to the slopes. You can take a cheaper condo further from the lifts and still be connected to everything.

To me, it's all about getting the eating and drinking done straight off the mountain, so you can have your fun, be in bed at a decent hour and be up early and back on the snow. And a lively, friendly atmosphere is guaranteed at the Red Lion pub. It's packed every day after the lifts close, they have the best staff in town, a great beer selection, and live music every day from the boss, Phil Long, and guests. But if dancing the night away is your thing (and I've met plenty of Brits, I know how you do!), Samana Lounge is a great place to go. On Saturdays, local DJs spin up a storm at pizzeria Vendatta's too.

There's a lot of upscale dining in Vail. Wildflower is very high-end, and the Swiss Chalet in the Sonnenalp Hotel is where I'll go for a really special meal. The Euro classics like raclette and fondue are amazing, plus there's great German beer. But The Tap Room is a brilliant choice for great eats on a budget, with a different special every night of the week. Monday is all-you-can-eat chicken wings for $5, Tuesday's a burger and a beer for $6. The après drinks specials are great value, too.

Wipeouts? I've had a few, usually trying to do something gnarly in one of the three terrain parks. Once I went for a jump in Fly Zone, telling myself over and over: 'Just don't chicken out and take it too slow.' I went way too fast and overshot the landing ramp by about 5 metres. I chucked up a lot of snow, rode quite a distance on my ass, but nothing broke. Vail also has some great natural features to ride, off in the woods close to Chair 6, like this tree-trunk rainbow rail my buddy Pat is riding.

Closing weekend is a huge deal, too. People go nuts for the pond-skimming contest, where skiers and boarders bomb down a slope and do their best to get across a stretch of water. Me, I'm happy to watch from the sidelines. That mother is cold.

Speaking of one-pieces, they're kind of a comedy obsession around the place. You can pick up really cheesy Eighties ones in thrift stores. Here's a bunch of us setting out on a one-piece bar crawl.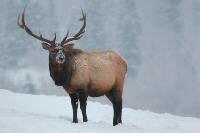 Summer's the time to see wildlife, and the gondola's a great way to spot black bears – safely! And you can sometimes see elk in winter.
---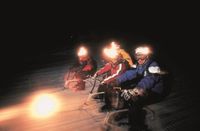 Snow bikes rock. There's a part of the mountain called Adventure Ridge, which puts on lots of alternatives to skiing, like snowshoeing, tubing and a trampoline. But for me, snow biking's the one. Best of all, you can do it at night. The guides check out your confidence and skill level and, if you're up for it, will take you through trees and over moguls with just head torches to see by. Wicked.
Special events are a huge deal here. Every Wednesday, in season, there's a free outdoor gig in the Street Beat series. Plus there are annual events such as Snow Daze, where international bands like The Fray play. Personally, my favourite part is the dummy demolition derby. People make some kind of dummy mounted on skis or a board, and launch it down a slope and off a jump. You get marked on creativity, take-off, and how spectacularly it explodes on landing. It's really competitive, people work on their dummies really hard. Last year, a bunch of us stuffed a couple of one-piece ski suits and put them on a toy motorbike, on skis. We did really well on creativity, unfortunately, our dummy didn't even make it to the jump.

Snotes: Vail, Colorado, USA
Getting there: Fly direct from Heathrow to Denver with British Airways. Minibus transfers for the 2hr 15mins drive to Vail can be booked with Colorado Mountain Express
Tour operators:
High-end: Elegant Resorts, Kuoni
Mid-range: Inghams, American Ski Classics
Budget: Neilson, Thomson
Season dates: 20 Nov – 18 Apr
Vertical drop: 3,525–2,475m
Terrain: 5,289 acres
Snowmaking: 7% coverage
Lift passes: the 'Colorado ticket' covering Vail plus the neighbouring resorts of Breckenridge, Keystone and Beaver Creek, costs from £120 to £323 for six days, depending on date. Also available is the new-last-season Epic Pass, which gives unlimited, season-long access to parent company Vail Resorts' five Colorado resorts, plus Heavenly at Lake Tahoe, on the California/Nevada border, for £362
Mountain munchies: historically not great, dominated by big, bogstandard and often very crowded self-service restaurants, Vail's offer is improving, with healthy and affordable food ranges
Guiding and tuition: Excellent, if pricey. Book through the resort website (above)
Snowpark: three great parks, of which Fly Zone is the don, also a learners' mini-pipe and a meaty 130m superpipe
Downtown: thrustingly upwardly mobile, the recently revamped long, skinny, base village can clear a wallet in minutes flat, but there's something for everyone if you take time to look. The lively Red Lion is big on value and vibes, for drinks and heaping helpings of comfort food. Great shops for kit and snowsports fashion geeks and plenty of luxurious signature dining/spa/accommodation experiences for a splurge
Highlight: the sheer volume of fantastic terrain

images provided by Vail Resorts, Jeff Affleck, Kimberly Gavin, Chris Mclennon, shutterstock.com