I can't see a thing. It's dark and the headlights illuminate nothing but heavy snowflakes forming a constant barrage towards the windscreen that is making me feel dizzy. We might be on a wide motorway piste, safely away from the edge, but this is Grand Montets in Chamonix, and I know it's highly likely there's a terrifying drop just out of sight, and probably only inches away.
When I agreed to join the piste bashers for an insight into their job, I had some ideas about what it would be like. I guess we've all gazed up at them through a haze of après-ski, or admired the tracked armada heading out to clean up the mountain after us; their work just starting as our on-slope fun ends and we head to the bar.
In those moments, staring at that distant dot of light, silently creeping up the side of the sleeping mountain, I often wonder if there could be any job more serene. The driver has the mountain to himself, he has a nightly view over his twinkling ski town, and the practical, meditative pleasure of grooming perfect lines into the pistes.
I also sometimes wonder what kind of people it takes to do a job like this; crushingly alone in the vast darkness, facing the grinding monotony of ploughing the same line, night after night, while vulnerable to the worst conditions that a high mountain can throw at you. What if they were all unhinged socio-paths? What if my driver, unaccustomed to human contact and incensed by my inane questions, pushed me into a ravine, or ploughed me into the piste?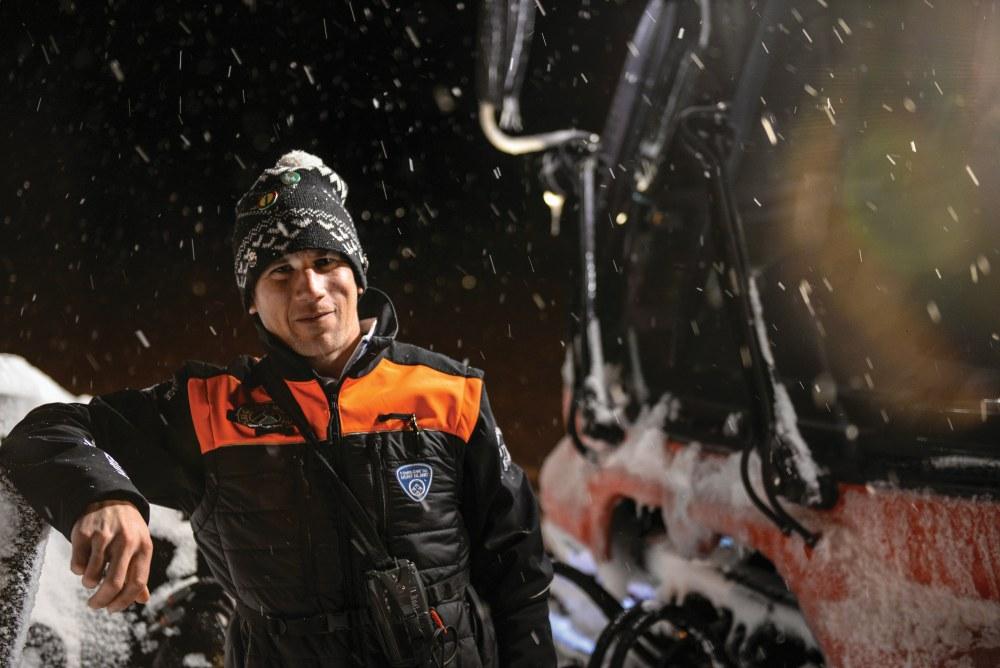 Of course he wasn't, and he didn't. Not remotely insane, Quentin was in his late 20s, and I could tell how friendly he was because we chatted away for hours despite barely understanding each others' language. I was dying to know what drew him to such an unsociable life. One of the first questions I asked him was "Do you enjoy it?" He looked straight at me (taking his eyes off the 'road,' not that it mattered in a complete white-out) with a hint of surprise and a lot of enthusiasm; "I love it!"
Then he began to show me why. From the off it was obvious the isolation wasn't as profound as imagined. We'd met in the suite of offices at the Lognan (Grand Montets' mid station) with a team of six drivers for the early shift – 5pm until 2am. Naturally the shift begins with a coffee in the staff canteen and lots of chatter about who will do what.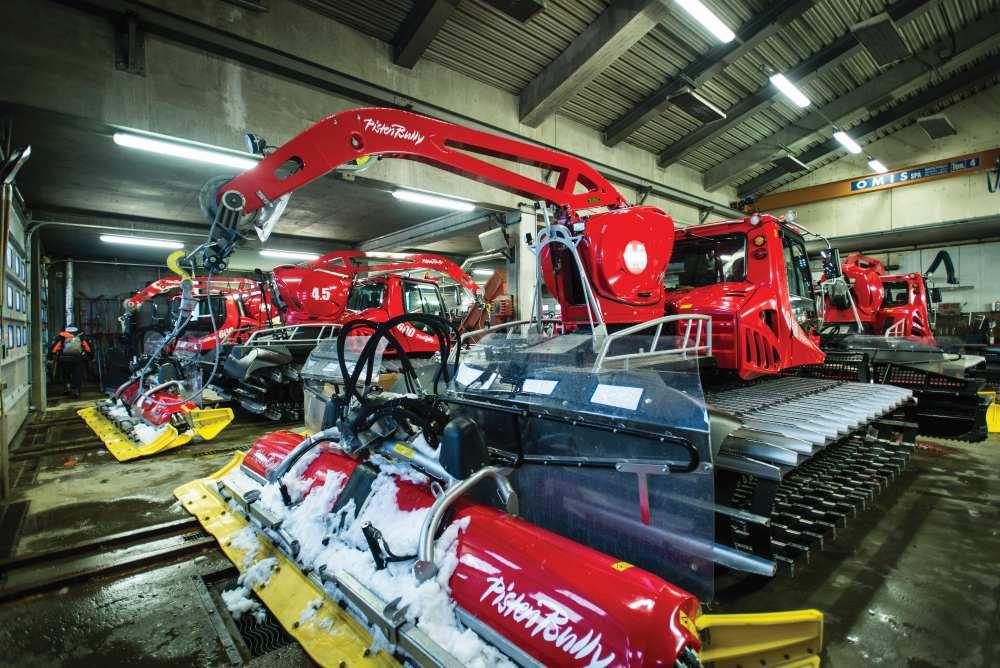 Once we'd completed the pre-shift checks on the six magnificent machines and climbed aboard it became clear that the chatter would continue, sporadically, throughout the night by radio. And then we ventured out into the rapidly fading light.
The snow was coming down in thick sheets of heavy flakes, visibility was a few metres, and darkness was beginning to fall. Despite all that, Quentin wore sunglasses, just to bump up the contrast in an otherwise featureless scene.
Far from being a dull task, or even a relaxing one, I began to suspect it could be infuriating at times like these when the snow was falling faster than it could be cleared. In the hour or so since the pistes closed, huge drifts had gathered, and lift gates had been half buried. Rather than finessing the corduroy, it seemed our job would be removing an endless oversupply of snow.
There was also a surprising variety of work to get through, even in the first hour. We started by shifting the weight of fresh snow from a steep section of piste. I've skied Grand Montets many times, and it's not a difficult place to navigate, but with the awful conditions we were working in I had no real idea about where we were. Above the mid station, and probably Looker's Left is as accurate as I could guess. Quentin knew exactly where we were, his absolute affinity with his snowbound 'office' putting a London cabbies' 'knowledge' to shame.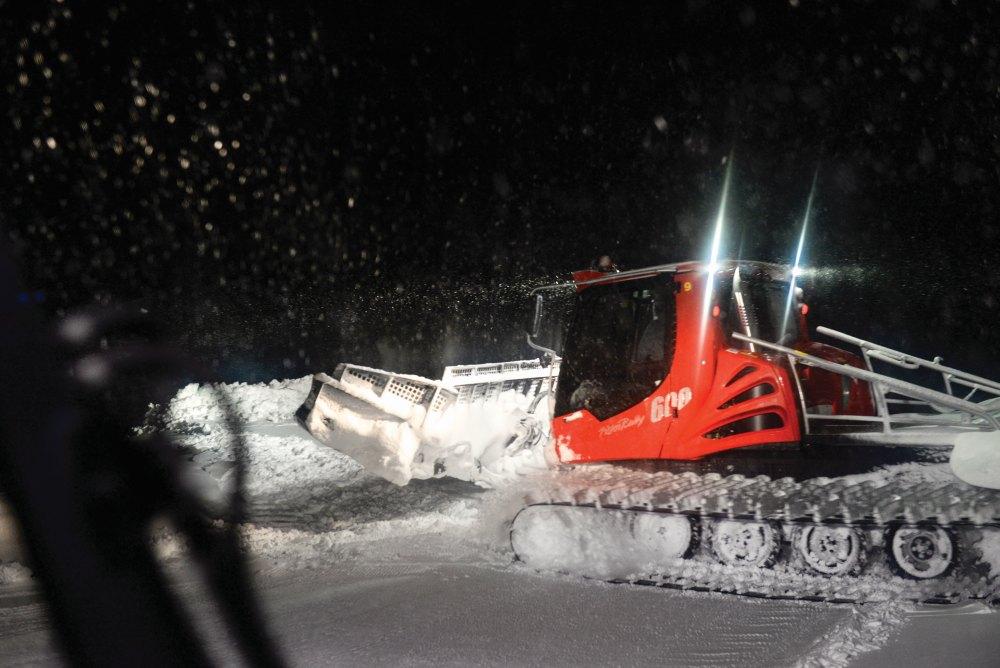 And it's not just the pistes that the drivers need to navigate. After half an hour or so of dumping tons of fresh powder over the edges (yes, I almost cried at the waste) we moved downhill closer to the Argentière glacier to fulfil other duties. As well as keeping the skiers happy, the pisteurs work for mountain restaurants and other buildings you may never have noticed (such as tiny electricity substations) by maintaining access.
These access tracks are a different challenge to the piste, with no room for error; just the width of a snowcat, they are often windy and exposed as they trace shallow paths around the contours of the hill. Add to that a few 'laybys' for passing or for turning the snowcat, and it becomes a delicate little job for a behemoth of a machine.
But I'd seen nothing of 'delicate' yet. I'd expected to be impressed by the power of the snowcat, but was still in awe of the waves of snow hypnotically cascading out of its jaws, ton after ton. What I hadn't expected was the level of control needed from the driver as he operates so many different functions simultaneously. A tedious up-and-down with a rake, this is not.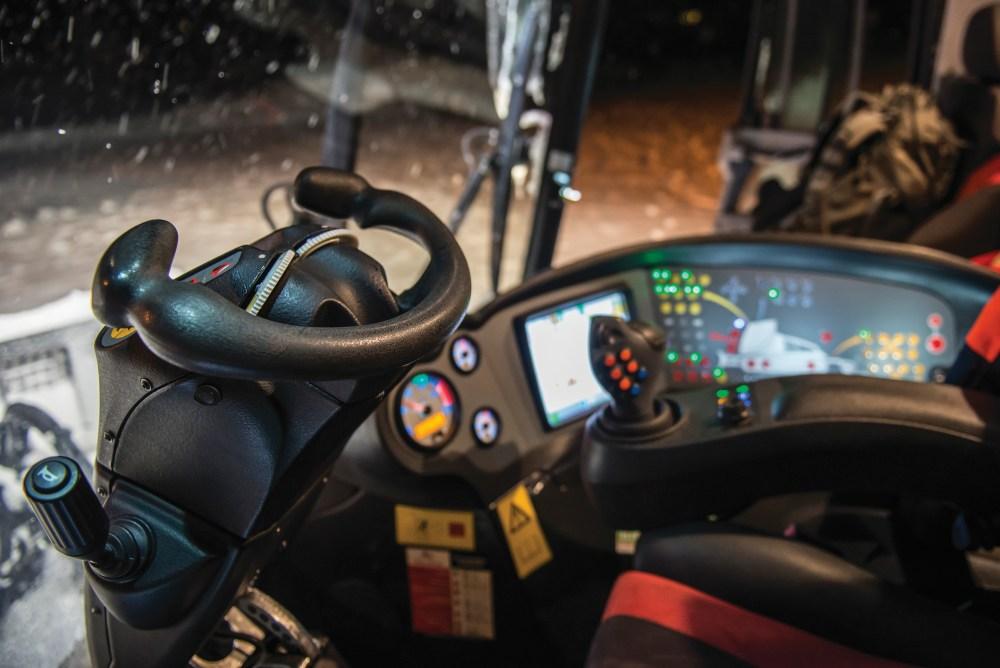 The actual driving seems quite simple – for instance, there is no clutch to worry about, but of course steering takes a little more focus on the side of a mountain. Then there's the headlights; if you've ever driven in a snow storm you'll know that headlights simply light up the three metres in front of you to create a solid, blindingly white curtain. To add to the challenge, the snowcat can turn on a sixpence, making forward-facing lighting quite unhelpful when all around is pitch black. So while steering with one hand, Quentin uses the other to manipulate a roof-mounted spotlight to see what he's turning into, and where he needs to be next.
But that's not all. He also has to make constant micro-adjustments on three axes to the front-mounted plough, and these are judged through physical feedback felt through the workings of this lumbering metal monster.
And then there were the countless displays and dials and LEDs adorning the cockpit no doubt demanding even more constant attention.
The coordination challenge might not seem all that extreme when shoving swathes of the white stuff around a wide open blue run with plenty of margin for error. But then comes the nut. The delicate little nut of a job that requires a sledgehammer to crack it.
Directly in front of us sits the little electrical substation I mentioned earlier, and although we're getting quite close, I'm not overly concerned as I've learned how nimble the snowcat can be, and how quickly it can turn. The building has probably stood for decades but its diminutive size makes it appear slight and weak, particularly from our elevated position in our snow tank.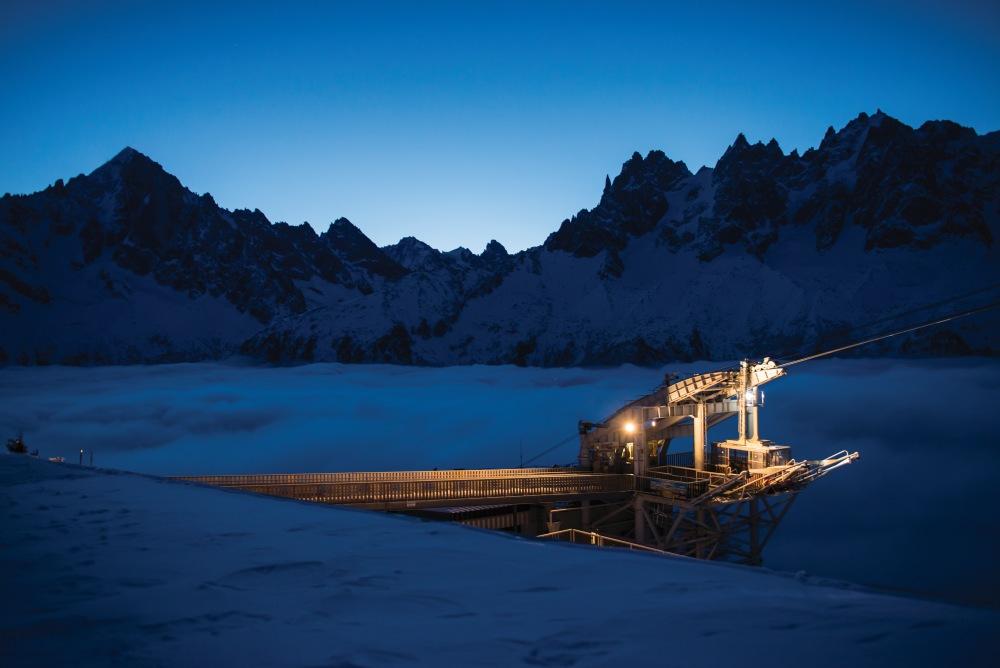 Seconds pass and we're still bearing down on it. I actually look towards Quentin in case he's fallen asleep just as we stop literally inches from crashing straight through it. It's not a mistake, and my jaw actually falls open as I realise what Quentin is going to do.
He gently brings down the 10-foot shovel so it is almost touching the vulnerable, ancient wooden door and slices into the drift of snow that has built up around the frame. And with a toggle of one of his many levers, wiggles a section on the end of the plough that hinges like a paddle, wiping away the snow. It's kind of preposterous; like a dragon lighting a birthday candle with its fiery breath. But it's also kind of beautiful, that a monster can be so gentle.
The substation survives its grooming, and we head back to the mid-station for a three-course dinner (naturally – this is France after all). On the way down a white Mountain Hare freezes in its tracks as our spotlight catches it by surprise, before bounding back into the deep verge, and as our fleet converges for dinner I catch a glimpse of Argentière through a break in the clouds.
In many ways I realise this is much like any other job – you greet your colleagues on arrival, and then lose yourself in your own little cubicle for a few hours, before breaking for lunch. But whether it's spot lit snowflakes and wildlife, or the whole sweep of the Chamonix valley, even a top floor Manhattan office can't rival the view.