Alaska. Among skiers the name is synonymous with the wildest rides, the most extreme conditions, the most remote landscapes. It has an almost mythic status as the ultimate ski destination.
Alyeska Resort sits in the heart of Girdwood, a glacier-carved valley. It has 1,610 acres of skiable terrain in an incredibly picturesque setting that is guaranteed to take your breath away. To the west and north, the mountains of the Chugach State Park provide a stunning backdrop. At 495,000 acres, it is the third largest state park in the US.
It's steep and it's deep
Today, Alyeska Resort is an established ski destination known for its steep terrain and deep snowpack. With expansive mountain and ocean inlet views at your ski-tips, Alyeska boasts an average 669 inches of annual snowfall at the summit.
The resort has been recognized as one of the world's top 25 ski destinations by Skiing Magazine. For avid skiers and riders, there is both heli-skiing and cat-skiing operations from the resort. Strong skiers and snowboarders can go to the North Face and enjoy the longest continuous double-black runs in North America. Heli-skiers can access some of the best heli-skiing in the world - 750,000 acres of pristine Chugach National Forest Terrain.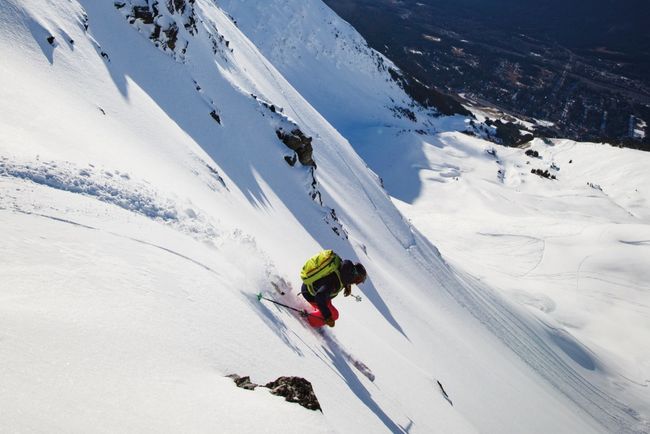 But it's a resort for everyone
But Alyeska Resort is also a playground for all levels of skiers and riders, with 76 named trails. Alyeska Resort hosts seven lifts which take you to a vertical rise of 2,500ft: 2 high-speed detachable quads, 2 fixed quads, 2 magic carpets and a 60-passenger Aerial Tram.
Alyeska Aerial Tram is a 3 to 7-minute scenic ride from The Hotel Alyeska to 2,300ft in elevation at the top of Mt Alyeska. While riding the tram, you can see for miles in all directions – including views of the Turnagain Arm, up to seven 'hanging' glaciers, and deep into the endless peaks of the Chugach range.
The valley floor offers trail systems for Nordic skiing, snowshoeing, and dog-sledding. You can take a scenic helicopter ride for magnificent glacier views. Tours include stops on the glacier or simply fly over the heavily glaciated waters of Prince William Sound. Or you can snowmobile through a winter wonderland of snow-filled meadows with endless scenic views. Perfect for kids and adults of all abilities.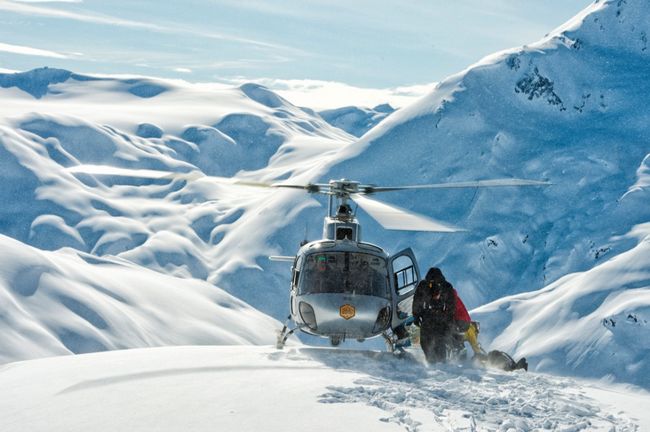 Superb dining and spa
Away from the slopes, Alyeska's Seven Glaciers award-winning mountain-top luxury restaurant offers signature Alaskan cuisine in an elegant atmosphere. From this mountain-top perch, Seven Glaciers is surrounded by nature in every direction, so that every table features panoramic glacier and ocean views. There are six other dining options as well at the hotel and around the resort.
And now the Hotel Alyeska's Heli-Pad means you get all that phenomenal heli-skiing without compromising the luxury amenities of the resort's full-service hotel and spa. And after a hot tub and après ski, you can request a wake-up call from the hotel to view the magic of the Northern Lights on a clear night.
Another top reason people travel to Alaska is to experience some of the most majestic creatures on the planet. Sightings of bears, bald eagles, moose and many others creatures are common around Alyeska and are often spotted from the aerial tram.
The famous Alaska Wildlife Conservation Center, a sanctuary dedicated to preserving Alaska's wildlife through conservation, research, education and animal care is also right down the road. Charter ocean cruises to see whales and calving glaciers can be taken from May to October from Whittier – only a 30-minute drive away.
Whether you are just starting out in the sport or seeking to challenge yourself, you can find what you are looking for in Alyeska Resort.
Timeline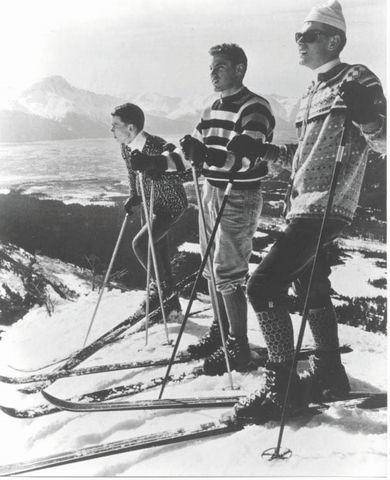 1958 | First helicopter services introduced to airlift expert skiers to the mountain's upper slopes
1959 | Alaska becomes the 49th state. First Poma Lifts installed
1960 | Mile-long Chair 1 is opened
1972 | Completion of 3,500-foot Chair 2 gives Alyeska skiers access to upper bowls
1973 | Chair 3 offers access to more beginner slopes
1976 | Chair 4 sets record as longest chairlift ever built in North America
1989 | New Daylodge opens at the base of Mount Alyeska
1994 | The Alyeska Prince Hotel opens.
1994 | Alyeska Aerial Tram becomes fully operational.
1995 | North face open to skiing. America's longest continuous double black diamond run
2007 | General re-shaping of all the ski terrain
2015 | Heli pad installed next door to the hotel
2019 | Alyeska Resort celebrates its 60th anniversary