HAKUBA
One of the easiest resorts to reach after the 12-hour flight from Heathrow, Hakuba is a rapid two and- a-half hour train journey from Tokyo, during which you can rapidly acclimatise to the change from a grumpy 'who cares?' attitude to life to the always smilingly friendly but efficiency obsessed Japanese way of doing things. Essentially this means your train WILL arrive when it is supposed to and where it is supposed to, to the centimetre in fact.

Hakuba has some of steepest groomed pistes in Japan and has the added claim-to-fame of having hosted the Super-G and downhill racing events at the 1998 Olympics, as well as the ski jumping.

The resort is in the centre of the Japan Alps, surrounded by traditional hot spring baths with the mountains around towering high above the village to more than 3,000m. There are 10 ski centres in the area with more than 200 runs between them and excellent backcountry terrain.

W&O Travel Ski Dream are offering packages to Hakuba for the first time this winter, staying in Australianowned The Ridge apartments which were originally built to house the Japanese Royal Family during the Olympics, so are quite nice.
NISEKO
Niseko has made more of an impact on the wider world than any other Japanese ski resort over the past decade. You'll hear as many Australian accents here as you will in Big White, BC, as the Aussies have taken Niseko to their hearts more than any other resort in Japan.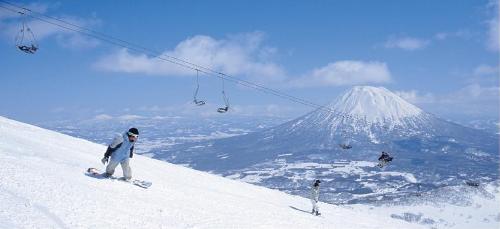 Why? Well the fact that time zones are the same and Japan closer than Europe or North America helps, but mostly it's the powder. Niseko 15 metre annual fall is the planet's second greatest (after Mount Baker in Washington State, USA). So there's a distinctly West Coast surf culture to Niseko.

Some are now touting the resort as 'the next Whistler' and there's certainly been a lot of base area development with Western-style hotels like The Vale and Hilton springing up alongside more traditional Japanese establishments. There's also a great little development at The Chalets at Country Resort at the edge of town, which again has the quality of a top class North American development.

Niseko is pioneering plans to open up unpatrolled terrain for the first time in Japan to adventurous skiers and boarders. The resort is three years in to the 'Mizuno no Sawa Avalanche education Programme' - a trial of potentially Japan's first legal out-of-bounds skiing.
---
NAEBA
Naeba is the only resort here that is yet to attract the attention of British tour operators, it has however attracted the attention of Japan's wealthier residents and thus gained the nickname of 'The St Moritz of the East' (you also need to visit Aspen - the 'St Moritz of the West', Geilo in Norway, 'The St Moritz of the North', and probably St Moritz itself if you want to collect the set).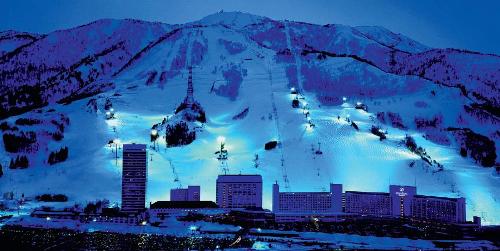 It's quite a large area with 30 odd lifts and boasts a good snow record, as most Japanese resorts do, which ensures it has a six month season from mid-November to early-May. There are runs for all ability level and some in-bounds ungroomed terrain areas following the North American model which are good first thing after a fresh powder dump.

The main ski area was linked a decade ago by one of, if not the world's longest gondola, a ten-minute, 5.5km trip, to second ski area at Kagura which has a reputation for its ungroomed powder slopes.

At the base of the mountain is another vast Prince hotel, this one with some 4,000 beds and the company owns both of the ski areas so everything is a one-stop shop for maximum convenience and total efficiency.
NOZAWA ONSEN
Nozawa Onsen is where it all began for Japanese skiing. The legendary Austrian ski pioneer Hannes Schneider arrived here in 1930 as a skiing missionary to bring the joys of downhill skiing to the country - 50 years later Japan had more than 600 ski areas.

It's not the country's biggest ski area but it does have some of the steepest runs. Perhaps more importantly it is one of the most atmospheric, genuine villages, where the local community rather than a corporation owns the lifts, and old Japan is still very much in evidence in the dining and accommodation options. These include lots of wonderful little locally owned huts on the ski slopes rather than big concrete cafeteria. No surprise that it's here that the snow monkeys come to bathe in the hot springs.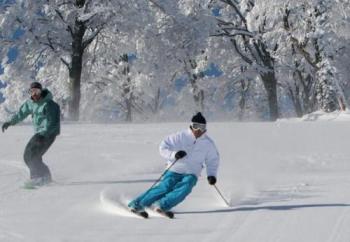 Nozawa was host of biathlon events at the '98 Olympics and twice decorated Nordic Combined gold medalist Takanori Kono and ski jumper Jinya Nishikata are amongst the local Olympians.

Ski Safari are offering holidays to Nozawa or the first time this year. Stay at the newly-opened Jon Nobi hotel, offering a blend of traditional and contemporary décor with Japanese-style tatami mat rooms, private hot spring baths and a chic Manhattan-esque bar.
RUSUTSU

Rusutsu, on Japan's North Island of Hokkaido, is a complete contrast to Nozawa. It's a full service resort dominated by the vast Rustsu Resort Hotel with its 761 bedrooms which can accommodate some 2,000 guests simultaneously in its slopeside location - new Japan.

Indeed Rusutsu's owners are very much part of the global, corporate world of skiing, having formerly owned resorts as diverse as Tignes in France and Heavenly in the US back in the 1980s before Japan suffered the economic downturn which saw previously booming domestic skier numbers tumble from around 20 million back then to a third of that now.

But none of that will matter to you as you bounce through waist deep fluffy powder on Rusutso's slopes - this is one of the snowiest ski areas on earth - while you take in the stunning views of Mount Yotei. Rusutsu has a reputation for its untracked powder lasting longer than at other major Japanese areas because of a lack of hardcore powder hounds, who are more likely to be drawn to Niseko. The tree skiing is good too.

The Rustsu Resort Hotel is an experience in its own right. Choose from 11 restaurants or browse through 28 shops, all under the one very big roof.
FURANO
Furano mixes old and new, with a traditional, vibrant resort town on the one hand and, on the other, one of those big full-service hotels, run by the omnipresent Prince group, although quite teeny compared to some of their other establishments, having only 370 beds in the New Prince hotel, or just 112 in the original Prince Hotel.

There's lots of great cruising terrain on the mid-sized mountain, with descents up to 3.3km (just over two miles) long on the cards, but of course most skiers make the long trip for the powder, which falls here in the centre of Hokkaido with remarkable excess.

Back country tours are offered to half a dozen niche powder destinations nearby, the most legendary of which is Asahidake, a live volcano some 2,290m high which the locals had the good sense to make ski lift accessible, so it's easy to reach the regularly waist deep powder. The best time to plan your trip to get the best of it is mid-December to mid-March, so you've got a three month window of opportunity.

Back in Furano you'll find a true ski town where you can enjoy the likes of baked squid washed down by hot sake in one place or some global cuisine like good old steak in another.

GET THERE
Furano
Ski Independence
0131 243 8097
www.ski-i.com

Hakuba
W&O Travel Ski Dream
0845 277 3325
www.WandOtravel.com/ski

Niseko
Ski Independence
0131 243 8097
www.ski-i.com
Japan Ski Experience
020 8099 9034
www.japanskiexperience.com

Nozawa Onsen
Ski Safari
01273 224 060
www.skisafari.com

Rusutsu
Crystal Ski
0871 231 22456
www.crystalski.co.uk

Fly
Japan Airlines
0844 8 569 700
www.jaltour.co.uk/ tour
Offers a daily non stop flight from Heathrow to Tokyo with an extensive domestic service and beyond.

Read
'Snow Search Japan' - a new English language guide book to Japan's ski resorts from WSG Media or visit the independent English language site: snowjapan.com