To kick things off, I thought I would share with you how this all came about...
John Muir said "The mountains are calling and I must go", and this pretty much sums up how we came to realise we both felt in the summer of 2010, while we were talking during a long walk along the north Devon coast. From chatting, it became clear that we both wanted to live and work in the mountains, but didn't yet know how this could be made a full time reality.
It wasn't until the end of the 2010-2011 winter season, during which time Alison had been working as a resort rep and I had been working remotely from Serre Chevalier, that a once in a lifetime opportunity arose through our friends James and Julie at Go Montgenevre. They were looking for someone to work with to offer the same tailor-made service in Serre Chevalier as they do in Montgenevre, and we jumped at the chance to work in partnership with them.
Over the following six months, James and Julie guided us through the myriad of regulations, practicalities and politics involved in getting set up, and we couldn't have done it without their help. Likewise, people already living and working in the resort have been incredibly friendly and supportive, and it's fantastic to feel part of their community.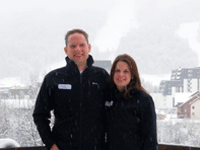 When we told friends and colleagues of our plans, we were often told that we were being "very brave", which hadn't occurred to us at all. Getting set up over the past year has been incredibly hard work, but our only fear was not taking the plunge and always wondering "what if".
So, how has the reality of our dream worked out? Well, I'm writing this at 10.30pm and today we've got a minibus window replaced, repaired the electrics and plumbing in one of our apartments, gone shopping, serviced a hot tub, cooked a three course dinner, met with owners of local restaurants, responded to holiday enquiries, organised transfer schedules and most important of all had a great ski with our happy and enthusiastic guests. It's a varied life which pushes us both physically and mentally every day, and we're loving it.
Now we're out here, another quote from Muir puts it better than I can, "Going to the mountains is going home".
See you in the mountains
Duncan

Check back throughout the season for further updates from Chez Serre Chevalier on the thrills and spills of running a business in the mountains.