France: After a weekend of more snow (up to 70cm in Les Deux Alpes and Alpe d'Huez), skies cleared today (Monday 23rd) and bumper conditions are on the cards until the end of the week, when the next snowfall is forecast. Apart from French resorts in the very south of the Alps (such as Isola), all resorts are reporting astounding depths of snow and many places have packed powder conditions. La Rosière, for example, has a staggering 3.85m of snow at altitude, some slight precipitation followed by sunshine forecast for tomorrow, and temperatures of -8ºC. 71 of 87 pistes are open and powder snow is being reported.
Courchevel (pictured above, from La Saulire) also received some new snow over the weekend and now has 2.33m of snow at 2,700m. Snow conditions are reported as fresh and the forecast for the next few days is sun and cloud tomorrow, with greater cloud cover on Wednesday, and temperatures reaching a maximum of 5ºC.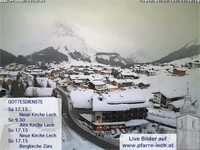 Austria: Further huge snowstorms brought yet more snow to most Austrian resorts over the weekend, causing some access roads to close and avalanche warnings to hit the highest level. Skies have cleared a little but clouds are still lingering, indicating more snow could be on its way. The Arlberg is yet again at the forefront of the epic conditions, with St Anton reporting over 5m of snow at altitude. Neighbouring Lech (pictured left) is due to receive further snow tonight (Monday) and into tomorrow, and skies aren't due to brighten fully until Friday. Temperatures are due to stay below freezing for the next couple of days, 29 of the 32 lifts are open and powder conditions are being reported.
Further east, resorts such as Saalbach Hinterglemm are still receiving a sprinkling of fresh snow, which is forecast to continue until Wednesday. Currently there is 2.55m of snow at altitude and temperatures are around -3ºC.
Switzerland: Most Swiss resorts have been covered in cloud today, which is due to deliver up to about 5cm of snow by tomorrow, and while the majority of the country has received between 10 and 20cm of fresh snow in the past three days, a pocket of resorts around Laax have received 25cm-plus. Laax itself has a reported depth of 4m on the Vorab glacier and further snow and temperatures down to as low as -12ºC are expected between now and the end of Wednesday. Skies are due to clear by Thursday.
Snow clouds are also lingering on the opposite side of the country. Verbier received 5cm of fresh snow yesterday, and more has been falling today with snow clouds forecast to be present until Wednesday. Current snow depths are 2.8m at altitude and 1.4m on the lower slopes, and fresh snow reported.
Italy: After a snowy weekend of up to 20cm of snow falling in some resorts (eg Courmayeur), many Italian resorts have been enjoying blue skies today which are set to continue for the next few days. Breuil-Cervinia has a very sturdy 3m of snow on is upper slopes, is 100% open and has sun peaking out from behind clouds for the next couple of days.
On the other side of the country, Passo Tonale is looking nearly as strong, with 2m on its upper slopes and is also 100% open. Temperatures are staying around -5ºC with sun and cloud forecast until Wednesday; good skiing conditions are reported.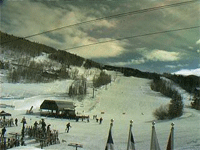 North America: Colorado finally got some much-needed snow at the weekend, with up to 50cm falling in Telluride (pictured left) and 30cm in Aspen. Utah and California was also in the receiving line – Mammoth received 50cm on Sunday and more is forecast for today and tomorrow.
Canada continued to receive snow over the weekend with a further 20cm or so falling on Revelstoke, taking its depth to over 6m.