"Shall we try this chute?" asks Patrick. He's standing looking down at an extremely steep, narrow gully. I have to decline. I'm feeling dizzy, and my breathing is coming fast and shallow. I'm peering down into an icy couloir that can only be accessed by lowering yourself down a knotted rope, and I'm not feeling confident.
We've been hiking for fifteen minutes or so to get above the East Wall of Arapahoe Basin in the Rocky Mountains and, at over 4,000 metres, the altitude is really kicking in. "Perhaps we should try the next one?" I venture.
Patrick is the head of slope security in the Basin and a true man of the Colorado mountains. He's been working here for over twenty five years and knows every nook and cranny of the ski area. It's not that I'm doubting his knowledge; nor his faith in my ability - I just don't think I can take my own weight on the rope in one hand, carry my snowboard in the other, and still be able to breathe!
Agreeing on the slightly less vertical second chute of the East Wall, which only requires me to jump off a metre-high snow drop to enter it, I end up standing atop a steep, rock-sided chute of untouched, desert-dry powder snow.
Slowing my breathing and calming my nerves, I take a moment to survey our high mountain surroundings before committing to my first turn. I shift my weight onto my front foot and my snowboard cuts effortlessly into the white gold. I control my speed with a series of tight turns through the rock chute before letting gravity pull me straight down into the open powder field below, emitting a very un-English "Yeee-ha!" as I do so.
Do it in Denver
My journey around Colorado's finest independent ski resorts starts as I board the train after a direct Norwegian Air flight from London to Denver. The train leads me to the city's newly renovated Union Station and the excellent Crawford Hotel.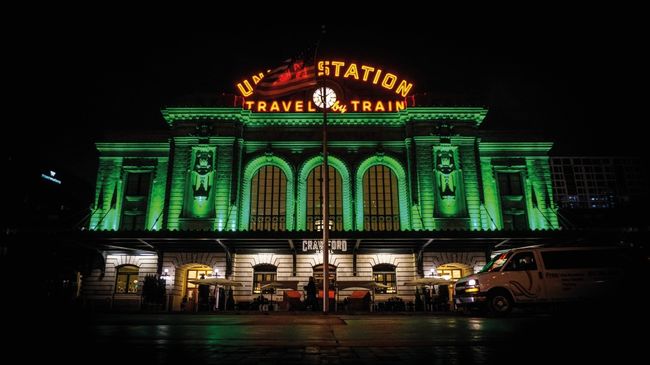 It's mid-afternoon by the time I check in, so rather than rush off to the mountains, I decide to take in downtown Denver and splurge on a bit of US snow kit.
Denver's Never Summer snowboard factory is a gear head's delight, especially when followed up with a pint at the Craft Skiery (meierskis.com), where you can sup local craft beer as you watch your own set of custom skis be made.
I round it all off with a burger at Ophelia's, Denver's so-called gastro brothel - a music venue-come-restaurant in a historic building that was once home to ladies of the night.
Colorado is one of those states that highlights how diverse the US is at almost every turn; even the ski industry doesn't escape. You may find huge, polished, corporately owned ski hills such as Vail and Aspen but the mountains also play host to independently owned, out-of-the-way ski hills to explore.
Denver is spoilt for choice when it comes to accessible ski destinations, with the front range of mountains boasting a multitude of excellent bigger resorts including Winter Park (reachable by train from Denver), Breckenridge and Copper Mountain. But I'm looking for something different to the all-inclusive corporate experience, so I decide upon a mini road trip of three independently owned ski areas, starting with Monarch Mountain, a 154 mile desert drive from downtown Denver.
It turns out to be quiet and remote, with the vibe that everyone seems to really want to be here - from Denver you have to drive past many other ski areas on route, and this feeling of discovering a secret contributes to Monarch's friendly atmosphere. Add in a very good snow record (an annual average of 889 cm) and excellent terrain and it's the perfect starting point for my road trip.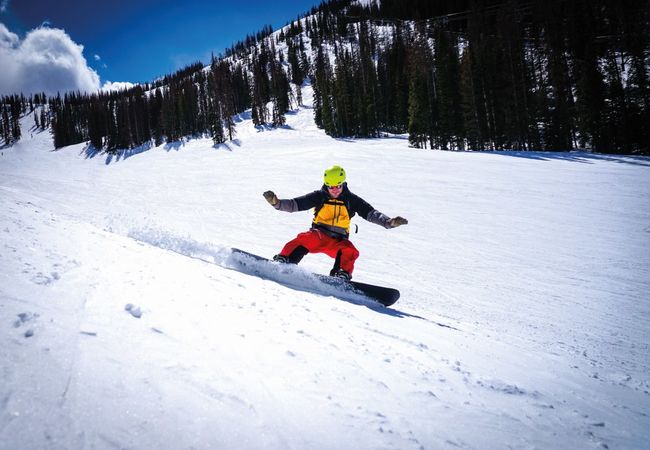 Monarch has no on-mountain accommodation; it's simply a parking lot with a fair-sized day lodge and well-functioning lift system. The real joy here is to be found in the 800 acres of terrain (670 accessed by lift, with 130 acres reached only by by hiking), 48% of which is rated as advanced.
With no accommodation on the mountain, most snow hunters visiting Monarch stay in the rather beatnik town of Salida, a 30 minute drive away. Rolling into Salida (sat at a lofty height of 2,159 metres) on Highway 50, I question why folk rave about the place with my first impression one of dusty sidewalks and buildings crowded below the high peaks.
My opinion soon changes as I pull up to the stylised, cowboy-inspired Amigo Motor Lodge, whose sign proclaims claims that 'Other Places Are Just Fake Snooze'. I've been told to hit the excellent bars, distilleries and restaurants on historic F Street, which runs down from Highway 50 to the Arkansas River, popular in the summer for white-water rafting. I pass the Tenderfoot Health Collective, a legal marijuana store, and the local gun shop before making it to F Street, where I'm greeted by live music slipping under the door of the Woods High Mountain Distillery, where the walls are lined with small-batch whiskies. This is more like it.
All you need is Loveland
The next morning it's on to Loveland, where the ski area is a series of wide-open alpine bowls, most of which are north-east facing. Much of the terrain here is steep and long, with laps of open powder fields easy to access and achieve. Arriving at the parking lot, it becomes apparent how popular Loveland is with the Denver ski set.
Interstate 70 is one of America's major highways, crossing almost the entire continent east to west and making Loveland readily accessible from the city.
On Friday nights and Saturday mornings it's heavy with ski traffic. It's strange to ride a mountain sat so close to the highway, but once I'm speeding through the deep powder and in among the trees underneath Chair One the highway is soon forgotten.
After lapping the trees all morning I ride Chair Nine to link up with the resort's free cat shuttle. The 18 seat Ridge Cat truck saves you a lung-busting hike to the summit of Golden Bear, 3,865 metres above sea level. From the drop-off point on the ridge I've got the choice of steep black or double black diamond faces, all leading back into the lift system. I follow a rocky ridge line down to 'Rock Chutes', which is exhilarating enough to hold my full concentration. The area isn't pisted, and feels like a true backcountry experience - just with signposts.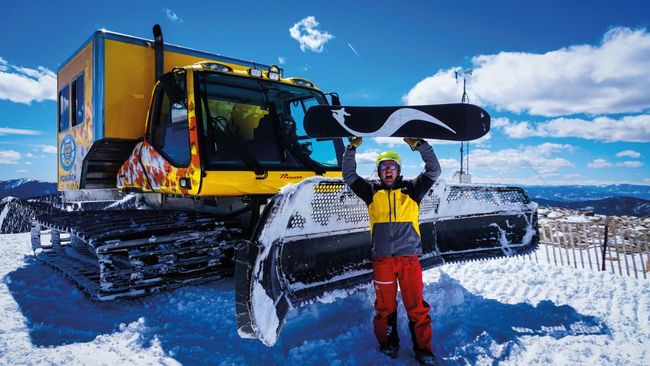 Where gullies run steep
Driving to Arapahoe Basin the next morning over the high mountain Loveland pass I'm amazed to see how many hitchhiking skiers and snowboarders there are. They tackle the steep and deep routes and then promptly grab lifts back up top for another loop.
A-Basin, as it's locally known, has by far the biggest resort acreage on my tour. Once owned by Vail Resorts, Arapahoe is now managed by a Canadian real estate company that has somehow managed to create a world-class resort with a local vibe.
Again there's no lodging at A-Basin, so I park up my SUV and grab a bite at the A-Frame base lodge, resisting the urge to sample one of their legendary chilli and bacon Bloody Marys for breakfast.
There's talk of a fresh dump up top, so after I meet up with Patrick we catch one of the first chairs up and are soon riding through powder on open pistes and through glades trees from the Pallavicini Lift. Warmed up, we drop into the resort's excellent backside zone, Montezuma Bowl, where we watch the resident avalanche rescuedogs in training. By afternoon there's still fresh deep snow to be found, but lots of it has been tracked out, so we head for the new 'expert only' Beavers and Steep Gullies area.
Last season A-Basin opened up 468 acres of new terrain, most of which is seriously steep. 2018 sees a new lift installed to service the Beavers area, but anyone taking on the Steep Gullies has to earn their fun with a 25 minute hike back to the lift system.
First I tackle Jaeger, in the Beavers. I feel like I'm freefalling through a forest as I speed through the well-spaced trees, aided by the fact the bottom branches have been stripped. It's such fun that even after a lung-busting hike back out I'm keen for another loop.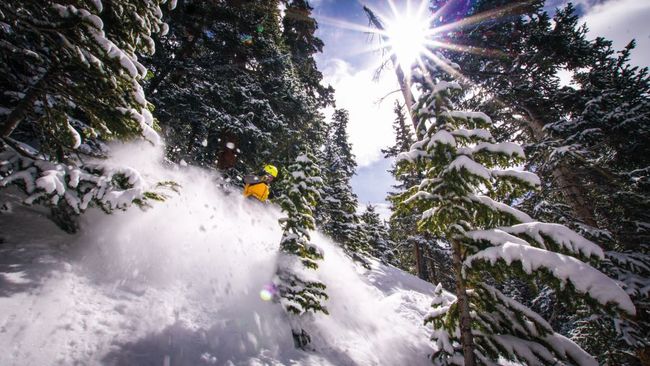 This time I try the Steep Gullies and true to their name, after a tricky entrance they run straight and steep all the way back to the hike-out trail. On the hike back to the lifts I ask a local what he thinks of the resort's newly accessible steep terrain. He grins from ear to ear.
"It's magic man, simply magic."
As I leave the Rockies and ride the train back to Denver airport I feel weighed down, but it's not by my bag stuffed with shiny new outdoor kit. It's by the fact that I'm leaving behind bundles of world-class snow and a lively independent mountain culture that just seems impossible to find outside of North America.
You simply have to admit it – the Yanks definitely get winter adventures right.
SNOWHOW
Flights
Norwegian have launched a new direct route to Denver from London Gatwick, with fares starting from £309 return.
Airport transfers
Take the airport train from Denver International Airport to downtown Denver, £10 return.
Where to stay
The Crawford Hotel in Denver is a brilliant base for exploring the Mile High City. Rooms from from £99 per person per night.
The quirky, cowboy-themed Amigo Motor Lodge in Salida is stylish and great fun – definitely not your average motel.
Doubles from £90 per night.
Where to eat and drink
Ophelia's, Denver's only 'gastro brothel' is far classier than its moniker suggests, and serves up cocktails, great food and live music on the daily.
Ski pass
Day passes in the smaller resorts tend to cost around £75, book in advance for cheaper deals.
The skiing
There's a resort to suit everyone in Colorado but it's worth seeking out the smaller resorts over the popular favourites for less crowds and more quirk for your buck. Pete snowboarded at Arapahoe Basin, Monarch Mountain and Loveland.