It's your first time. You can't actually ski yet. But you don't want to blow it before you even set foot on the slopes. Everyone keeps telling you it'll be fine, you'll be great, and that's true, but if you keep a few things in mind, no-one will be able to tell the difference between you and a pro. Well, ok, the pros will know, but the other beginners will take their cue from you!
Dress the part
This is the serious bit. It's winter, it's going to be cold. You do not want to turn up for your first lesson in chinos and a hoody. Having the right gear will not only mean you look right but you'll feel right.
So, layer up. Pack a few thermal tops and leggings, a decent fleece or two and get a proper waterproof ski jacket. They don't have to cost a fortune (though they can). Grab yourself some waterproof trousers or salopettes, toss in some ski gloves, a couple of snoods (they're the funny tube of material you wear round your neck and can pull up over your mouth and noses when the temperature plummets) and some ski socks – long, thin and seamless so they don't chafe.
Don't forget the goggles – and mind the gaper gap! That's the patch of forehead between the top of your goggles and your helmet. Instantly marks you out as a novice and put simply, there shouldn't be one. Oh, and that odd zip pocket on your sleeve? That's for your ski pass so it gets read more easily when you pass through the turnstiles to the lifts.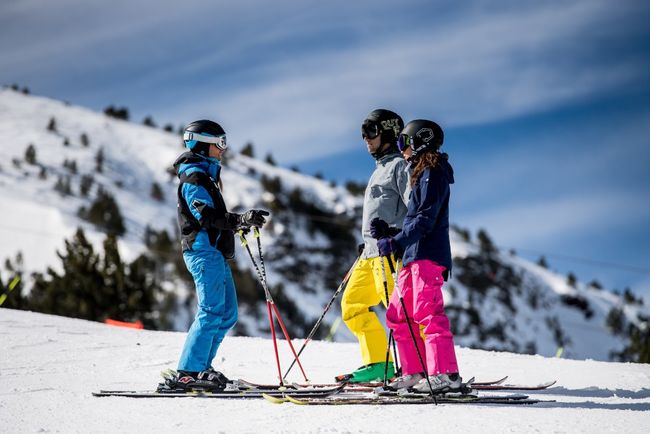 Sort your ski gear
When you turn up at the rental shop for the first time, it can be daunting. Ski boots alone can make you feel like you've just stepped into concrete, which is one reason for trying boarding - the boots are way comfier. Don't try to blag it here – let the shop assistant measure your feet. And say you're a beginner – you don't want to pay for high-performance skis if you'll be on the greens and blues all week. If you're skiing you'll also need poles, and skiers and boarders alike will need a helmet.
OK you're good to go. Now what?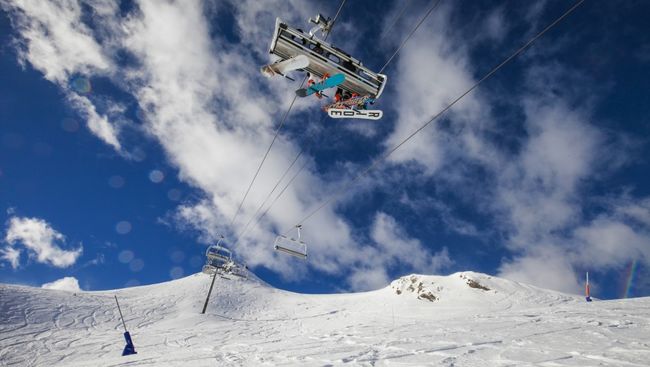 Learn the lingo
Every sport comes with its own jargon. You might be able to tell the difference between a chairlift and a gondola, but if you're going to do it right, you have to brush up on your ski slang. There's a world of difference between shredding and Shreddies! Here are a few essentials:
Backcountry: Also called off-piste, this is an area of the mountain that's not groomed or patrolled. It's popular with advanced skiers and boarders looking for challenging terrain.
Fresh dump: A huge fall of fresh snow, usually overnight, that creates the most sought-after ski conditions.
Liftie: Someone who operates a ski lift.
Seasonaire: Someone who works in a ski resort over the winter, often combining a full-time job with as much slope time as possible.
Shred the pow: To ski through fresh, fluffy snow (powder).
Ski the corduroy: Skiing on slopes that have been freshly groomed by a piste basher – the stripy pattern running from top to bottom looks like corduroy fabric.
Check out Crystal Ski Holidays' glossary of these and other terms so you'll be clued up on the slopes: crystalski.co.uk/skibuzz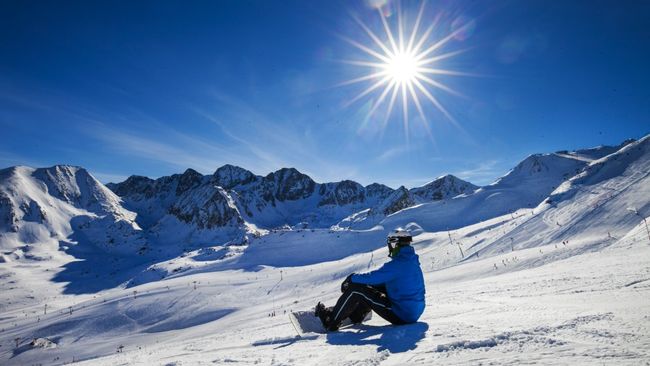 All about the après
Or après-ski to give it its full name. This, simply, is the bit you do once you've finished skiing for the day. It usually involves alcohol (but other beverages are available) and partying into the evening. This usually happens right after you've done your last run, so people go in all their ski gear. That's why you'll see skis stacked up outside bars and it's why people clump very carefully up and down the stairs to the loo in their ski boots – they're usually wet from all the melted snow and very skiddy…
That's not to say you have to wear your ski boots at all times, and don't worry if you're not a party animal – there are loads of ways to enjoy après. You will love that feeling when you get back to the chalet or hotel and you can ease the boots off and wiggle your toes again, get changed out of your wet ski gear and, (we don't want to sound like your mother here, but) if you're heading out to a restaurant or another bar or club, that's when you'll need a warm jacket, hat, jeans and waterproof boots – preferably with a bit of a tread to grip the snow and ice…) Après is for relaxing after a day of stretching your ski muscles, so enjoy a cosy afternoon tea in your chalet, try your hand at ice skating or enjoy some retail therapy.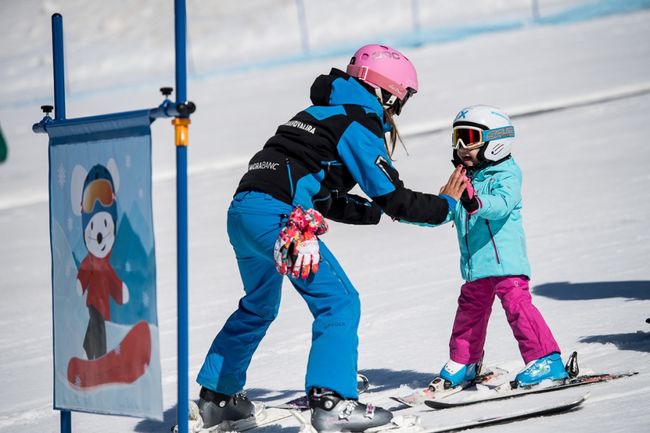 Going somewhere nice?
One of the best destinations for beginners is Andorra, the tiny principality high up in the Pyrenees between France and Spain.
Its ski resorts are some of the best in Europe for learning to ski. The ski schools are highly-rated with English speaking instructors, and the accommodation and lift passes and tuition are good value compared to a lot of other countries.
Grandvalira is Andorra's largest ski area, linking party hotspot Pas de la Casa and family favourite Soldeu with 210km of piste, mostly wide blues and reds. Even the beginner areas are up high, so you can ski with great snow and fantastic views from the start, which is a brilliant bonus for first-timers spending most of their week on the nursery slopes. In the 93km Vallnord area, you can loop gentle runs on the Arinsal peak and then catch the lift to Pal, a bigger mountain with tree-lined slopes. Andorra is great for families, with free lift passes for children aged up to 11 (Grandvalira) or 15 (Pal-Arinsal).
Crystal Ski's package deals to Andorra start from just £359 per person. More information on all of Crystal Ski's Andorra resorts can be found here: crystalski.co.uk
And get more first-time information here: crystalski.co.uk