Picture a ski resort that offers not only world-class freeriding and challenging backcountry terrain, from advanced skiers, but also gentle groomers, with perfectly-pitched beginner slopes. Sounds too good to be true? Well, not in Nendaz.
Located in the heart of the massive 4 Vallées ski area, the largest in Switzerland, Nendaz ski resort boasts more than 2,000m of vertical descent from the highest peak to the lowest piste.
Nendaz town sits between Verbier and Veysonnaz, and is 8km down the mountain from nearby resorts Siviez and Thyon. The modern resort centre - a mix of mainly chalets, apartments and small hotels - is just up the road from the old village of Haute Nendaz, a rustic hamlet of traditional wooden buildings and a lovely Baroque chapel.
Offering spectacular views over the Rhone Valley, Nendaz provides easy access to more than 400km of pisted slopes. The 4 Vallées pistes range from the mellow beginner pistes (33% of the runs) to red runs (53%), black runs (14%), and masses of powdery backcountry beyond. Combine this peerless skiing with the incredible array of off-slope activities, and you have one of the finest all-round resorts in the Alps. And with snow coverage that's guaranteed from December to April, Nendaz extends a snowy welcome to all-comers throughout the winter.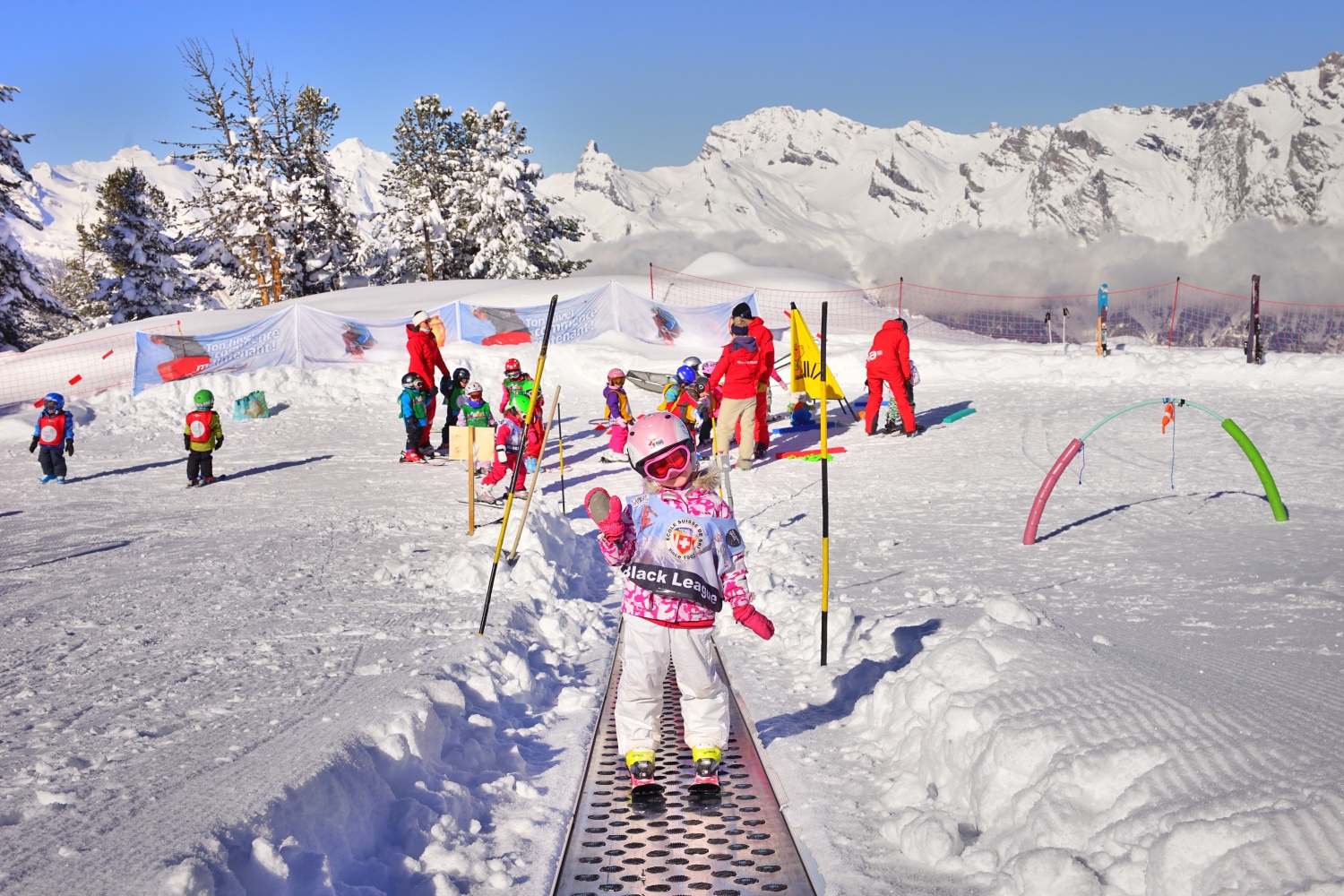 On the slopes in Nendaz
With more than 130km of family-friendly laid-back green- and blue-rated slopes, Nendaz is the perfect place to find your feet on skis – or to give the kids their first taste of snowsports.
Many families and beginners prefer to opt for the local Printse Sector lift pass. Linking Nendaz, Veysonnaz and Thyon, with its 220km of ski slopes, it is the ideal choice for beginners wanting to improve their technique on a wide variety of runs.
There are three dedicated beginner areas accessible from Nendaz, with slopes designed like stepping stones to help you build your confidence. Instructors from the Ecole de Ski Suisse (ESS) and a variety of independent operations provide private and group ski lessons for all ages and ability levels.
It's even possible to introduce your children to skiing for free in the heart of the resort, where a magic carpet ski escalator takes all the effort out of going back to the start!
Six-day Printse sector lift passes cost CHF 160 for a child, CHF 271 for a youth or CHF 319 for an adult.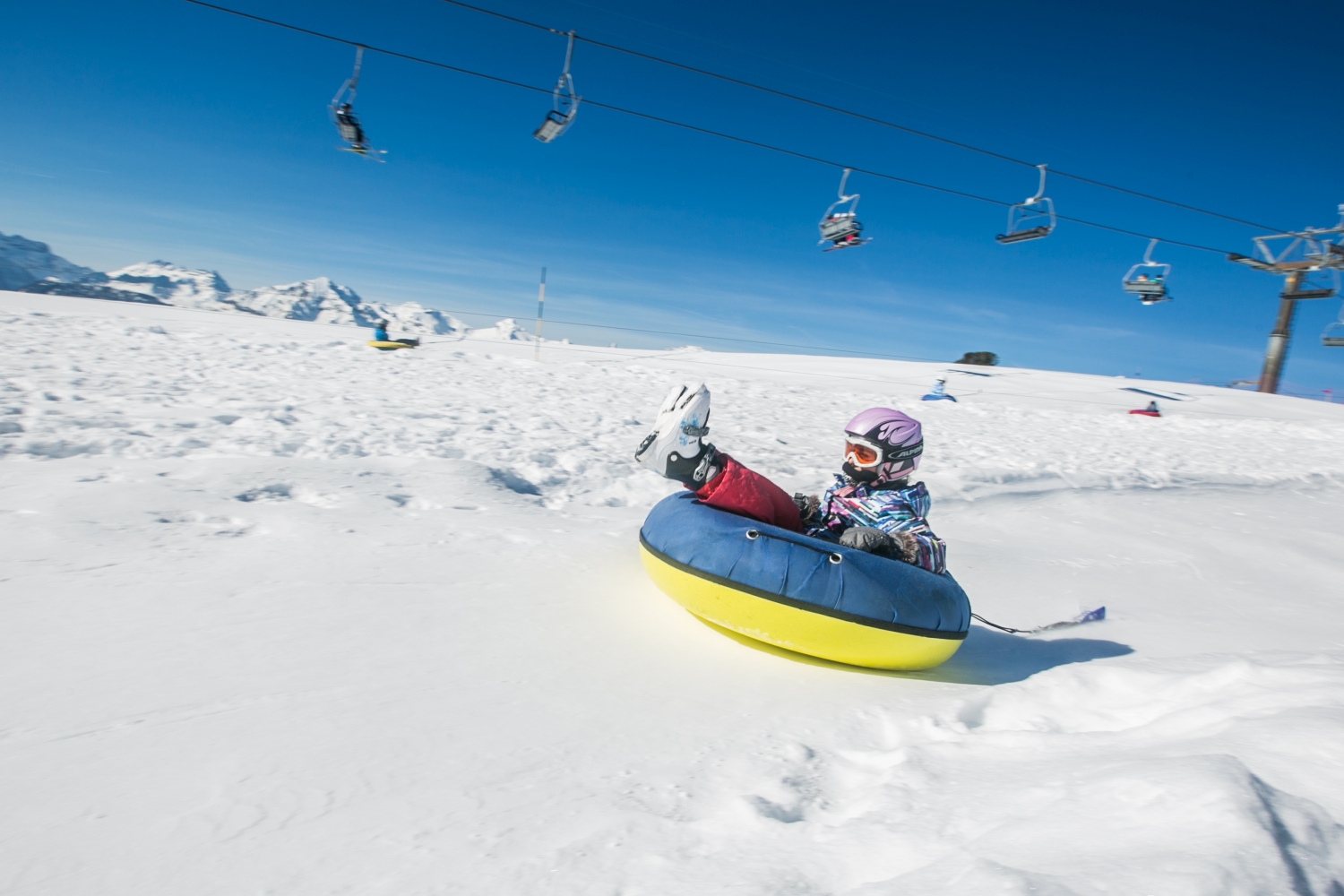 Off the slopes in Nendaz
Of course, the skiing is just part of the fun of a winter family ski holiday. especially for the kids. The wide variety of non-ski activities in Nendaz will keep even the most irrepressible of young people entertained. From guided snowshoe safaris with breathtaking views over the Rhône Valley, to woodland walks through winter wonderland landscapes, snowtubing, tobogganing and an open-air ice rink, there's plenty to do once you've stashed your skis for the day.
If you're feeling brave, the Tortin sledge run is a challenging toboggan run. Separated from the ski area, the Tortin sledge run is over three kilometres long and offers a fun and exciting ride for young and not-so-young alike.
Older kids can have a go at snowmobiling, and if the family is feeling particularly daring, why not try the world's highest zipline? Running from the peak of Mont Fort to the Col des Gentianes, the Mont4Zipline whisks you over the Tortin glacier at speeds of up to 100km/h. It's not a holiday experience you'll forget in a hurry.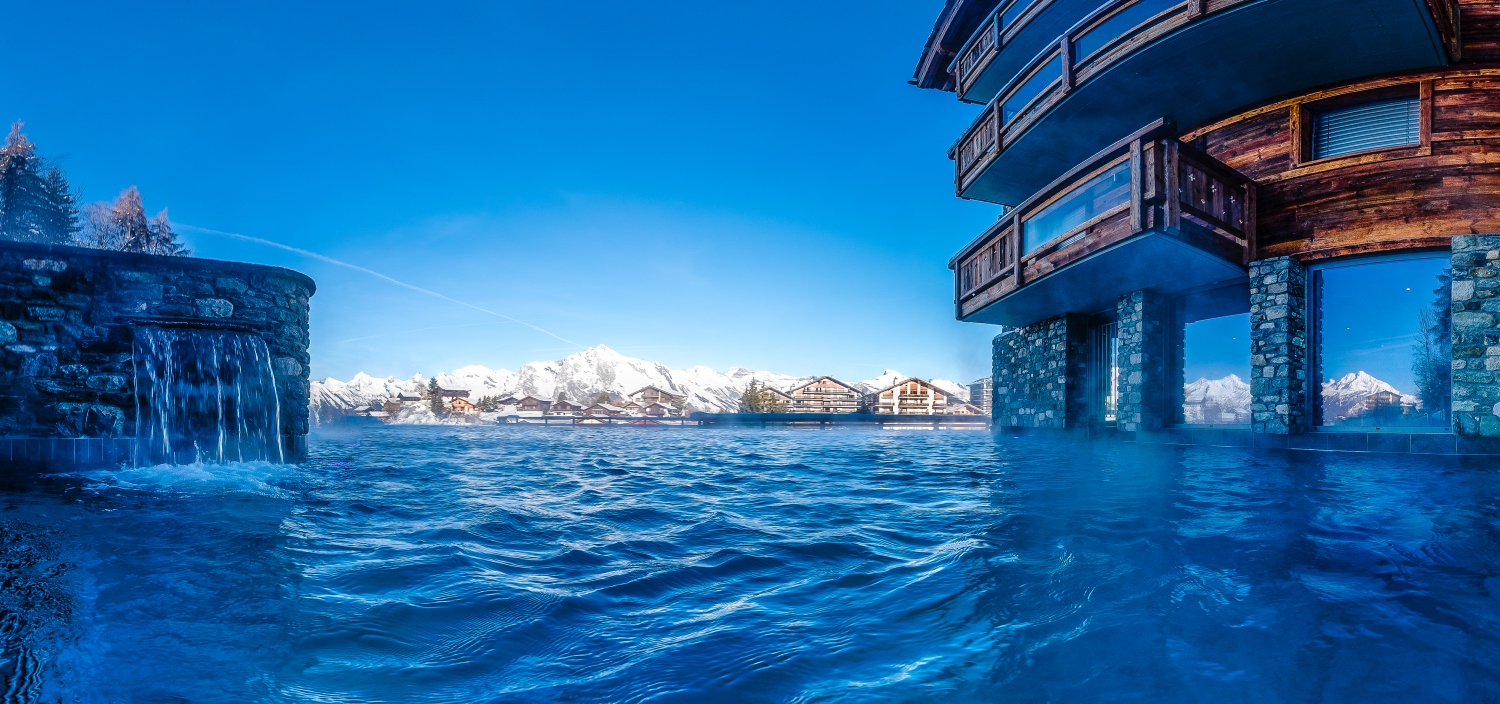 Also, don't miss the chance to relax and recharge your batteries in the fantastic Spa des Bisses. The Spa offers a range of saunas, a salt cave, ice cave, children's area with water games and play house, a flotation pool, a counter-current swimming pool, an indoor Jacuzzi, an outdoor swimming pool, a fitness centre, seven treatment rooms and two private spas.
Excellent childcare facilities in Nendaz
Nendaz is one of a couple of dozen resorts in Switzerland to have been accorded 'Families Welcome' status by the Swiss Tourist Board, making it one of the best family ski resorts. And if your young people are still too young to take to the slopes, babysitters and daycare facilities in Nendaz's dedicated, family-friendly accommodation will take care of them, leaving mums and dads free to make the most of the snow.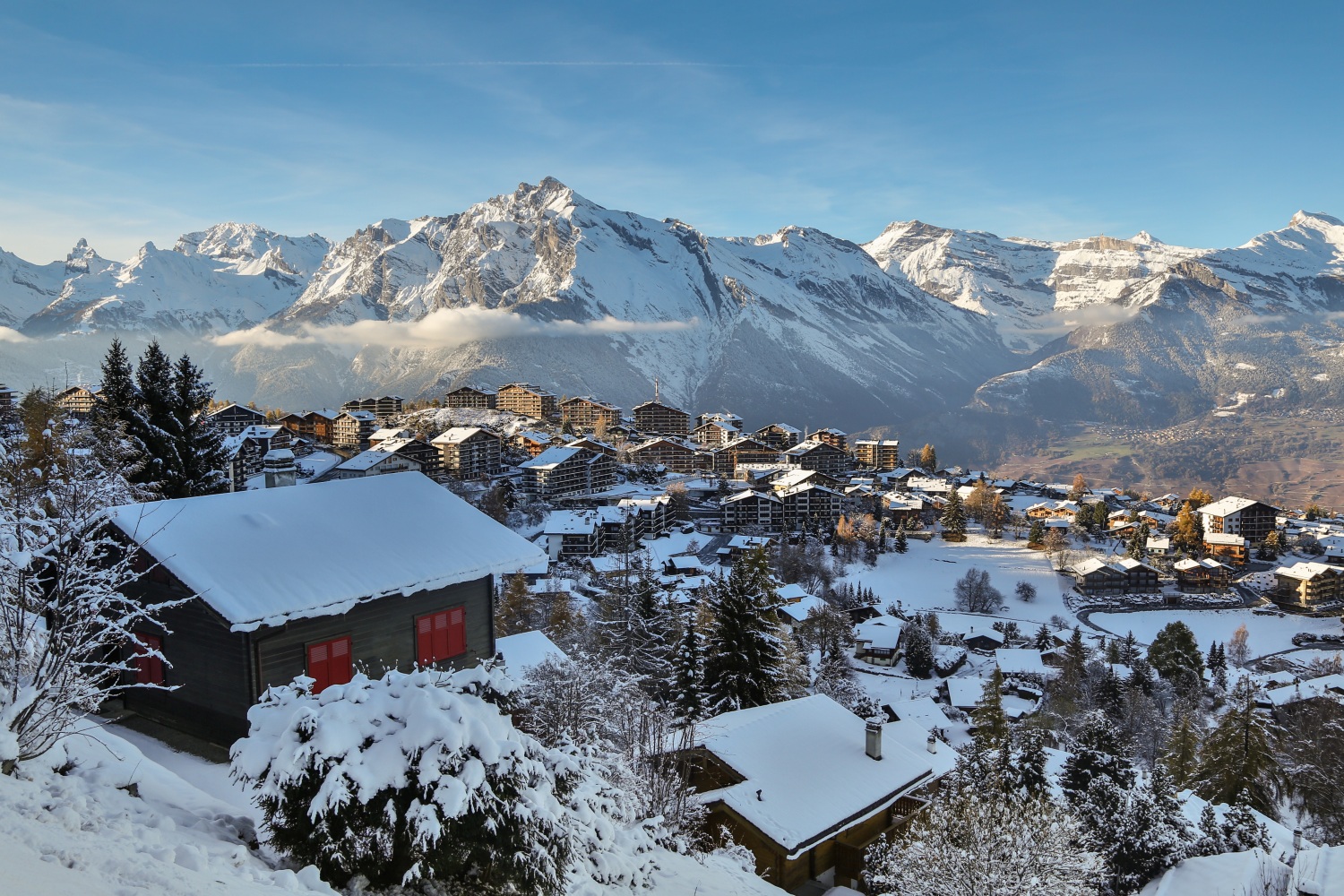 Family-friendly accommodation in Nendaz
Nendaz offers several family-friendly accommodation solutions. Enjoy the comfort of a family apartment, luxurious chalet or B&B by booking accommodation that is designed with children in mind.
These properties offer a number of services for families: family rooms, loan of child-care items, a play area, children's entertainment, a friendly setting, etc. Everything is done to make sure you have a great family holiday!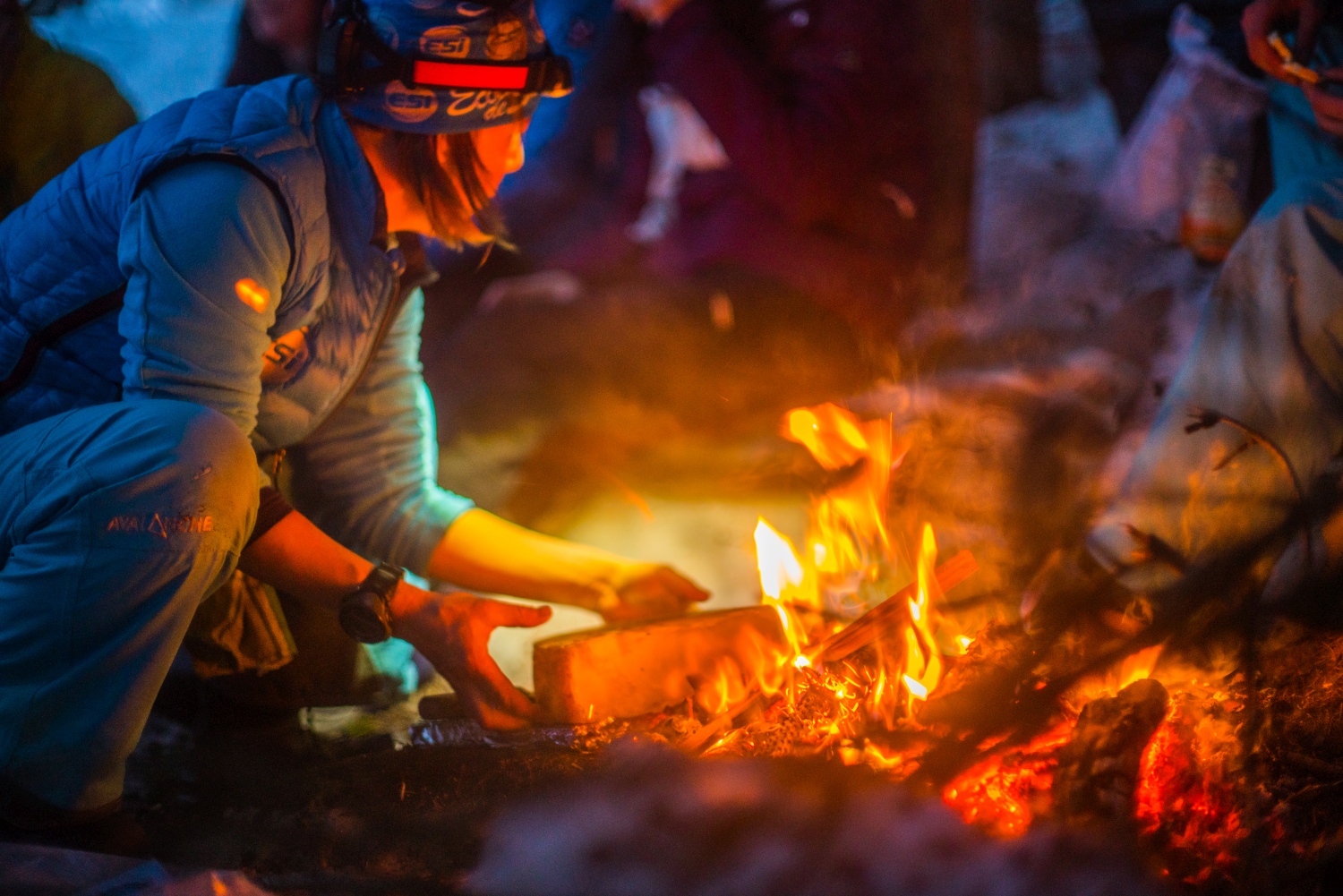 Restaurants for every taste in Nendaz
From child-friendly restaurants and pizzerias to fine dining gourmet restaurants, and traditional hearty winter dishes such as fondues and raclettes, there's a great choice at Nendaz, including many vegetarian options and lots of other delicious dishes. Or why not combine a tasty night out with a snowshoe walk? Discover the quiet night-time beauty of the natural surroundings and enjoy a delicious taste of the infamous Valais raclette cheese over a wood fire in a magical place in the heart of the larch forest.
The outing is accessible to all, participants do not need to be particularly sporty. Once the snowshoe hike is over, the raclette is served by the fire, on a slice of bread, in the middle of the forest. The return journey is then made by the light of a headlamp and brings you back to the starting point.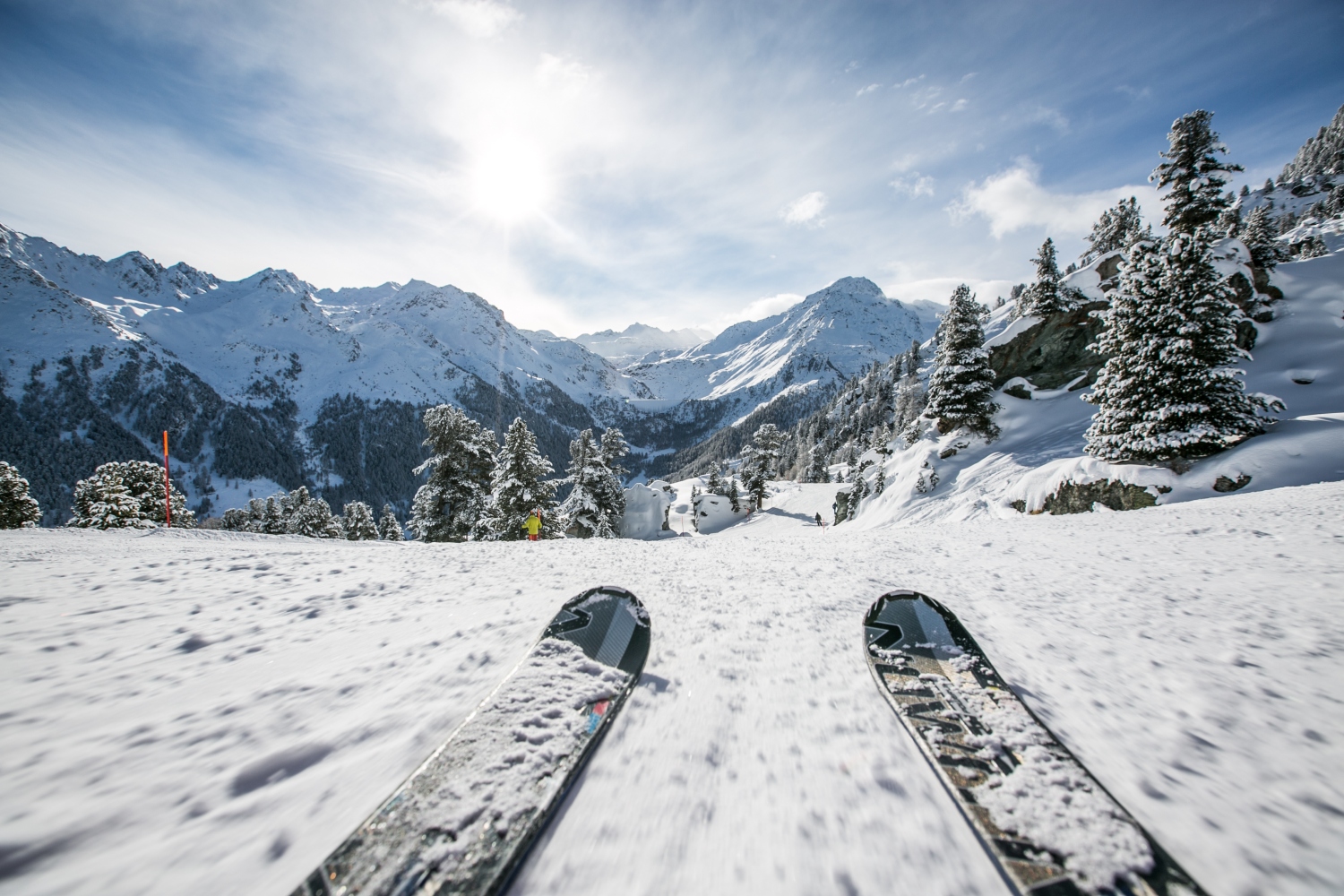 How to get to Nendaz
The central location of Nendaz right in the heart of Switzerland's Valais region means that it is easy to reach by road, rail and by air. Although there is an airport at Sion just 30 minutes away, it's much easier to fly in and out of Geneva. The road transfer from Geneva airport to Nendaz takes about 2hr 30mins or you can take the train to Sion, a journey of about 1hr 45min.