Neither is really on the radar of your average once-a-year skier, yet together these Haute Savoie neighbours – along with the smaller resort of Manigod –make up a real alpine gem: big on that difficult word 'authenticity', blessed with some splendid skiing, mouthwatering cuisine and some stunning views ofthe Aravis chain, and towards Mont Blanc.
The area figured prominently in Annecy's sadly unsuccessful 2018 Winter Olympics bid. They had pedigree, mind. Grand Bornand's new biathlon stadium,named after home-grown former two-times world champion Sylvie Becaert, has already staged European championships.

Moreover, the village boasts a statistically impressive eight winter sports world champions. La Clusaz and Grand Bornand are both listed among the 17'Top of the French Alps' list of resorts renowned for high-quality service, and their northern Alps location usually guarantees good snow right through till theend of April.

Both have a highly satisfying mix of the green, blue, red and black, ample lifts, supportive ski schools, quality restaurants and good bars. And, of course,they are handy for both Geneva and Annecy! But you don't want pr blurb. Here, Snow magazine and Snowcarbon.co.uk offer their own top ten reasons tolove La Clusaz and Grand Bornand. 
1 The scenery is drop-dead gorgeous.
Dominated by the majestic 2,750m Pointée Percée, the Aravis range offers a photographer's dream backdrop to afew days' skiing. When the sun catches the peaks at the end of the day, it looks as if someone has painted them into the picture. Stunning.

2 They are not over-commercialised. These villages are not on the books of the big operators, but have retained their rural charm and are the largestfarming area in the Haute-Savoie. The villages are small enough to have a human face, but big enough to offer all you need both on and off the slopes.

3 Biathlon. As of last winter, you can try your hand at this quirky winter sport, combining Nordic skiing with shooting – even if you don't own a pair of lycralong-johns. In the wonderfully serene setting of the Bouchet valley, Snow got five out of five in the shooting but looked like a drunken duck on Nordic skis... Ifyou want to see it done properly, go to Grand Bornand for the 9th December 2013 when its new stadium hosts the Biathlon World Cup.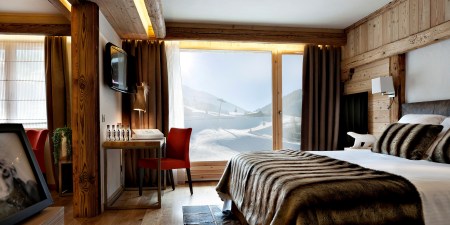 4 Five-star luxury 'Au Coeur du Village'.
We've never felt so pampered as we did when we stayed here, at this new hotel and spa slap bang in the middleof La Clusaz. Sumptuous rooms, superb food, a relaxing pool and sauna suite and attentive bar service where complimentary olives and roasted nutsalways come with your drinks. Details, details. We loved it. It's pricey, but worth it for that special romantic getaway.

5 Cheese. This is the home of the delicious soft cheese reblochon, and there are more than 50 farms keeping the cheese-making tradition alive. Farmsmilk twice daily and it takes four litres of milk to produce one reblochon, which matures over three weeks. Look for the green stamp on the rind to tell youit's an authentic, traditional reblochon. We bought ours direct from a gold medallist and also glugged a glass of his very-fresh (still warm) milk. Wow.

6 Confi ns des Sens. Gastronomic experiences don't get better than this gourmet restaurant in Grand Bornand. Snow snapper Graeme, who knows athing or two about the bon viveur lifestyle, declared his meal here to be the best he'd ever eaten. 74450 Le Grand-Bornand; 04 50 69 94 25,This email address is being protected from spambots. You need JavaScript enabled to view it.

7 Ski joering. Never heard of it? It's basically being towed on skis by a horse. Think water skiing but with a horse instead of a boat. It trots along and youglide effortlessly through powdery off-piste. It didn't quite work out like that, and we fell over a lot, but it would keep a family amused for an afternoon. You'llfi nd the joering in Manigod, part of the same Ski Aravis area.

8 Off-piste. There are plenty of accessible off-piste areas, so you can dip in and out of fresh powder easily. Particularly good are the slopes off the back ofLachat and Balme.

9 Après. La Clusaz knows how to party, with plenty of lively bars, such as Les Caves du Paccaly and Le Grenier and an unpretentious ambience.
10 Speed Flying.
This aerial ballet on skis is popular in La Clusaz, and while we might not have the cahunas to try it ourselves, it is very entertaining towatch the take offs and fl ights fi rst-hand from the slopes? Such as
http://www.youtube.com/ watch?v=cBmkApypiuA

 
       

   

   LA CLUSAZ    

    GRAND BORNAND    

Website
  www.laclusaz.com
  www.legrandbornand.com  
Location

In the Haute Savoie region, 

Haute Savoie region, Annecy 

35 minutes, Geneva 55 minutes

 

Maximum altitude

2,600m (village 1,100m)

2,100m

Skiable area

400 hectares

360 hectares

Pistes

84

42

Green

23

11

Blue

30

14

Red

24

14

Black

7

3

Off piste

Domaine de Balme

Espace Freeride (access via Le
Lachat chair)
Total length of pistes

132 km

90km

Lifts

54

29

Ski schools

7

5

Snowpark

-

1

Adult day pass

30.50 euros

28.50 euros

Mountain restaurants

                       13

 
Other activities

cross-country skiing, ice skating, 

tobogganing, dog-sledding, 

snowmobiling, snowshoeing, 

paragliding, ski joering (Manigod)

biathlon, cross-country skiing, 

snowshoeing,

paragliding, 

ice skating, horse 

riding, 

backcountry skiing (ski touring, 

heliskiing,

ice climbing), ballooning  

IN VILLAGE
 
 
Restaurants

68

53

Bars

13

-

Nightclubs

2

-

Hotels

23

12