SCHOFFEL BERN l £180
The Schoffel Bern is aimed at piste skiers looking for something simply styled with a narrower fit and relatively limited features. Schoffel's waterproof, windproof, breathable and stretchy 'Venturi' fabric works well here and with bonded seams and good insulation they're a fine choice if you feel the cold.
From the top the Bern comes with a sturdy pair of elasticated braces and rear bib; both of which can be detached, and a belt worn with decent loops.
There are two moderate sized zippered hand pockets and a zippered rear pocket, as well as articulated knees and zippered and poppered cuff adjusters, as well as a small scuff guard on each and boot gaiters.

VERDICT
Snug fitting but stretchy pants which will suit piste cruisers down to the ground.
+ Plain, good looks at a reasonable price
– Slim fit won't suit everyone
ODLO SPIRIT l £330

The cut of the Spirit ski pants is trim and shapely which makes them one of the more feminine ski pants we've tested with a yummy mummy slope-side look to them – but delve deeper and you'll find serious tech credentials.
This starts with the 3-layer Gore-Tex fabric which is durable, breathable and waterproof with waterproof zips giving added protection. Comfort features include a brushed backing inside which feels great next to the skin, and adjustable, removable braces. Large zipped side openings and adjustable gaiters allow you to get a perfect fit over pretty much any ski boot, and Cordura scuff guards keep them looking good.

VERDICT
A big investment but for feminine looks and top performance there can't be many better.
+ Excellent cut is both flattering and comfy
– Undeniably on the expensive side
BURTON AERO GORE-TEX | £190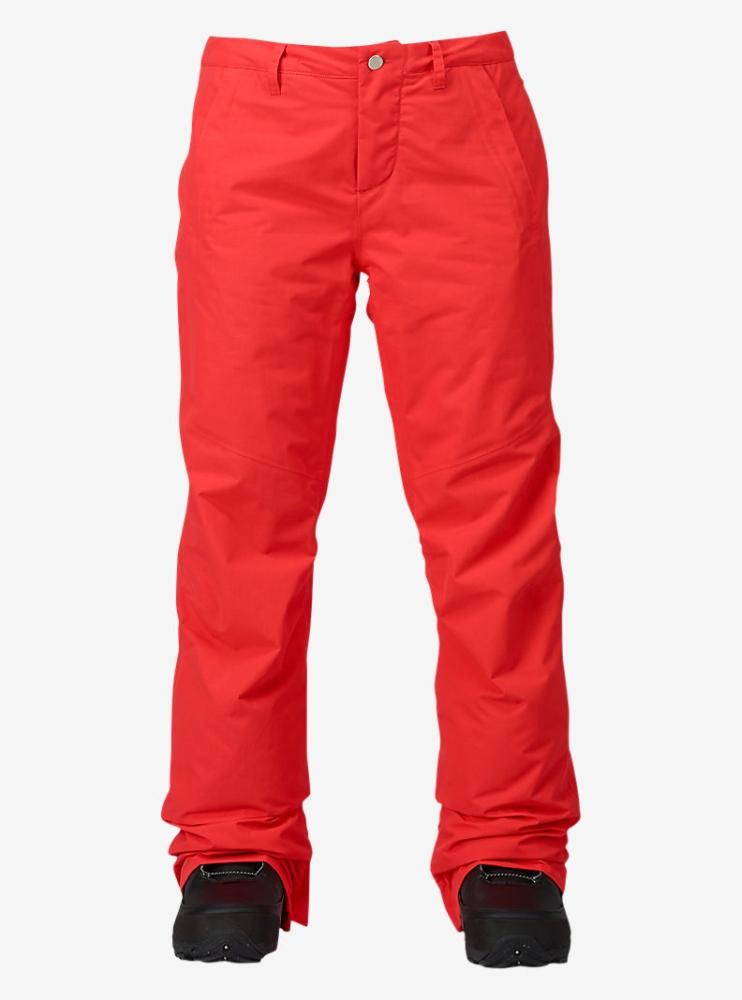 Lightweight, and made with Gore-tex and Thermolite insulation, this pant is generously cut, and the trousers are long, meaning for even the longest legs, you won't have that 'not-quite-covering-the-boots' look!
However, in case your legs are less than Cindy Crawford-esque, Burton has ingeniously come up with the 'snap-up leg lifts'; which is a strap and clip to enable you to hook up the back of your pants to stop dragging them through the snow and to avoid those ruinous car park scuffs.
Ventilation is available with vents on the inside leg of the pant, which, unlike vents on the outside didn't let any snow in, even when we did a few runs with them open.

VERDICT
A comfortable and warm pant for riding or skiing with some clever features.
+ Comfortable technical, and stylish!
– Generous cut, so try before you buy
JOTTNAR VANIR LT l £300
If your idea of skiing is to really get to grips with the mountains then Jottnar's Vanir LT pants will appeal; conversely if you prefer to take it easy on the piste they're probably not.
Designed for the backcountry brigade, the Vanir's Polartec Neoshell fabric is fully breathable and waterproof, has a bit of stretch and is very robust – hence the popularity of these pants amongst international mountain guides.
The Vanirs come with a stack of practical features, including articulated and reinforced knees, two sets of swappable zip-out gaiters sized for ski and climbing boots, three quarter length water repellent side zips and Kevlar instep protectors.

VERDICT
Tough and packed with useful technical features for the backcountry brigade.
+ Well built, well designed
– Even one rear pocket would be nice
NORRONA TAMOK l £439
The Tamok is for freeride and backcountry enthusiasts where the three-layer Gore-tex shell does a fine job of keeping the weather out and ensuring you stay dry and comfortable.
Practical comfort is all here with the Tamok's relatively loose cut giving plenty of freedom of movement, while adjustible ventilation comes via mesh-backed zippered vents on the cargo pockets and up the inside of each leg.
Other details include a zip and 'snap seal' powder skirt system which integrates with Norrona jackets, Velcro waist adjusters, snow gaiters, inside reinforcements on the lower leg and Cordura armour around the cuff.

VERDICT
Tough and packed with useful technical features for the backcountry brigade.
+ Well built, well designed
– Even one rear pocket would be nice
---
EIDER BORMIO l £180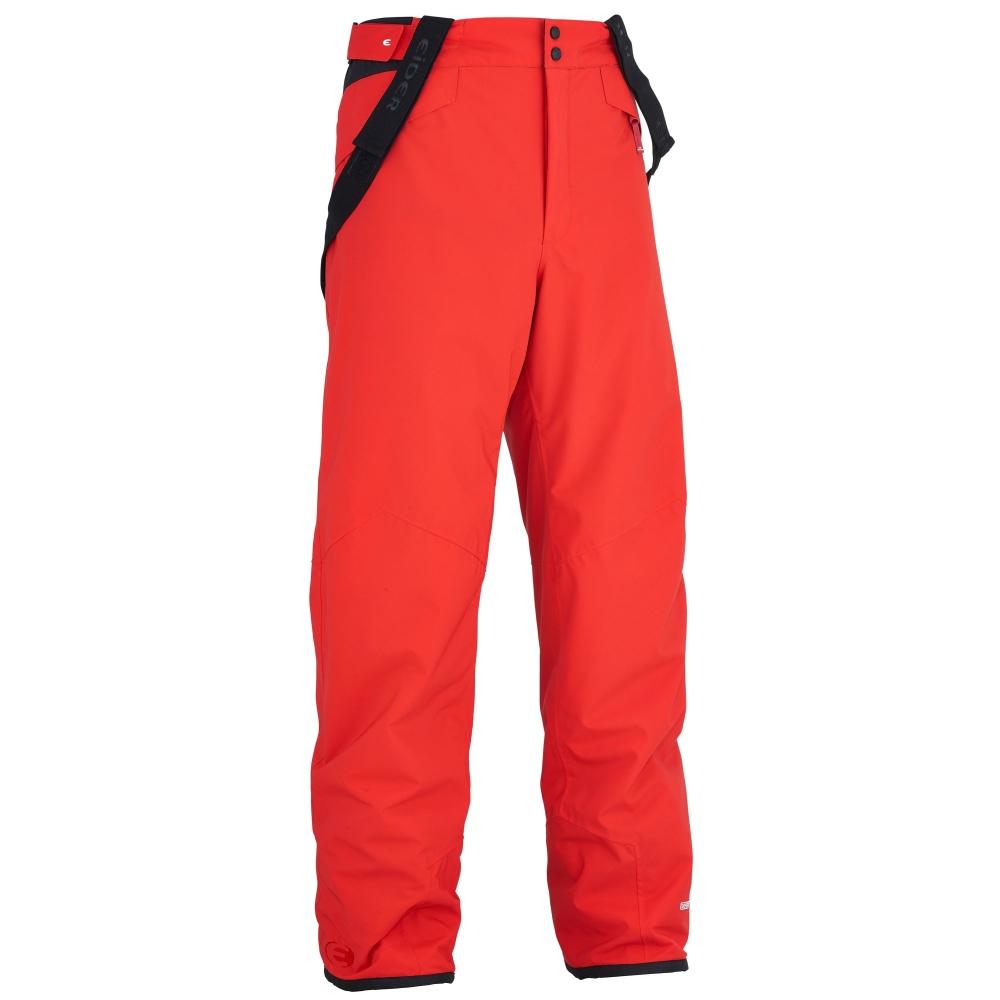 The slimmer, ergonomic fit and insulation of the Bormio immediately mark it out as one for piste lovers, and along with Eider's two-way stretch 'Defender' fabric, which is also breathable and waterproof, they do a great job of keeping you warm and comfortable, both on the snow and on long, cold chairlift rides.
They come with removable braces and Velcro waist adjusters (but no belt loops) and a higher back with a snug microfleece inner to keep your lower back warm.
Beneath this are two zippered handwarmer pockets. We liked the pre-shaped knees but were disappointed by the lack of reinforcements around the cuffs and boot gaiters.

VERDICT
A good-looking, good value, warm, piste ski pant for those who particularly feel the cold.
+ Warm and good value for money
– Not enough pockets; needs scuff guards
SALOMON BRILLIANT l £180

In cold conditions the Brilliant's combination of quilted and microfleece liner and a high rear waist do a fine job of keeping you snug. If things warm up too much there are knee-to-hip zipped vents with mesh backing on the outside of each leg.
There's a good selection of pockets too; two zipped hand pockets, one rear pocket with popper fastening and a zipped cargo pocket on the right leg. There is also a faux rear left pocket, which we are not such big fans of.
The Brilliant is rounded off with scuff guards on the inside of the lower leg and on the rear hem, which will improve longevity, and of course, snow gaiters.

VERDICT
Apart from the silly faux pocket these warm, insulated pants are indeed brilliant.
+ Everything you need in a ski pant
– Why the faux rear pocket?
HELLY HANSEN BACKBOWL l £220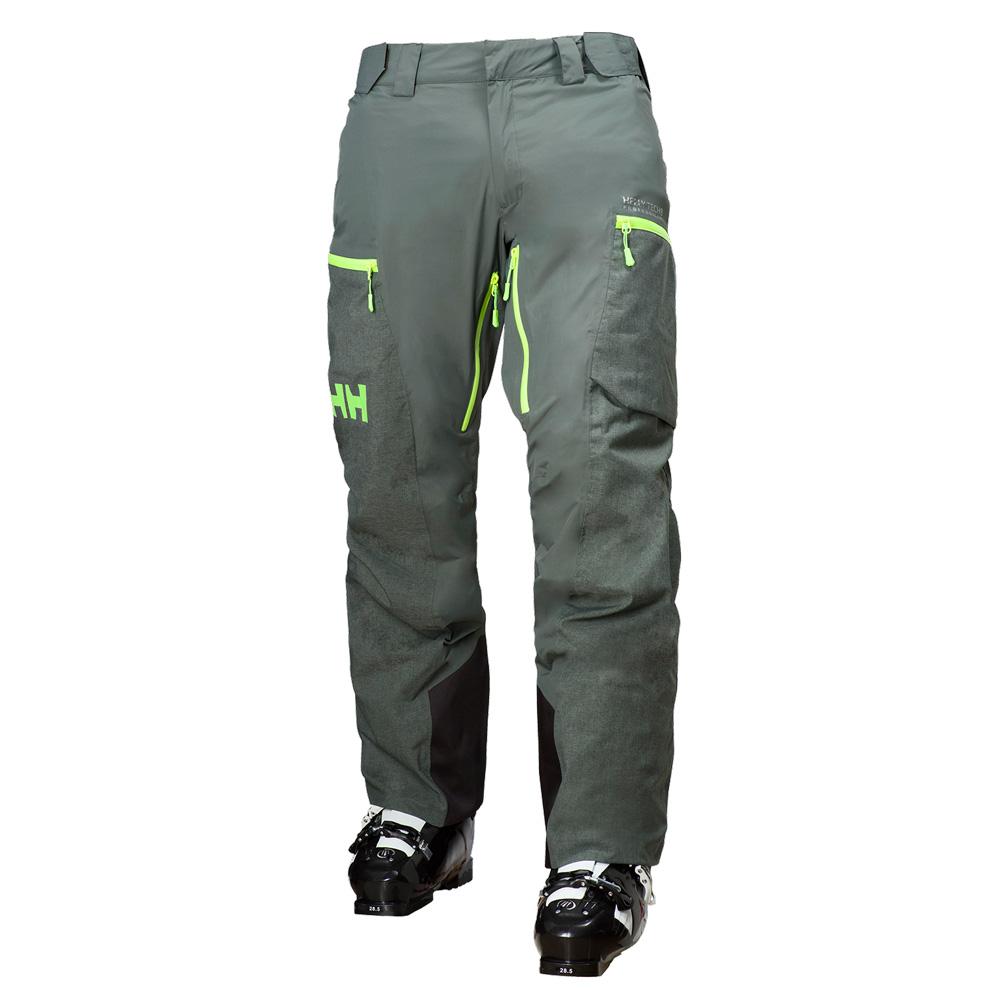 The Backbowls use Helly Hansen's own Helly Tech Professional two layer fabric with FLOW membrane. This is their top of the range fabric which performs as well as any of the other premium fabrics out there. In use it breathes well, even when hiking, and the DWR finish, water resistant zips and sealed seams keep external moisture firmly out.
The Backbowl pants also deliver warmth without bulk thanks to a thin layer of Primaloft insulation and a tactile brushed lining.
Add to this articulated knees, a 2-way stretch, seat and knee insulation as well as jacket-to-pant integration and you get a seriously comfy ski pant.

VERDICT
Warm, great looking, seriously comfortable these pants are ready for adventure.
+ Premium tech at a reasonable price
– Relaxed fit might not suit some
PATAGONIA WOMEN'S POWDER l £250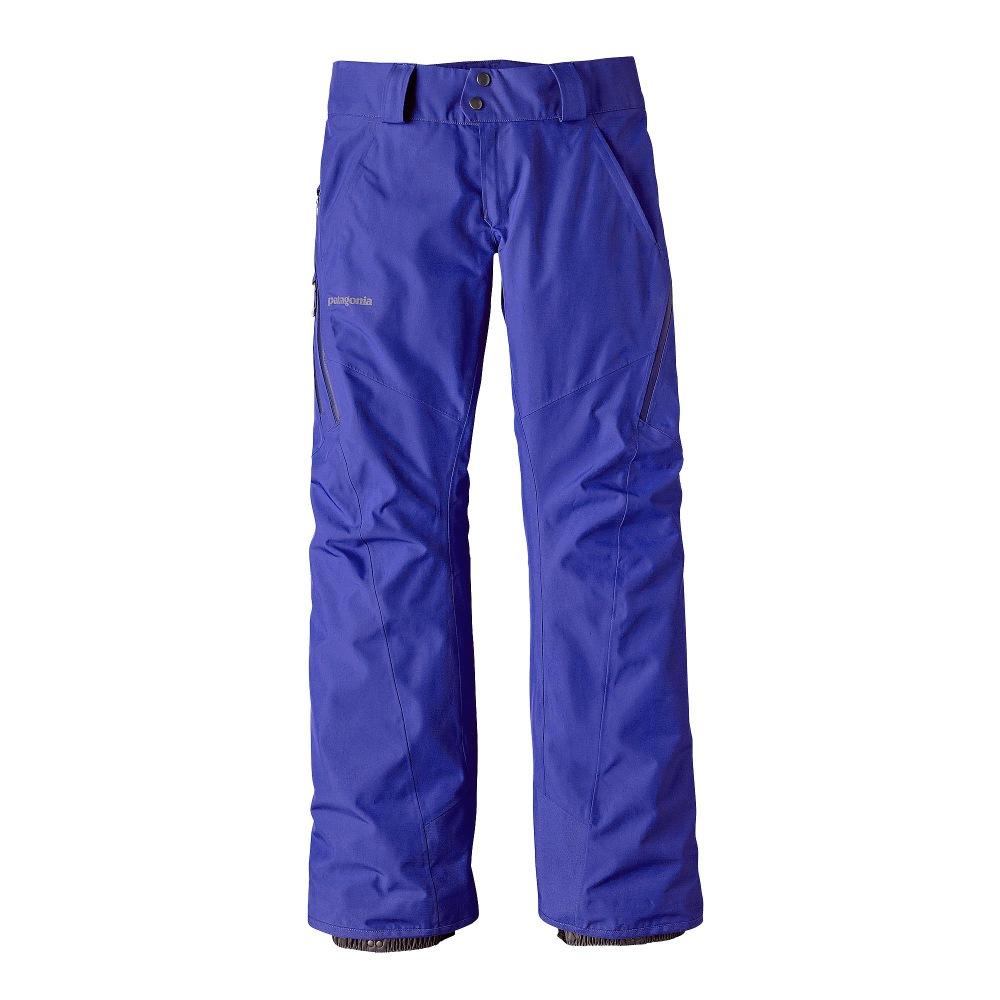 When skiing on a cold windy day, the two-layer Gore-tex of this pant really delivered and we felt toasty warm without the bulky feel of an overly padded pant!
However, for warmer days and hikes, this pant also has outside mesh-lined vents, which will keep you cool when needed, but will also stop loads of snow getting in.
Thanks to the ergonomic design, this pant has long pockets down either side, and there is also an extra pocket on the back right.
The clever thing is that these pockets have been designed so they don't give you a voluminous shape
when filled up.

VERDICT
Although a little pricey, they are still great value and we would highly recommend them.
+ Durable, good looking pant
– Nothing
BLACK DIAMOND MISSION l £360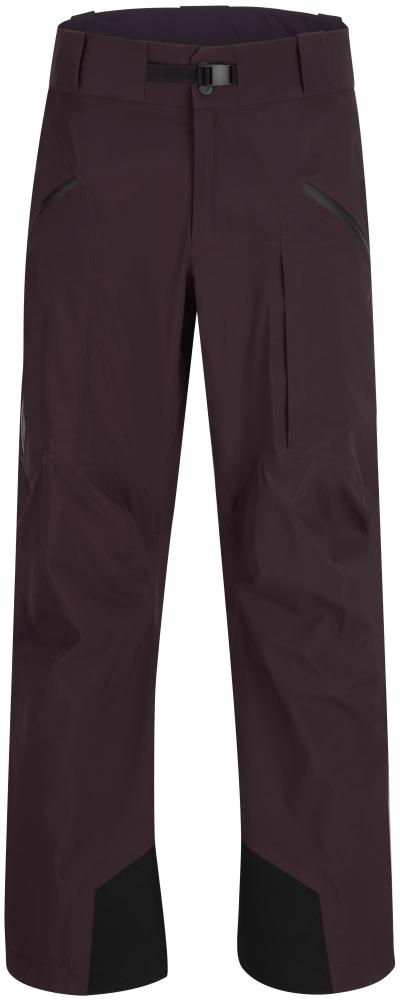 The Mission pants target off-piste riders and perhaps its most clever feature is large zipped right pocket to match the one on the left, inside which you'll find an inner pocket made of protective Poron XRD Impact Foam.
You also get a built-in RECCO responder and boot-access zippers.
These are solid performers, made of waterproof and breathable Gore-tex 3L fabric with a tough 70 denier nylon plain-weave finish with a soft backing, and DWR finish.
The fit is relaxed with small rear zipped pocket, venting thigh zips, articulated knees, instep protectors and gaiters.

VERDICT
All you could need in a pair of ski pants for backcountry adventures.
+ Well-designed transceiver pocket
– Expensive