ARC'TERYX VOLTAIR ABS PACK | £1180-£1280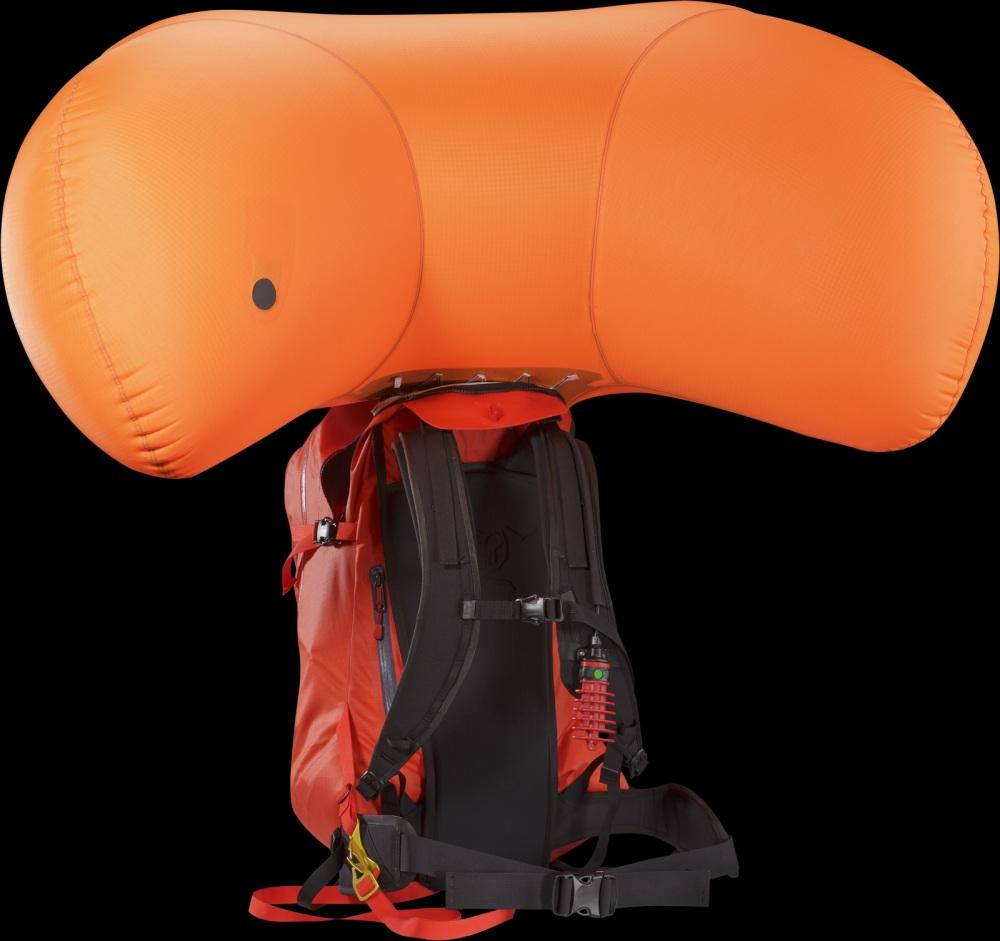 The Voltair airbag system, as detailed on our Innovations pages (14-15) is the world's first avalanche air bag with a rechargeable battery that allows you to deploy it multiple times– so
that practice can make perfect.
The pack itself is pretty good too: fully seamsealed it's constructed with tough, waterproof N400r-AC² nylon 6 ripstop body fabric with waterproof zippers for top and side access.
There are compartments for your avy gear, front lash ladders and straps
to carry skis or snowboard and tool loops for attaching your climbing tools to.
VERDICT
Yes, this pack comes at a huge price –but how many back packs could save your life again and again?
+ Allows multiple deployments
– Expensive


GREGORY MIWOK 18 | £65
The Gregory Miwok 18 crams a lot of features and storage options into what is a relatively small package, and for piste skiers or those not venturing too far off piste it's a good option for carrying all the day-skiing basics. Note, however that it doesn't have avy gear specific pockets or a ski/board carry facility.
The main compartment has zipper access and doesn't seem that big at first, but this is off set by a large expandable outer pocket that will hold a helmet, and a separate compartment for a hydration system. There's also a large zippered top pocket which will easily hold goggles, as well as side pockets on the hip belt.

VERDICT
A well-designed pack with lots of nice and useful design features that will work for summer hikes and bikes too.
+ Lots of features in a small package
– Not backcountry specific
SALOMON QST 30 | £130
The QST's 30-litre capacity will swallow up loads of mountain gear which you can then easily access on the go with the double zips that run all around the main compartment. Avy gear is stored in a quick-access pocket on the outside, with additional storage inside of two internal side pockets, a zipped security pocket and a two-litre hydration sleeve. On top of the pack is a fleece lined zipped pocket, and on the hip belt is a handy small zipped pocket.
In use, Salomon's new thermo-moulded back pad and curved hip belt offer great stability, and there are sturdy and versatile straps for carrying skis or snowboards and tools.
VERDICT
A large capacity, well thought out pack for any skier or boarder looking to head off piste with a lot of gear.

+ Secure, stable fit
– No insulation for hydration tube!
THULE UPSLOPE 35L | £110
A good deal of thought has gone into the design of the Upslope 35, which is solidly constructed with off -piste, gear-laden adventure in mind.
The pack's outer avy gear compartment keeps your tools apart from dry gear in the generous main compartment, and there are versatile and tough carrying options for skis, boards and mountain tools on the outside.
Big zipped side pockets on the outside of the Upslope are capable of storing a one-litre water bottle each, while inside there's an insulated hydration sleeve. You also get a large goggle pocket with a soft, fleecy
lining along with a small mesh zipped inner pocket for wallet,
keys and the like.
VERDICT
The Upslope 35 is an excellent, hardwearing pack that will provide many winters – and summers – of use.

+ Bombproof build, well-designed
– Access to main compartment slightly fiddly,
OSPREY KAMBER 22 | £100
The Kamber 22 comes with the usual Osprey quality and a solid, tough build without sacrificing too much of a weight penalty. In use it delivers too, with the harness and hip-belt feeling reassuringly stable and comfortable, while on the outside you get tuck-away ice tool loops and straps for ski or snowboard carry.
We love the different coloured zipper loops on the outer avy gear pocket and the good-sized, fleece-lined, zipped goggle pocket. The main compartment has full-length zips and contains a mesh security pocket and hydration sleeve – the tube of which sits in an insulated sleeve in the right shoulder strap.
VERDICT
The Kamber 22 has pretty much all you need in a non-ABS pack for forays into the backcountry.

+ Very comfortable in use; loads of features
– Chest strap sliders a bit stiff
BCA FLOAT 22 £103 (£425 WITH AIRBAG)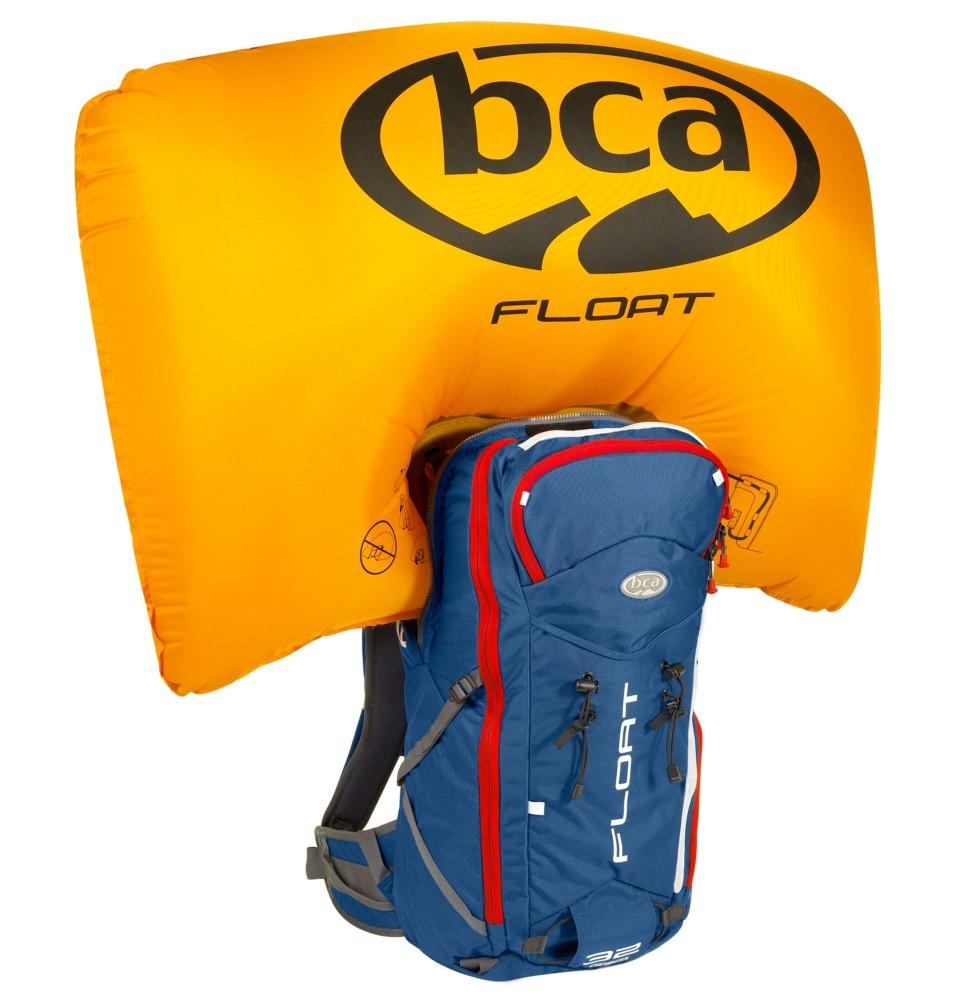 BCA has made a reputation for good value, well made and well thought-out gear for off -piste aficionados, and the Float 22 doesn't disappoint.
As a complete airbag package the price comes in way under most other compressed air systems with its single 150L airbag. In design it is simple but reliable, with a trigger that can be run through either shoulder strap to put it closest to your dominant hand.
We love the layout of the Float, especially the pocket on the hip belt, although the avy gear compartment is a little on the small side.
VERDICT
Excellent value avy back pack for safety off -piste – compressed air system is cheaper to fi ll than a nitrogen one too.

+ Unbeatable overall value
– Avy gear pouch is a bit small