A vital piece of kit for skiers and snowboarders, a good quality pair of ski pants or salopettes are essential for keeping your lower body warm and dry.
Ski pants come in many shapes, sizes and styles so choosing the right pair for you comes down to matching the features to your needs and style of skiing or riding. There are a few key areas to look out for when researching the best pair of ski pants.
Waterproofing
Most ski pants will have a waterproof rating between 5,000 and 20,000 mm with the higher the number the more waterproof they are. Depending on where and when you are planning on skiing and your ability (this translates as how much you like to fall over) will dictate how high a waterproof level you should go.
Seams
Linking into the waterproofing level of your ski pants is making sure you have the right type of seam taping. If there is no tape on the seam then water can seep through the holes made by stitching. Some ski pants have critical taping which means only the seams more commonly exposed are taped, this is usually enough coverage if you are enjoying some spring skiing and avoiding wet weather (and falling over). If you're more of an extreme skier then fully taped ski pants are the better option as waterproof tape is glued to all seams, stopping any moisture from coming through.
Warmth
Commonly, ski pants are insulated with a synthetic insulation that provides warmth while still being breathable. The insulation also dries quickly if it does get a soaking so keeping you from cold wet legs. The most versatile type of ski pant though is an uninsulated shell pant best used paired with base layers underneath, so you can balance how warm you like to be. Shell ski pants also tend to be more flexible than insulated so give you more movement and flexibility which is essential if you are hitting the park to pull off some tricks or hiking steep terrain in the backcountry.
Style
Along with technical features when it comes to choosing the right pair of ski pants there is also the important aspect of how you want to look while hitting the slopes. The classic option is a regular ski pant with a light layer of insulation, but loose enough to allow for extra base layers to go underneath. For those after a slinky snow look then slim fitting ski pants are an ideal choice. On the other end of the scale are loose fit ski pants which are popular amongst snowboarders and freestyle skiers as they allow much more flexibility and freedom of movement. Ski bibs are becoming a popular choice for skiers and snowboarders as the high waist and braces give added protection from incoming snow and have a more secure fit.
Whether you opt for technical shell bib pants, loose fit park pants or slim and trim piste machines there are a wealth of options available to choose from. We've taken some of the best ski pant options available for the 2018-2019 ski season and whittled them down to our top picks for every budget.
Salomon Icemania | £170
BEST BUDGET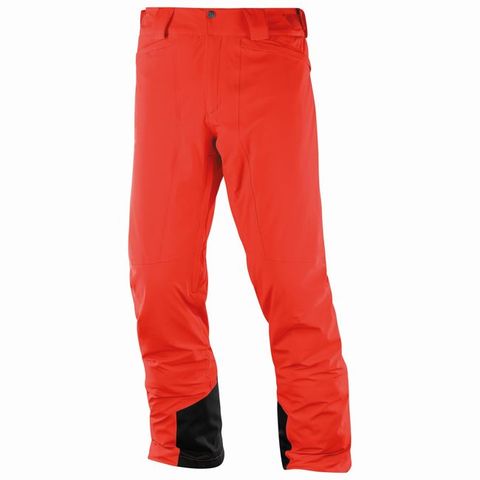 These are some of the most comfortable ski pants we've worn, with a soft inner lining next to the skin. Warmth builds up nicely as soon as you put the Icemanias on and remains at a steady temperature throughout the day, thanks to 60g of AdvancedSkin Warm insulation.
We found the Icemania pants to be reliably breathable, with inner thigh vents should you start to overheat. They are fully waterproofed, with sealed seams. An easy, good-looking and affordable choice great for beginners.
These are a safe, comfortable and affordable bet if most if your skiing is done within resort boundaries.
VERDICT: 9/10
Patagonia Powder Bowl Insulated | £300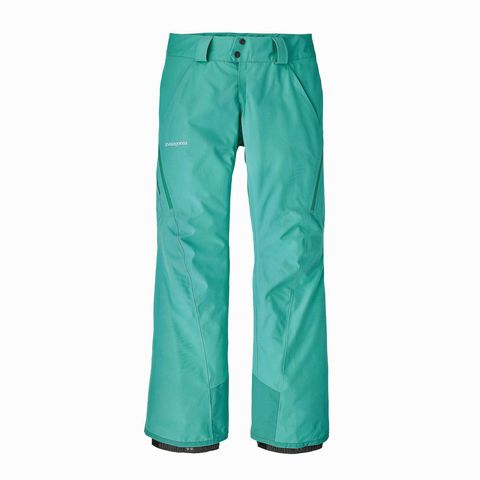 If you fancy yourself as a storm rider who shreds no matter what, you're going to need to get your hands on gear that's as tough as you. Enter the Insulated Powder Bowl Pants.
With Gore-Tex and 60g of insulation, they'll keep you warm when winter turns up a notch, and they come equipped with a variety of essential snowsports-specific features including RECCO reflectors. They look fantastic, too.
Warm, rugged, weatherproof and stylish as hell. The Insulated Powder Bowl Pants will keep you cosy.
VERDICT: 9/10
Picture Visk | £280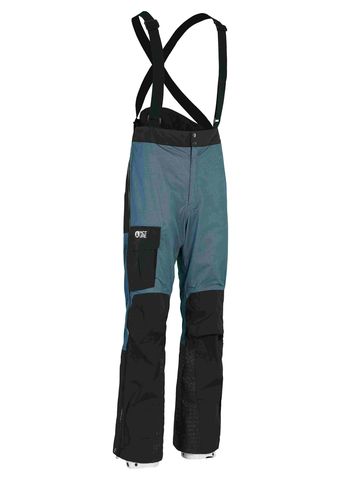 With 25,000mm of both waterproofing and breathability as well as fully sealed seams, the Visk is a flawless performer, and for added protection this mid-torso bib works in conjunction with the Picture Effect jacket, keeping you extra warm and dry. Freedom of movement is excellent thanks to a body-mapped mixture of soft and supple material panels.
The venting zips are both two-way and full length, so you can't fail to get enough air to your legs. Picture also made the Visk's fly two-way, in case you're partial to venting your bits as well...
A decent option from Picture that marries high performance fabric with superb stretch and comfort.
VERDICT: 8/10
Burton Freebird | £460
WINNER

We absolutely love the Freebird pants, a Gore-Tex-equipped shell bib pant for the deepest of powder days that showcases the best that Burton has to offer. The stretchy braces are simple but work in wet, frigid conditions and the stretch panels around the sides of the torso are ideally placed for great freedom of movement. Ventilation is on the inner and outer thigh on both legs for a crossflow of air, and the fit at the cuffs easily accommodates snowboard boots. There's also a zip opening for hassle-free fitting.
Quite simply one of the best backcountry bib pants you can buy. You won't be disappointed.
VERDICT: 9/10
Helly Hansen Switch Cargo 2.0 | £180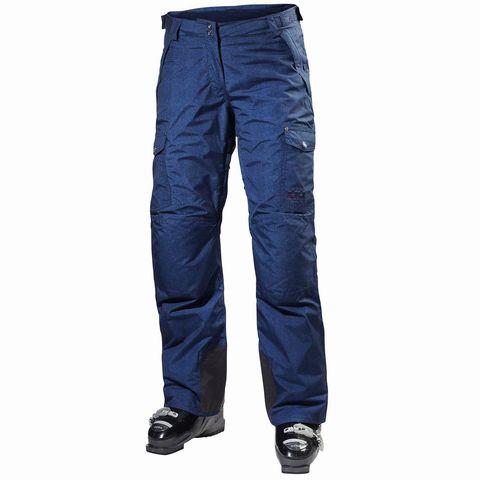 Helly Hansen's Switch Cargo pants are back with improved features to make them freeride-friendly. The raised back protects you as you blitz the powder, and we like the
easy-to-access thigh pockets. PrimaLoft insulation keeps you warm when sat on the lifts but is also breathable when you work up a sweat. HH have added a feminine twist with a sleeker design and boot cut fit, but we would recommend going up a size to give you that bit more freedom of movement.
Safe, stylish and reliable pants that give you coverage and warmth where you need it, and for a good price.
VERDICT: 9/10
Eider Rocker | £200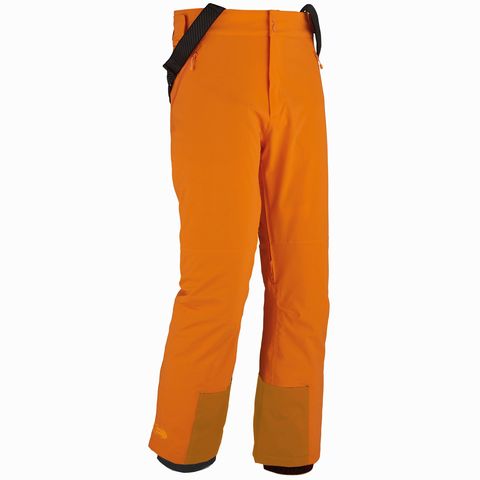 From the instant you pull on the classically designed and deceptively simple Rocker Pants you feel in the lap of luxury, because these piste-skiing pants are just right for a day carving the frontside. Freedom of movement is excellent, thanks to Eider's four-way stretch Defender H+ fabric with 20,000mm of waterproofing and breathability. Taped seams throughout seal the deal. Insulation is well-judged too, with a 40g layer and a cut that leaves just enough room for a baselayer on the coldest days. Zipped vents ensure you can let out the heat when you need to.
The perfect combination - top-performing materials and wonderful freedom of movement.
VERDICT: 9/10